Top 5 Secrets to Look FABULOUS in Your Family Photographs! | Professional Photographer
As a professional photographer in Sterling, Virginia, who specializes in family portraits, our clients, especially the moms, often ask us for advice on how to improve the overall look of their family portraits and how to be ready for the session. We know how to position you, as well as how to set up and angle shots to give the most flattering views possible, but there are a few things you can do, too.
We've had years of experience in making a family look their very best in a special family portrait. We're happy to share that experience with you!
Here are our Top 5 Secrets to Look FABULOUS in Your Family Photographs!
Secret 1:
You want to look 20 pounds thinner?
Good posture makes you look thinner!
As a professional photographer, I would have to say that the number one worry we hear about is how to look thinner in your family portrait. This first secret is only a secret because it's so obvious most people overlook it: Stand up straight and mind your posture! Pay attention to your posture during your photo shoot, because hunched shoulders and slumped backs will do you no favors in a photo.
Turning slightly toward the camera at an angle is more flattering than a straight-on shot which can make you look wider. But don't worry; we'll always prompt you to look your best.
Also, a tip: Wear clothes that flatter your figure, and definitely no bulky fabrics. Leave that chunky, shapeless sweater at home! Fitted clothes, as long as they're not bursting at the seams or buttons, can give the illusion of a thinner frame, compared to loose and baggy clothes.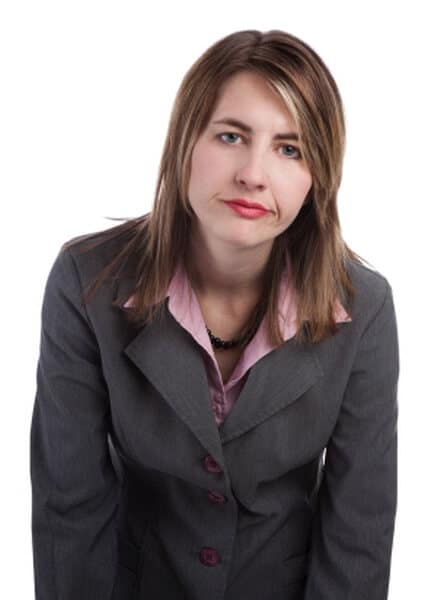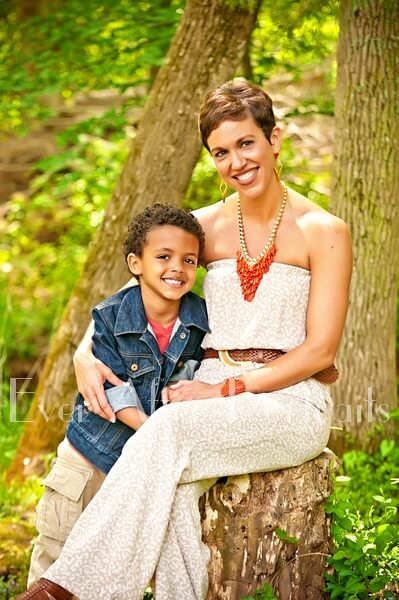 Secret 2:
Losing the "double chin" is all in the positioning!
Tilting your chin out and slightly down while elongating your neck helps to be rid of the double chin. Even those without a double chin should heed this advice because even slightly tilting your chin downwards can give you a double chin in a photo!
Professionals models have another trick they use: Press your tongue onto the roof of your mouth as you tilt your chin up slightly. This pulls the muscles under your jaw up into your neck. Try it! It works!
These two tricks will also help define your jawline making your face appear thinner.
But above all, do what your family photographer prompts you to do! If she gives you a little direction and says, "Tilt your chin down," just do it! She'll make sure you look gorgeous.
Secret 3:
You want your kids to smile?
Don't tell them to smile!
Leave this one to us! Our experience, both as a professional photographer and as a family photographer, even as a mother, has taught us that if you tell your child to smile for a photo, it's going to be the fakest, most non-little-Jenny smile you're ever going to see! If you want a natural, relaxed smile, let us handle it.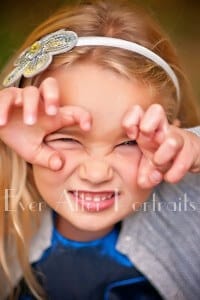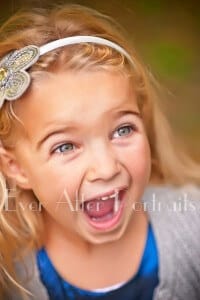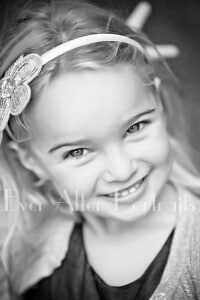 Secret 4:
You want to look coordinated, but not matchy-matchy?
Listen to your family photographer regarding color and styling.
We want your family portrait session to be as stress-free as possible, and choice of clothing is often a stressor to our clients. We want your family's portrait to be timeless, so they won't look dated and old-fashioned next year! To reduce your stress regarding this, prior to your portrait session, we will discuss clothing and coordination with you. After that discussion, and with the colors and styling we've agreed on, we'll then create and send you visual clothing suggestions to aid you in choosing clothing for each member of the family.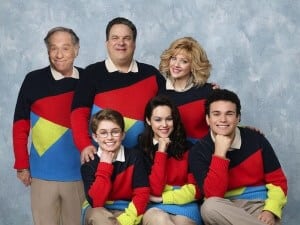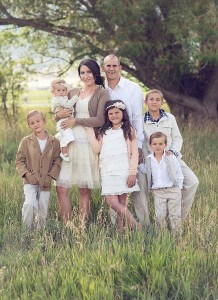 Secret 5:
Your family should look like themselves in your family portrait.
Relax! Be natural!
Enjoy yourselves together as a family. Show us the love you have for each other. As professional family photographers, we will capture the chemistry of your family, the love and feelings you share together, whether it's little Jenny joyously twirling in her dress while looking to Mom for approval, or Sam's mischievous grin after he's been a little cheeky, or that look Mom shares with Dad, the one that says, "We did this! These are our kids!"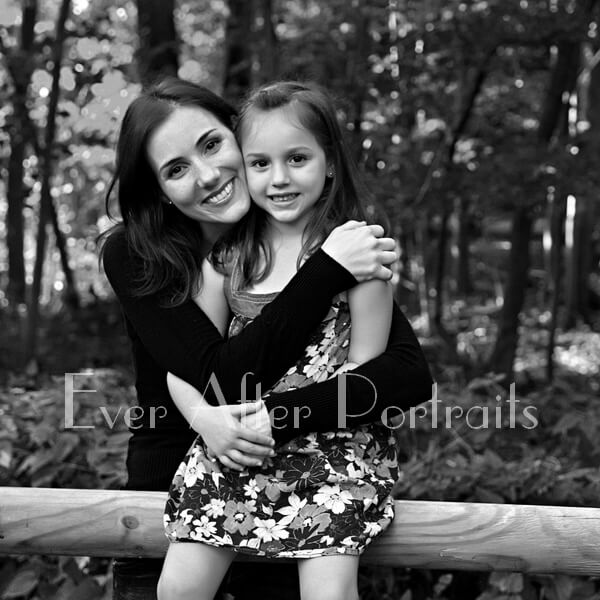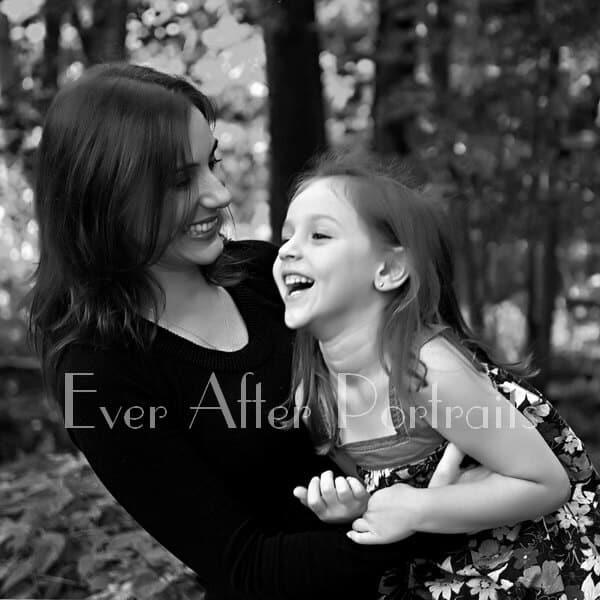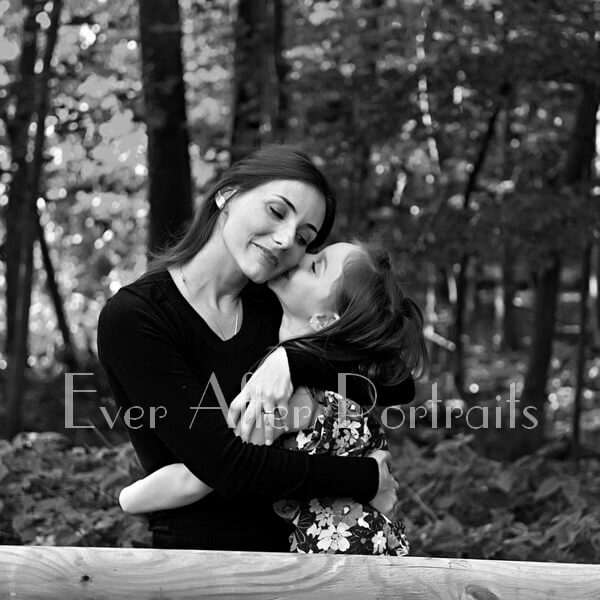 And, because we love our clients so much, we've added in 5 Extra Secrets just for you!
Secret 6:
Keep the kids happy, but don't worry too much!
Don't worry about telling your child to sit still or do this or that. We'll take care of it; it's our job! In fact, we may get them a little excited and then settle them back down so their expressions are natural. A little exuberance never hurt anybody!
If you have young children in the family, it's okay to bring a clean, crumb-free snack or a favorite toy. In fact, although our portrait sessions aren't super-long, it's always best that everyone, including Mom and Dad, come rested and fed.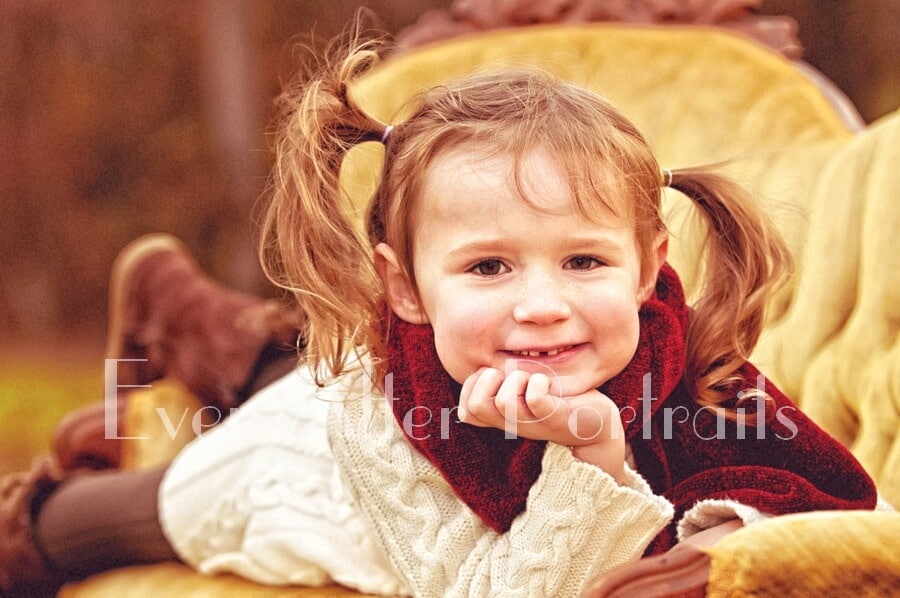 Secret 7:
Makeup is a good thing.
For you Moms and teenage girls: A subtle application of makeup can really enhance your look and accent your facial features. We recommend you do a trial run at home at least once before the portrait session.
If you're going to wear foundation, be certain it covers your face and neck.
If you've used a great makeup artist in the past, by all means, use them for your session. If you're using one for the first time, you should do a trial run with them prior to the day of the portrait session. We can provide you with a makeup artist recommendation if you'd like to go that route.Extra tip: Lay off the alcohol the night before your portrait session! It dehydrates your skin and can make any wrinkles look more prominent.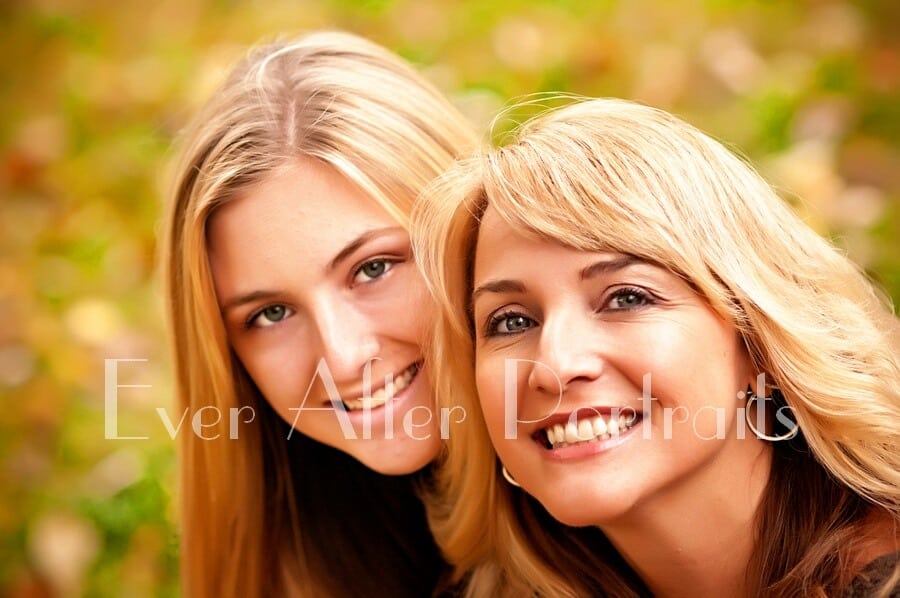 Secret 8:
Nails and any polish should look clean and fresh.
You may not think much about your nails, but some of the most beautiful and poignant photographs of family include holding hands. A photograph of your little boy's tiny hand clasping your feminine, soft hand or your little girl's hand swallowed up in Dad's big strong one, will call to mind the depth of love you feel for your children.
Have a manicure before your portrait session. Clean, fresh nails are an asset. Neutral nail colors are best, or at least choose one that won't clash with your clothing.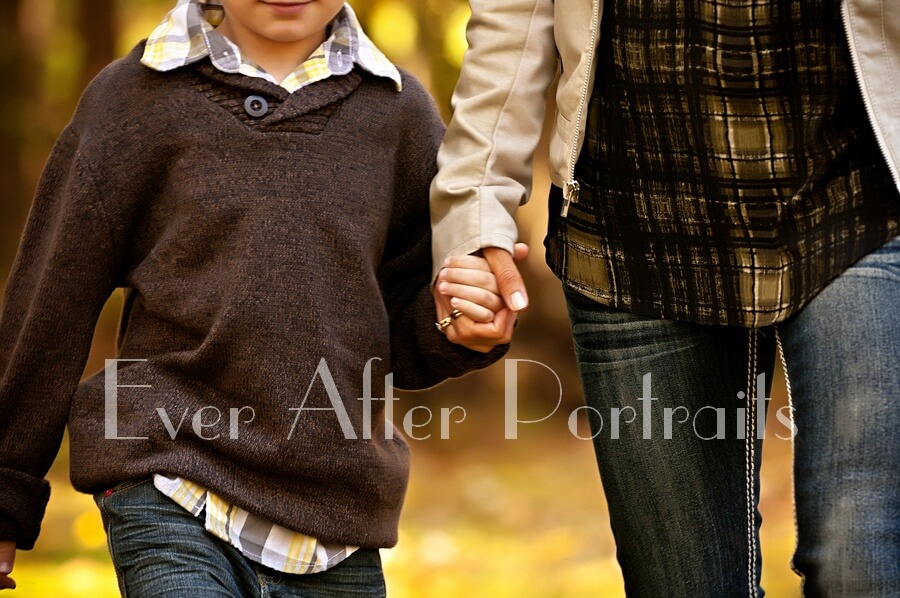 Secret 9:
Trust your family photographer!
We've been doing this for a while and we've probably seen it all, so don't worry! If your child misbehaves, that's okay. They're kids; that's what they do.
We'll spend time talking with you before the date of the session to get to know you and your family a little bit. We want you to feel comfortable with us. If you have any questions or concerns before or during the session, talk to us! We want you to feel 100% comfortable, relaxed and at your happiest during your session. Your job is to look great and be yourselves. Maybe you'll be a little more spruced up than usual, but we still want you to be yourselves!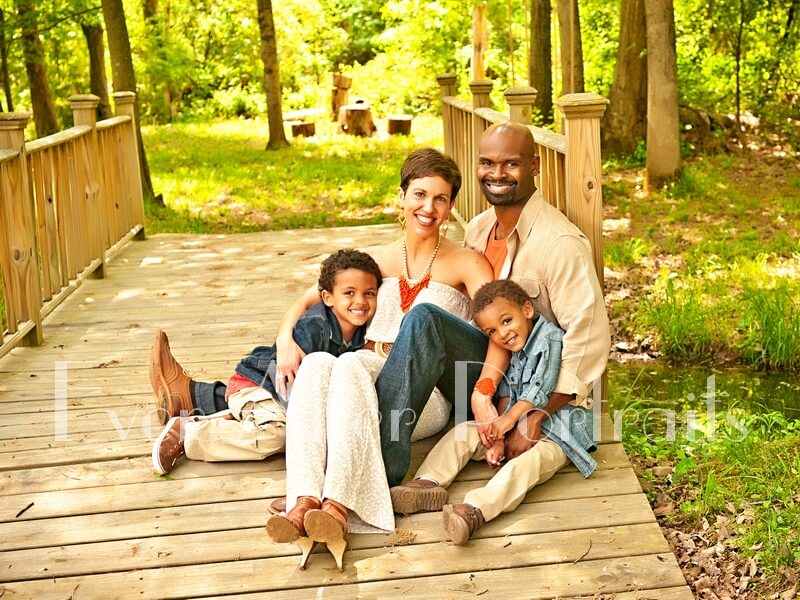 Secret 10:
These family portraits will become more valuable and precious to you and your family with each passing year.
Remember, these family portraits will be works of art on the walls of your home, art of those you cherish the most. They'll become treasured family heirlooms, passed down in your family for generations. And someday, your children's children will share them with their children and say "Those were your great grandparents." How valuable will it be, to leave a tangible legacy to be cherished by future generations?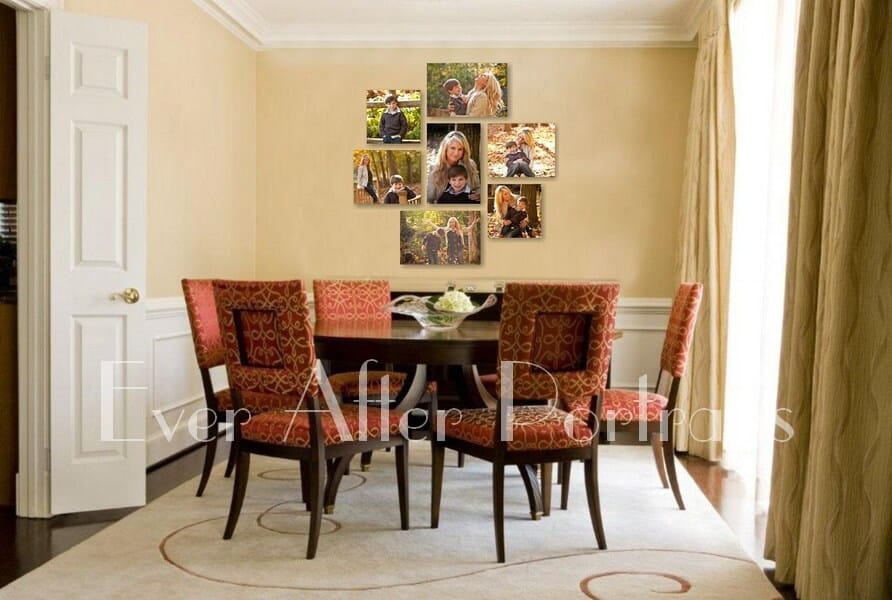 Professional Photographer, Family Photography
We love photographing families, and we work hard to make sure your family portraits are the very best they can be. Capturing the love a family shares in photographs, then seeing the joy and sometimes happy tears on their faces when they see their session images for the first time, brings us a tremendous happiness. We look forward to photographing your family!
Mindy and Joriana, Family Photographers, Sterling VA
Contact Us
or call us at 571.434.0009!