As a professional photographer located in Northern Virginia, we specialize in family photography and creating beautiful custom portrait art which you'll treasure for years to come. This includes ensuring that your family's portraits look perfect on the walls of your home. But in an age of comparisons, how do we know what size is best when considering our client's home's walls and decor?


Don't Hide Your Beautiful Portraits
Consider this: Why would you go to all the effort and investment of hiring a professional family photographer to capture your family's portraits, only to hide your beautiful memories in a tiny size on your wall or in a dinky frame?! Unless you walk around your home with a magnifying glass or want to have your guests squish their noses right up against your portraits, steer away from small portrait sizes!
Now what is small, you ask? Portraits should be 60% to 70% real life size to accurately see the detail in a person's face. With each additional person in the portrait, we need to go up a size so that each face can be appreciated. After all, emotions show on the face, and that's what you want to see, the love, joy, pride your family has for each other.
Custom Portrait Art Print Sizes Relative to Living Space
Have a look at the to-scale guide below to see how different print sizes would look relative to your living space. There's a huge difference, isn't there?!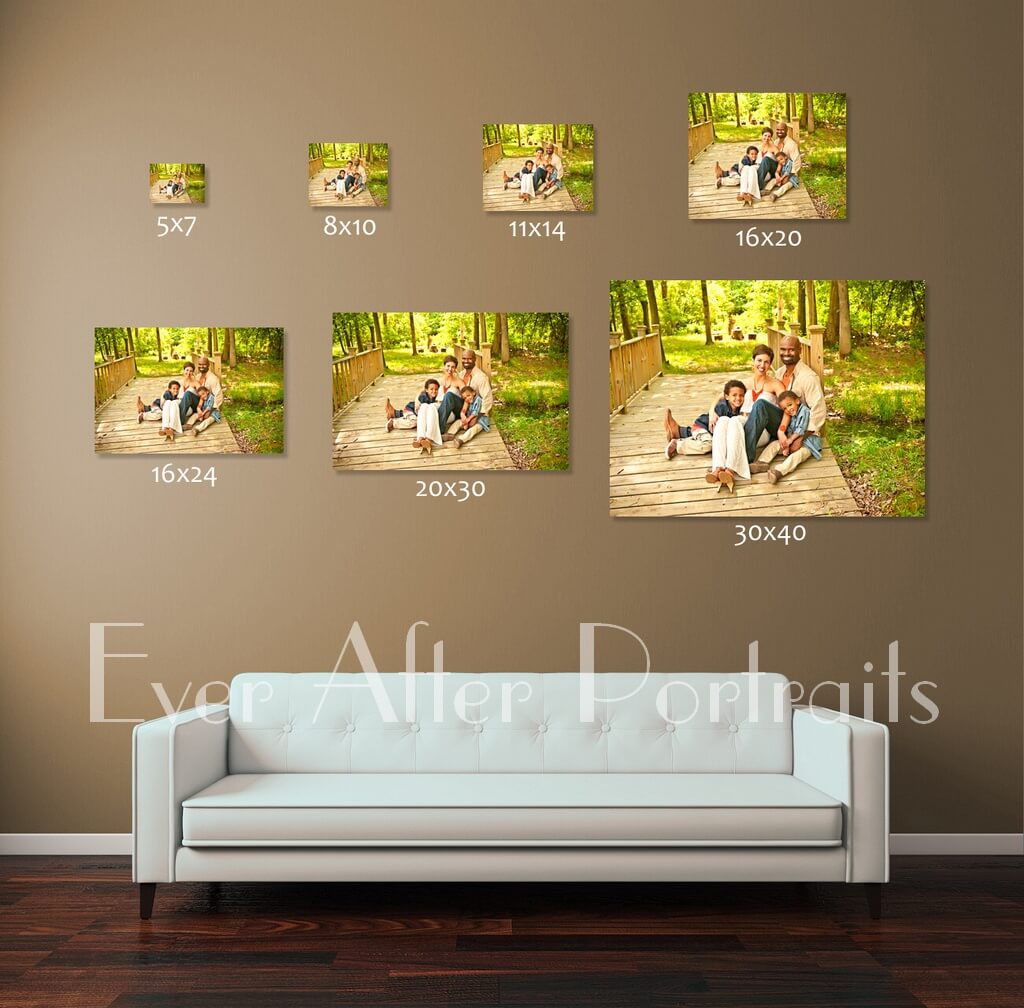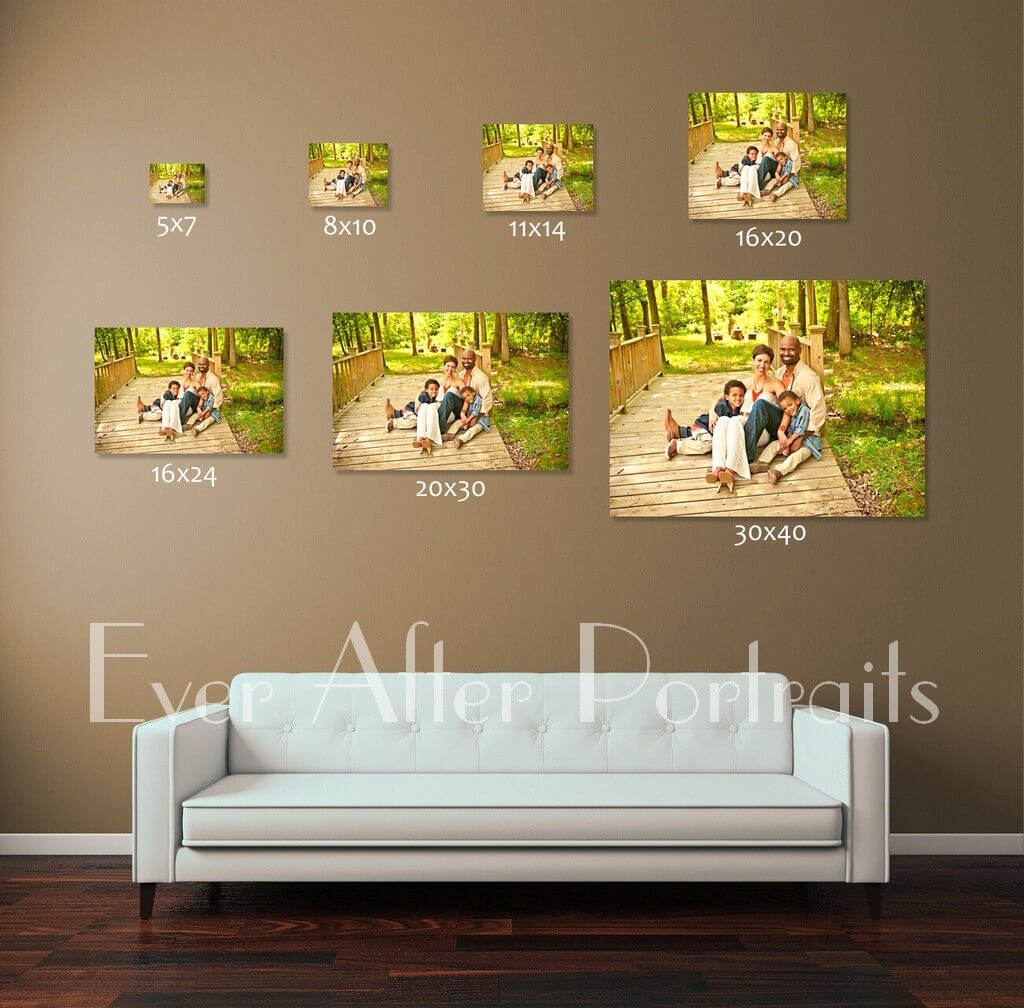 Light is Light!
Let's do a test. First let's assume you've had your family photographer capture your family in a portrait session with quality lighting where each person's eyes are properly lit. We've all heard the saying "the eyes are the window to the soul," and they should be the most important part of a portrait. Although the "in vogue" thing you've heard lately is "natural light," this doesn't necessarily mean it's better or worse than artificial or strobe lights. Whether it's natural or man-made, light is light! The real power lies in how it's crafted.
Now we have our well-lit portrait. A good test is to hang your custom portrait art up and then take 3 steps back. If you can't see the color of the person's eyes, the portrait is too small. This means that a family portrait of three family members needs to be a minimum of 20×30 inches to fully appreciate it.
Size Matters
In design terms, the wall where you hang your art creates negative space around your portrait. This negative space "swallows" the portrait and makes it appear smaller. So even though you may think an 8×10 is "big" up close, when hung on the wall it truly looks pitiful. See how small that 8×10 is on the wall below?!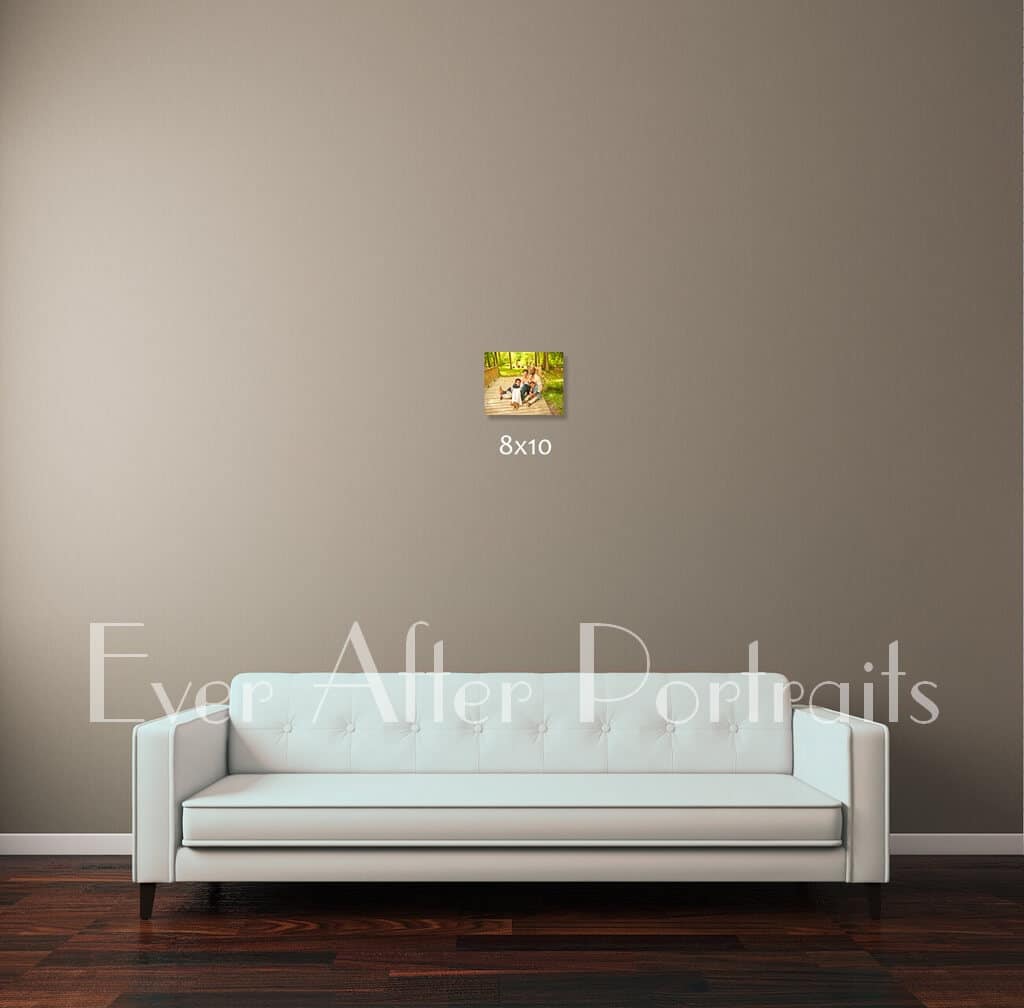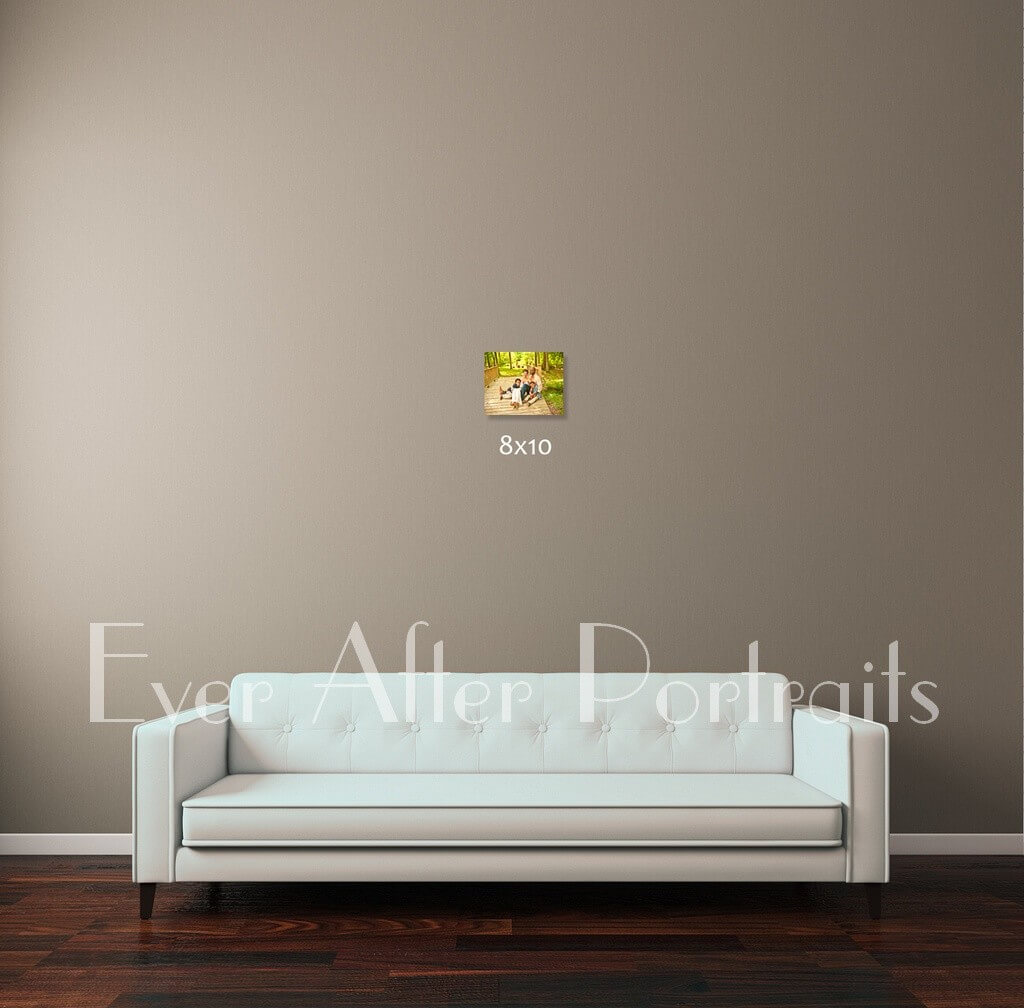 Your Custom Portrait Art Shown on Your Very Own Walls
A wonderful way of deciding on the most ideal size for your portraits is for you to see them displayed large during your Ordering Session. Not only that, but at our studio, each client provides iPhone (or other smartphone) snapshots of their walls. With those iPhone pics, we use our specialized design software and your wall snapshots to create wall concepts and show them to the client directly on their very own walls! In this way, we are able to guide our clients through the process of selecting the perfect custom portrait art for their walls.
For many of us, imagining what a portrait will look like in a room is very hard. The human brain needs something to compare it to. (This is why we love flipping through those fashion or home catalogs; we can see how the clothes fit on the model, and see exactly how big the furniture looks in a room.) It's much easier to see something you like and say "I want that!" It's the same when you see an appropriately sized portrait on your wall. See how much more stunning the portrait below is when it's properly sized for the wall?!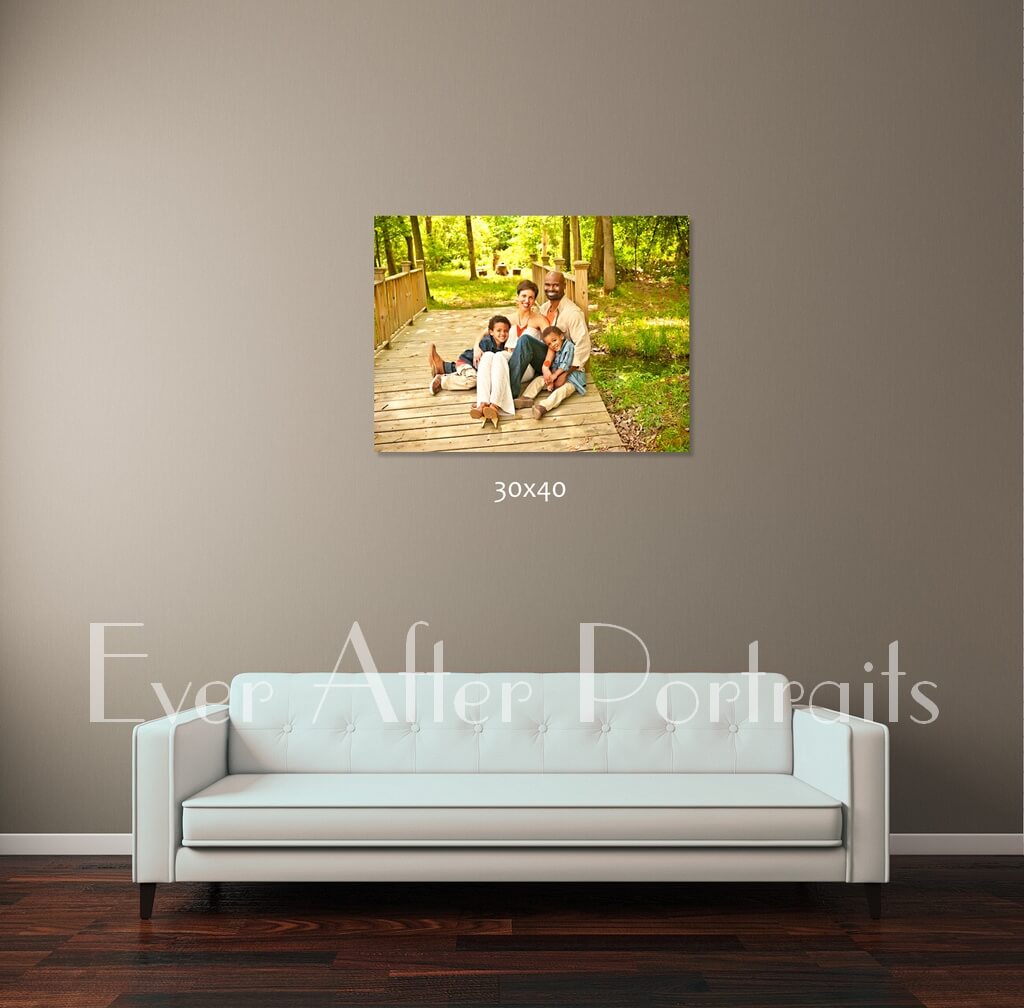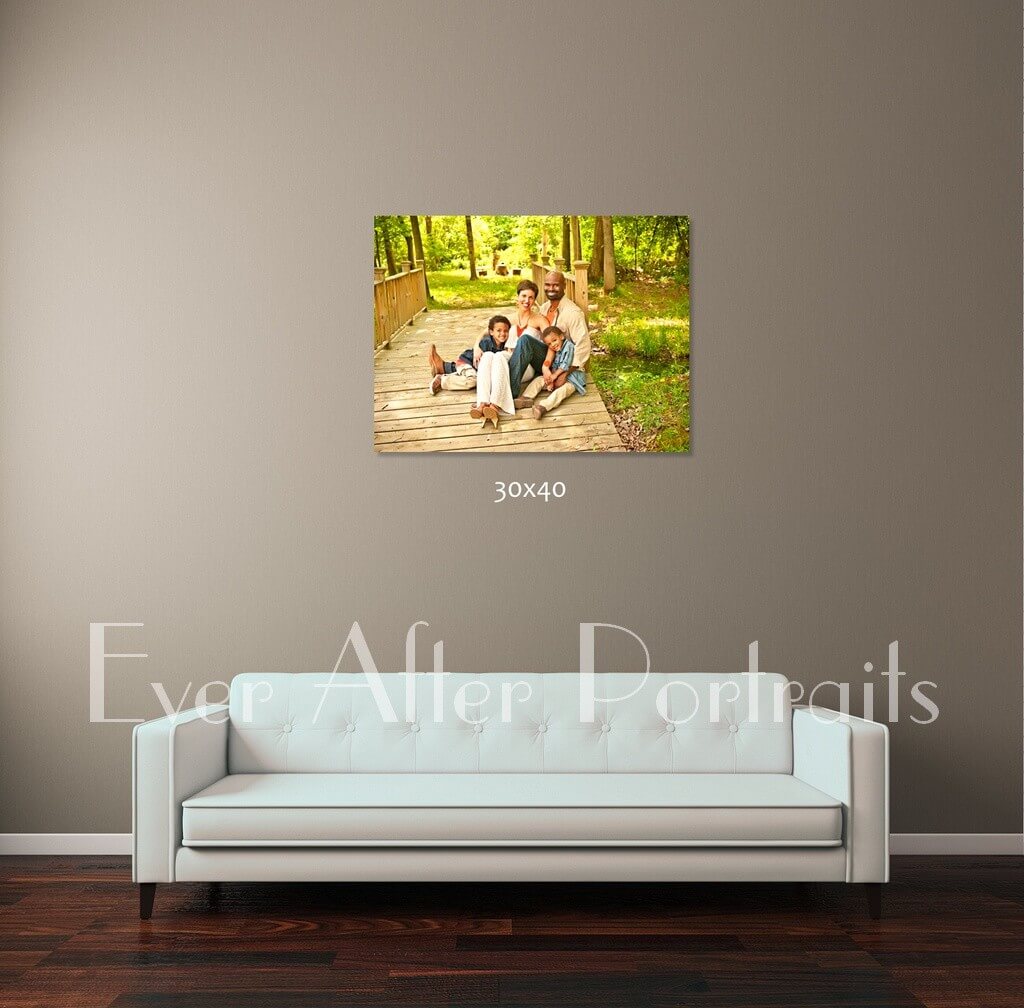 Much better, right? Now here it is with the family portrait zoomed in a bit and then framed.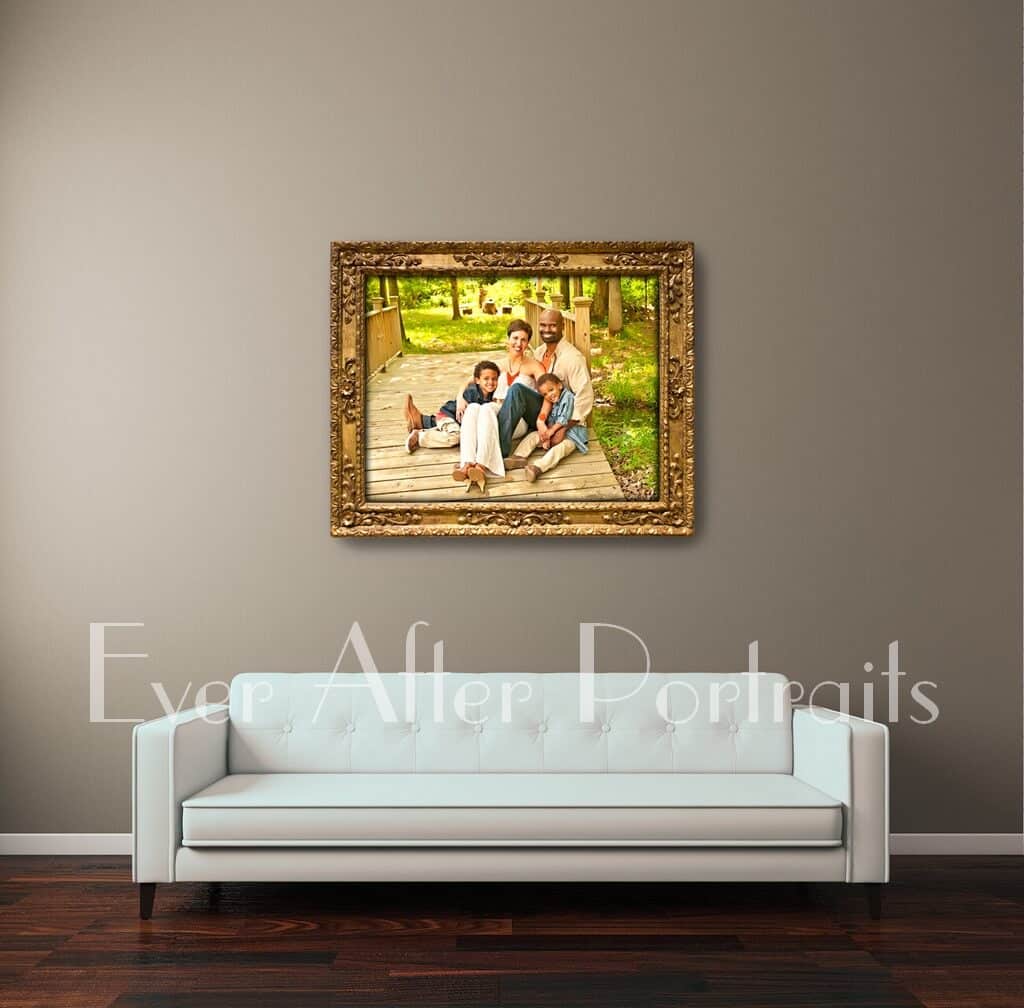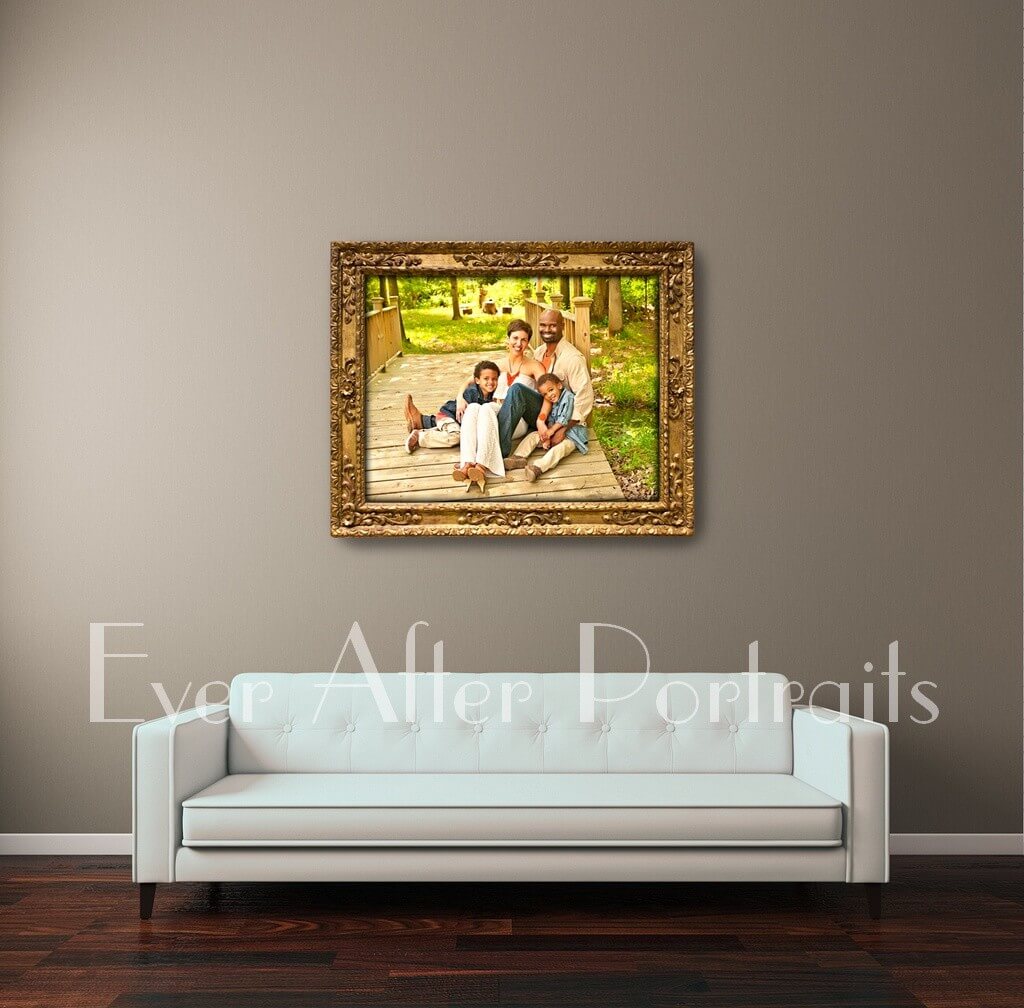 The Ideal Size for YOUR Custom Portrait Art
The piece de resistance at our studio is this room view feature. We're tickled pink for you to see how easy it is to show you your portraits appropriately sized in an image of your actual room, a room you provide to us in iPhone pics. With this design software, your portraits will always be perfectly sized for your home!
Better still is the wall grouping feature where we can put together a display of complementary sizes to create a WOW showcase. A group of portraits hung together have even more impact and design style than a single portrait, thereby occupying more positive wall space. Besides, so many homes today have gigantic walls just begging for beautiful artwork!
It would be our pleasure to create beautiful custom heirloom artwork for you, artwork of those you cherish.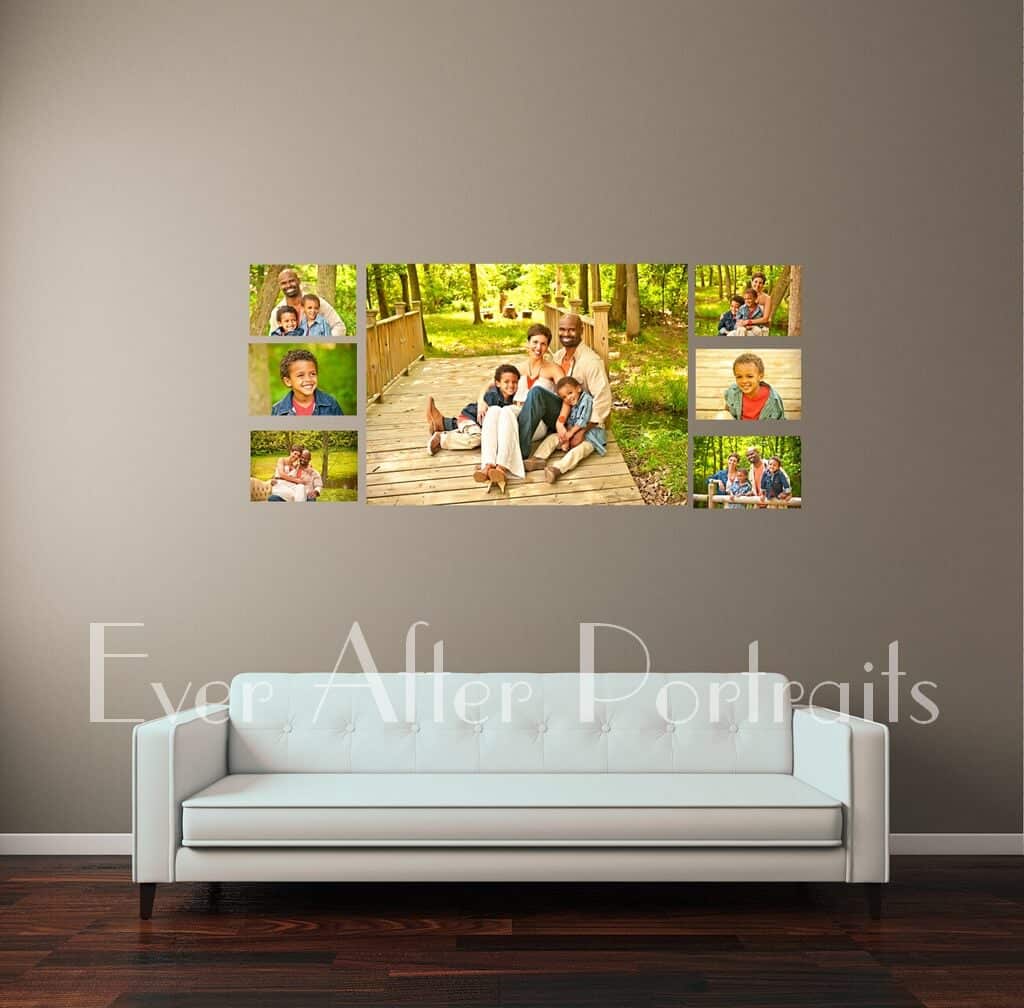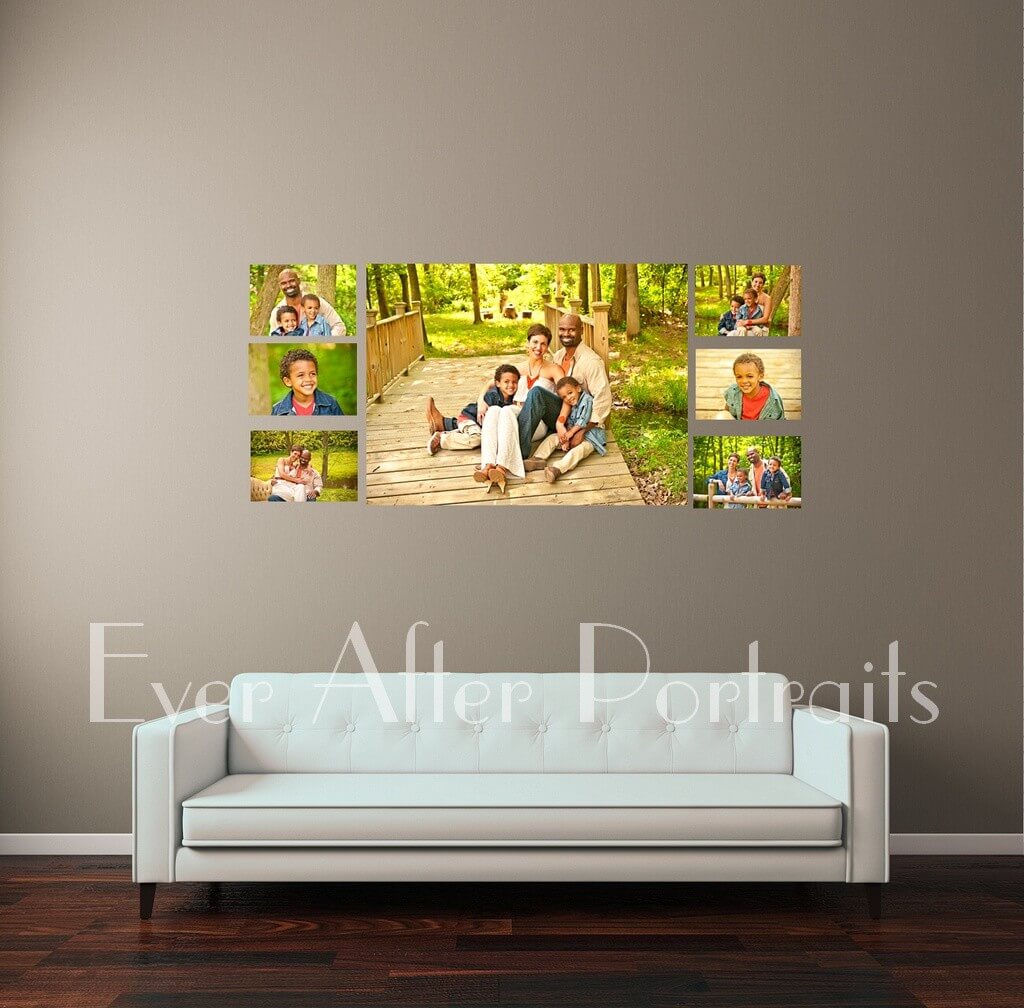 Northern Virginia Family Photographer, Professional Photographer, Custom Portrait Art
Ever After Portraits is comprised of Mindy and Joriana Belcher, a mother-daughter photography team located in Northern Virginia, near Lansdowne, VA. They specialize in timeless and emotive custom portrait art for families throughout the area.

Family means everything and capturing those precious moments to preserve forever will mean family heirlooms for you to share for years to come.
Best,
Mindy & Joriana –
Contact Us!
View Our Portfolio
|
professional photographer