THE EVER AFTER EXPERIENCE
---
Life is meant to be celebrated!
The truly important things are the treasured moments of love and emotion that are the soul of your family.
Life is made up of a series of fleeting, but often magical, moments.
Those moments are right beside us.
Yet we are often too busy to truly look
and savor their captivating splendor.
Life can be busy, complicated and stressful
and it can be easy to get caught up in responsibilities
and forget about what really matters.
And then those moments pass, and the memories fade…
 CELEBRATING THOSE YOU LOVE AS FINE ART
We celebrate your loved ones and
help you experience those precious moments
over and over again, every single day.
We will guide you through a Fine Art Experience
that will rediscover the love you have
for those closest to you.
Meaningful, authentic portraits will then
live on the walls of your home.
We Are Going to Create an Experience You Will Never Forget!
LET'S GET STARTED!
We want to learn about you and your family. 
Let's pick a time to speak on the phone and start your custom experience.
DISCOVER
Creating meaningful artwork starts with discovering what you love about your family and what you would love to celebrate
What would it feel like if you, your partner, your family were captured through your eyes with everything YOU love about them??
What is it you absolutely adore about your little one right now?
What made you fall in love with your partner in the first place?
What is it that makes her unique to you – that special something that only you know and would love to hold on to forever?
What are the sweetest moments of your day?
Is it the look in your child's eyes or her face as it lights up when she sees you coming home from work?  Or is it when your little one cuddles into you as you read him his favorite bedtime story?  Or perhaps it's the last kiss goodnight?
Together, we will celebrate those moments by translating them into portraits so you can experience them over and over again, every single day.
The story of your loved ones will then live on your walls.
We want to discover your story.
DESIGN
Your family is unique – that's why we tailor products specifically for you and your home.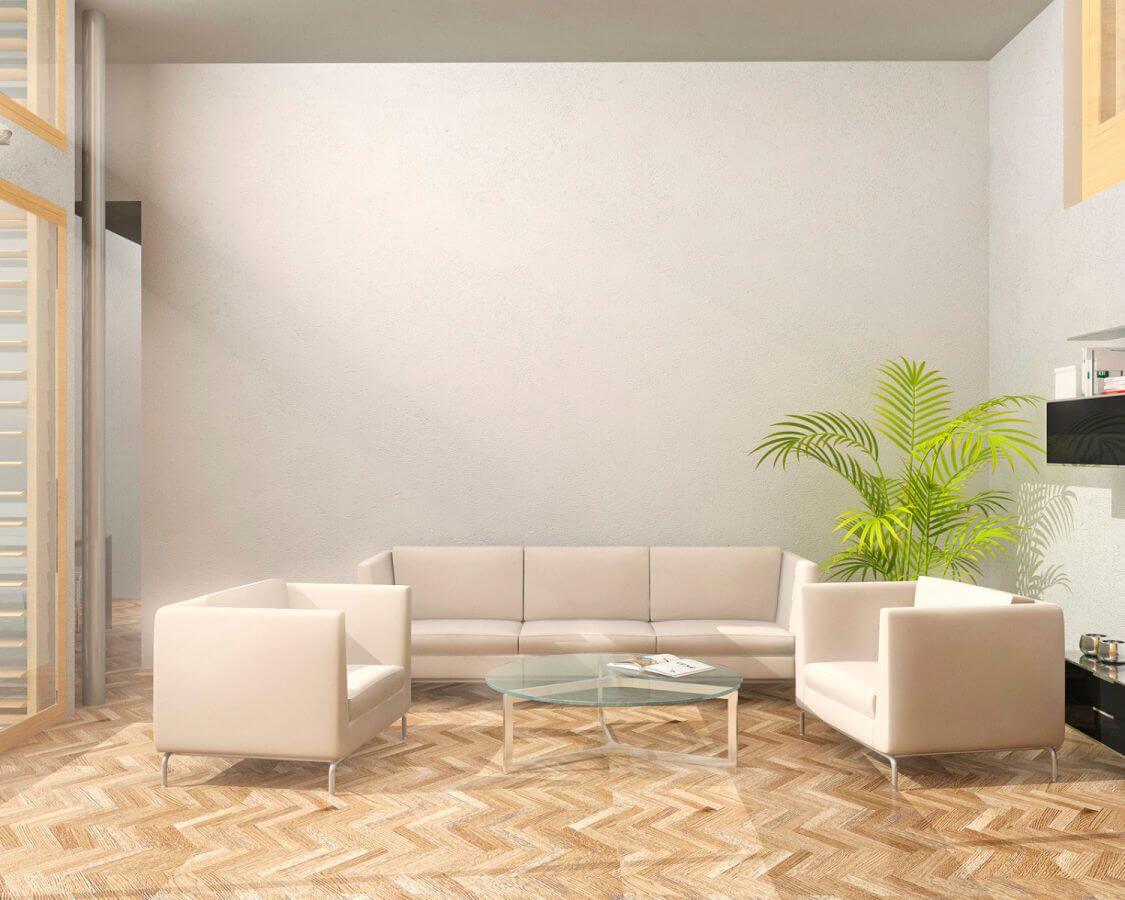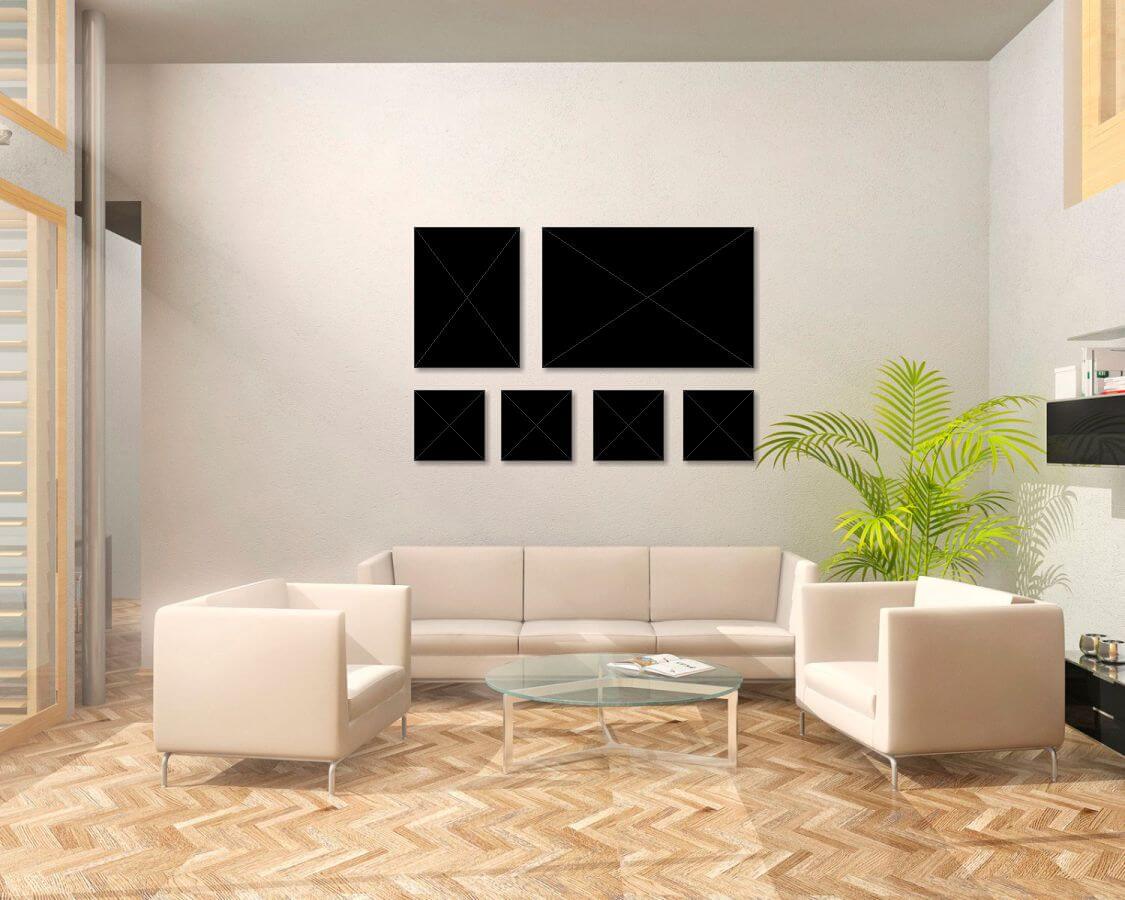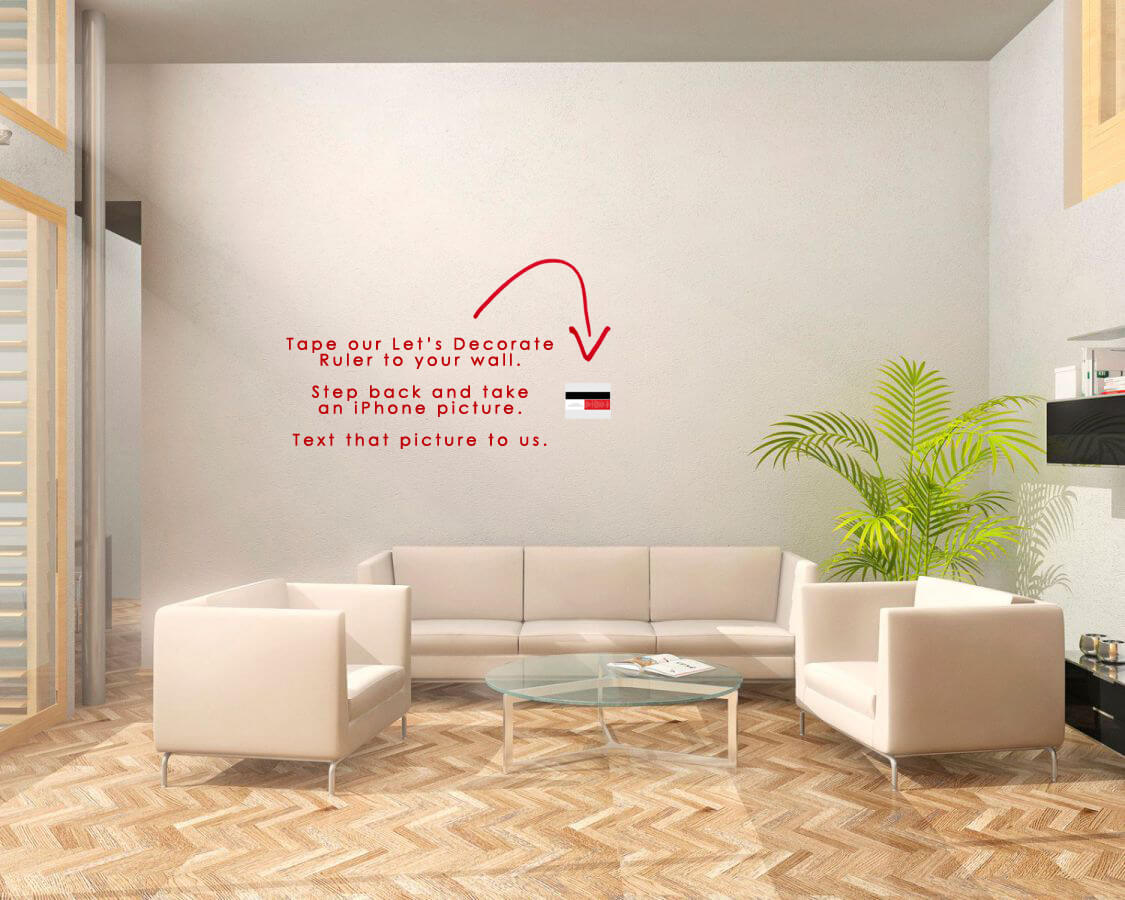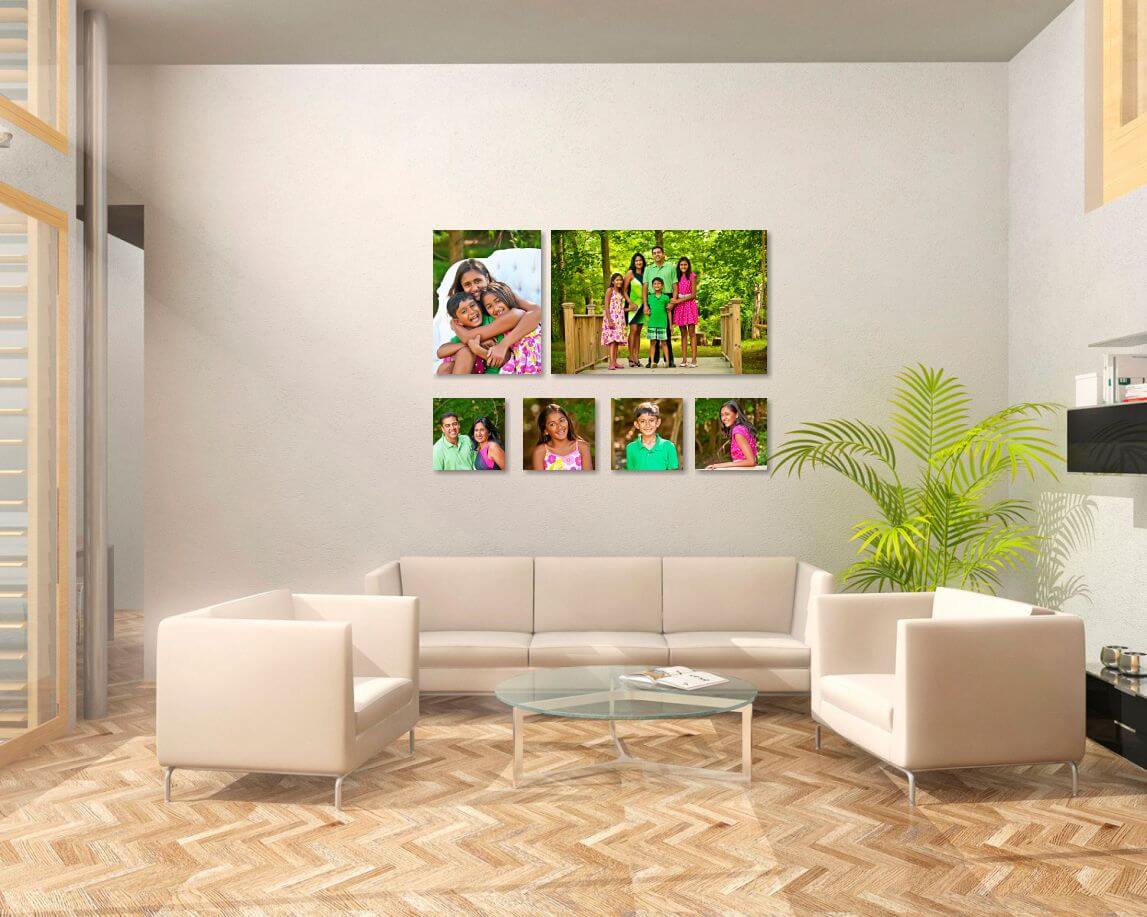 We get iPhone photos of your walls
and overlay artpiece mockups to ensure
the perfect size of your finished artwork.
Because we want to make sure that the artwork
we design for you is perfect for your home,
we use a specialized design software.
We use it to create custom wall art mockups
to show you exactly how your finished artwork
will look on your walls
STYLE
For stress free portraits, we create clothing suggestions like a stylist does, based on your decor and lifestyle
We create custom clothing
and styling suggestions
based on your decor and lifestyle.
As part of our custom service,
we invite you to take advantage of
our visual styling clothing suggestions.
It's like having your own personal stylist
who will look over your home decor,
discuss your color preferences,
and integrate them into a personal
and custom design guide for you
and your family
– guaranteed to take the stress out
of what to wear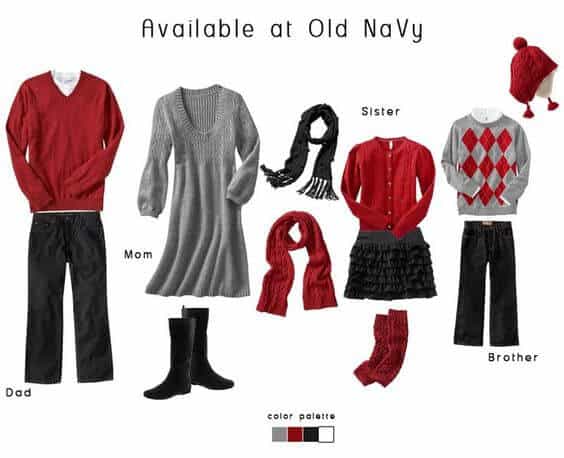 PORTRAIT
We capture the essence of who you and the ones you love most are and turn them into meaningful portraits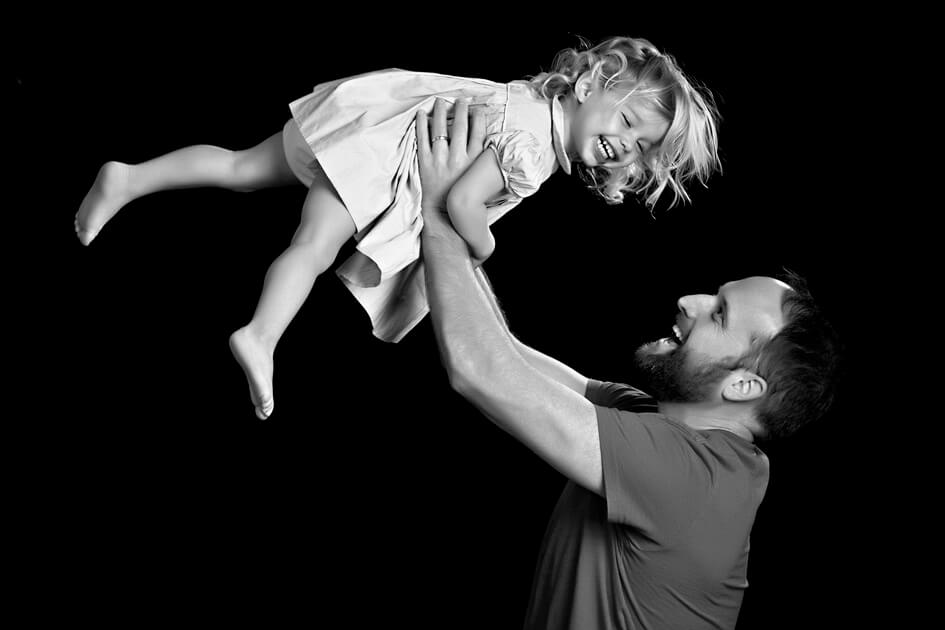 After discovering what is important to you,
we celebrate everything
we have discovered about you and
your loved ones and craft the perfect portrait session.
Remember, this session is more than just taking photographs. 
It's a celebration of your life and relationships…
whether it's three crazy little boys full of life or
an older dog with a beautiful life to remember
or perhaps a mom with her daughter and best friend.
This session takes place in an enjoyable and relaxed environment
and is a lot of fun for everyone!  We take everything
we've learned about you and your loved ones
and we celebrate all those special things. 
Don't worry about making everything perfect,
because it is in the imperfection we really find our true selves.
WE CUSTOMIZE YOUR EXPERIENCE LIKE NO OTHER
 EXCLUSIVE
2.5 ACRE
PORTRAIT PARK
Our 2.5 acre outdoor studio
is a Portrait Park exclusive to us –
so you never have to worry about strangers
roaming around in the background
or the awkwardness of being observed
like at a local park. 
Areas such as two ponds, a pier,
fences, bridge, wooded areas, grasslands, etc.
are continually updated –
oh, and unique props, such as couches
are just steps away too,
so your session can be
truly unique.
FULLY
EQUIPPED
INDOOR
STUDIO
Because the best time for a portrait
is always now,
as a full service portrait studio,
we have a fully equipped indoor studio available
summer, winter, rain or shine.
We are also available to photograph
on location.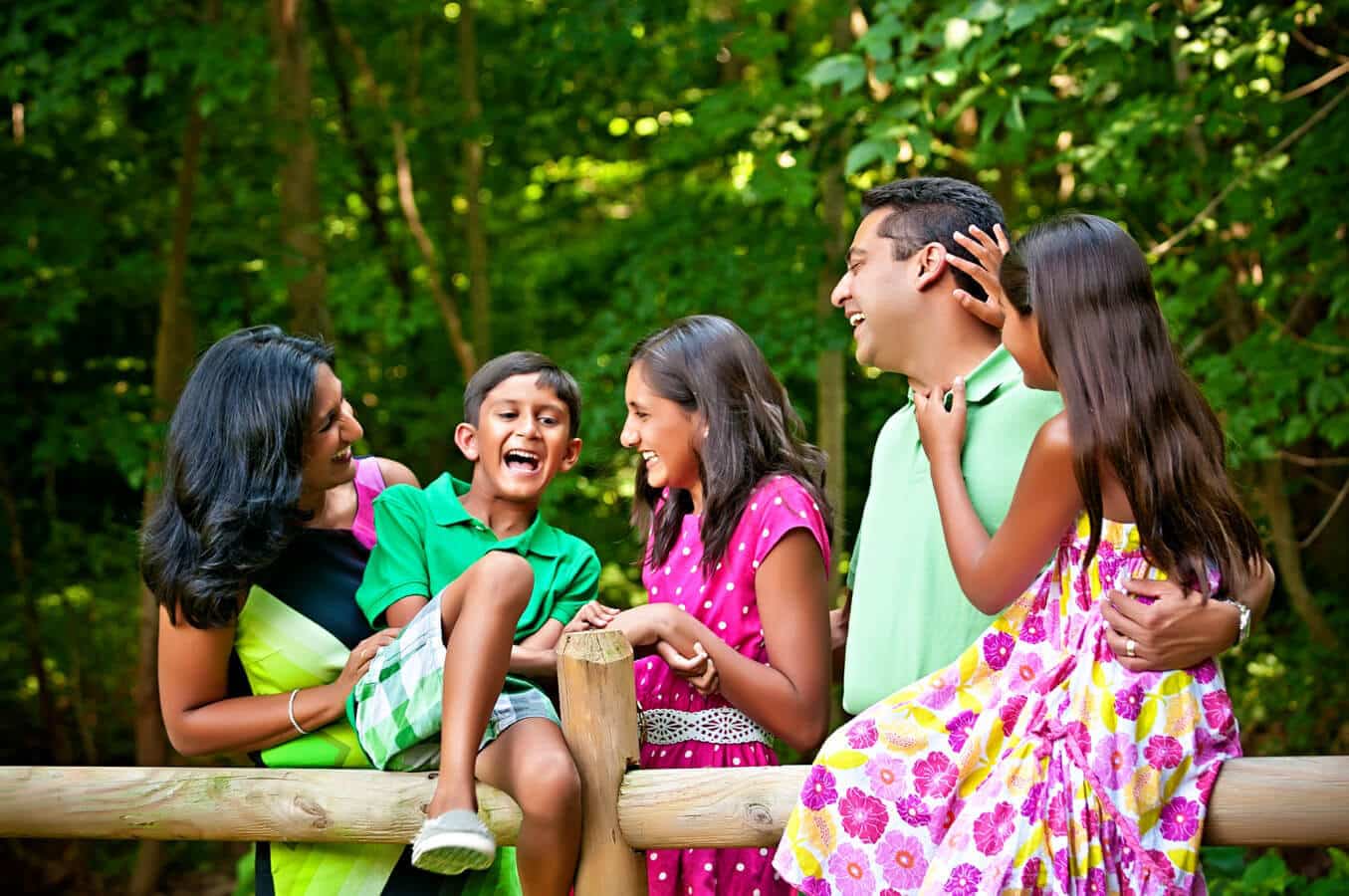 WE CUSTOMIZE
HOW WE PHOTOGRAPH
Whether you want a formal group portrait
with everyone looking at the camera and smiling
or something more candid, natural and relaxed
– or a little of both – we tailor how we photograph
to each family
Because we want to capture your family
from every angle
there's always two photographers!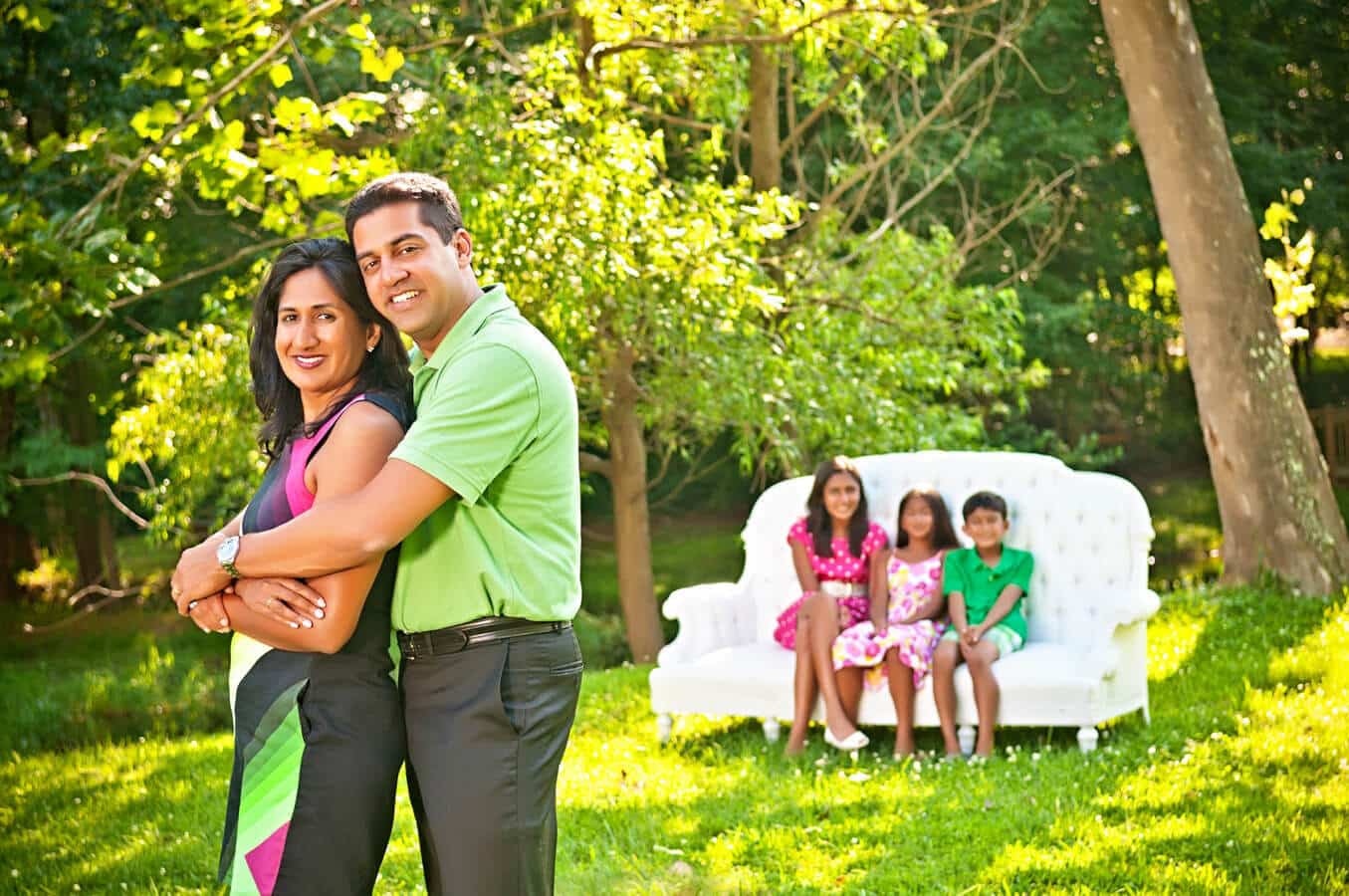 Portraits That Are Alive With Your Moments and Feelings
Experience the Boundless Joy and Laughter
Within the People You Love the Most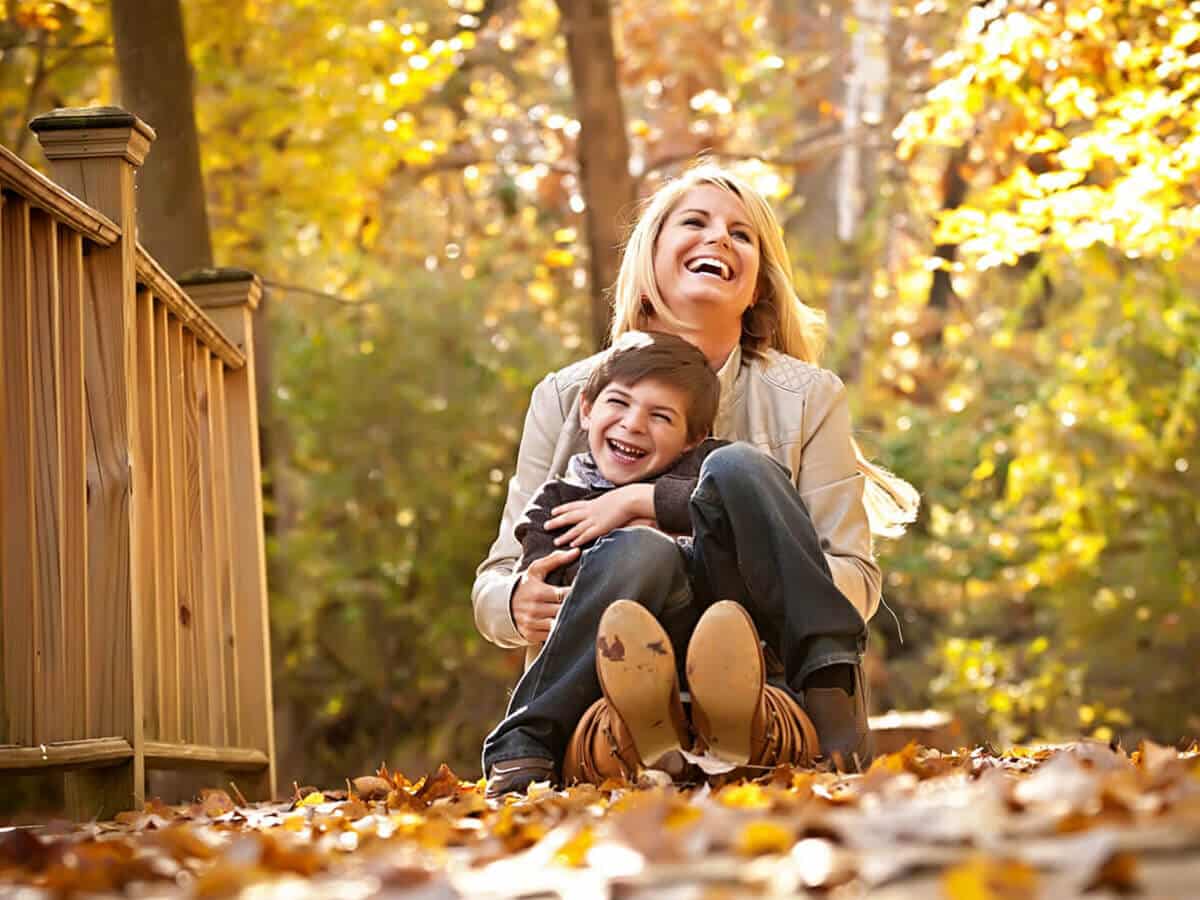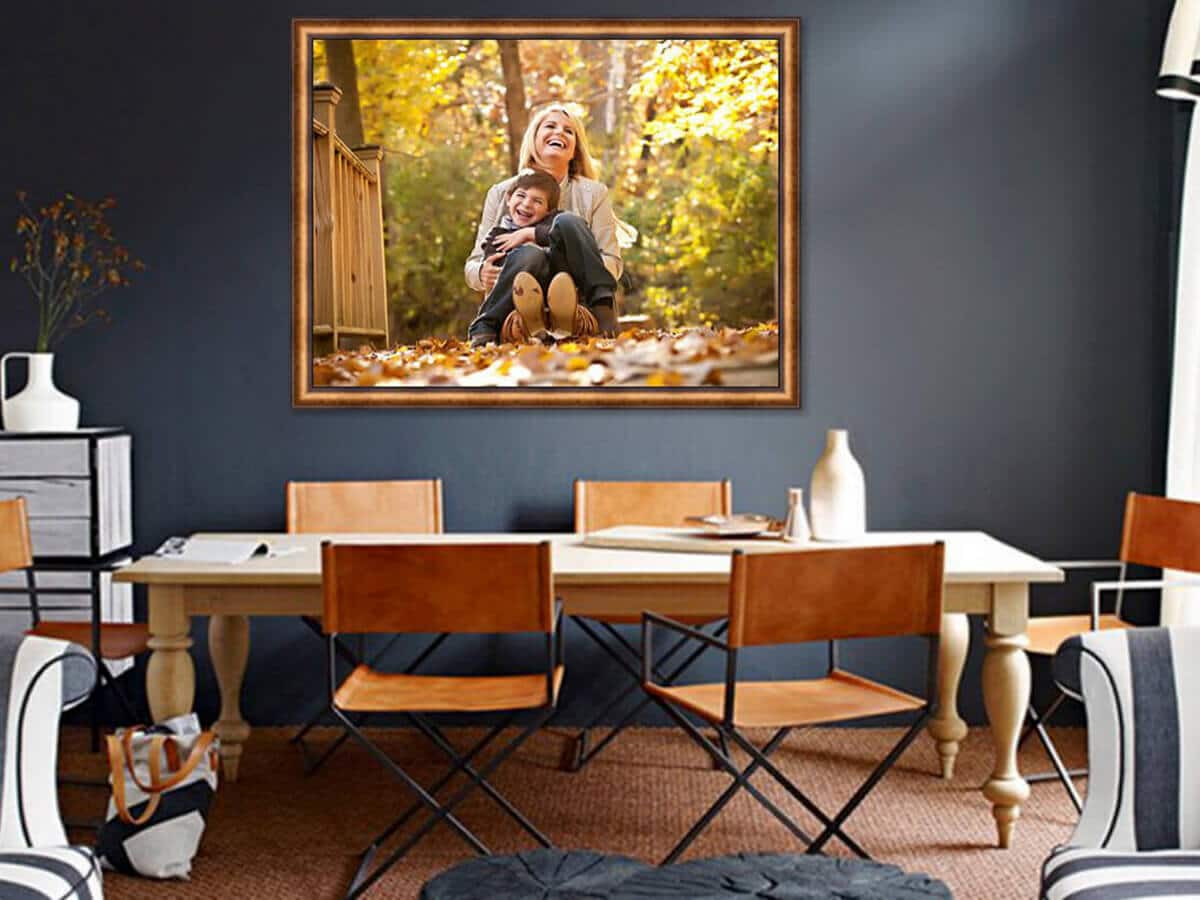 FAMILY
Fine Art Family Portraits That Help You Feel Closer To the Ones You Love
Than Ever Before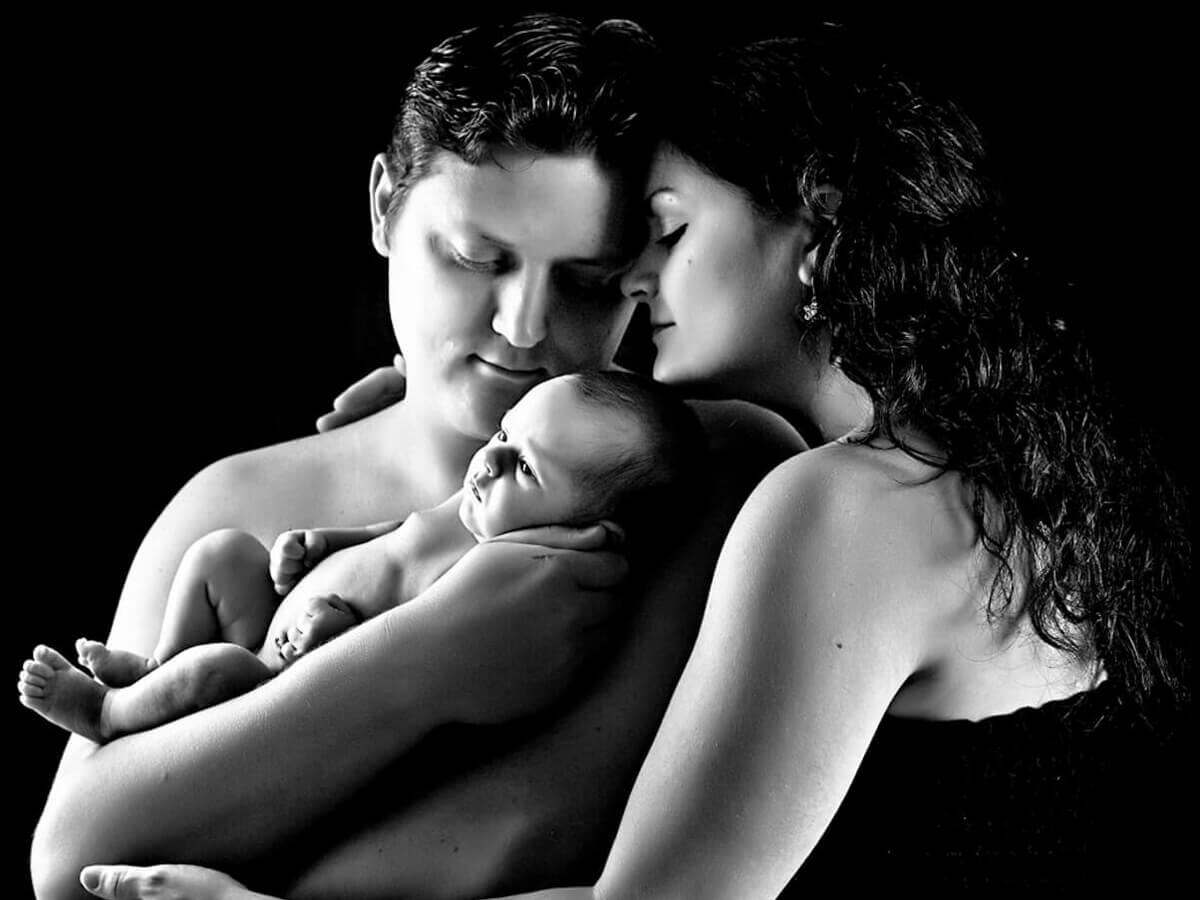 NEWBORN & BABY
How will you remember the first moments of your cherished family?
Fine Art Newborn Portraits that truly last a lifetime.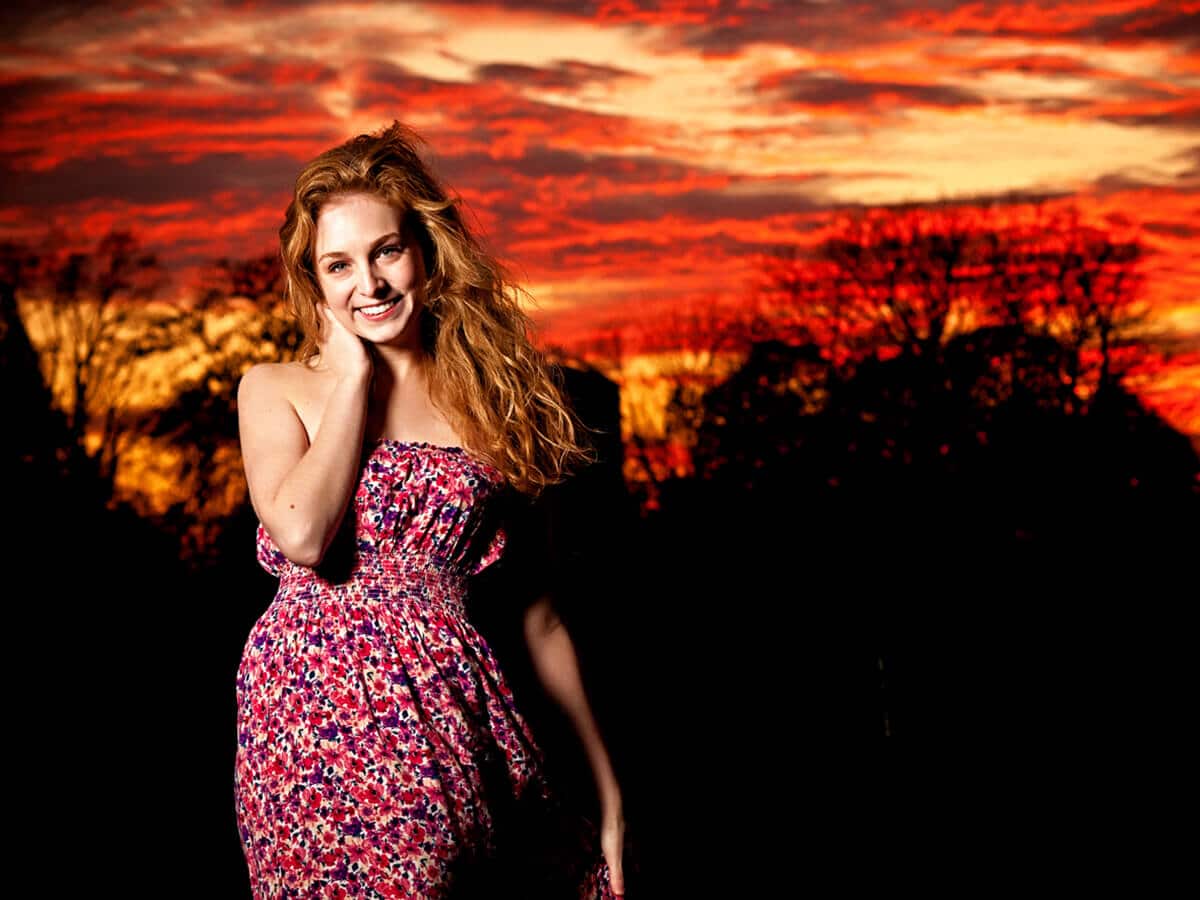 SENIOR
For the parent who is not ready for them to leave the nest
For the senior who is ready to take on the world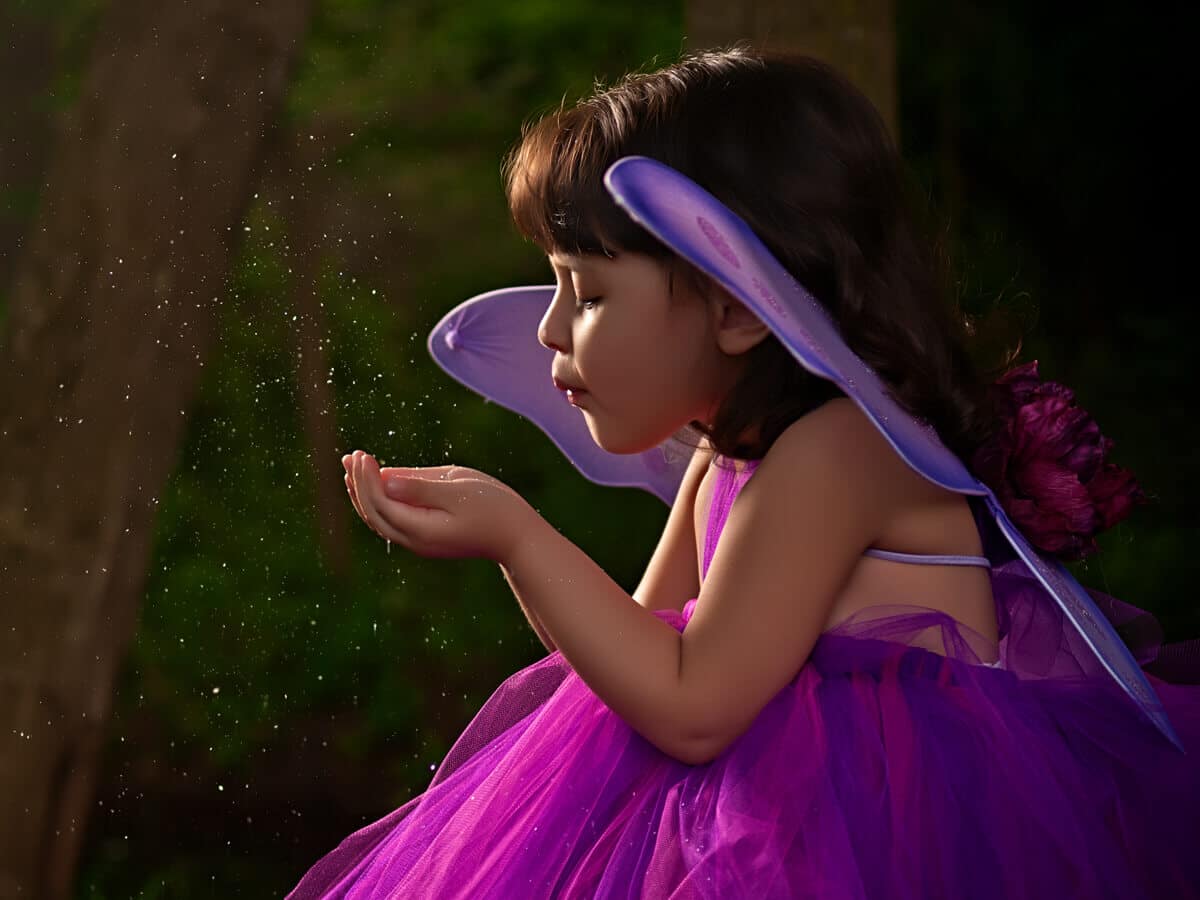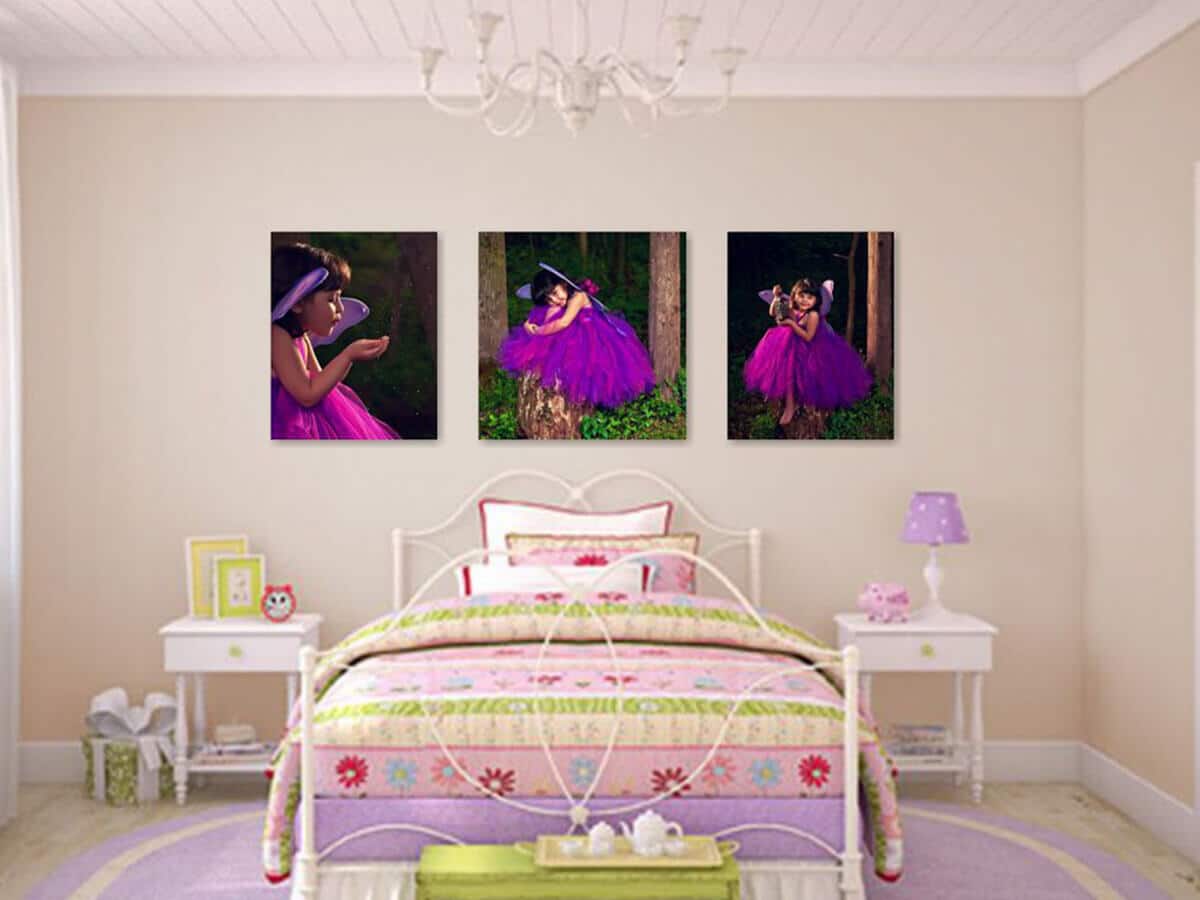 LIMITED EDITION
Storytelling that capture magical moments for heirloom artwork
that will be cherished forever
Personal Portrait Art
Because You Deserve to Exist in Fine Art Portraits For Future Generations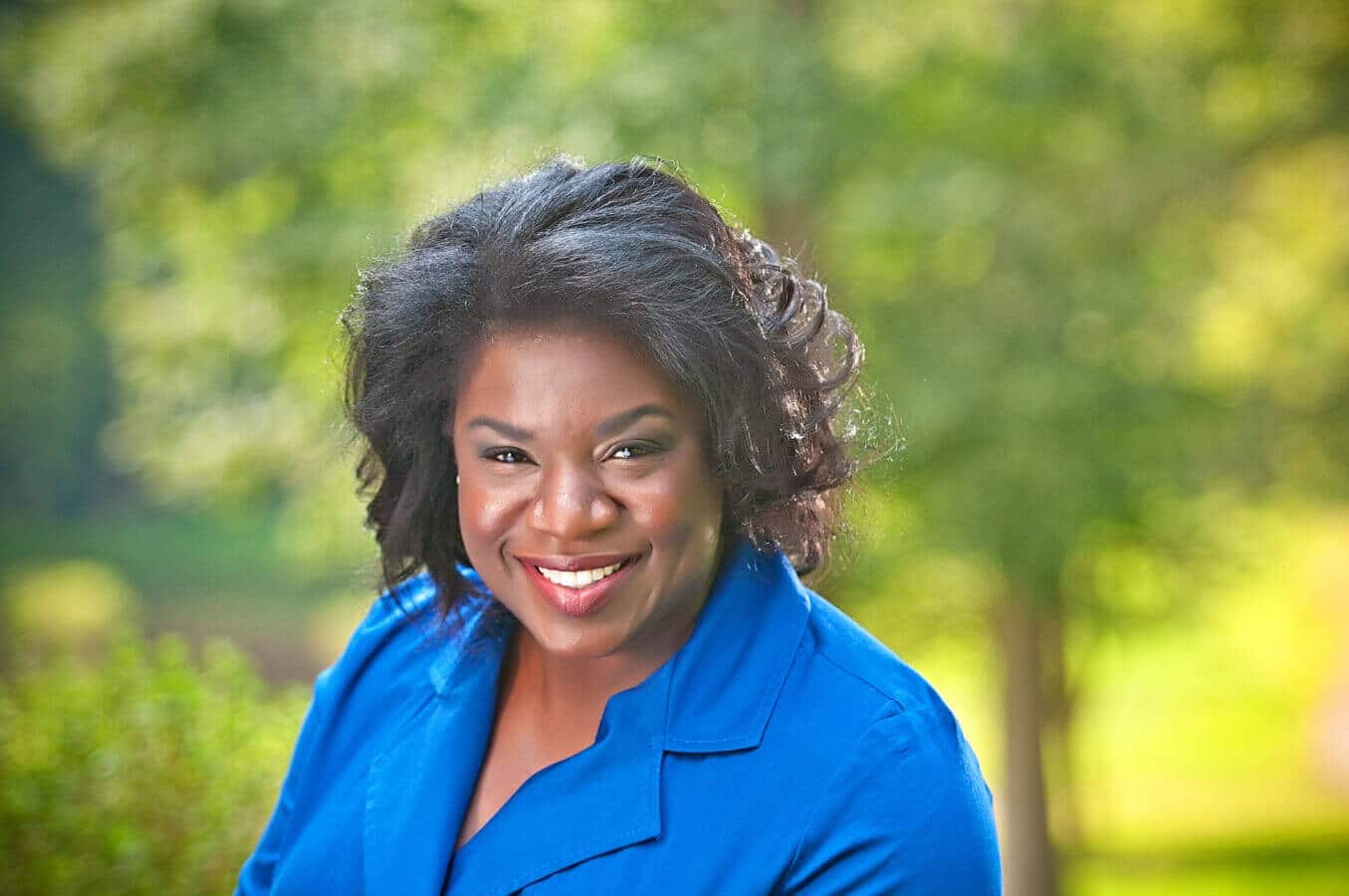 Headshots
It's not just a headshot – it's someone's first impression of you!  Does yours say the right thing about you?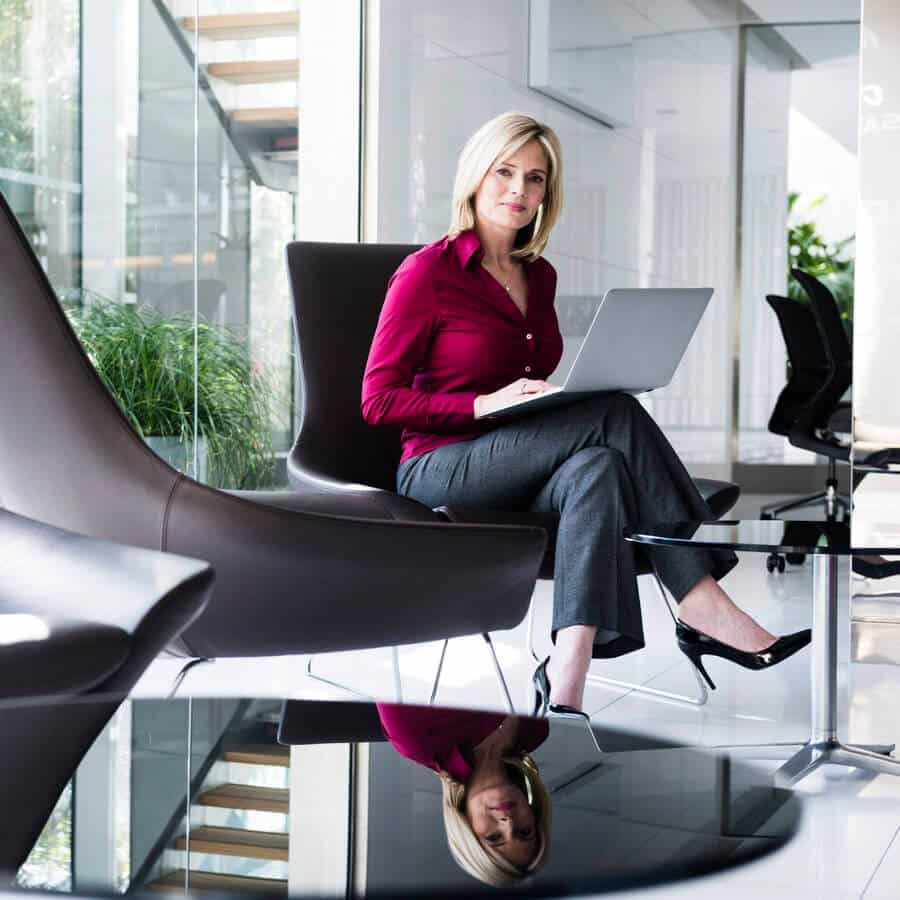 Personal Branding
When It's Important That Your Images Reflect Every Facet of Who You Are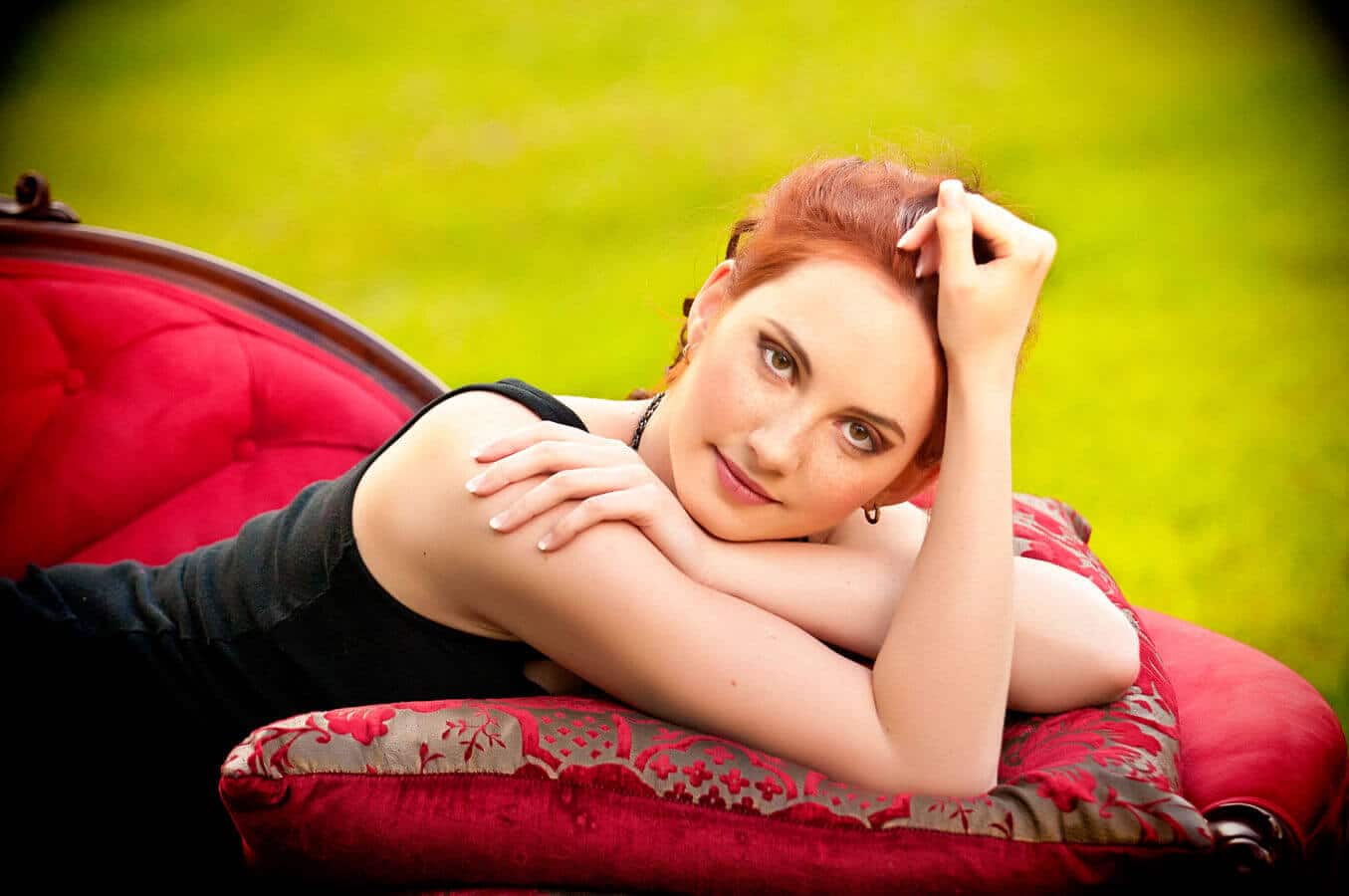 Beauty
A Beauty Portrait is a Legacy…for you and the people you love
BEGIN YOUR EXPERIENCE FOR ONLY
HANDCRAFTED LUXURY PRODUCTS
Exquisite Wall Art of Your Cherished Family
Isn't It Time To Elevate Your Family Portraits to the Place They Deserve?
We have hand selected the finest artisans that produce the highest quality products available…because your family is worth nothing less.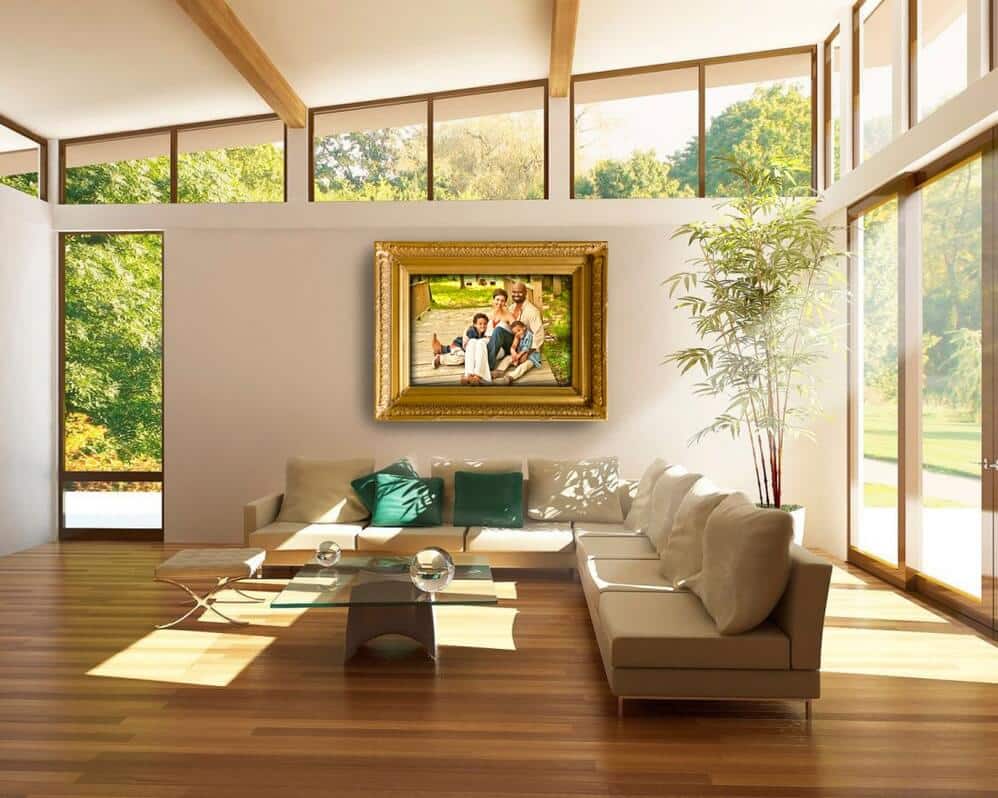 MASTERPIECE FRAMED WALL ART
Exquisite Wall Art of Your Cherished Family…
Each frame in our Masterpiece framing line features hardwood which is carefully hand carved and/or hand gilded, going through a 35-step process to ensure its beauty and integrity.
These frames meet the highest standard of excellence. The finished product is a true heirloom,designed to be passed from one generation to the next. Each frame is produced in the USA by a family of four generations of craftsmen. These frames have lasting beauty, so much so that you'llwant to pass your family portraits down for generations to come.
Because we know how much quality and craftsmanship mean to our clients, we meticulously researched and spent time choosing just the right frames to add to our Masterpiece line of products. You love and cherish your family, and any family portrait you choose to display framed should have a worthy frame.
Go ahead. Reach new heights of excellence. Establish a new standard of quality for those who enter your home.
Isn't your family worth it?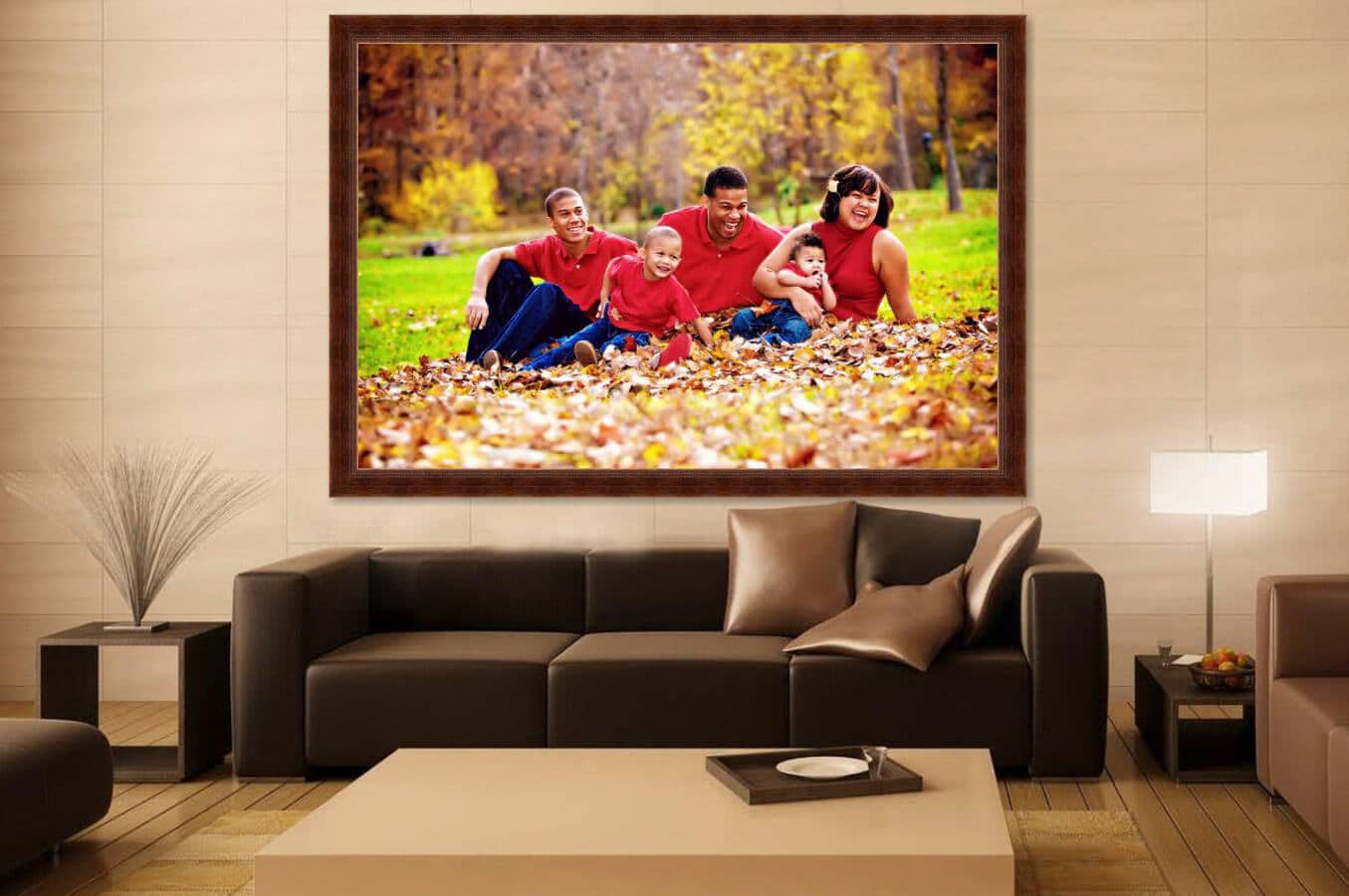 STANDARD FRAMING
Fine Art Family Portraits that truly last a lifetime…
For our Standard Framing line, choose from a variety of quality wood and metal mouldings to complement your lovely family portrait. The genuine natural, solid wood frames have a naturally rich finish and grain. The metal frames make for a lovely modern look.
Choose from a variety of quality wood and metal mouldings.  Extra care is taken to ensure your frame is free of flaws. This individual attention makes our frames all the more dramatic and rich and each is a beautifully made product you'll be proud to display in your home.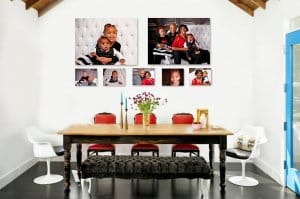 Bamboo Finish
Our Bamboo Wall Art is as unique as you are — perfect for your home of distinction. Printed with archival water-based inks, Bamboo is a completely recyclable substrate, which makes this a 100% green fine art product.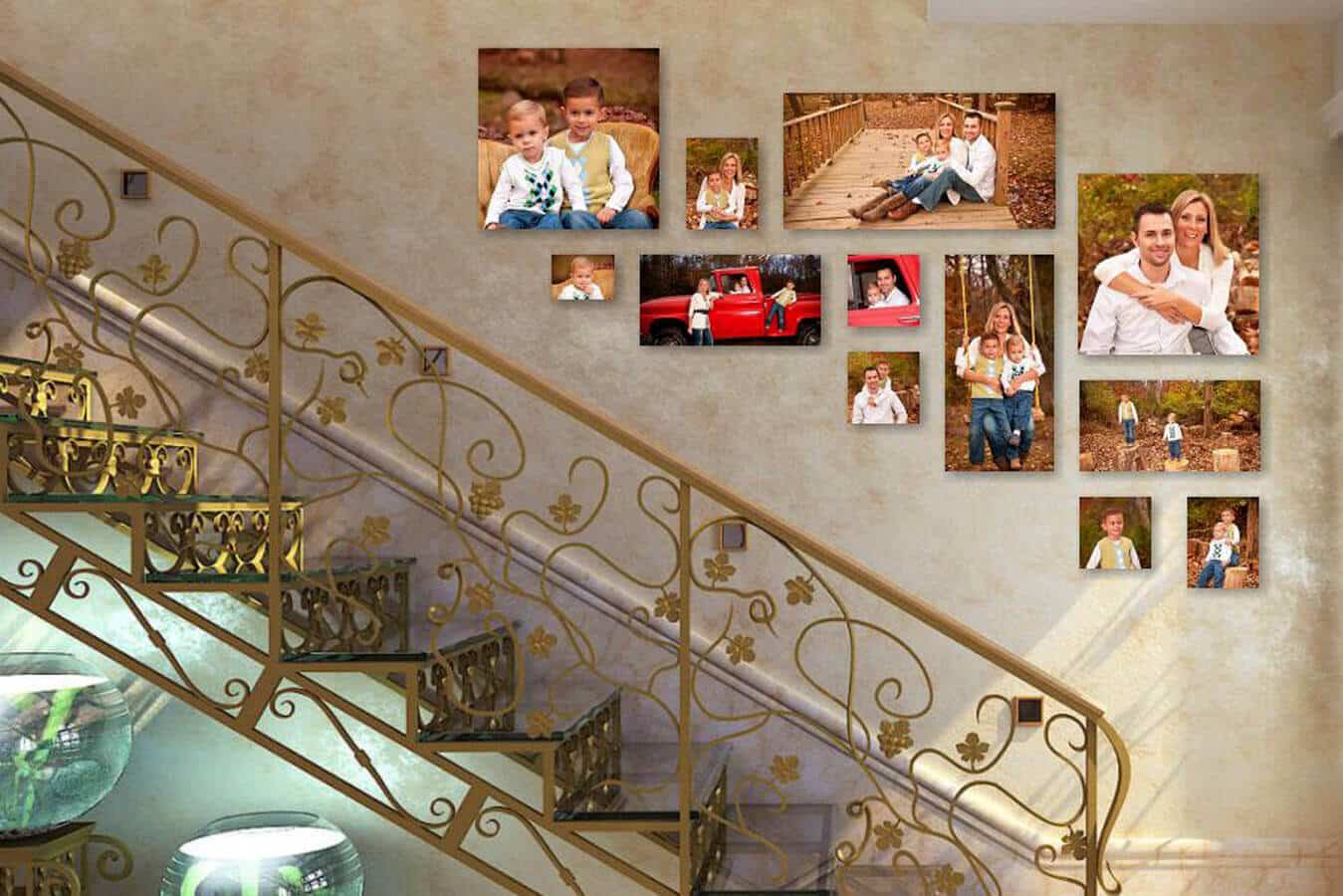 Ice Finish
Our Ice Wall Art offers you one of the most dynamic presentations of your imagery. Ice is perfect for the discriminating client looking for a contemporary and unique way to display their images. Non-breakable and face mounted, once printed, the image becomes opaque, highlighting the vibrant colors and detail.
IN PERSON ORDERING
Luxury Boutique Products for those that value exquisite quality and craftmanship
THIS IS THE MOST EXCITING PART!
Now is the time when you get to simply sit back and enjoy the cinematic presentation of your portraits.
Your collection will showcase you and your loved ones in your home (and maybe your office) as a visual reminder of what is most precious to you.  Don't worry; we'll have tissues on hand!  It's quite an emotional experience!  Be ready to fall in love with your family all over again.
We help you finalize your artwork and place your order.  We accept credit cards, cash, and checks for payment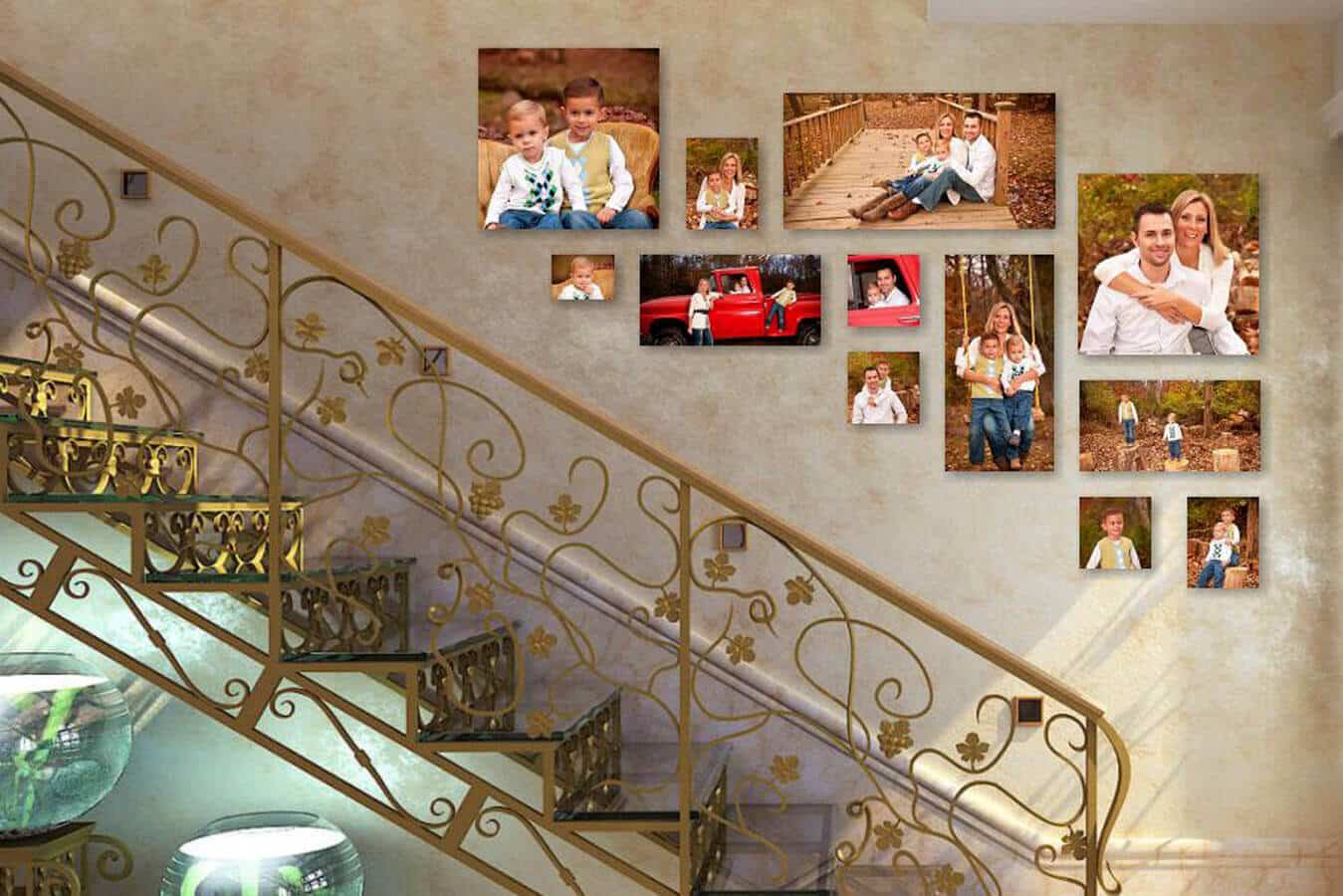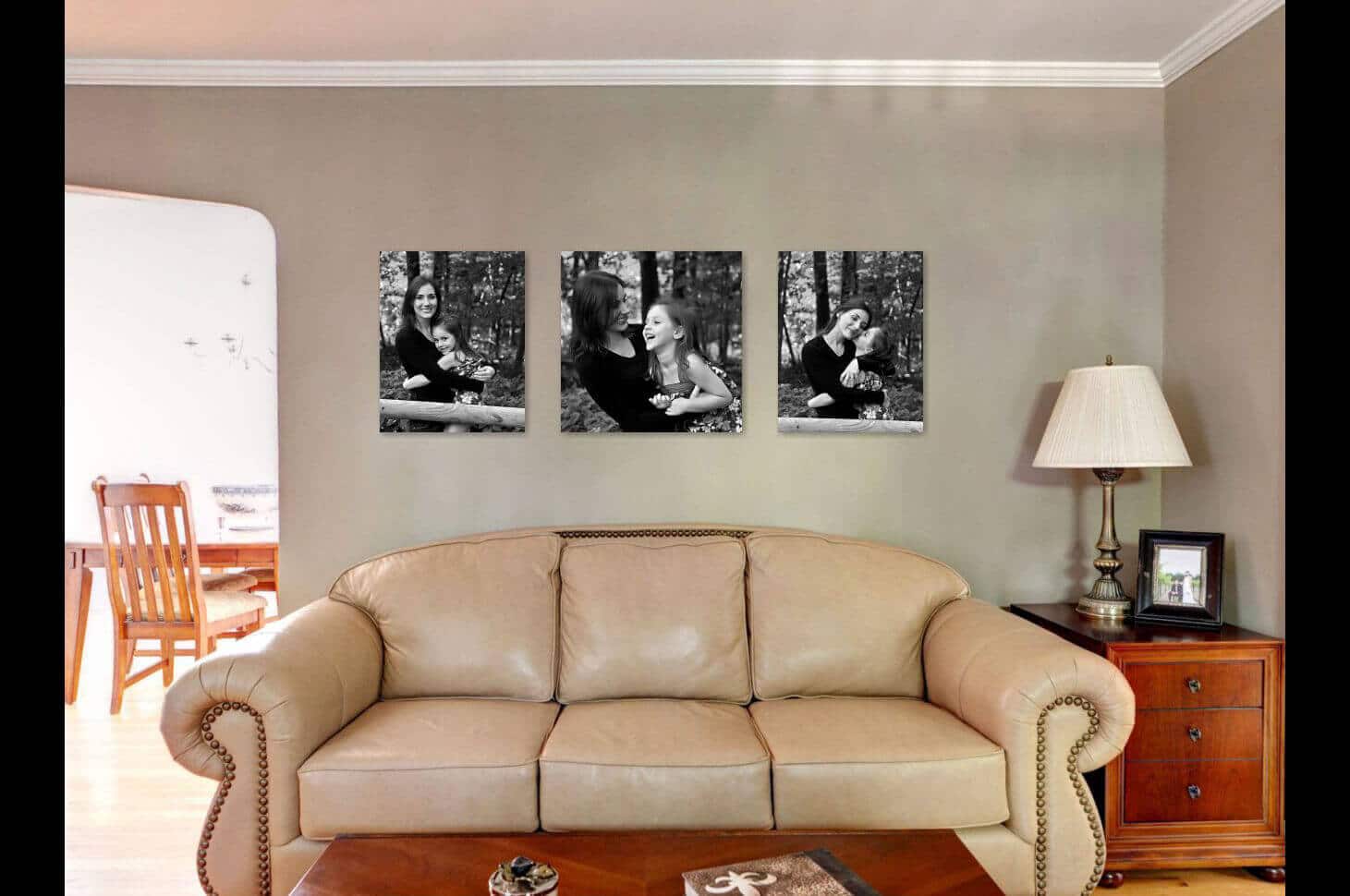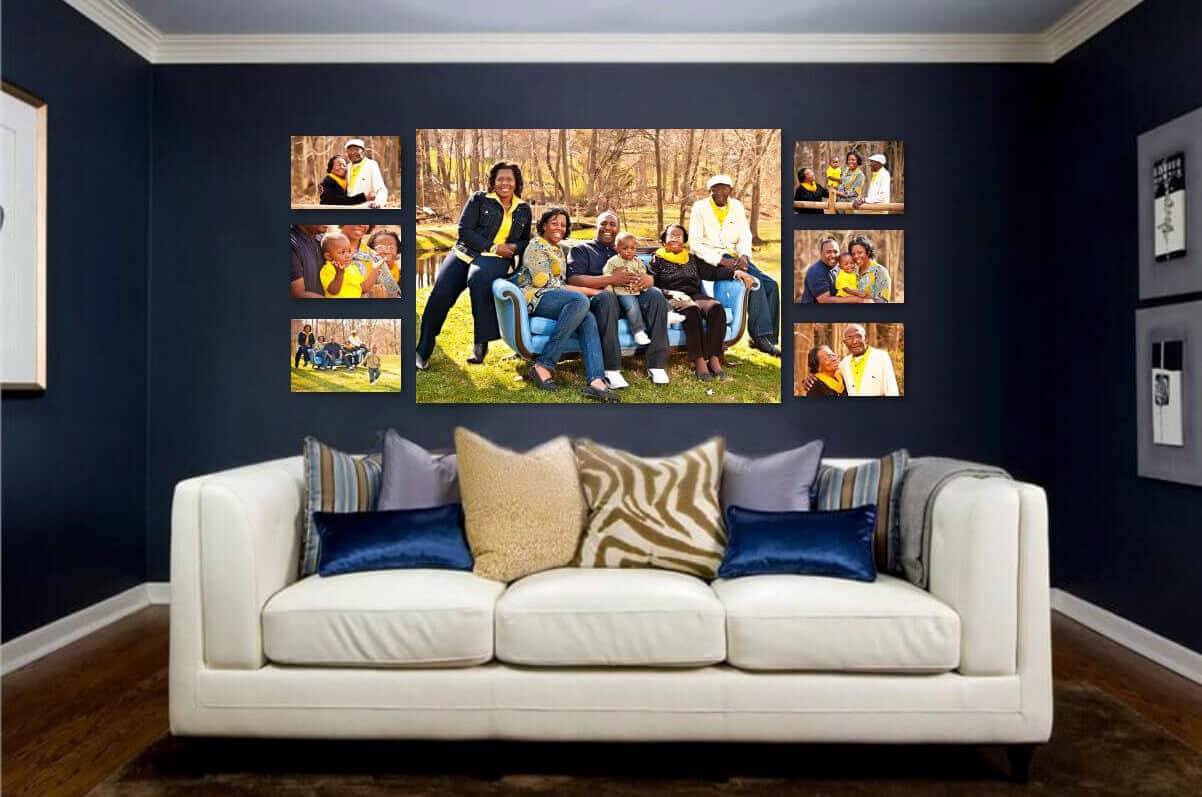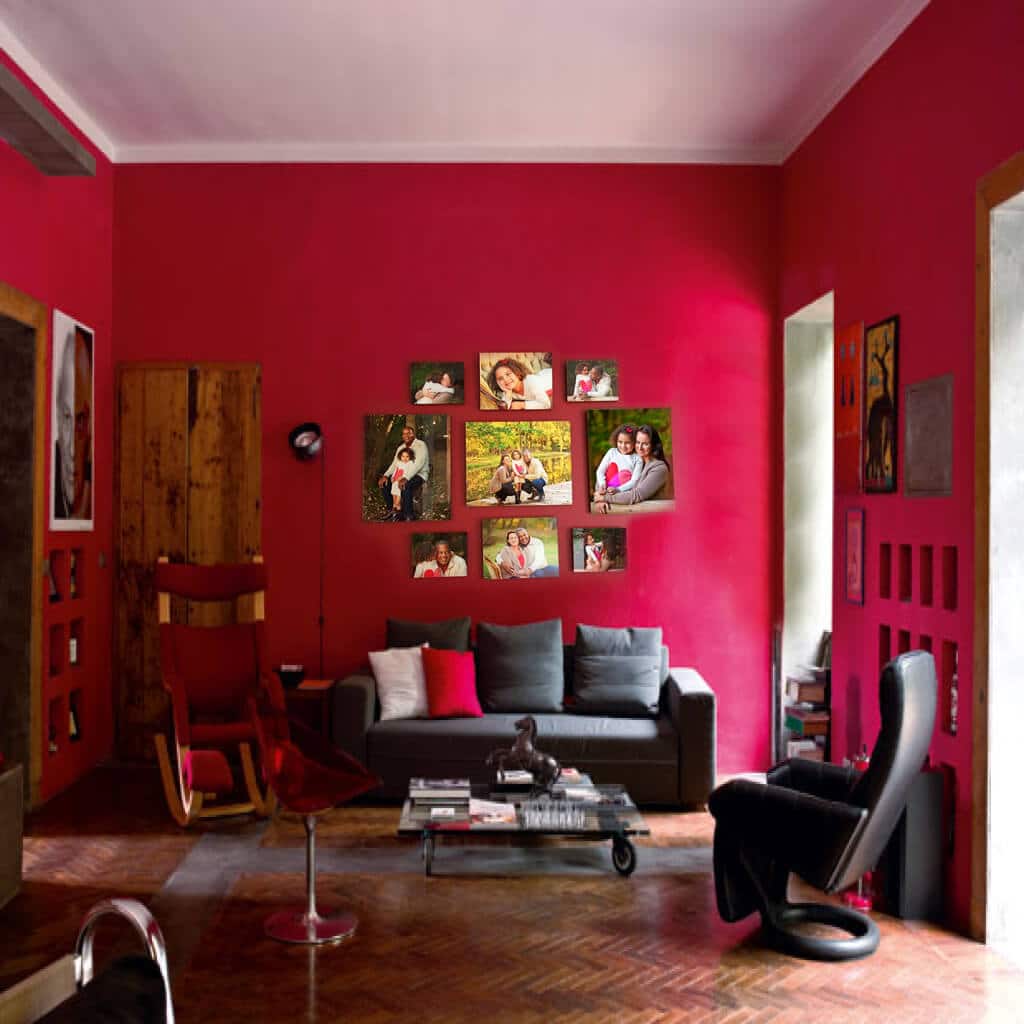 DELIVERY
Most of our clients prefer to have their portraits delivered and installed in their homes.
Wall Art in your home means the first part of the journey is complete. the journey continues each day as you experience your wall art as a reminder of the most important people in your life.
DISCOVER
Begin Your Portrait Experience
With a Phone Call
DESIGN
Design Mock Ups Will Be Created From iPhone Snapshots
PHOTOGRAPH
Now it's time for your Portrait Session at our Indoor or 2.5 Acre Outdoor Studio
IN PERSON ORDERING
Select the portraits you love to be displayed as treasured and timeless pieces of art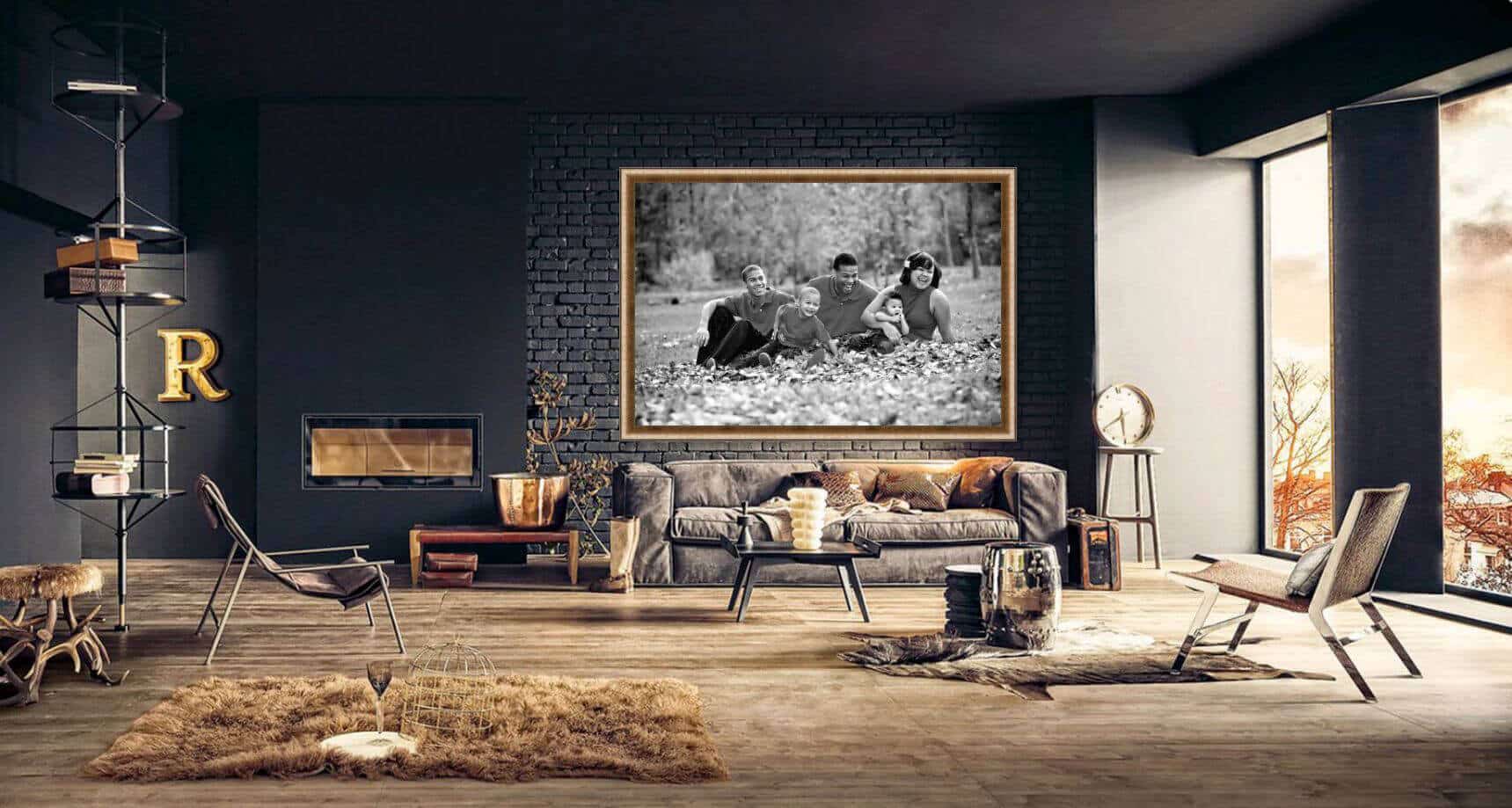 Ever After is by far the leader when it comes to the latest photography techniques. I was married in 1999 and every time someone sees my album, they are amazed at how unique it is. Most recently we had family portraits taken and it amazes me how special the moments are that they capture. I smile every day when I walk past my family portraits on the wall! ~Andrea Bailey, Virginia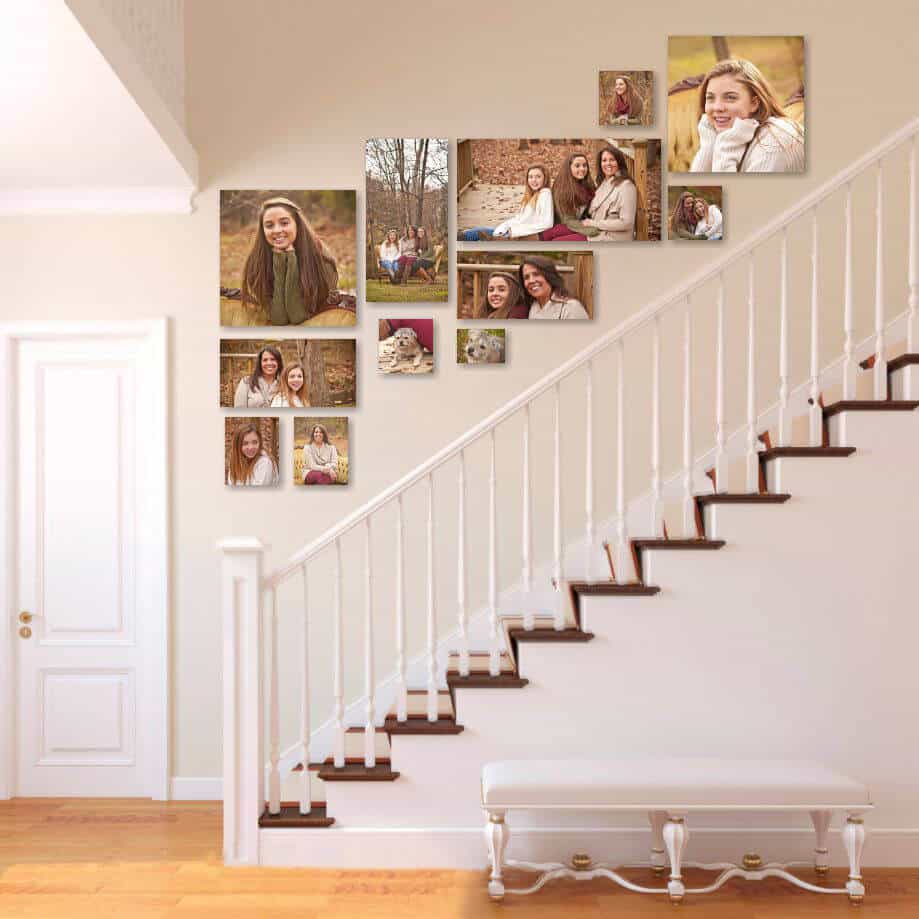 Once I scheduled my session, the magic started. Mindy & Joriana worked with me to figure out where I wanted to hang wall art and what various groupings of pictures would look like on various walls in my house, on the color schemes in my house so that the clothes would coordinate with it, and to plan clothing options that my daughters and I could wear. They had so many different wall art options; of course, canvas, but they also had amazing options with bamboo, metal, and glass. In addition to wall art, they created a beautiful photo book for me. It's a work of art, too! ~Michelle Laino, Virginia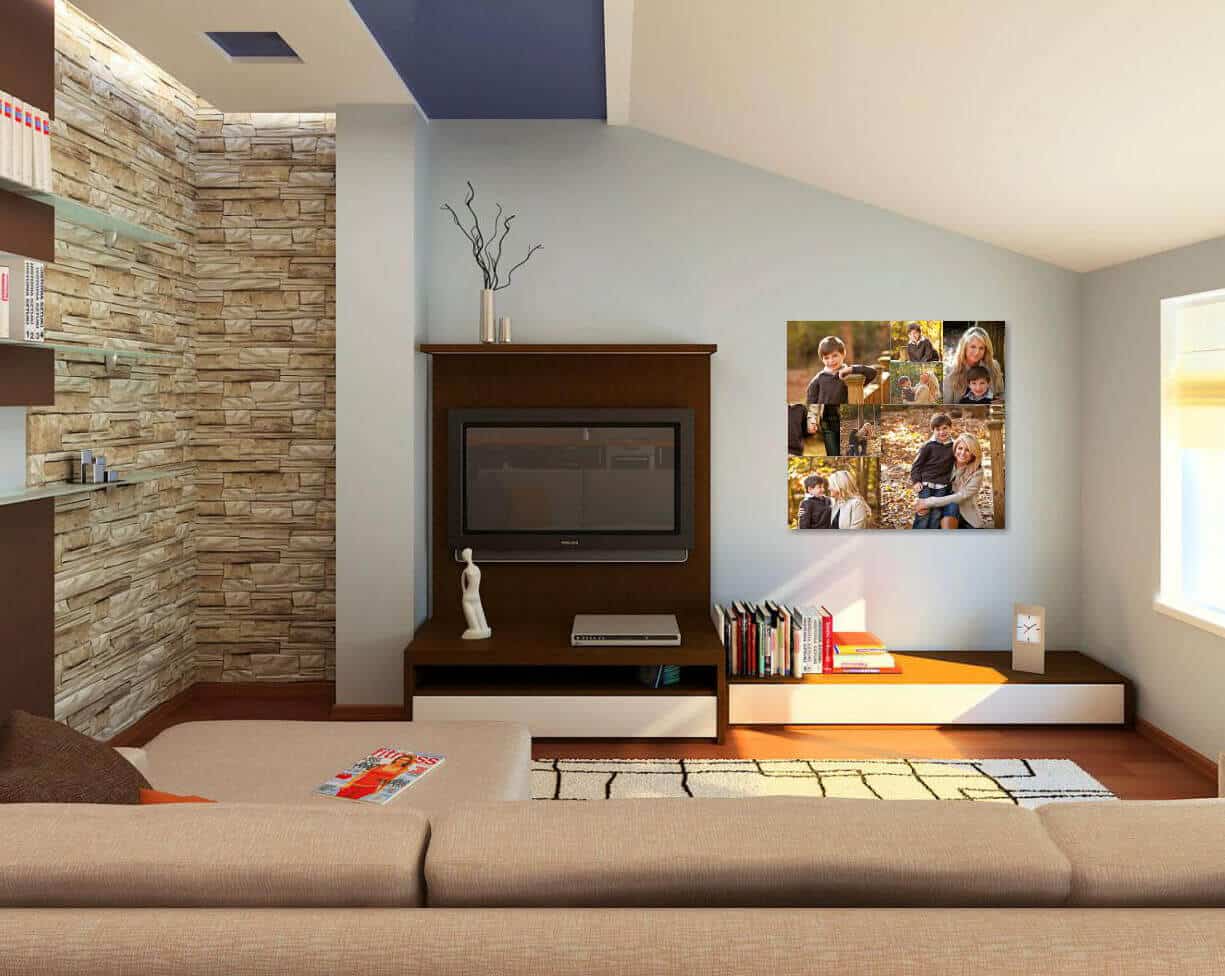 One of the things I loved about working with Mindy & Joriana was the custom nature of the products and how personal the service was. It was specialized and custom to fit my needs and desires. I didn't want to just get one large single image; I loved so many of the images that I wanted a grouping to tell a story. They worked with me to choose images that complemented each other. I love enjoying the art on my walls every day. I look forward to being photographed again to document the next stage of my son's life, hopefully with my parents. ~Deveney Shea Wall, Virginia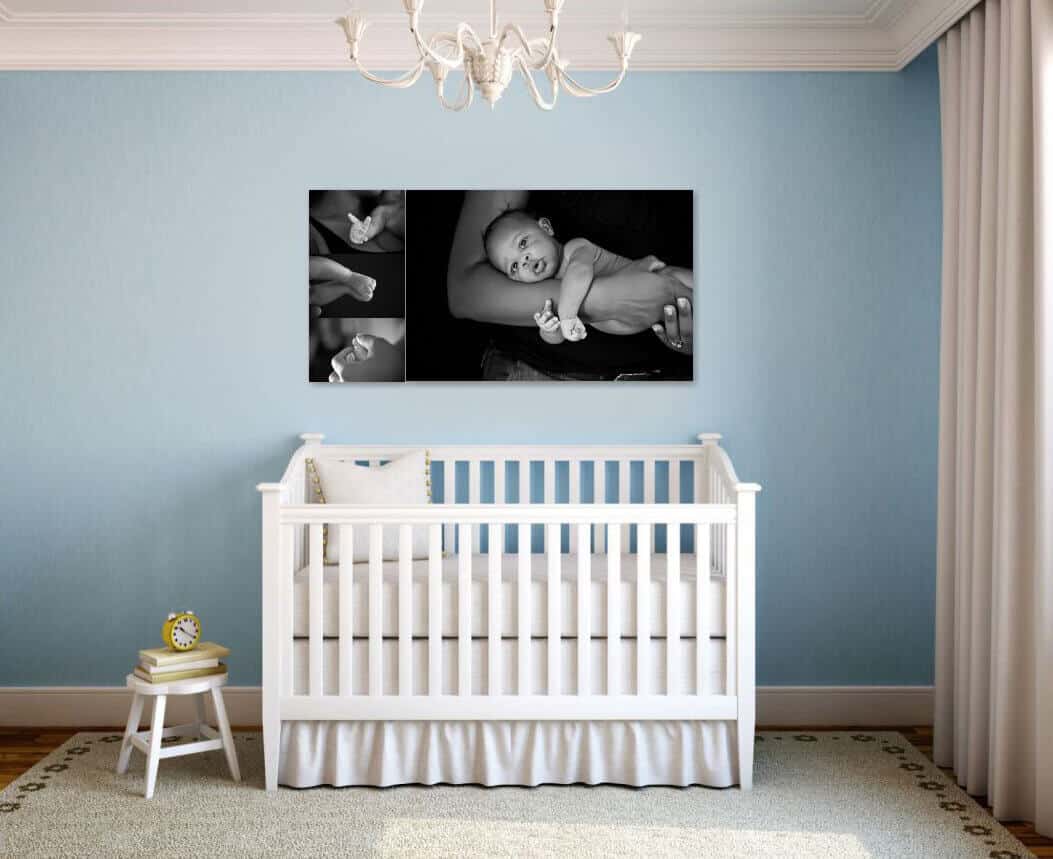 Mindy and Joriana carefully listened to what was important to us and fully captured our story! Our experience was more than we could have ever imagined and the Wall Art, wedding, maternity and newborn albums are breathtaking, and ours to enjoy every day on our walls and in our home. ~Donald & Tarsha Cavanaugh, Maryland
IS THIS EXPERIENCE FOR YOU?
The Ever After Experience IS For You If:
The Ever After Experience is NOT For You If:
Your Family Means Everything To You
We celebrate YOU and your loved ones – the most important relationships in your life – through timeless portraits. The Ever After Experience from start to finish will make sure that your most special moments are enjoyed over and over again, every single day. At the end, you and your family will feel seen, heard and loved by the people in your life right now.  You will remember and celebrate the very best version of yourself and your family. We offer only finished products, fully finished pieces of art work prepared and curated by the artist- ready to display on the wall in a variety of finishes.  Your Ultimate Family Portrait Experience Awaits.
You Want Your Family To Know They Are Loved. Every. Single. Day.
We believe portraits are the most powerful when they celebrate something that is meaningful to you right now.
Each time your family looks at your wall art, they will be reminded of how much they are loved and of a meaningful photographic experience, an experience that will anchor the exquisite moments of their lives to a treasured place in your home.
Your portraits will become a life-long reminder of the individuals you love, their unique story told through high quality artwork, artwork that will be treasured for years to come to remind you daily of just how loved you are, and how very precious your family is.
You Want Your Family To Feel Even Closer
We believe portraits are a way of instantly reconnecting to those important things.
The truly important things are the treasured moments of love and emotion at the heart of your relationships,
the "who" that mean the most to you,
the "why" that is the connection between those you love.
The really valuable things in life are the small things that can be forgotten in the busy day-to-day chores of life.
The most amazing moments in life are here…and then gone in a fleeting instant.
You Want To Reconnect To What's Important
Our goal is to create an experience, one in which you re-examine the love you have for those close to you — the portraits you then display are an anchor to the feelings you rediscover.
It's an experience that will then live on your wall; one that you will re-experience every day.
You Want Your Children To Stay Connected To What's Important
We believe that your life, your story, your moments should be re-experienced again and again by generations to come.
Moments, memories, legacies and love often unfold in raw and beautiful ways …
It doesn't seem possible that these tiny little babies we hold in our arms will one day be parents …. and grandparents!
Create something that you will not only enjoy right here and now, but which your children will have to enjoy for years to come, stunning photographic wall art that will become heirlooms and keepsakes to pass down from generation to generation, stories through portraits that will connect future generations with the memories of today.
When your children have children of their own, your portraits will live on.
You Want Meaningful Portraits
We believe that Your Moments are so valuable they should be treasured…Forever.
As luxury portrait artists, we specialize in reconnecting you with the ones you love through meaningful portraits celebrating those special moments you want remembered for a lifetime.
You Believe Your Story Should Be Preserved For Future Generations
We believe that this generation is the most photographed generation in history – but in the years to come, the majority will have nothing of the moments they treasure now.
A lot of families these days are predominantly photographing their memories for the short-term benefit of social media,
without much thought being given to preserving these photographs for future generations.
When these kids grow up and have their own children, will they be able to cuddle their children on their laps and bring out the memories that share their story with the next generation?
When the mobile phones are lost, the laptops broken, the USBs replaced with newer technology (they will be like floppy drives!) … what will happen then?
You Want Exceptional Portraits Of Your Family
We believe a portrait will connect you to the moment in time it was taken – but it can transcend distance and time and keep your loved ones with you always.
A good portrait does all that for you and it will also tell a story to every person that walks into your home and sees it.
An exceptional portrait is a work of art that will strike a cord of emotion in your heart – it will tell a story to anyone who will listen, even if they don't know the person in the portrait.
You Want Portraits That Will Live On The Walls Of Your Home And Last A Lifetime
The journey to create meaningful art culminates with a custom finished art piece.
Your journey continues each day as you experience your wall art as a reminder of the most important people in your life.
Displaying art on your walls is the absolute best way to celebrate and honor your special relationships.
No corner is cut in the production of your artwork. The finest materials and labor, from individuals who are among the best at their craft, are used from beginning to end.
Isn't your family worth it?
You Want A Luxury Experience Unlike Any Other
We are a Fine Art Portrait Design Studio located in Sterling, Virginia with a fully-equipped indoor studio space and a 2.5-acre outdoor portrait park.  Also available is a professional meeting space where you'll see samples of our products and order your portrait artwork.
You will be guided every step of the way, receiving a luxury experience unlike any other.
Through this experience, we help you reconnect and discover who you love most in your life – and then create artwork so you can daily reflect on those you love and celebrate what is most important in life.
You Don't Feel The Moments In Your Life Are Worth Celebrating
We believe life is meant to be celebrated!
People often think of photographing the 'big' moments like weddings and anniversaries as a way to remember an event, or document history.
But the grand moments, the true stories of beauty and wonder often lie hidden in the quiet.
The most amazing moments in life are here…and then gone in a fleeting instant.
You Don't Want To Press Pause In Your Busy Life
Life is made up of a series of those fleeting, but often magical, moments.
They are right beside us and all around us
and yet we often forget to look, to truly look and savor their captivating splendor.
We tend to be busy and miss what is right in front of us.
And then the moments pass…
all those moments will be lost, like tears in the rain.
In those fleeting moments, life happens.
Your Family Isn't Important Enough To Be Given Space On The Walls Of Your Home
We believe in printed artwork that will let you revisit those moments every time you pass by your beautiful, custom artwork in your home.
Taking the time to create artwork that speaks to you emotionally and displaying it in your home gives you and your children a centering touchstone for the everyday, one that you and your family are sure to welcome in the whirlwind of hectic, modern life.
It is artwork that, once displayed in your home, will instantly connect to that emotion you feel for those you love – as opposed to just their snapshot.
Wall art portraits should be waiting on your walls to steal you away from the present and allow you to re-experience the best moments in life, the sweet moments.
Gorgeous meaningful portraits transport you immediately to what's most important to you every day.
You Don't Want Authentic, Meaningful Portraits
We believe that we can't authentically photograph someone without knowing them on a more than superficial level at the very least.
Annie Liebowitz once said "When I say I want to photograph someone, what it really means is that I'd like to know them.
When I photograph someone, it's because I want to know their stories, I want to see the sides of them only their closest friends see."
More than merely taking photographs, we take you on a journey of discovery.
By getting to know you and what you adore about your loved ones, we create a collection of portraits that are meaningful and true to who you are!
After all, "it's one thing to make a "picture" of what a person looks like — it's another thing to make a portrait of who they really are" – Paul Caronigro
Impeccable Customer Service Is Not Important To You
We believe in offering only impeccable customer service and beautiful custom artwork of the highest quality.
…in offering a unique business service where you as the client are the focus.
We believe in offering only impeccable customer service and beautiful custom artwork of the highest quality.
…in offering a unique business service where you as the client are the focus.
…in asking people to only pay for what they truly love and value.
You Don't Want To Speak To Us
We believe the portraits we create are more powerful when we take the time to know you on a deeper level – and if you let us know you, the portrait experience will create a transformation in your life.
The journey to create meaningful art starts with a conversation, a conversation designed to bring awareness and love to your most valuable possession, your relationships.
Together we will discover:
What artwork best suits you and your family?
Where would seeing this artwork every day bring you the most joy?
What aspect of your family's relationships, personalities, family story would you like to have inspire your art?
You Want Something Average And Cookie Cutter
We believe that each family is custom – no two are alike. That's why everything we do is custom to you.
You are unique and deserve custom-designed fine art portraits for your home that reflect your personalities and relationships with the ones you love the most.
When your most treasured relationship is with your family, you will never accept average, cookie cutter portraits of them.
Hi, I'm Mindy.
My daughter, Joriana, and I are family portrait photographers based in Northern Virginia.
Family means EVERYTHING to us! The legacy of our family is the reason Joriana has a name that includes part of my name and part of both of her grandmothers' names. The best part of our life is the love and connection we feel for those closest to us. It is those unspoken moments that are so important…but as life gets busy with responsibilities, it's what we miss out on the most.
As a mom, each day has filled me with wonder, love and emotion, wanting nothing more than to press pause and hold time in my hand. Because time is the one thing we can never get more of, we work with families who want to keep this moment forever, because they know how quickly their children grow up.
Don't miss another moment!  Start capturing Your Moments…Forever.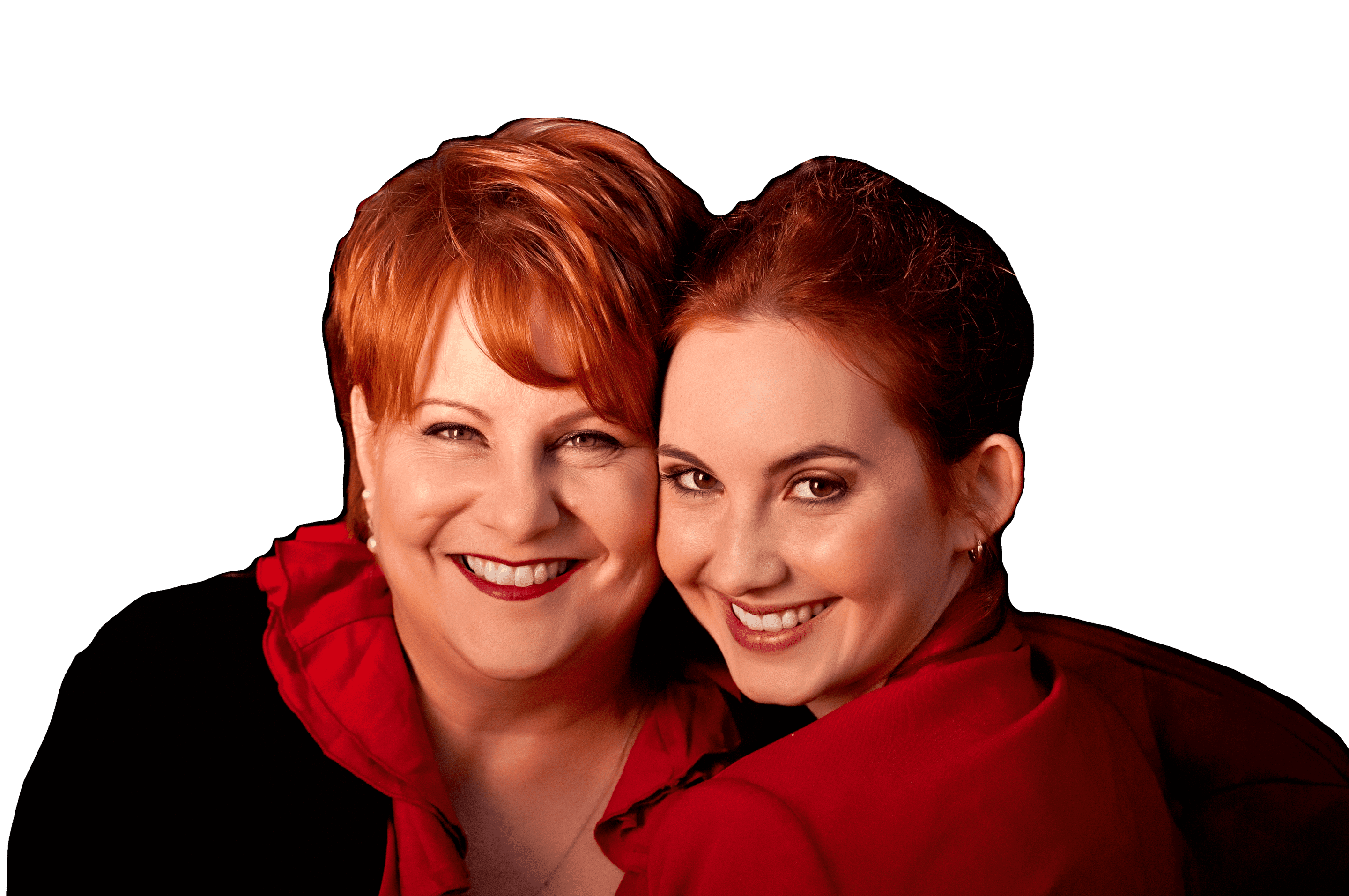 If you cherish your family, value fine art portraits and want your moments captured forever...
Let's Have a Conversation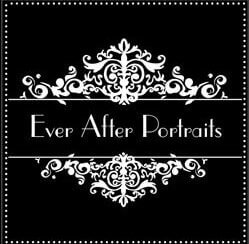 Your Moments…Forever!
Ever After Portraits is a full service portrait studio located in Northern, Virginia. We help people discover more love in their lives than they realized was there, a greater connection to their family and friends. The Artwork created gives people a tangible way to connect to who and what they value most.
We're A Full Service Fine Art Portrait Studio
Professional – Experienced – Licensed – Insured