Create a Portrait Legacy of Parents and Grandparents | Northern VA Family Photographer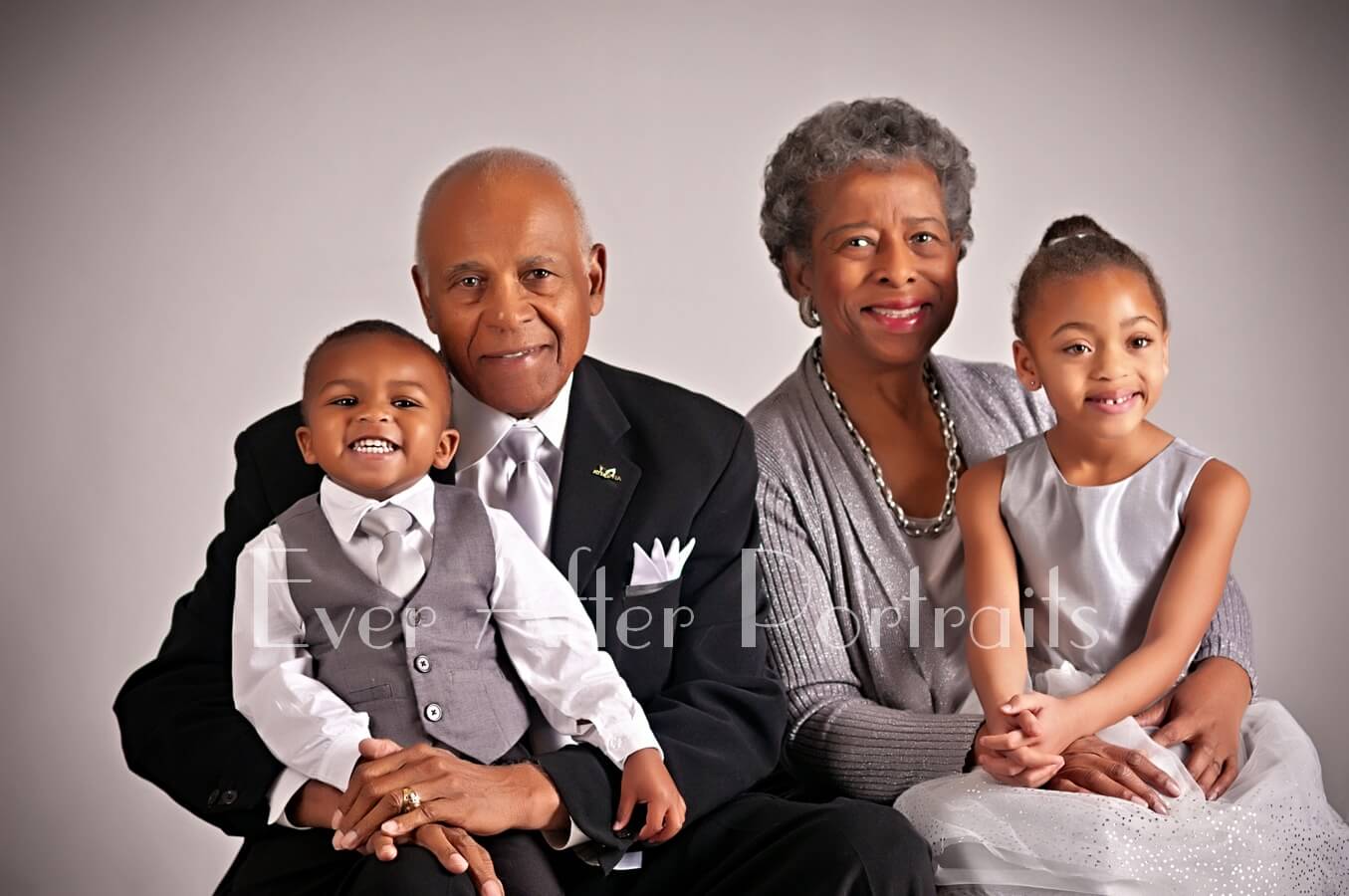 As family fine art photographers in the Northern Virginia area, it is not often that we are asked to do professional photography sessions for older individuals or couples. For whatever the reason, it seems that as people age, there are fewer professional family portraits of them to treasure when they are gone. We wonder if it's that as a society, we somehow lose confidence in our aging selves? Or, is it that we get busier and don't prioritize family fine art?
We often write about the importance of family and children's professional photography. However, we haven't written much about fine art portraits of our aging parents and grandparents, the older generation. We thought we would discuss the importance of doing fine portraits of the older generations in our families. After all, they are loved and valued as much as other generations.
With almost two decades as family fine art photographers, we have learned so much about life, family, and portrait photography. We have also learned much about the family dynamics of family life and how to portray them through our craft. We have learned much about what to treasure, and we have learned about what to let go of in life.
We are sure you would agree that those we love are what we cherish most and rightly so. Nothing else matters quite as much. Family fine art photography is a beautiful way to capture what we will one day lose.
The Greatest Generation in Family Fine Art Portraits
Think about the family pictures you have of your grandparents. If you have any at all, we bet you have far more professional portraits from them as younger adults than as older adults! Not many people have professional fine art portraits of their grandparents as older adults, even if it's important to document the lives of those we love while we still have them with us. We say this not out of self-interest for our studio or to be morose in any way. We say this because we know it from experience. We've all lost loved ones, and often memories are all we have left of them.
We know how much our memories fade as times goes by – no matter how beloved someone is in our life. So, if there is one thing we've learned through our work, it's to prioritize family fine art portraits. We've learned not to wait to do portraits of the Greatest Generation in our lives.
A Legacy of Love through Family Fine Art
When a client asks us for multi-generational portraits, we look forward to taking them. They are among the most poignant and bittersweet pictures we take of clients because they highlight the love from one generation to the next.
We know that most professional family fine art portraits of elderly parents or grandparents are not from their final years with our clients or us. Those sepia-toned or beautiful black and white photographs are often (and sadly) a legacy of their youth. Rare is the portrait we see of an elderly grandparent in their final decades.
This is why we often urge clients to new legacies – ones that represent a life well lived by their parent or grandparents. If you are thinking of doing a family fine art portrait, please consider including your parents or grandparents. In fact, you can even include other older relatives with whom you are close. We promise that you won't regret including them in your portraits, and they will be happy to have been asked.
Family Fine Art Portraits Create a Legacy of Love for Future Generations
While the memories of our parents' and grandparents' lives exist within us, memories also reside in their portraits. Therein lies the value of family portrait photography. Each time in the days and years to come, when you see their portraits, you will remember them. Their images will trigger a memory long buried deep in your mind until you glanced at their portrait. Suddenly, you'll remember something about them. And, you will be glad to have had that picture of them.
Indoor Studio
We have both an indoor studio and an outdoor portrait park. Both are perfect for multi-generational family fine art portrait sessions.
We will be happy to discuss your vision for your pictures as well as what might be most comfortable for the older generation in the portraits. We are glad to work around them and what best suits them. We will try and accommodate their needs as best as possible. What matters most is that we find a way to shoot your family fine art portraits so that you and your parents can treasure these portraits for the heirlooms they will be in your family!
Below are portraits from a family session in our indoor studio of grandparents and grandkids together!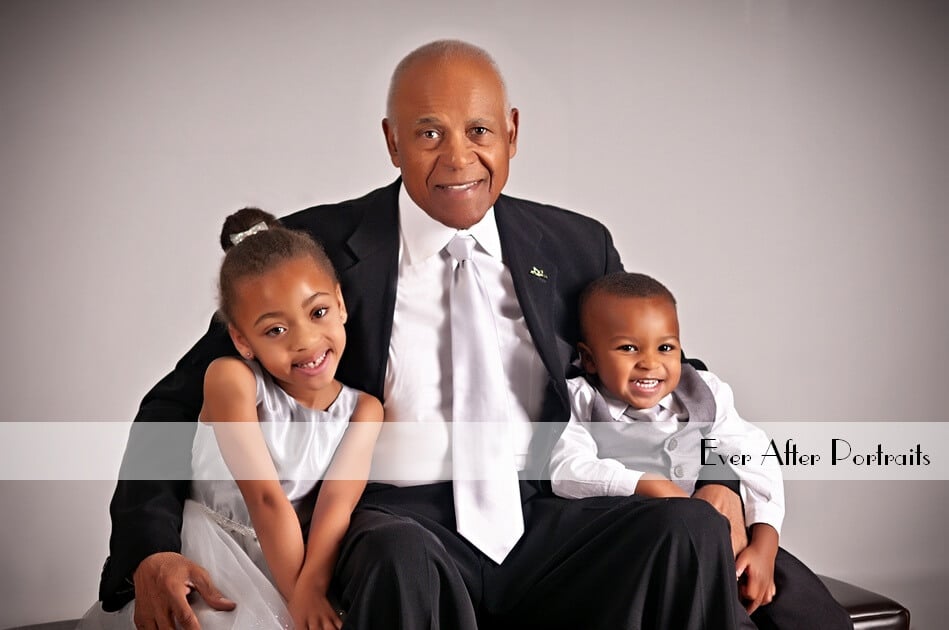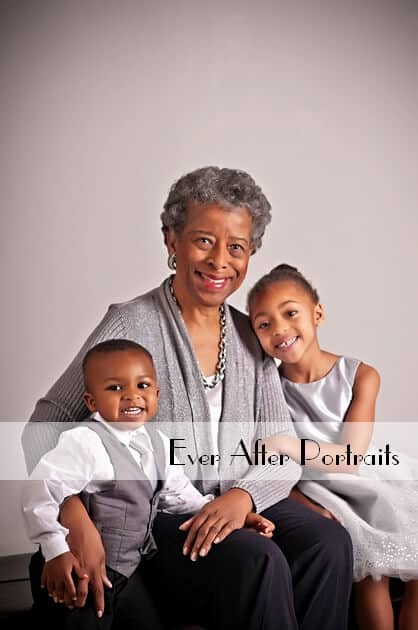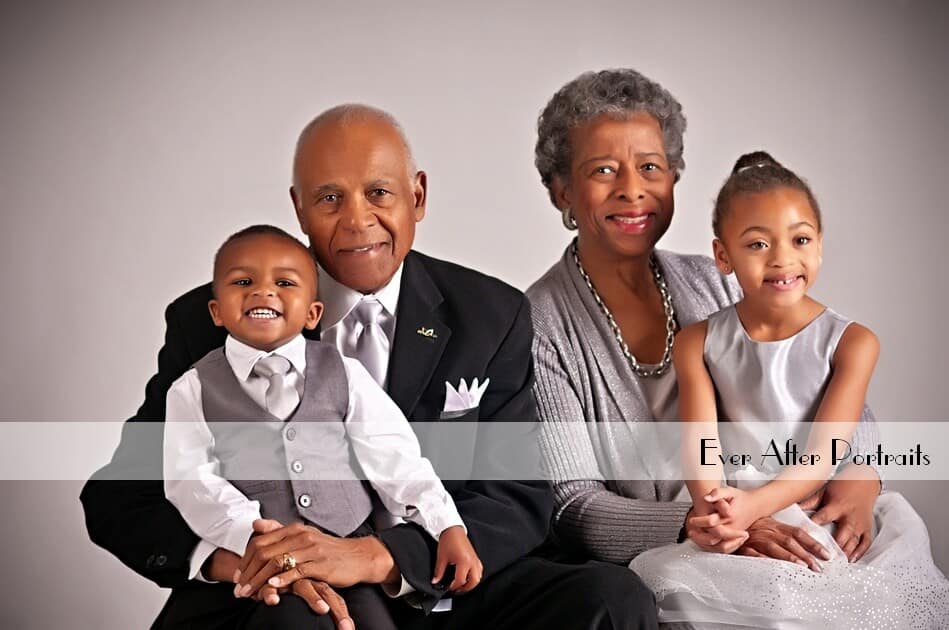 Outdoor Portrait Park
The family below preferred a portrait session in our outdoor portrait park. For this family, we had grandparents, parents and granddaughters, three generations of this lovely family together! It was such a pleasure to do their portraits, and they truly enjoyed themselves.
Not only did the background of our Outdoor Portrait Park work out ideally for this family's portraits, but the portrait session itself created more memories for this family. Years from now when those granddaughters look at these portraits, they will remember their loving grandparents as well as the session itself. The portraits will serve as a symbol of this family's intergenerational bonds.


If you would like to schedule a professional photography session with your parents or grandparents, or even with great-grandparents, to create some beautiful family fine art at our studios or elsewhere in the Northern Virginia area, please contact us right away. We would be happy to discuss how we can create their portraits in the way that will be most authentic to who they are!
Family Fine Art Photographer, Professional Photography
Ever After Portraits is comprised of Mindy Belcher and Joriana Belcher Anderson, a mother-daughter portrait photography team located in Sterling, VA, in Northern Virginia. We specialize in timeless and emotive fine art family portraits.

Family means everything and capturing those precious moments to preserve forever will mean family heirlooms for you to share for years to come.

Best,

Mindy & Joriana – Contact Us!

Professional Photographer