Cuppernull Family, Multi-Generational Portraits | Northern VA Family Photographer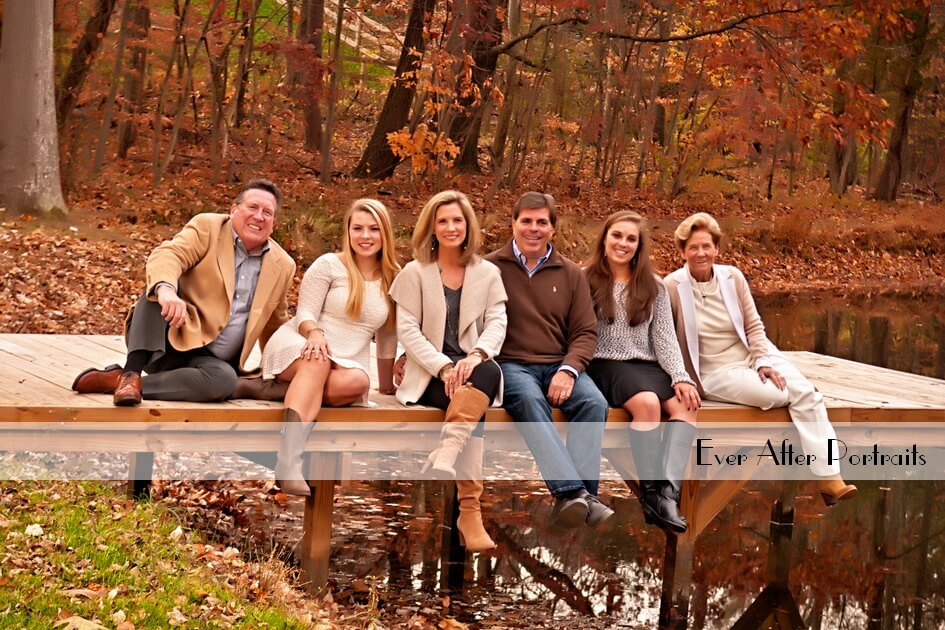 Some of the most precious moments we experience are with our families. You could say that capturing a few of those moments is what we do as a family photographer near Great Falls, VA and Tysons Corner, VA.
The Client
Last year, Carolyn reached out to us. Her family, including her parents, would all be in one place for the Thanksgiving holiday. She saw a window of opportunity! Carolyn asked if we could do multi-generational portraits for them. Can you guess our answer?
We understand how difficult it can be to gather family members – especially multiple generations – in one location long enough to take portraits. We were happy to work with the Cuppernull Family! As a family photographer, we know that today's photographs are tomorrow's precious memories.
The Portraits
In discussing the portraits, Carolyn mentioned that her mom Peg had strongly hinted at the idea of doing a family portrait during an upcoming visit. (Way to go, Peg!) Carolyn ran with the notion! She contacted us, she and Gary met with us at our studio for a consult, and arranged for a portrait session. Carolyn had never done professional photographs with her parents. She wasted no time in making arrangements to change that.
As family photographers, we love multi-generational portraits, and we were ready for:
* two busy and gorgeous young-adult daughters: Courtney and Caylee;
* two grandparents: Peg and Dave;
* two parents: Carolyn and Gary;
* and (last but certainly not least!) two beautiful Labradors: Amstel and Stella!
Courtney and Caylee are close to their grandparents, having vacationed with them every year. It was wonderful to see the closeness Peg and Dave share with their granddaughters. Capturing them together was poignant and our pleasure! These amazing girls have such a bright future ahead of them, and, oh, the places they'll go!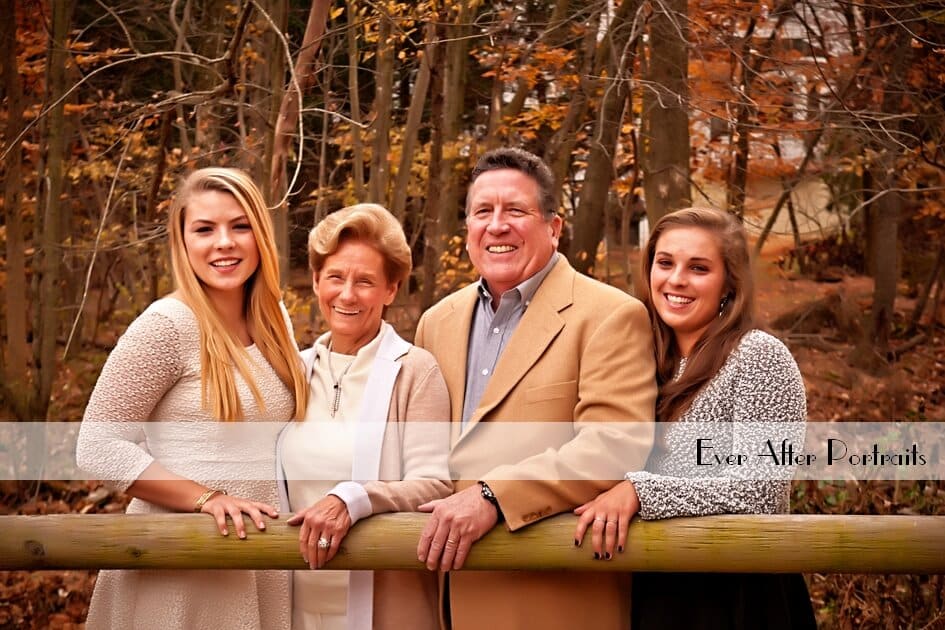 Carolyn and Gary are a lovely couple and a true pleasure to photograph together. This couple is amazing and deal with all things, big and small, with such grace and graciousness. It was a such a pleasure to meet them and to photograph their family.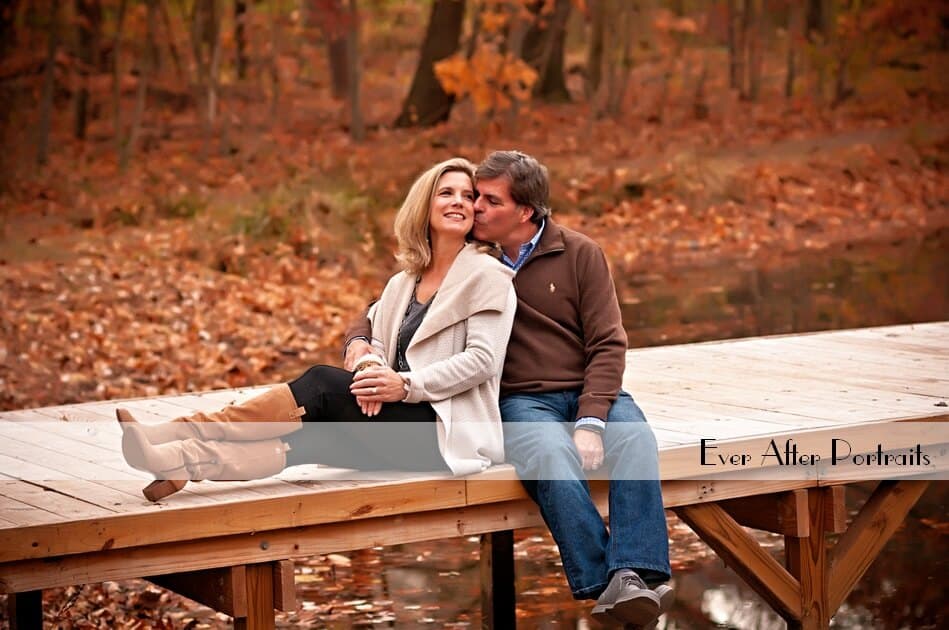 Carolyn's main request was for outdoor fall portraits of the family and that we capture all of those family faces. Not a problem for us! Manipulating nature's kaleidoscope of fall colors and muted light is one of our specialties.
We discussed the importance of coordinating outfits for a larger group, and Carolyn and Peg incorporated our suggestions perfectly. (We've blogged about this before because well-coordinated colors in a group portrait can have a significant impact on the final result.)
The Results
The results, as you can see, speak for themselves. The three generations of this family look stunning, loving, and joyful – just as in real life. Oh, yes, and the doggies look great, too! (Amstel had an especially great time as he jumped into the pond before the session; he looked so happy afterward, mud and all! But a little mud wasn't going to hold any of us back, and after a bit of a cleanup, both he and Stella were perfectly poised for the spotlight!)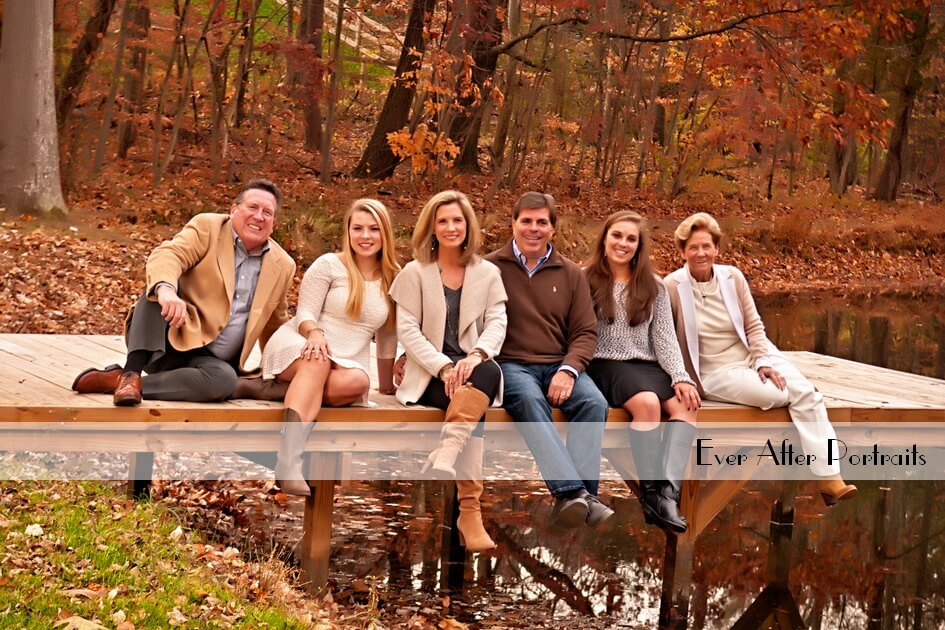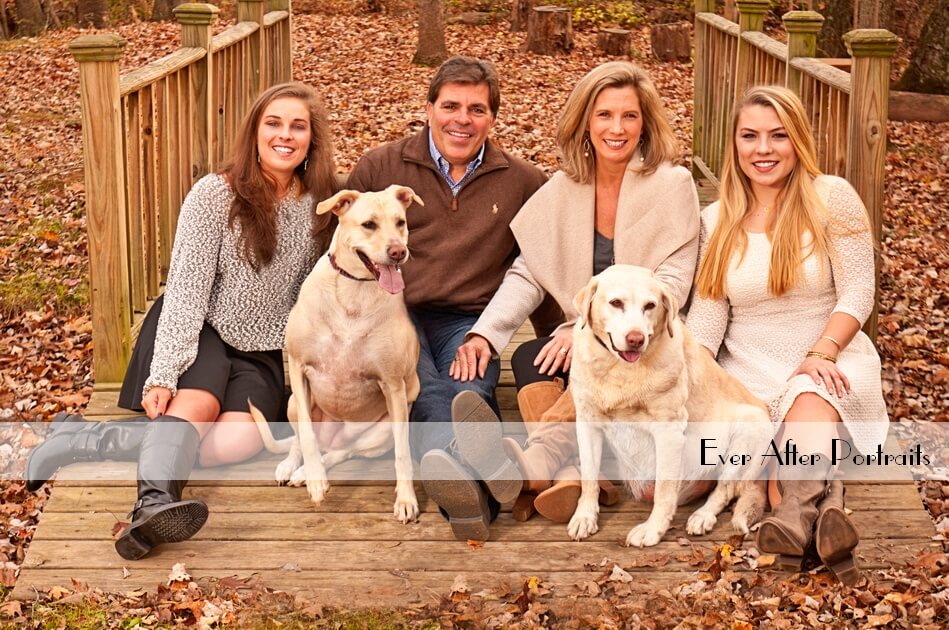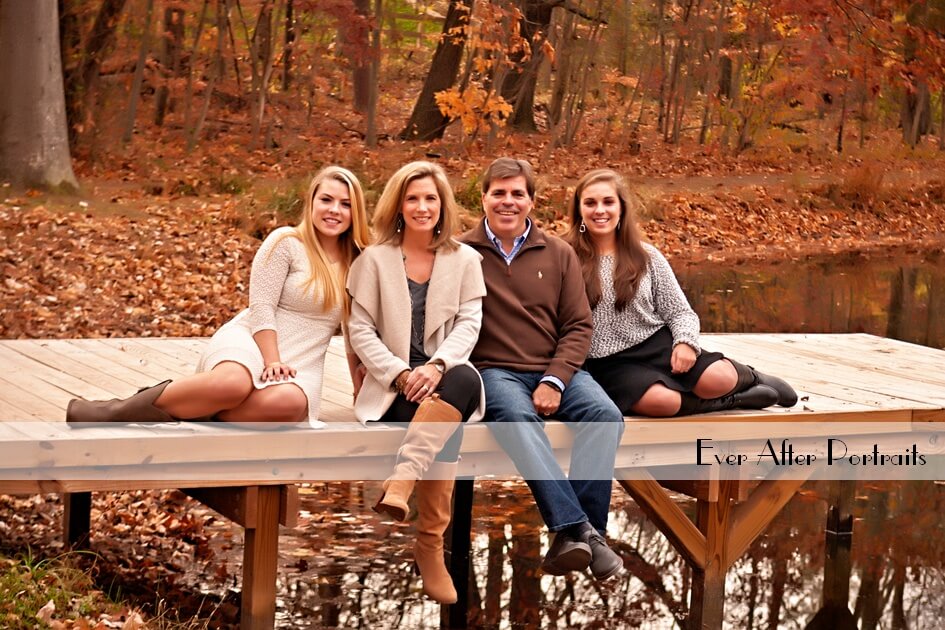 Working as a family photographer in the Great Falls, VA and Tysons Corner, VA area is truly an exercise in satisfaction for us. We treasure the opportunity to document memories for our clients through portraits. We would love to hear from you if you would like to work with a fine art photographer in Northern Virginia.
Family Photographer
Ever After Portraits is comprised of Mindy Belcher and Joriana Belcher Anderson, a mother-daughter portrait photography team located near Great Falls, VA and Tysons Corner, VA in Northern Virginia. We specialize in timeless and emotive fine art family portraits.

Family means everything and capturing those precious moments to preserve forever will mean family heirlooms for you to share for years to come.

Best,

Mindy & Joriana – Contact Us!

Professional Photographer