As a professional family photographer located near Lansdowne, VA in Northern VA, we specialize in family photography and creating beautiful portraits which you'll treasure for years to come. As we have both a 2.5-acre outdoor portrait park and a fully-equipped indoor studio, we provide both indoor and outdoor studio photography. Because we believe that photography websites should also be informative, we want to share with you a question we often hear from our clients.


Should I choose a single wall art portrait or a collection of wall art portraits?
You've had your family portrait session with a professional family photographer. You had a wonderful time, and you know you'll have beautiful portraits of your family to choose from. Now the hard part begins. Should you choose one large single wall art portrait, or should you choose a collection of images for a wall art grouping?
Wall Art Portrait Collections, or Groupings
As family photographers in Northern Virginia, we normally recommend wall art collections of multiple images for this reason: Your family's story can be told much better through several images, than in one. During your portrait session, we strive to capture the genuine love and affection family members have for each other, the unique expression on your little girl's face, the one that makes you say, "That's her!", and the little mischievous grin your little boy sports when he thinks he just got away with being cheeky, and that special smile your husband has just for you. Several of those little moments collected together tell a far greater story about your family than one single moment will.
Wall art collections, or groupings, provide the opportunity to tell a story, create a narrative, and reach beyond a single image. When any set of images are displayed together, the viewer immediately draws connections between them, making the total greater than the sum of its parts.
A family wall art collection is perfect for a wall in the room where your family typically gathers. For some families, that's the family room. For others, it's the dining room. Wherever your family spends the most enjoyable time together, that's the room which should have a wall art collection of gorgeous family portraits, portraits which you'll see everyday and which will make you smile.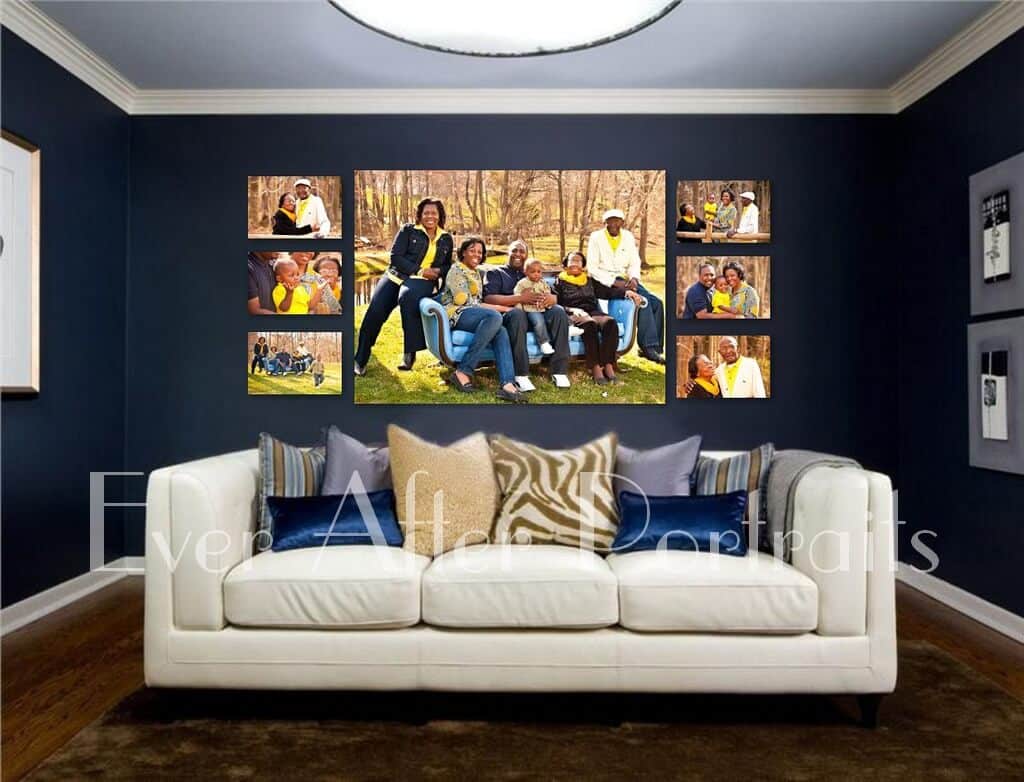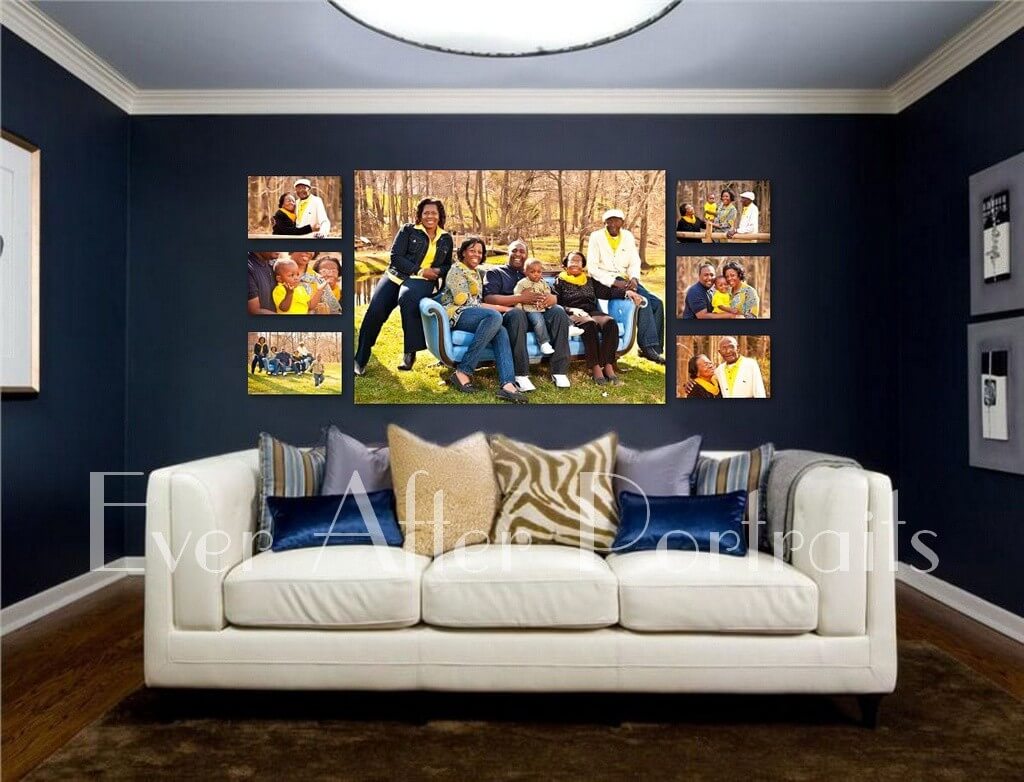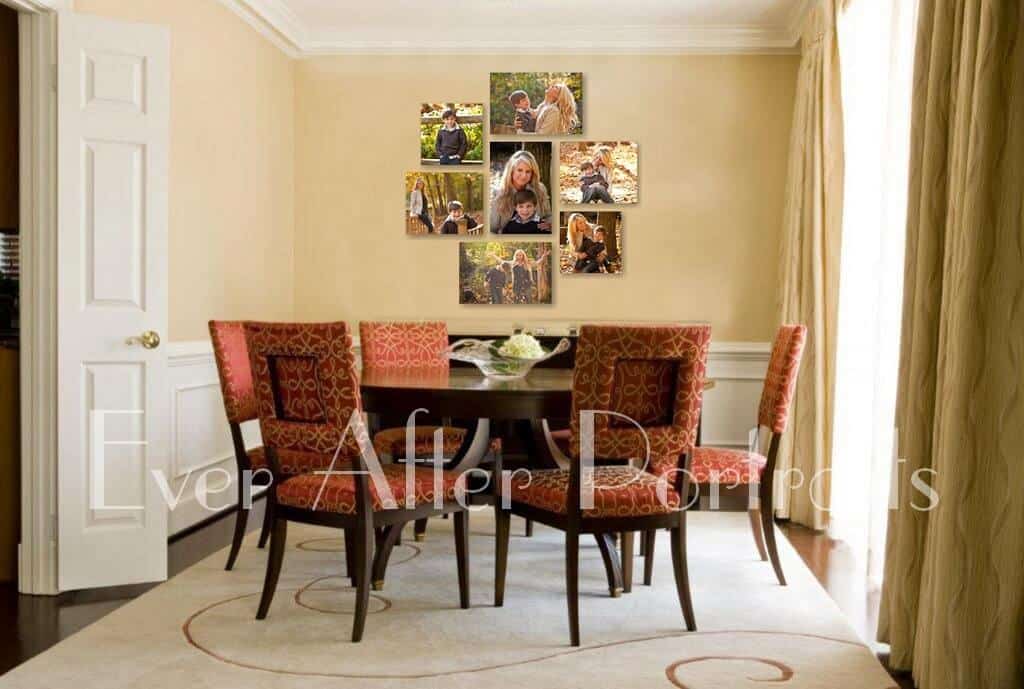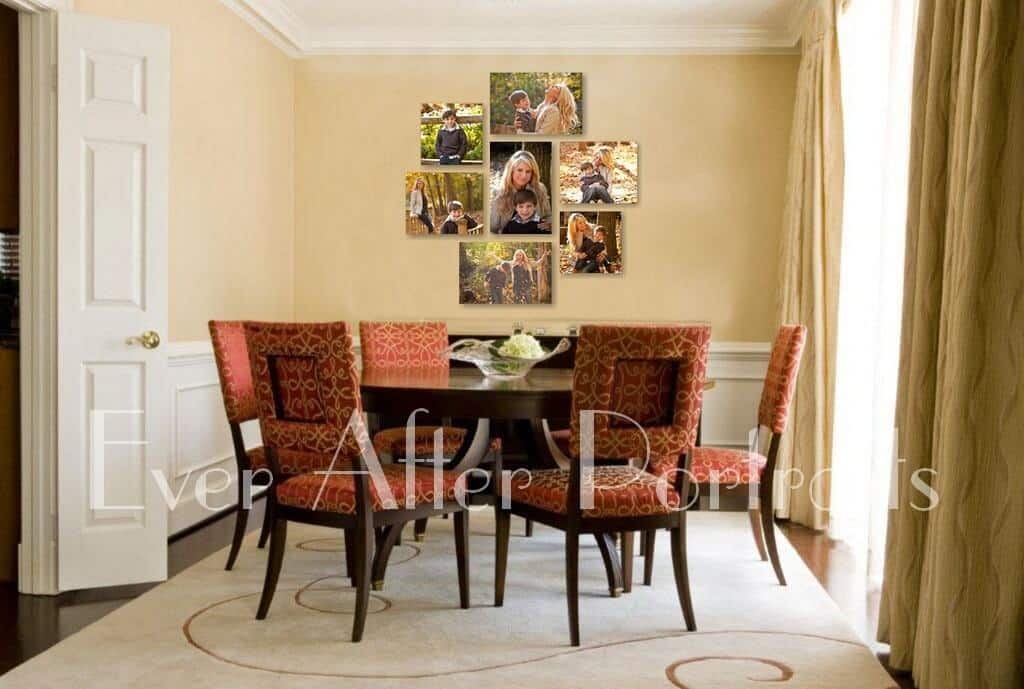 Some families prefer to have a collection up the main stairway wall or in the entryway of their home. They want to see lovely portraits of their family as soon as they walk in the door to their home, and they want to immediately share them with guests when they entertain.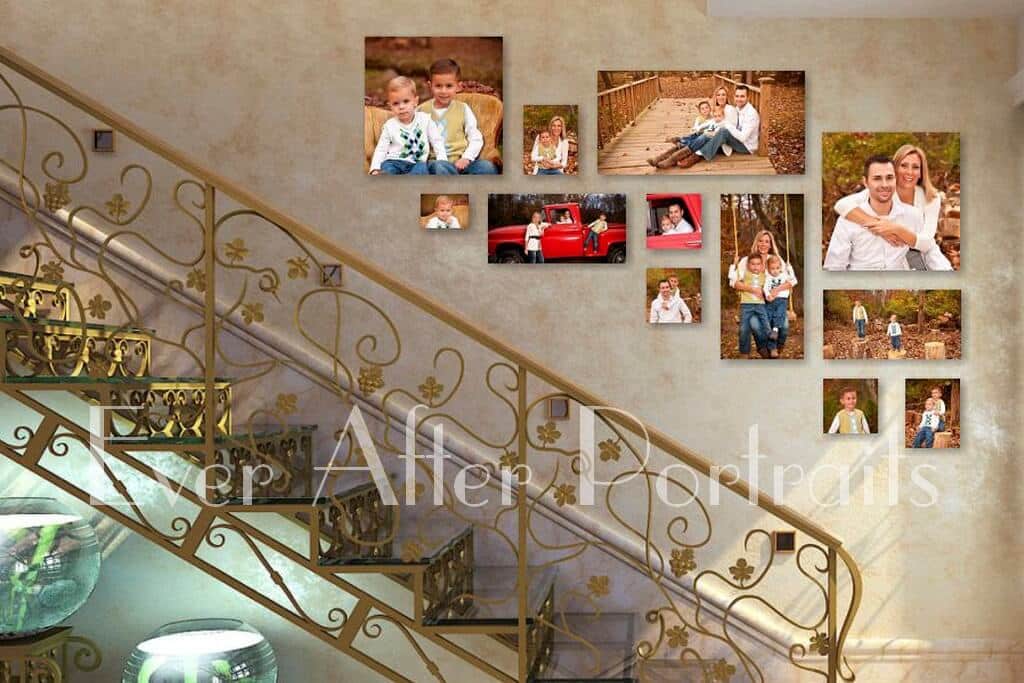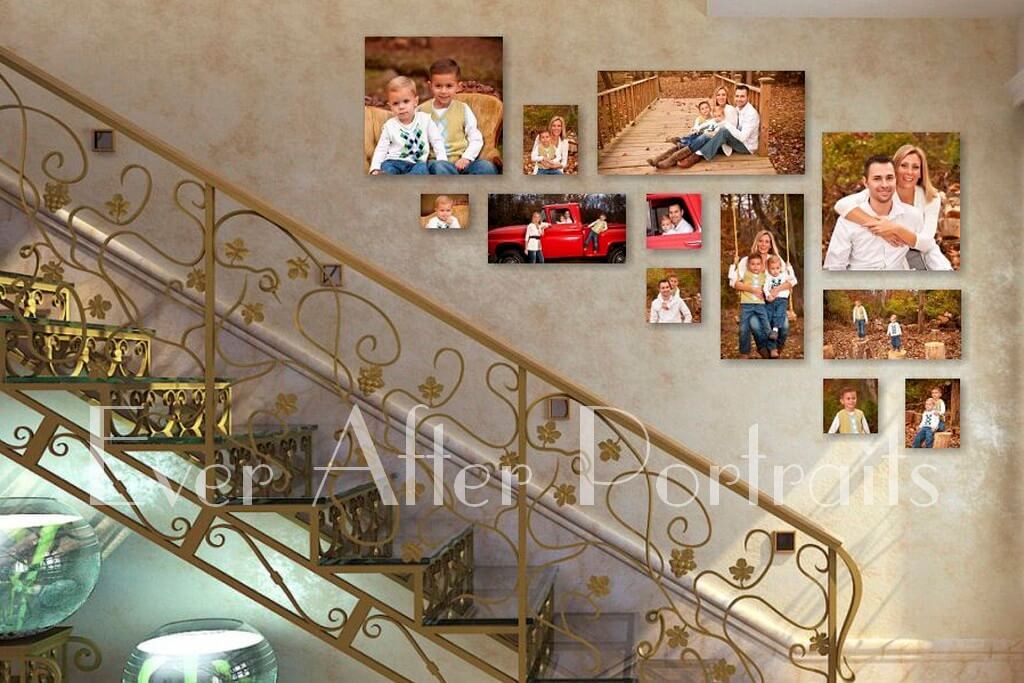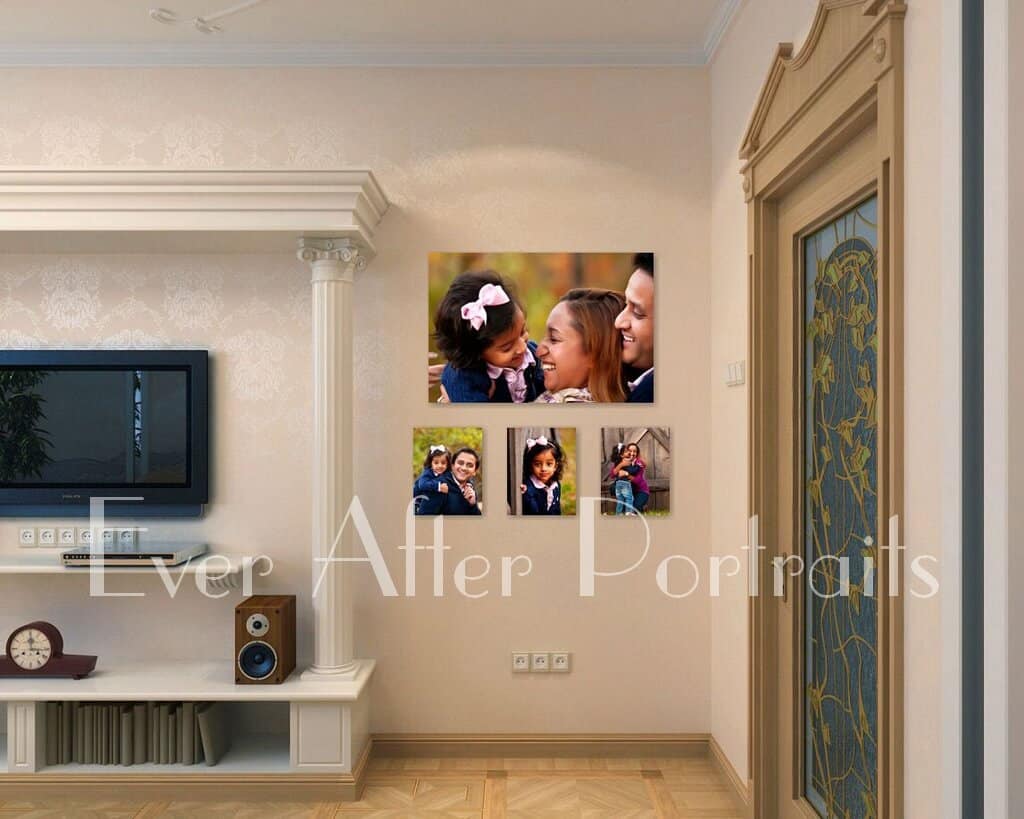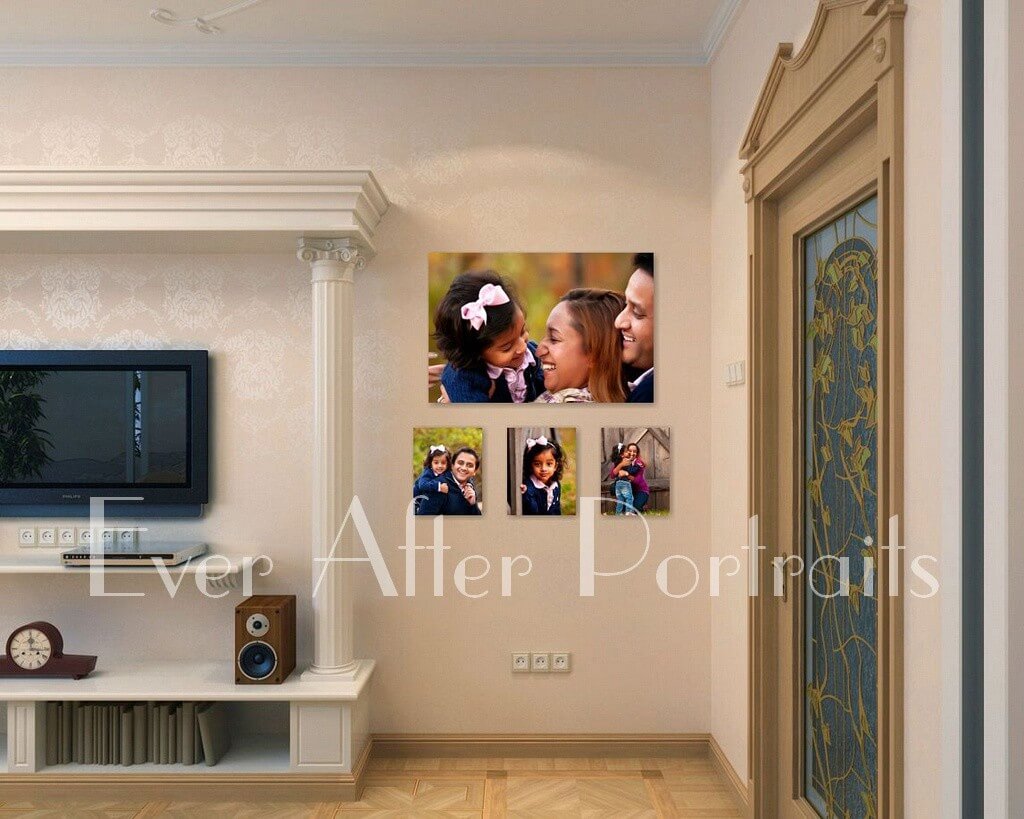 A child's room is a wonderful place for a collection, too. Every day when your child awakens, she'll see portraits of herself with the family who loves her, and she'll feel that love surround her. For any child, that is an amazing feeling, beyond priceless.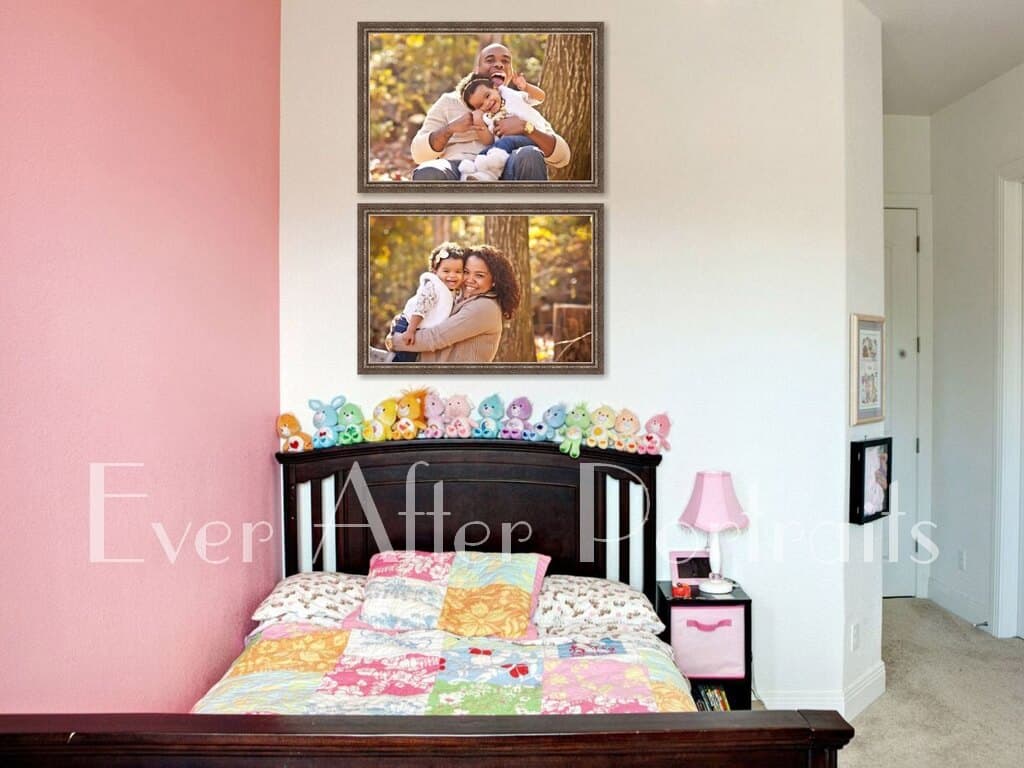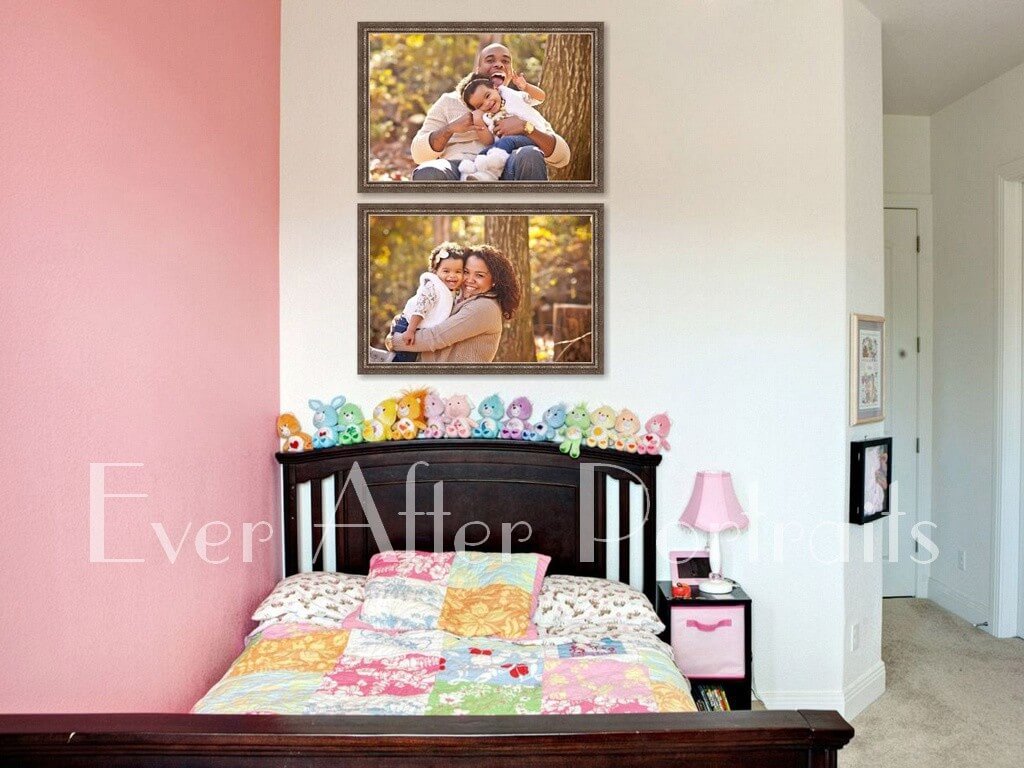 For a newborn, the nursery provides the perfect place for a collection of images taken during a newborn session. You'll hold your tiny new baby in your arms and feel that indescribable love fill your heart. Every time you enter the nursery and see those special portraits of when your baby was at its most tiny, even as your baby grows, those emotions will rise up in you with joy, those moments when you realized your whole life has changed and how very much you love this beautiful new little person.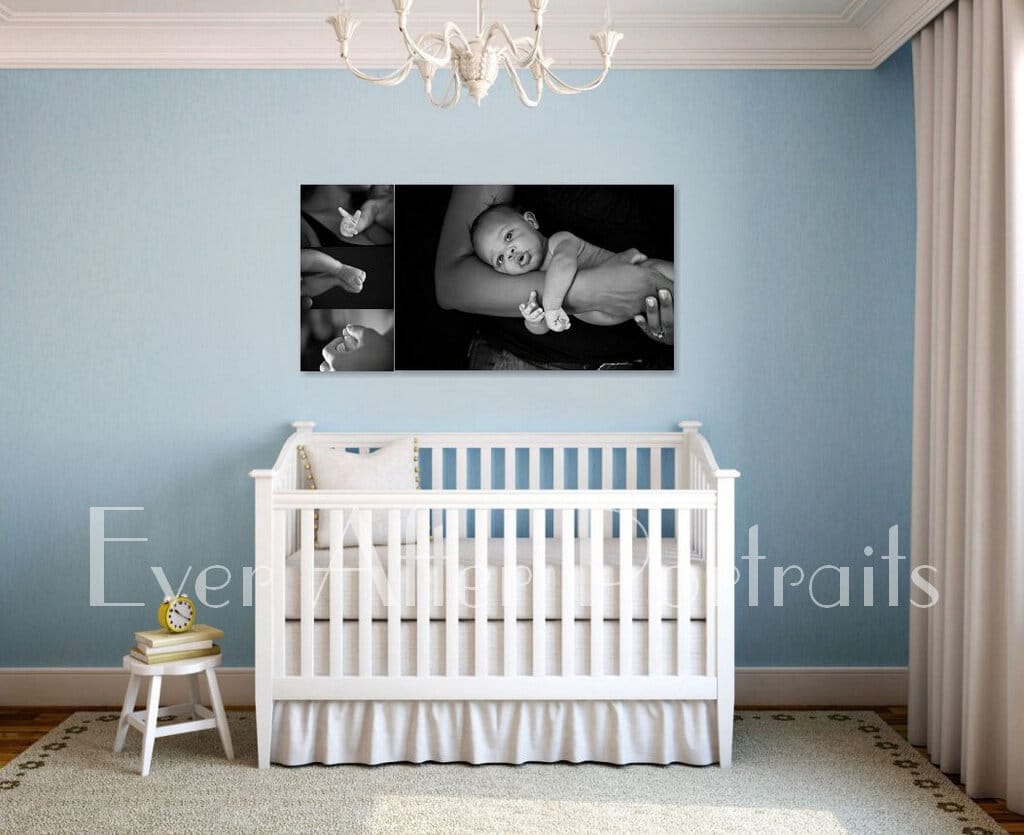 Single Wall Art Portraits
Where in your home should a large single family portrait be displayed?
A large single family portrait is beautiful over a fireplace. There typically isn't enough wall space for multiple portraits there, and a single large portrait will be the perfect focal point for that space.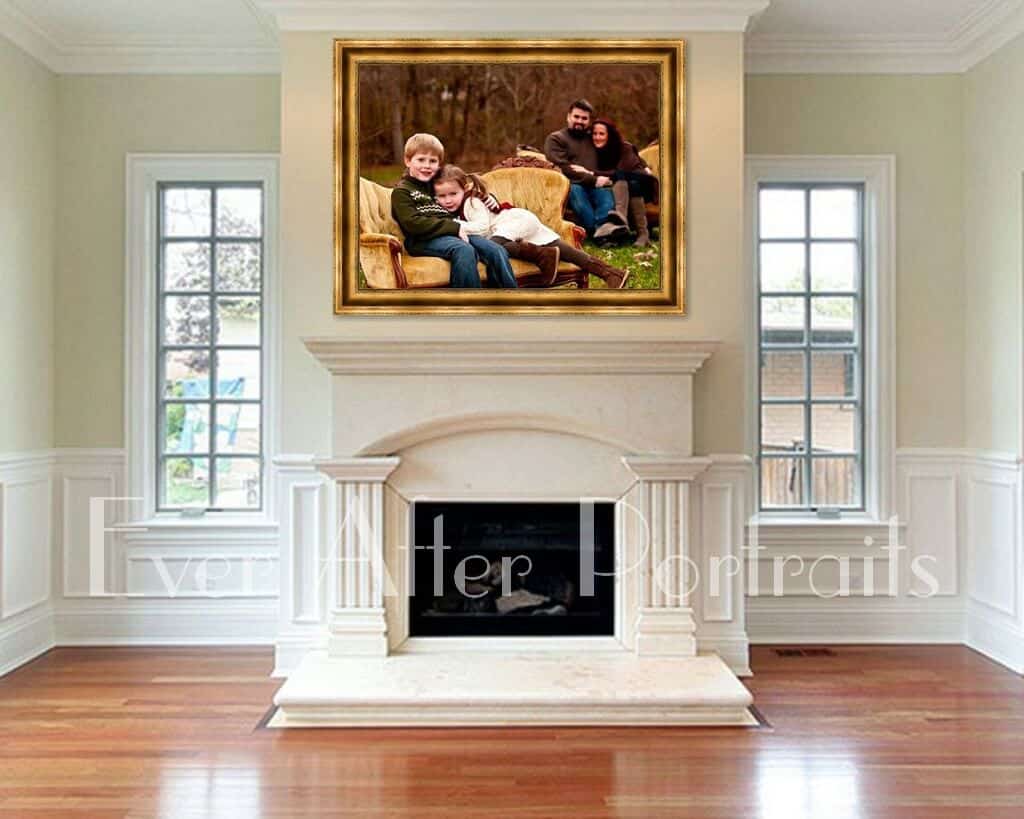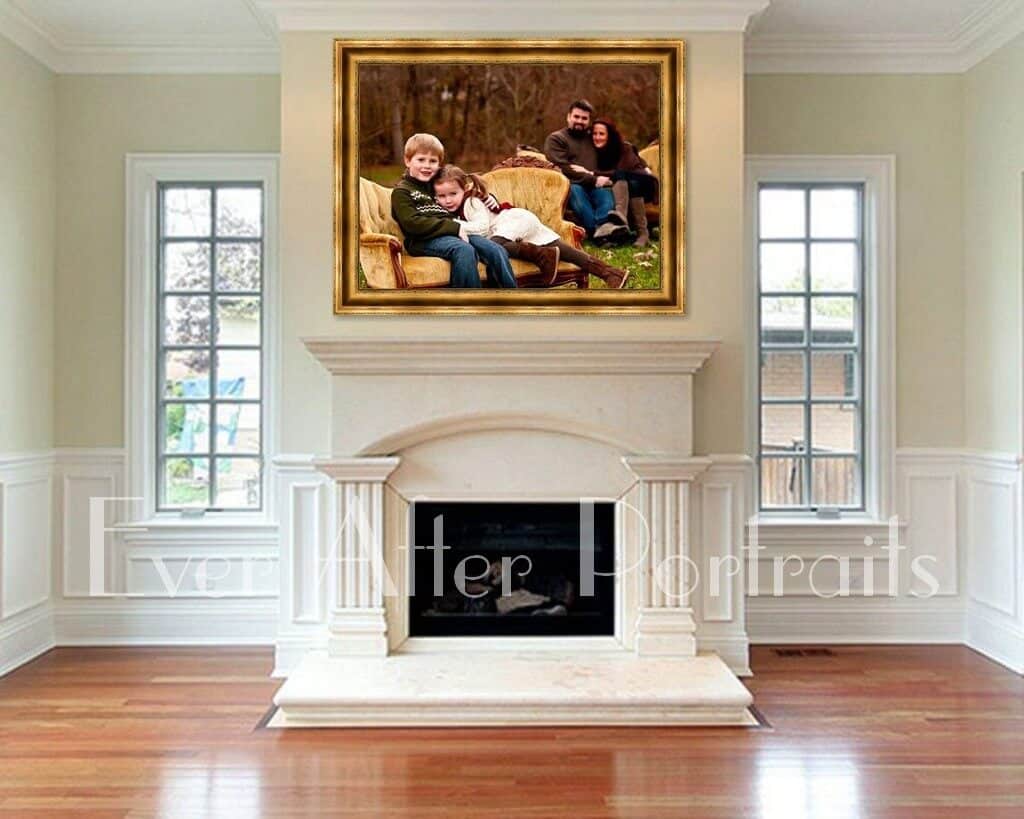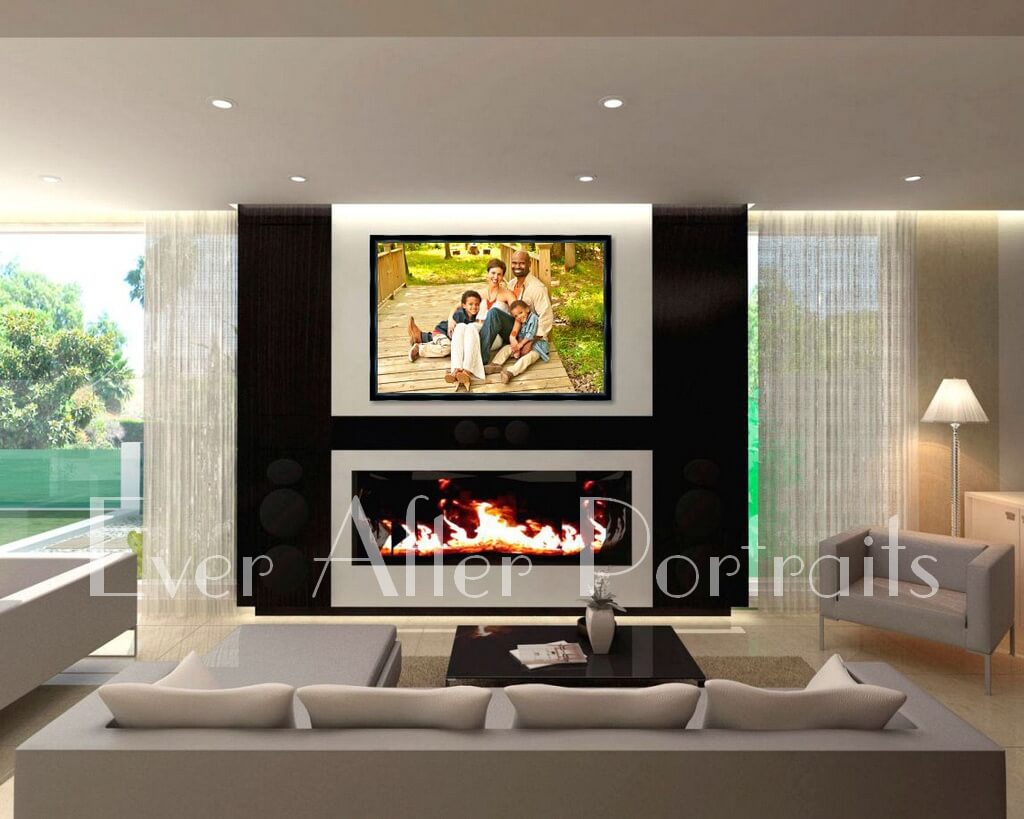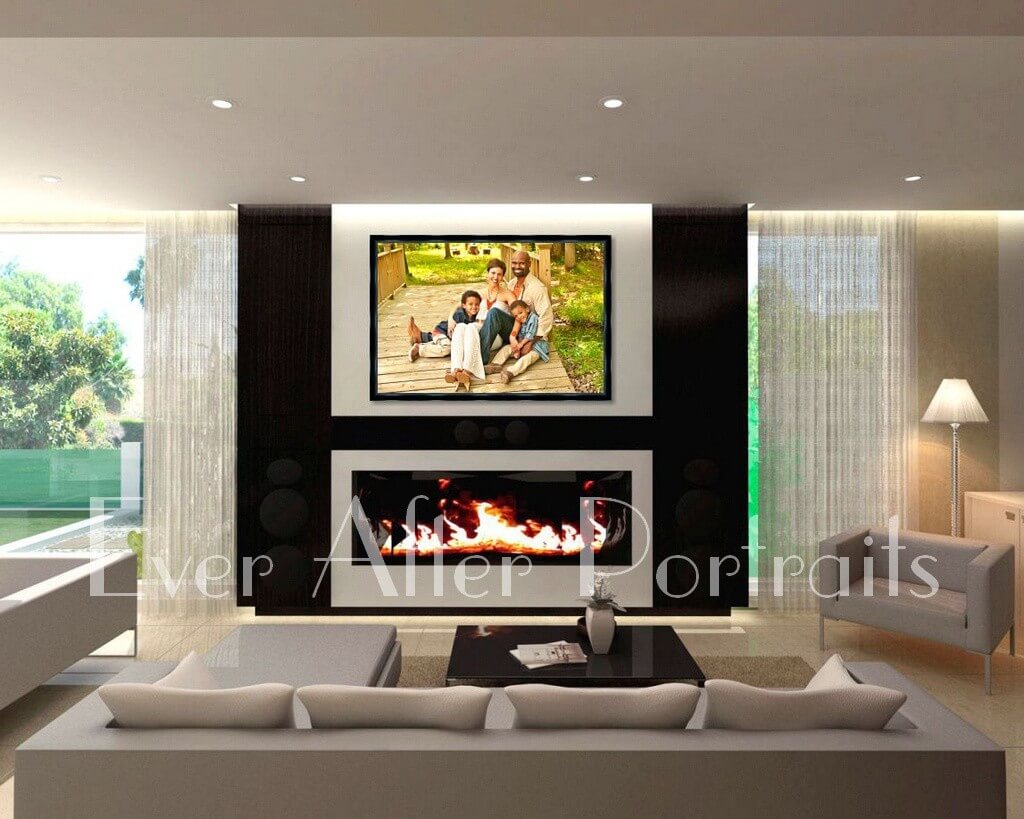 On occasion a lady will want a special and tasteful boudoir session just for her husband to see. In that case, a single portrait on the wall in his closet makes a powerful statement of the love they share. If there aren't worries about children seeing something that perhaps you don't want them to see, such a portrait is perfect for a wall in the couple's bedroom, too.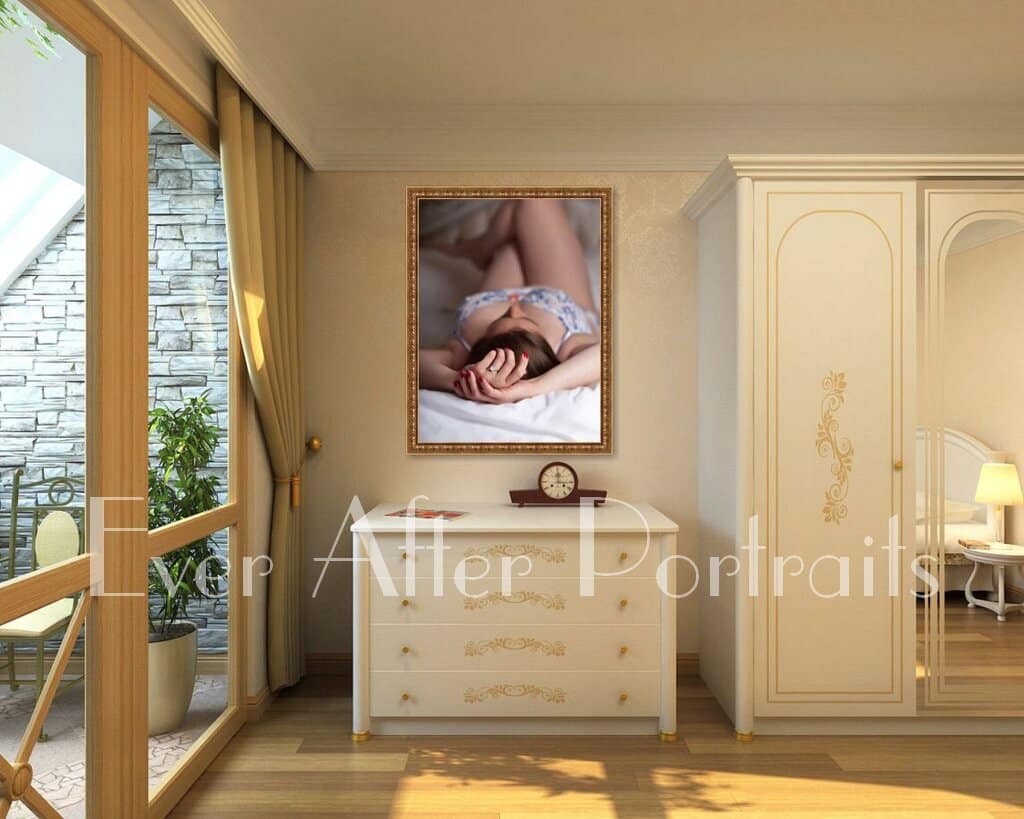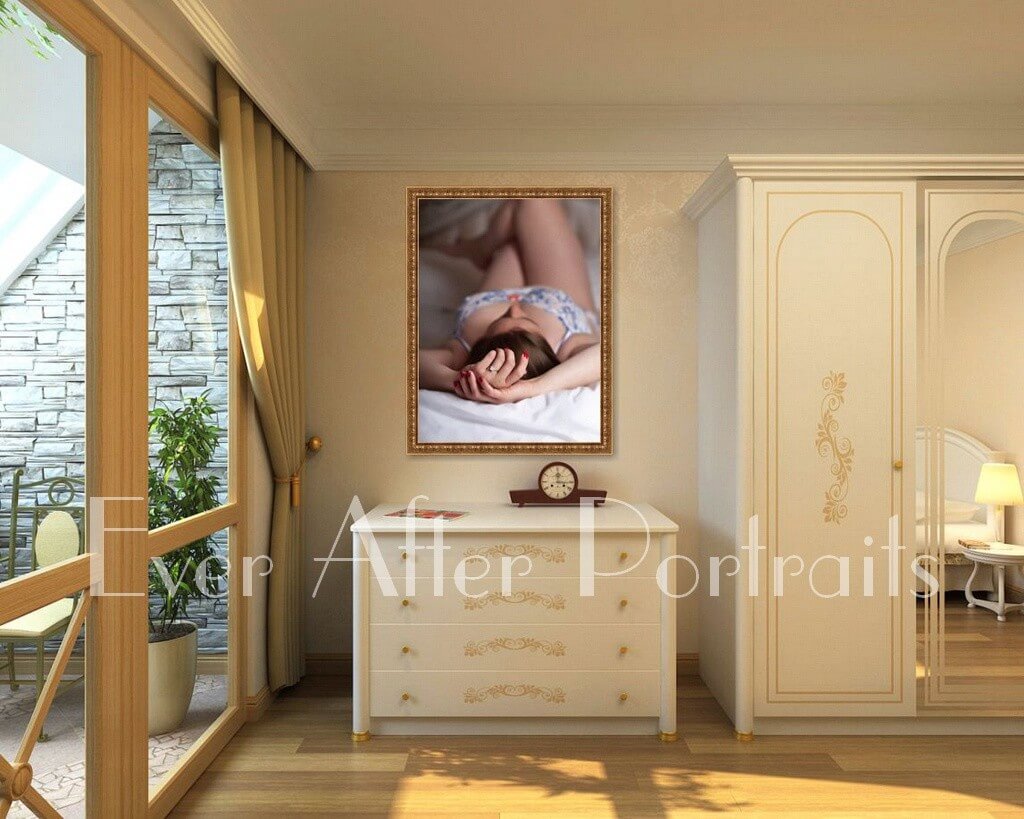 Whatever your choice of wall art, know that as your family photographer, we will ensure that your family portraits will be artfully created and printed with archival quality methods and products. Portraits of your beautiful family will be preserved for years to come, ensuring that you won't forget the joy of the first few days of your child's life, the love you share as a family, or your child's last year at home before he goes away to college. We will work with you from the very beginning to design and style a one-of-a-kind session that can be turned into wall portrait collections that will be treasured for generations, true family heirlooms.
Family Photographer, Photographer Websites
Ever After Portraits is comprised of Mindy and Joriana Belcher, mother-daughter family photographers located in Northern Virginia, near Lansdowne, VA. They specialize in timeless and emotive fine art images.

Family means everything and capturing those precious moments to preserve forever will mean family heirlooms for you to share for years to come.
Best,
Mindy & Joriana –
Contact Us!
View Our Portfolio
|
professional photographer