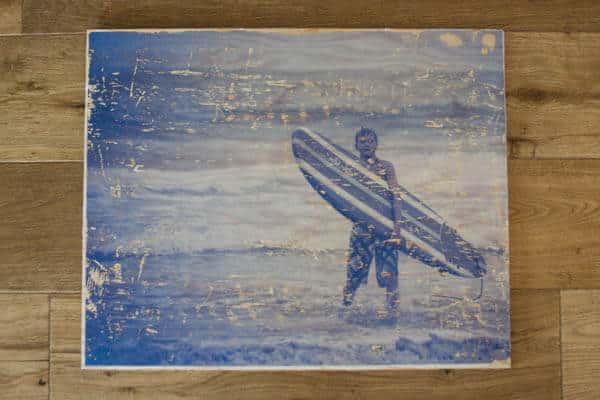 Ever After has photography studios in Northern VA, near Tysons Corner. We specialize in family photography.

Sometimes you need a break in the uniformity of frames, and a new exciting way to display your pictures! One creative way to do this and get some raw elements in your home is printing on wood. This can give the picture an aged, antique look while also creating a piece of art unique to all others in your home. There are plenty of tutorials out there for how to do this, so we will just go over some basics.


Get your picture laser printed to the right size and make sure it is reversed (so when it is put face down, it will come out the right way). With a paintbrush, put a matte gel medium on the surface of your picture. Very carefully put your picture face down on the wood, and smooth it out with a card or other hard substance that can get the bubbles out. Let it dry for a minimum of 8 hours, then get a damp rag and let it sit and soak the picture until slightly damp. Lastly, rub off the white paper with a rag or your fingernails to reveal your beautiful picture underneath!

You don't have to do this yourself, though. At Ever After Portraits we offer a frameless Bamboo finish which is perfect for your home of distinction. Printed with archival water-based inks, Bamboo is a completely recyclable substrate making this a 100% green fine art product. Consider choosing this finish with your next Family Portrait Session.

Family Photography
Ever After Portraits is comprised of Mindy and Joriana Belcher, a mother-daughter family photography team located in Northern Virginia, near Tysons Corner. They specialize in candid, emotional and artistic images.

Family means everything and capturing those precious moments to preserve forever will mean family heirlooms for you to share for years to come.
Best,
Mindy & Joriana –
Contact Us!
View Our Portfolio
|
Order Prints
|
Ever After Portraits
|