The Native Americans believe that "storytelling is writing the past, living the present and preserving the future." How true – and how wise! How do you preserve your family story? How do you share it? As portrait photographers, our clients depend on us to help tell and preserve their stories through a series of family pictures. Many of our clients find that ordering one of our Fine Art Albums allows them to better capture and share their story through additional pictures displayed in a beautifully-bound album.


Fine Art Album – Gold
Your Ever After portrait studio session will result in dozens or hundreds of pictures. Whether individually or collectively, each one could help tell your family's love story. After your very favorites are chosen for the
walls of your home
, our Fine Art Albums tell the rest of your story.
Our
Gold Fine Art Albums
are beautifully-illustrated museum-style picture books, except the works of art inside the book are your portraits, your family. They are exceptional quality and guaranteed for more than a hundred years. Your grandchildren and great grandchildren will one day be able to look through your Gold Fine Art Album!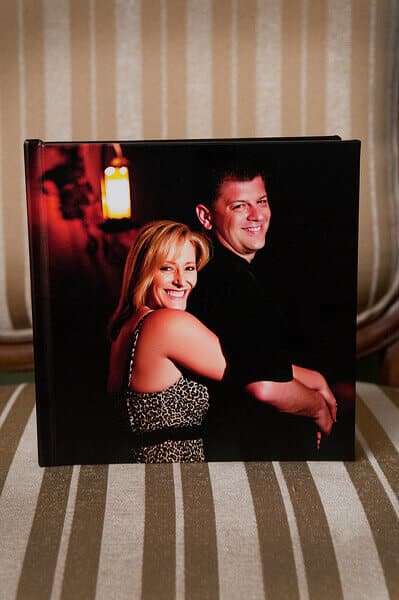 Each album is custom designed to illustrate your story. We spend time getting to know each client prior to their portrait studio session. This allows us to better help them tell their story through our photography. It's a more symbiotic relationship which means a better photographic depiction.
Every Gold Fine Art Album features a full-wrap photo cover and is printed on museum-quality, fine art paper with vibrant and vivid archival inks. The quality is truly impressive. Open a Gold Fine Art Album and you treated to a panoramic display of your photographic art. No cuts or gutters means images are on display without distractions.
Each page is flush mount with no crease, printed on thick, heavy material to resist bending. Each page is laminated for extra protection against scratching. The high-quality museum paper and archival inks allow these albums to be rated to last 100 years or more without any discoloration, yellowing, or fading. discoloring, yellowing or fading.
These are your family pictures displayed in a book for generations. It is your story's love, joy and laughter perfectly depicted across the pages. Some customers fall in love with their album and order additional copies for grandparents or to give as gifts one day to their children.
Ever After Portraits is dynamic photography team in the Ashburn Village, VA area with years of experience chronicling clients' family love stories. Call us today to begin preserving your story.
Visit
For Your Home
to see more of our fine art products, including our
Fine Art Platinum Album
.
Family Photographer, Family Pictures, Portrait Studio
Ever After Portraits is comprised of Mindy and Joriana Belcher, a mother-daughter photography team located in Sterling, VA, near Ashburn Village, VA. We specialize in timeless and emotive fine art family portraits.

Family means everything and capturing those precious moments to preserve forever will mean family heirlooms for you to share for years to come.
Best,
Mindy & Joriana –
Contact Us!
View Our Portfolio
|
professional photographer