We specialize in the art of portrait photography. As a family photographer in Sterling, VA, we understand how very much fine family portraits mean to our clients. Through fine art photography, we capture the loving bonds shared in families.
The value of portraiture as a central part of a family's home décor is well recognized today. A great family portrait is achieved through planning and attention to detail. The care and attention to color, coordination of clothing, setting of the portrait, all the way through to the correct framing is part of the customized service we provide to our clients.
Family photography is a valued art form
Whether classic or modern and contemporary, whether in color or black and white, Ever After's fine art photography creates more than just a simple portrait. Your family portrait will, without a doubt, become a cherished possession for many years to come and through generations of your family.
The immense value of photography goes far beyond creating memories and decorating your home, however. Psychologists in recent times have come to recognize the importance of displaying a family's togetherness. For children in particular, the benefits of being constantly reminded of the love shared in the family and of the feeling of "belonging" has a profound impact on their emotional stability. Displaying family portraits prominently in your home is invaluable in strengthening that familial feeling of security and being loved.
At Ever After, we capture that special togetherness of your family in our indoor studio with our Today's Classics portraits, as well as in our outdoor portrait park.
Share the Love In Your Home with Fine Art Photography
When decorating your home with fine art wall portraits from Ever After, you will have several options.
We offer a fantastic line of wall art products, including two framed lines, Masterpiece and Standard, as well as four frameless lines, Bamboo, Gallery Wrap , Ice, and Steel. With the addition of beautiful family portraits, your home decor will take on a warm and artistic quality uniquely created for you.
From a small wall in your hallway . . .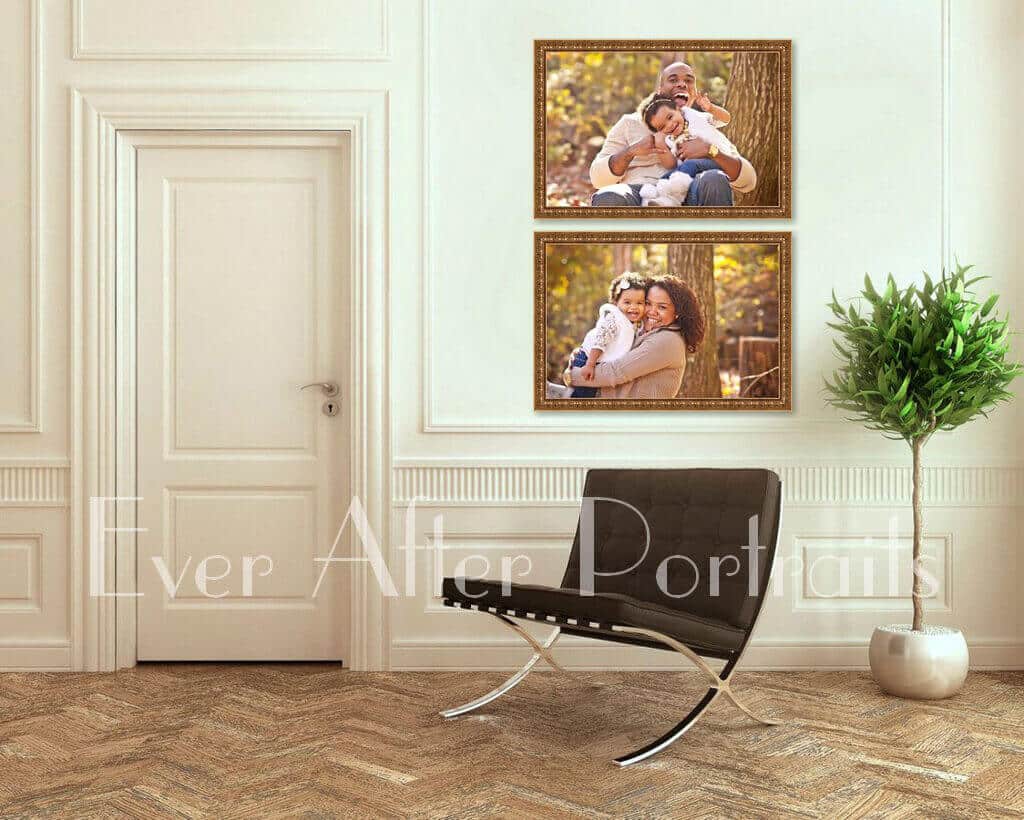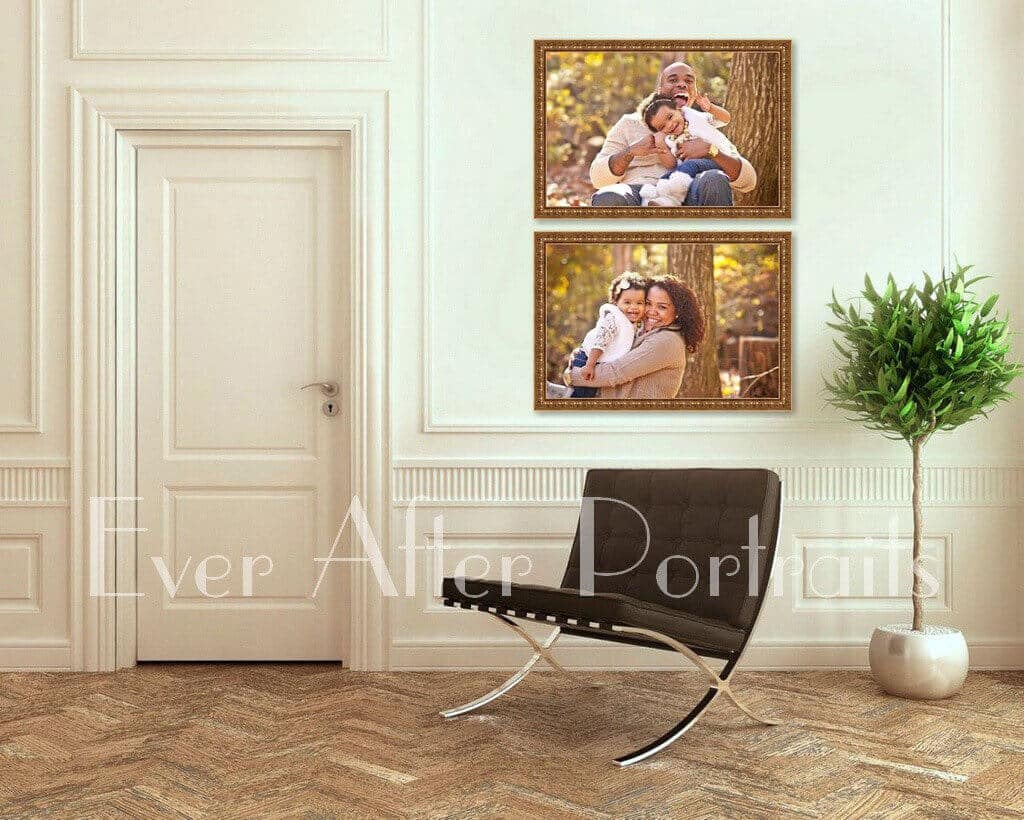 . . . to a major feature wall . . .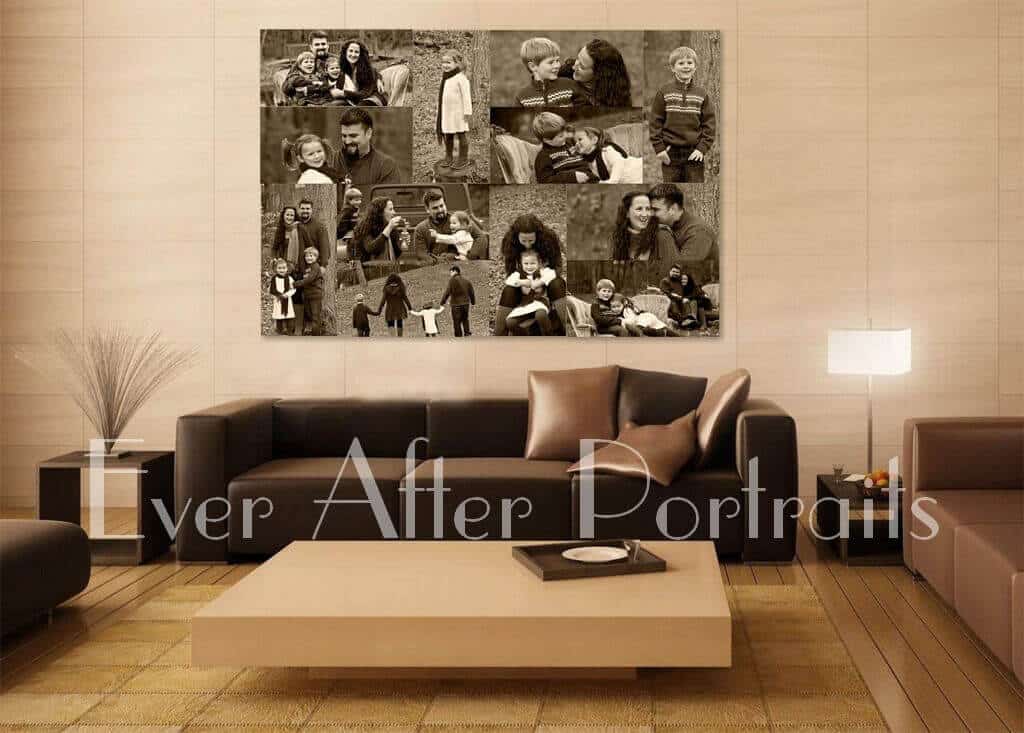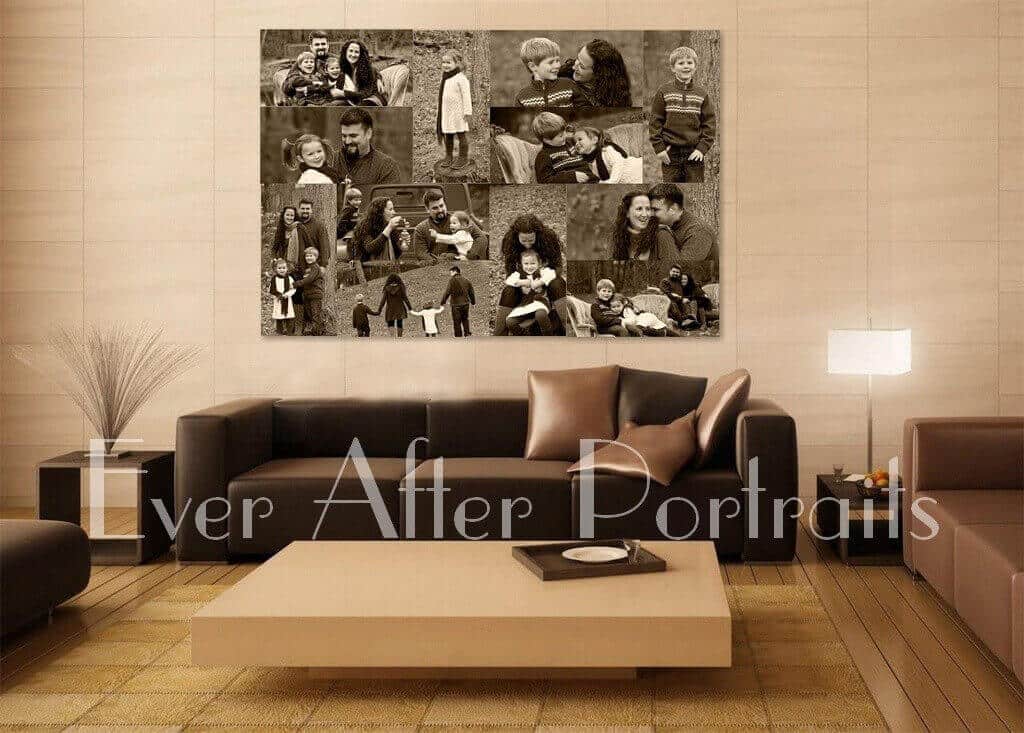 . . . we will create lifetime masterpieces of your family, portraits which will truly be treasured for generations to come.
Portrait Photography
Ever After Portraits is comprised of Mindy and Joriana Belcher, a mother-daughter fine art family portrait photography team located in Sterling, VA in Northern Virginia. They specialize in timeless and emotive fine art images.
Family means everything and capturing those precious moments to preserve forever will mean family heirlooms for you to share for years to come.
Best,
Mindy & Joriana – Contact Us!