My experience with Ever After was that they were very accommodating with helping me with the colors of clothes, with rescheduling because of weather — and I really liked how they took the sunlight and the elements around us and made sure everything was in place to get the perfect shot. In addition, they just have the eye and the expertise to put everything in place together in the final product — I just love the design of my album!
The quality of the products is like none other that I've seen. You can't get what they create just anywhere and it's not something that you see every day. I would not know where you could go to purchase what I have because it is so unique. I consider it art — it is so much more than putting a photo up; it's capturing a moment and then being able to share that moment in time with everyone who enters my home.
One of the things I loved about working with Mindy & Joriana was the custom nature of the products and how personal the service was. It was specialized and custom to fit my needs and desires. I didn't want to just get one large single image; I loved so many of the images that I wanted a grouping to tell a story. They worked with me to choose images that complemented each other. I love enjoying the art on my walls every day. I look forward to being photographed again to document the next stage of my son's life, hopefully with my parents. – Deveney Shea Wall, Alexandria, VA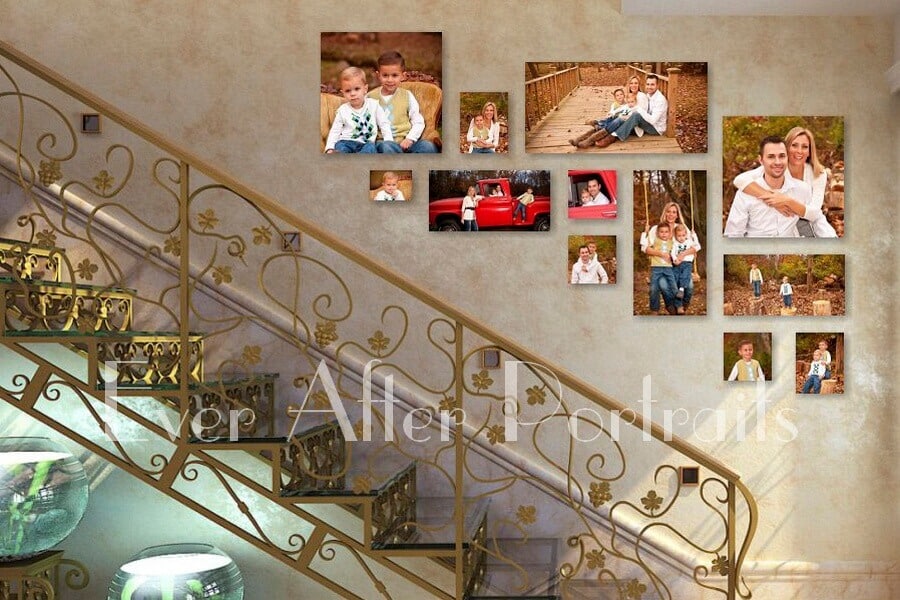 Custom Artwork and Heirlooms

Every home makes a statement about those who dwell within its walls! What do you want your home to say about you?

Most likely you're coming to us because you cherish your family — and you want beautiful and unique images by a professional photographer of them.  Why not decorate your home with the ones you love?

We create artwork for your home and heirlooms for your family — candid, emotional and artistic images by a professional photographer that you can display as Wall Art.  As part of our custom service, we will help you get the display just right. A boutique studio, we create specialty products and display options to suit your personal style. Your images can be printed and framed in on a wide choice of unique fine art frame-less portrait finishes.

Follow the

RED

links below for more information on that product.


Custom Wall Art Portraits

Here at Ever After, we specialize in family photography with

Custom Wall Art Portraits

designed uniquely for your home. Our wall art is truly customized to you!


Wall Art

Our Wall Art is available in a variety of finishes, including two framing lines as well as several frameless lines.


Framed Wall Art

Each frame in our

Masterpiece Framing

line features hardwood which is carefully hand carved and/or hand gilded, going through a 35-step process to ensure its beauty and integrity. These frames are truly masterpieces.

Our

Standard Framing

line features genuine natural, solid wood frames with a naturally rich finish and grain, and metal frames which make for a lovely modern look. Each is a beautifully hand-made product you'll be proud to display on the walls of your home.


Canvas Finishes for Framed Portraits

You have a choice of canvas finishes for your framed portrait. Both finishes start with being printed on the highest quality Giclée canvas.

Our

Rembrandt Finish

for framed canvas portraits mixes photography and painting and is enhanced with oils, painted with the love and talent of a portrait painter, creating depth and dimension. After your portrait is printed to the canvas, it is then enhanced with oils.

Our

Artist's Finish

for framed canvas portraits meets the highest quality standard for printing. Your portrait is printed directly onto the canvas, and it goes through a multi-step process to ensure the quality and the protection of the canvas.


Frameless Wall Art

Our

Bamboo Wall Art

is as unique as you are — perfect for your home of distinction. Printed with archival water-based inks, Bamboo is a completely recyclable substrate, which makes this a 100% green fine art product.

Bring a little bit of the art gallery home with

Gallery Wrap Wall Art

. The portrait is printed on fine art canvas, which then extends around the sides of the canvas and is precision-folded and attached to the back, not the sides, of a sturdy wood frame.

Our

Ice Wall Art

offer you one of the most dynamic presentations of your imagery. Ice is perfect for the discriminating client looking for a contemporary and unique way to display their images. Non-breakable and face mounted, once printed, the image becomes opaque, highlighting the vibrant colors and detail.

Our

Steel Wall Art

is clean and contemporary, perfect in a matte finish for that first spin in a frilly pastel dress, or choose a glossy vibrant finish to make a bolder statement. They provide a modern and edgy look for the contemporary family.


Wall Collections

All of our framed and frameless Wall Art is available as

Wall Collections

.

Wall Collections are different than a single large, framed image over the fireplace in one important way: They give the opportunity to tell a story, create a narrative, and reach beyond a single image. When any set of images are displayed together, the viewer immediately tries to draw connections between them, making the total greater than the sum of its parts. That's why Wall Collections are our number one product of choice!


Storybook Fine Art Albums

Many of our families choose an Album in addition to their Wall Art. After all, you can't put every single favorite and loved image from your family portrait session on your walls!


Platinum Album

Our

Platinum Fine Art Album

is crafted by hand by skilled craftsmen in the U.S. and is available in a variety of sizes and covers, including leathers/fabrics, metal, glass or canvas, or even a clear glass panel overlay. Due to the use of silver halide paper and archival inks, these albums are rated in the 100-year-plus category, as high as they go. This is your family's album, and your story done your way.


Gold Album

Every

Gold Fine Art Album

features a full-wrap photo cover and is printed on fine art, museum quality paper with vibrant and vivid archival inks. When you open up a Gold Fine Art Book you see a full panoramic display of your art. No cuts or gutters means images are on display without distractions.


Portrait Boxes

In order to tell the rest of the story, another choice in addition to Wall Art is our

Portrait Boxes

.

Our Portrait Boxes are made with quality wood and, if kept out of direct sunlight, your grandkids will enjoy those precious moments in 100 years! They have the option of a photo panel on the inside cover, and have a magnetic closure. Matte and Lustre finishes are available. An easel makes it versatile, so you can change the image depending on who is visiting and always look at something new.


Portrait Session Locations

As professional family photographers, we take great pride in offering both a 2.5-acre Outdoor Portrait Park, as well as a fully-equipped Indoor Studio.


Studio, Indoor

Our

Indoor Studio

is ready for use regardless of the temperature outside, whether it's your first family portrait with your newborn resting safely in Daddy's strong hands, a gorgeous portrait of your family as it grows, or that perfect career portrait to enhance your brand.


Today's Classics in Our Indoor Studio



Today's Classics

are fine art family portraits that truly last a lifetime. Set in our indoor studio, complimented by architectural elements, these images combine the classic techniques of the past with the modern spirit of your family. Inspired by the grand museum masterpieces, these images are perfectly preserved for future generations, irreplaceable memories on canvas.


Studio, Outdoor Portrait Park

Our 2.5-acre

Outdoor Portrait Park

is the perfect outdoor studio to create priceless fine art family portraits. Custom designed as a private park with portrait areas throughout including a creek, two ponds, large and small, a bridge, wildflower meadow, barn — and our latest addition, a pier, perfect for images over the water.