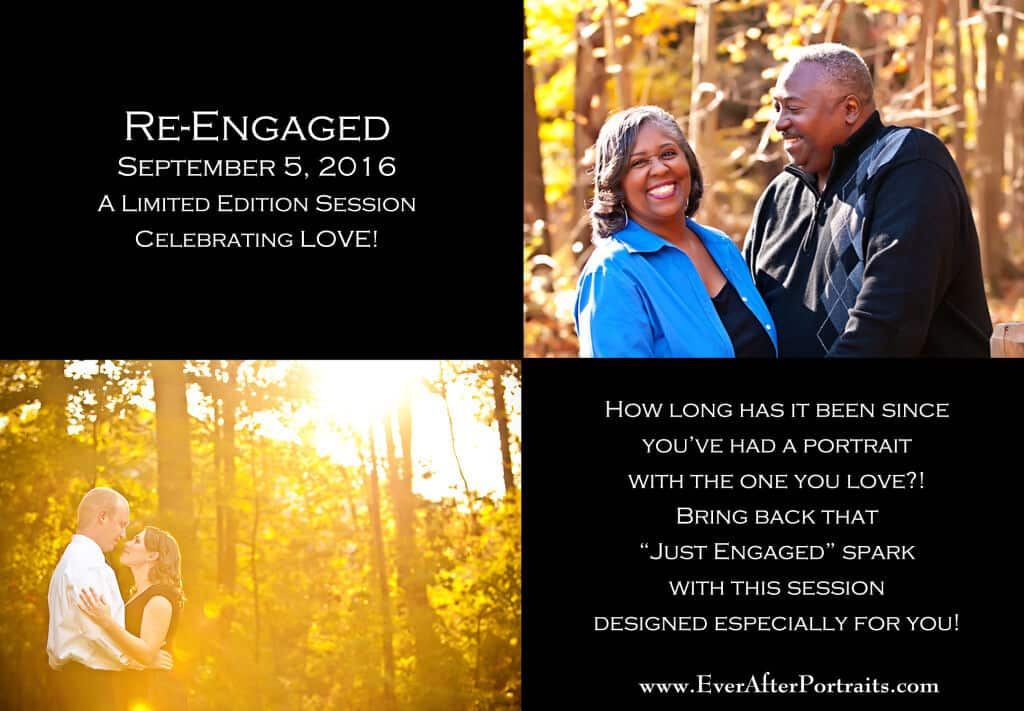 Be sure to check out the tips below the slideshow!
Enjoy this special session….Then decorate your home with the ones you love…
RE-ENGAGED Limited Edition Portrait Session, Couple Portraits

This session was designed for those couples who have been together for a few years but have never lost that "just-engaged spark"! This Re-Engaged Session is like a date, with the beautiful autumn leaves as your backdrop. Take time to show your spouse how much he/she means to you by having art made to hang on your walls for years to come.

WHO:
Those interested in a candid, artistic, one-of-a-kind portraits with their beloved!

Once the $99 session fee is paid prior to your session date, your Portrait Session and Ordering Session time is ready to be reserved. This is a much anticipated event, so don't wait too long to book your special date! Contact our office at 571.434.0009 or email the studio at [email protected] if you have questions.


WHEN:

RE-ENGAGED Portrait Session Date(s): MONDAY, SEPTEMBER 5, 2016

For this Limited Edition Session, only 12 session slots are available! So hurry to book yours!

Because these events are special, and the themes and slots are so much in demand, we are sensitive to timing. Because of that, we set aside specific times during the week during which all orders must be placed. For this session, the Ordering Session Date(s) are:

RE-ENGAGED Ordering Session Date(s): Tuesday, September 20, 2016 ONLY during the following time slots:

9:00-11:00
11:00-1:00
1:00-3:00
3:00-5:00
5:00-7:00
7:00-9:00

WHERE:
Our Outdoor Studio in Sterling, VA

WHY:
Because time moves so fast — photography stops it! Take a moment out of your busy lives to show your husband or wife how much you care for him/her by having images of you together against the backdrop of Autumn leaves!

Portraits from our 30-minute sessions make the perfect gift for the wife, husband, and even the parents! These sessions are only offered for a limited time. We promise you will feel extra special when you leave, and the best part is that you will have timeless images during this special time of your life.

LIMITED EDITION SESSIONS:
Portrait sessions are always available, but our Limited Edition Sessions, which are themed events, have only a limited number of slots. Once the session slots are filled, the theme is no longer available. Themed sessions are unique and won't be repeated and, like all good things, these session time slots won't last! Contact our studio today to book this themed Limited Edition Session and show your family how much they are cherished.

SCHEDULE TODAY:
Please contact us here to schedule your session or call the studio at 571.434.0009.

TIPS FOR A SUCCESSFUL SESSION


We are thrilled to create a timeless piece of artwork that will last for generations. To be able to create such art, we would love for you to have a great session. By following our guidelines, everyone will have an amazing experience.

GUIDELINES

* Appointments are required – we do not accept walk-ins.
* Session fees must be paid up front to secure your session. If you "no show," you will have to pay another session fee to reschedule.
* All sessions begin at the scheduled time — we respect the next client's time so we are are unable to accommodate late arrivals
* Please plan to arrive 20 minutes before your scheduled time to allow for checking hair, etc.
* If either of you are not feeling well (even the slightest bit under the weather), please reschedule. We want to keep the studio as germ free as possible.
* No cameras, including cell phone cameras, are allowed in the studio.
* Your images are only available to view on our 72-inch screen for the highest quality. We don't do online viewing.
* The time set aside for the Ordering Session is the only time to place your order. All orders take 3 – 6 weeks to be delivered.
* Picking up your orders will be set up by appointment only, or we can ship your order to your home.
* Payment is due the day of your Ordering Session appointment. A no-interest layaway plan option is available.
* Orders will not be delivered until the order is paid in full.

CLOTHING AND INFO


* If you're planning on bare feet, avoid wearing socks with tight elastic that leave an impression on the skin.
* If you choose to wear nail and/or toe polish, be sure that it's not chipped or peeling off the day of your session.
* Check arms and hands for temporary tattoos! (You'd be surprised how many times this comes up.) They should come off easily with a little baby oil.
* Pack a comb or brush for a quick touch-up once you arrive.
* If you have dry skin, apply a little lotion to smooth it out.
* Bring along chap stick or clear lip gloss to apply at the studio. Dry, chapped lips are not easy to fix post production, but a light application of chap stick or gloss before the session works wonders!
* Blue dresses bring out blue eyes
* Olive skin tones look best in jewel tones
* Dark colors will overwhelm fair-haired lasses

FREQUENTLY ASKED QUESTIONS


WHAT DO THE PRODUCTS COST?
Special products and package pricing will be available with the Limited Edition Sessions, including beautiful Wall Art that would be perfect for your child's or the parents' room! Sessions are $99 with a $99 product credit. Each session is no more than 30 minutes, 1 outfit with at least 20 images to choose from. We take great pride in our products and it's our pleasure to create beautifully and professionally printed artwork for you to enjoy for generations to come. In addition, your image is not just a flimsy piece of paper; it is mounted and coated for durability and protection from fingerprints and the elements. Yes, digital images to share and print are available. Contact the studio for detailed pricing.

HOW LONG DOES A PORTRAIT SESSION TAKE?
A complete session takes about 30 minutes.

HOW MUCH DOES THIS COST?
Each 30-minute Limited Edition session costs $99. Regular sessions are $250, so that's a savings of 60% from a standard session! The $99 fee secures your reservation for the scheduled themed session, and allows us to provide the highest quality costumes, props, and our undivided attention to make your fantasy a reality!

I WANT TO TAKE PICTURES AT THE SESSION, TOO. CAN I?
No. Cameras and/or camera phones are not allowed.

WHAT'S THE PROCESS?
The process is so easy!
* Plan your clothing ahead of time. If you're purchasing a special dress or suit for this session, be sure to order now so you will have it in time.
* Purchase the session
* Pay the sales tax
* Contact the studio to set the dates for your Portrait Session AND the Ordering Session.
* We will also set the date/time for your in-person ordering session held at our studio. Please see above under "WHEN" for the available dates for the ordering sessions for this Limited Edition Portrait Session.
* On the day of your Portrait Session, please arrive 20 minutes early.
* During the session, we will even give you sneak peeks from our camera to show you how gorgeous the images are!
* During the date/time slot you choose for your Ordering Session, you and your husband – or any decision makers – will come back to the studio for your own personal ordering session to order the products. We will help you compare all of your favorite images. Whether it is wall art or a very special album, we have special event pricing just for this event.
* For this event, Gallery Wraps are the Wall Art product we encourage. The image is printed directly onto high-quality canvas material with the finest ink to ensure that the image looks its best. The canvas is then stretched around a solid frame. Then a UV coating is applied to resist fading and enhance the longevity and rich appearance. Hanging is a breeze and wall bumpers are included to protect surfaces from marks and scratches. These features allow you to have your gallery wraps on display in a matter of moments.
* Our unique albums are an heirloom keepsake for decades to come. An album is perfect for preserving the story of your session and will allow you to relive the moments time and again. While this album does have a minimum of 10 pages, more can be added.

LIMITED EDITION FAQS


How are Limited Edition sessions different from a regular session?
Well, in addition to the session time being shorter, Limited Edition sessions are typically based on a theme. Each type of session is customized with special props and background. For some Limited Edition sessions, special costumes are available. Limited Edition sessions are also shorter and have specific dates on which the Portrait and Ordering Sessions are held.

How often do you offer Limited Edition sessions?
We offer Limited Edition sessions throughout the year. If you subscribe to our e-newsletter or follow Ever After Portraits or mindybelcher on Facebook, Twitter and Instagram, you'll be in-the-know for all our upcoming sessions.

How many poses will I get to choose from in a Limited Edition session?
Typically, you will have no less than 20 poses to chose from when it comes to prints and products!

Who can sign up for your Limited Edition sessions?
Typically, we open the Limited Edition session up to children, couples, singles and even pets! Sometimes, though, a Limited Edition has a theme where we're only photographing children or just doing a specific type of image, such as couples, or business headshot portraits.

How soon will I be able to order images?
We edit all photos within one week, so that they are available within two weeks to order. Ordering Session dates will be set to two days only, so book now so you have your choice of Portrait and Ordering Session time slots!

Because these events are special, and the themes and slots are so much in demand, we are sensitive to timing. Because of that, we set aside specific days during the week during which all orders must be placed. Please see above under "WHEN" for the available date/time slots for the ordering sessions for this Limited Edition Portrait Session.

Can I book two Limited Edition slots in a row?
I would actually recommend booking two different Limited Edition sessions if you have twins or multiples.

What kinds of products do you offer?
After a package is purchased, products can be added on such as mounted wall or gift prints, wall art in a canvas finish, albums, portrait boxes, desk images, notecards. . . the list goes on! Check out www.EverAfterPortraits.com for all the goods!