When clients first reach out to us as a photography studio in Dulles, VA, they usually ask about doing a family portrait they can display in their homes. Inevitably, however, when they see their family in our photos following their photo session, they fall in love with multiple portraits. Their loved ones' faces gathered together in the photo, each face with its own story, can make it difficult to choose just one portrait! This is why most of our families opt for our most popular product: a Wall Art Collection.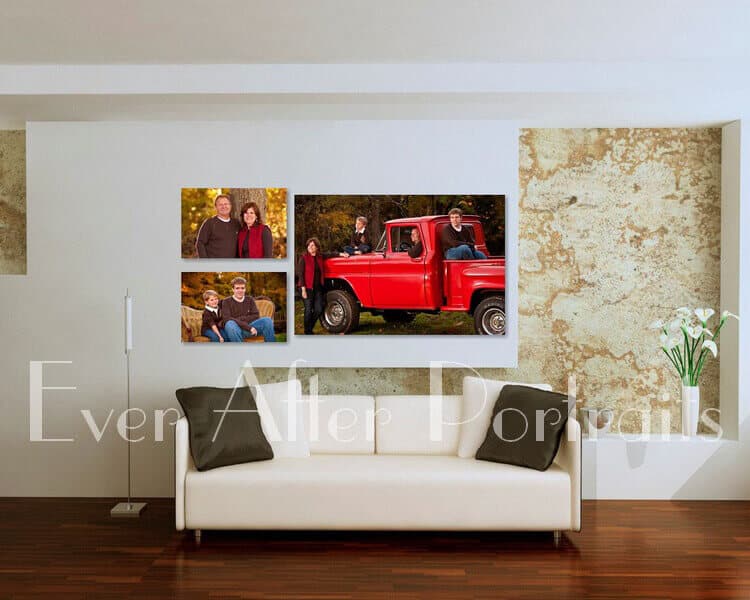 A large beautifully composed family portrait is stunning. It symbolizes your family's love for each other. As part of your interior design, a strategically displayed portrait can be the focal point of any room – drawing you straight to it. You can't go wrong with such a portrait.
Wall Art Collections
On the other hand, a collection of family portraits can be a poignant and powerful statement about your family and your interactions. A wall art collection can demonstrate the joy, personalities, and emotions of your family.
Sometimes families decide to choose a collection with a large center portrait, the one portrait they're particularly touched by, and then choose several images to surround it, creating a true wall art collection. The effect can be as dramatic as a story. The smaller portraits act like the chapters of a story, while the enlargement is the centerpiece of the story helping to set the theme!
Framing and Frameless Options
In recent years, wall art collections have become increasingly trendy and popular as a design concept. We offer Wall Art Collections in a variety of finishes to suit any style or decor. We have two lines of framing: Masterpiece and Standard Framing. Both frame lines are of exceptionally fine quality, with expert craftsmanship guaranteed to last for years. The look and effect of your portraits will be enhanced by the quality and beauty of the frames we offer. We also offer frameless options for a different style and look: Gallery Wrap, Bamboo, Steel and Ice. Your products will be beautiful with whichever of our products you select.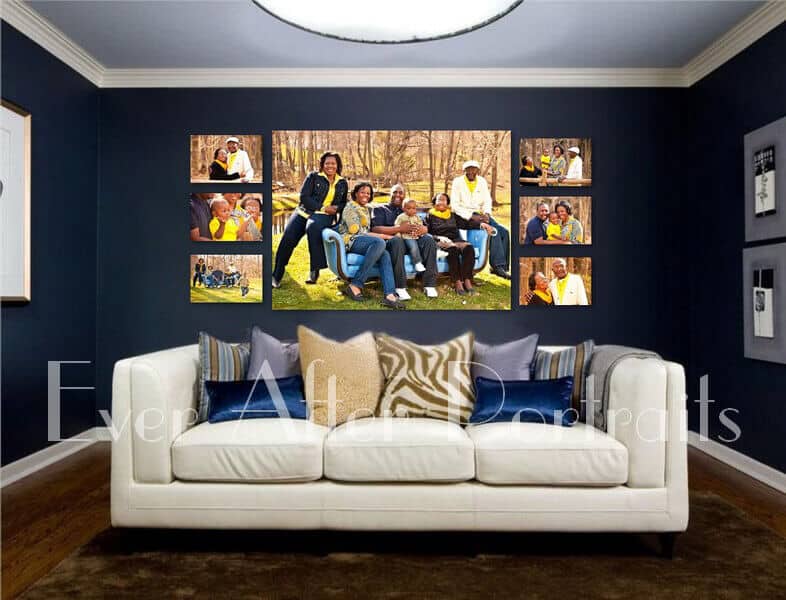 If you'd like to learn more about our products, or discuss our Wall Art Collections, reach out to us today. If you are looking for the leading photography studio in the Dulles, VA area, Ever After Portraits will be happy to work with you!
Family Photographer, Photography Studio
Ever After Portraits is comprised of Mindy and Joriana Belcher, a mother-daughter photography team located in Dulles, VA, Northern Virginia. We specialize in timeless and emotive fine art family portraits.
Family means everything and capturing those precious moments to preserve forever will mean family heirlooms for you to share for years to come.
Best,
Mindy & Joriana – Contact Us!