Join us in our photography studio in Sterling, VA for a Limited Edition Session, with Ever After Portrait Studios!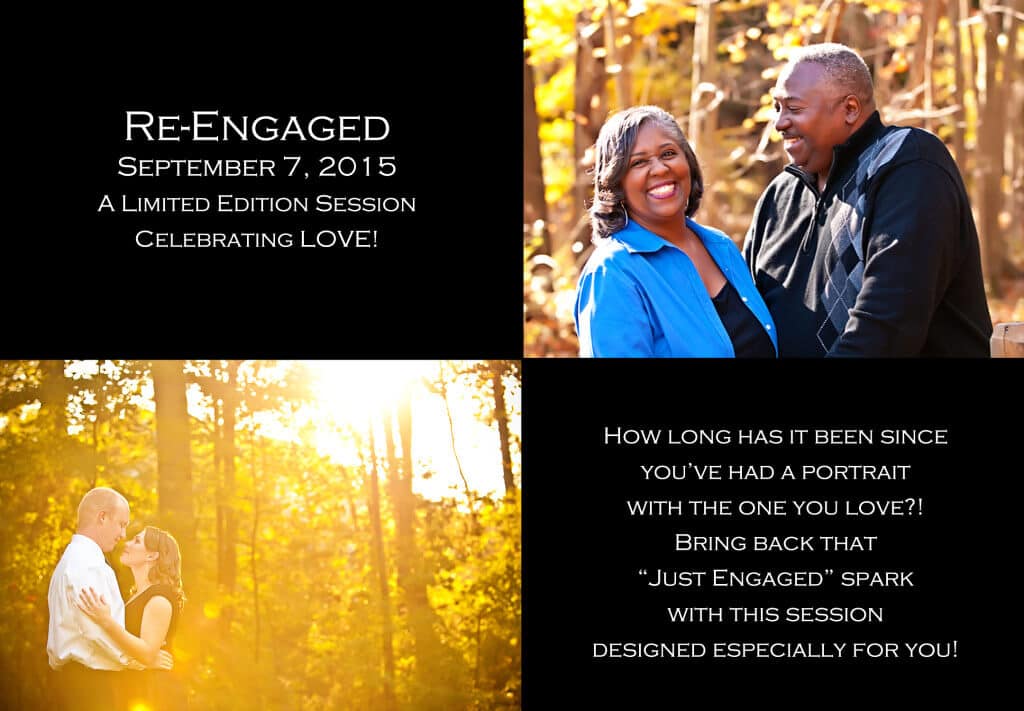 WHAT: 'Re-Engaged' Limited Edition Portrait Session
WHO: This session is designed for those couples who have been together for a few years but have never lost that "just-engaged spark"! This Re-Engaged Session is like a date, with the beautiful autumn leaves as your backdrop. Take time to show your spouse how much he/she means to you by having art made to hang on your walls for years to come.
WHEN: Monday, September 7th, 2015
WHERE: Our Outdoor Studio in Sterling, VA
WHY: Because time moves so fast — photography stops it! Take a moment out of your busy lives to show the one you love how much you love him/her by having images of you together against the backdrop of Autumn leaves!
SCHEDULE TODAY: Please call us at 571.434.0009.
LIMITED EDITION SESSIONS: Portrait sessions are always available, but our Limited Edition Sessions, which are themed events, have only a limited number of slots available. Once the session slots are filled, the theme is no longer available! Theme sessions are unique and won't be repeated in the same year. And like all good things, these session time slots won't last! Call our studio today to book this themed Limited Edition Session and show your family how much they are cherished!
Re-Engaged: This session was designed for those couples who have been married a few years but never lost that 'spark'! This Re-Engaged Session is like a date, with the beautiful autumn leaves as your backdrop. Take time to show your spouse how much they mean to you by having art made to hang on your walls for years to come.

FOR MORE INFO AND IMAGES OF THIS SESSION, SEE OUR SESSION PAGE HERE …