As family photographers located near Chantilly, in Northern VA, we specialize in family photography and creating beautiful portraits which you'll treasure for years to come. We strive to make our site one of the very best photography websites in the area, so you'll have a great idea of our photography. As both a family and child photographer, we know how very much your family means to you, and we capture that bond in our photographs.


Artwork of Family
A staircase wall makes the perfect place for displaying a collection of family portraits as your very own art gallery.
Stairs are often the first thing you see when you open your front door. For you, opening that door into your home and seeing portraits of the ones you cherish brings a smile to your face and joy to your heart. For your guests, they step in the door and immediately know how very, very much you love your family.
A staircase portrait gallery is gorgeous whether you like color, black and white, or chocolate for your artwork. The simple staircase below benefits from a gallery of family portraits in chocolate, as well as framed. We offer two
framed lines, Masterpiece and Standard
.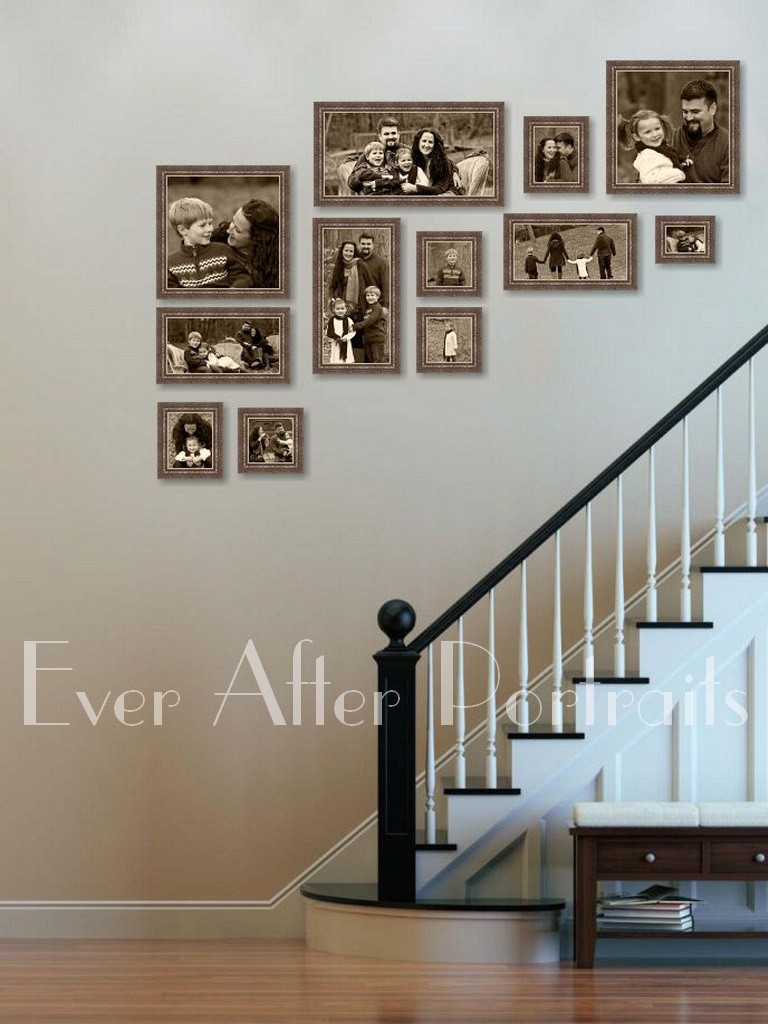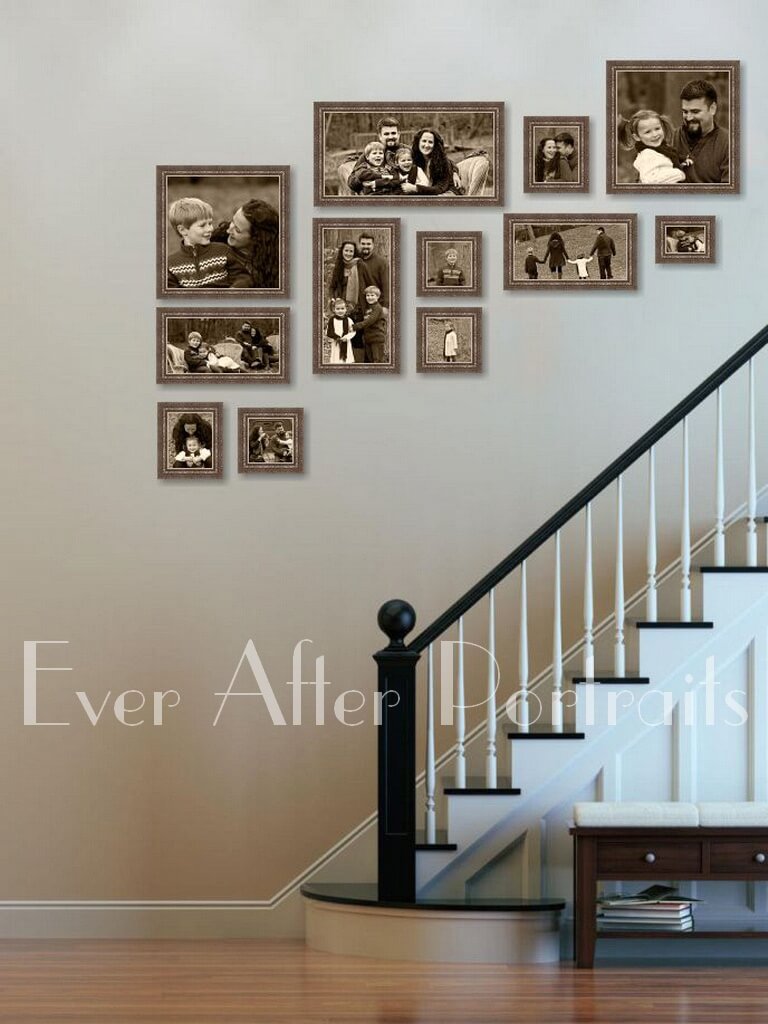 The staircase and wall below are more elaborate, but the color tones and background make a gallery of color portraits the perfect compliment to the wall.
A frameless choice works well here because of the elaborate staircase and wall decor. Our frameless options are Bamboo, Ice, Steel and Gallery Wrap.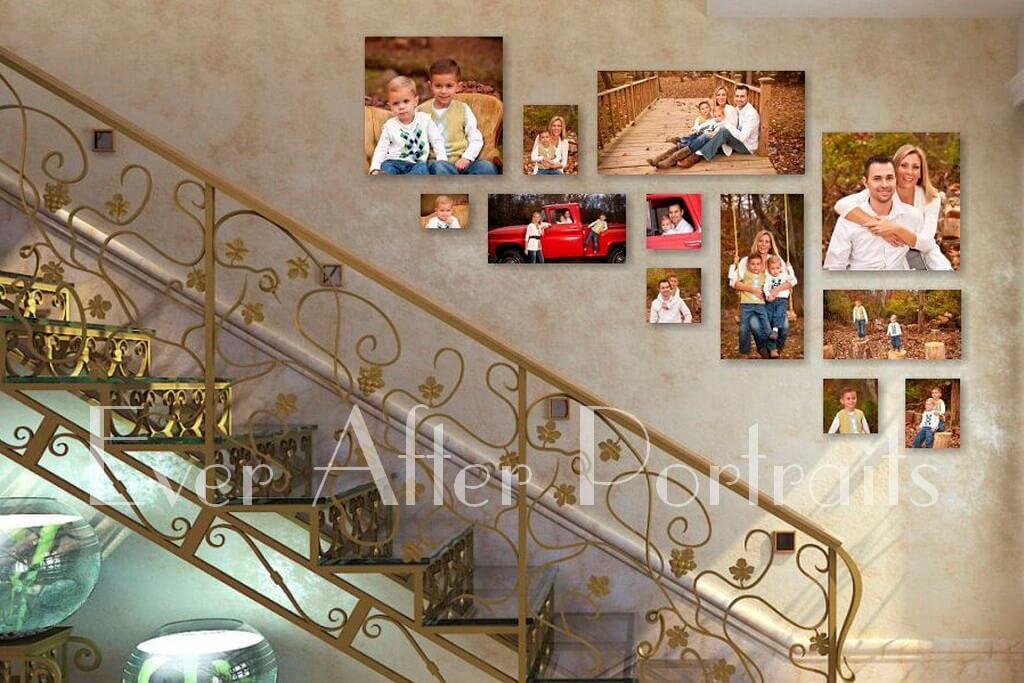 The portrait gallery for this final staircase takes advantage of the warm tones of the flooring and the lighting to pull out the earthy tones of the portraits. Either framed or frameless would look lovely on this wall.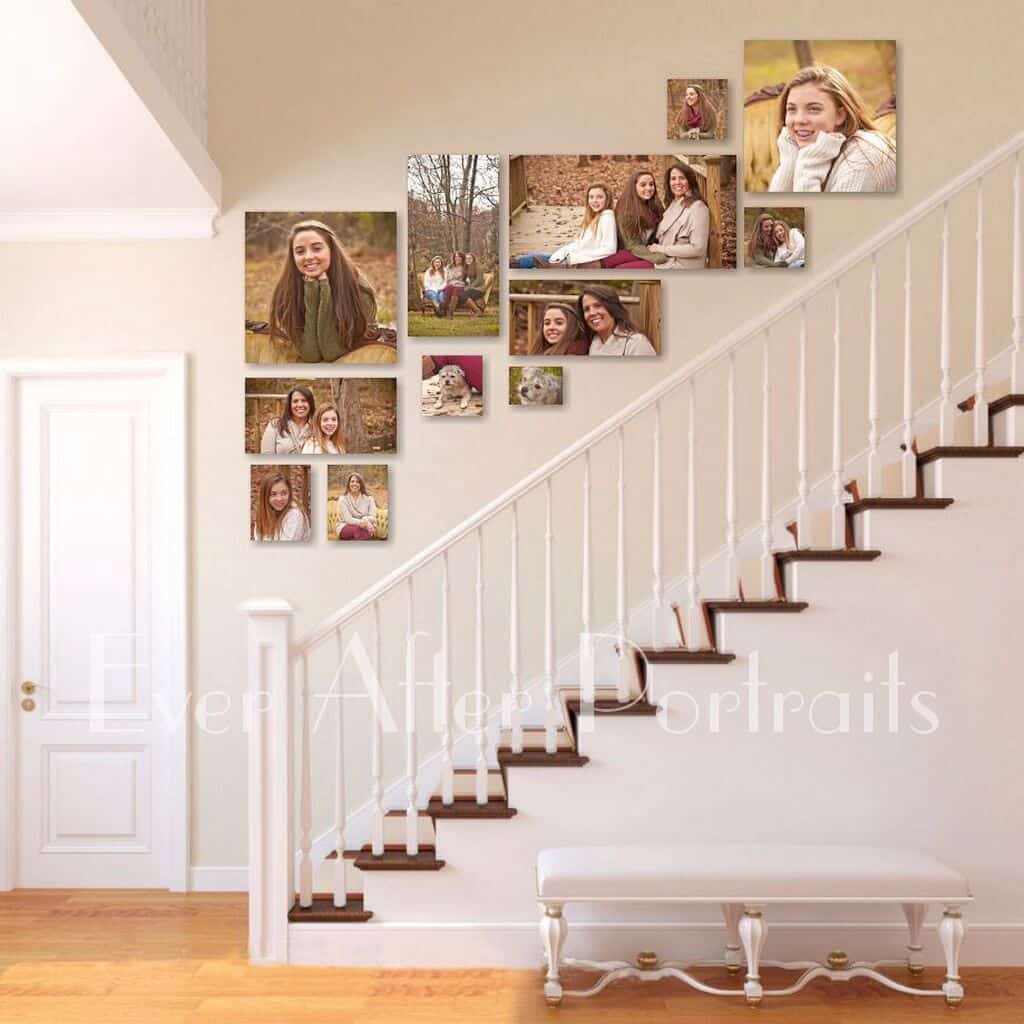 There are many choices and many ways to decorate your staircase with artwork of family. The sky is really the limit, and you can be as elaborate or as simple with the numbers and sizes of portraits you display there. With our software, we can design a staircase gallery for you in the perfect size for the size of your wall. All you have to do is use our "Let's Decorate" tool, place it on your wall, take a quick iPhone pic of it, and text that picture to us! We do the rest!

Ever After Portraits is comprised of Mindy and Joriana Belcher, a mother-daughter photography team located in Northern Virginia. They specialize in candid, emotional and artistic images.

Family means everything and capturing those precious moments to preserve forever will mean family heirlooms for you to share for years to come.

Best,

Mindy & Joriana – Contact Us!

View Our Portfolio | professional photographer