Top 5 Gorgeous Engagement Portrait Locations | Northern VA Engagement Photographer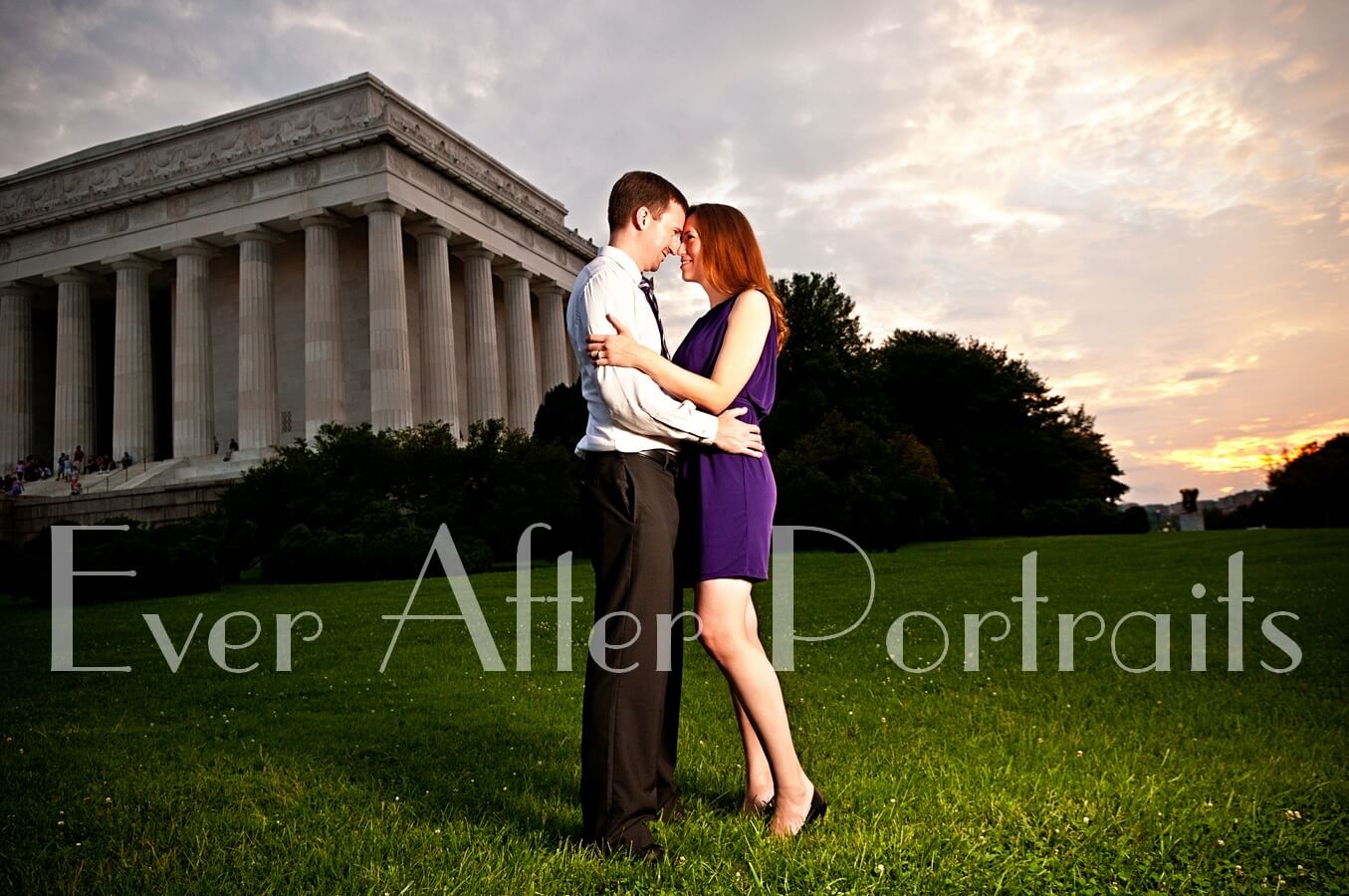 Location, Location, Location…it's not just important in real estate! Even if you can't hold your wedding at the Ritz Carlton, you can still have beautiful wedding portraits. A gifted portrait photographer can take your bride and groom portraits at countless places across Northern VA and the DMV (D.C./Maryland/Virginia) or elsewhere in our state!
The gorgeous places we list below also make wonderful places for engagement photography! Whether you are looking for beautiful views, an urban beat or a vintage feel, you won't have to look far in our state to get any of them!
What follows are our Top 5 spots where you can best capture your cherished memories, either dressed in your wedding finery or during an Engagement Session.
National Arboretum – Washington, D.C.
The U.S. National Arboretum is a unique venue not heavily frequented. Only ten minutes from the Capitol Building, portraits taken there will have character and charm, while still allowing your personality as a couple to shine through. Our favorite spot within the Arboretum is the Capitol Columns, but there are 446 acres with everything from Bonsai trees to herb and rose gardens.
Here are the particulars:
• Location: Entry is at 3501 New York Avenue, NE or at 24th and R Streets, NE, off of Bladensburg Road Contact: U.S. National Arboretum or (202) 245-4543
• What you should know: Wedding photography for couples who aren't planning to have their wedding at the Arboretum requires an application and $30 fee. Parking and entrance to the Arboretum are free. The Arboretum is open every day from 8 a.m. to 5 p.m. except on Christmas. However, you must send your application in at least two weeks before your event date.

Meadowlark Botanical Gardens – Vienna, Virginia
If you are longing for portraits by a body of water with flowers in bloom? Meadowlark Botanical Gardens is a gorgeous place and perfect for photography! The grounds are manicured year round and flowers of different varieties are always in bloom. Bridges, walking paths, and a large lake with a gazebo in the middle are everything you could hope for if you've dreamed of timeless portraits.
Here are the particulars:
• Location: 9750 Meadowlark Gardens Court, Vienna, Virginia 22182
• Contact: Meadowlark Botanical Gardens or (703)-255-3631
• What you should know: The entrance fee is $5.
Glen Echo Park – Glen Echo, MD
• Glen Echo Park is full of magic and whimsy. Situated on the Potomac Palisades near Bethesda, Maryland, there is an amusement park, complete with carousel and bumper car pavilion, wide-open spaces, and romantic backdrops that beg you to "cuddle up." There's a charming vintage trolley car still on the tracks! Overall, the park is an idyllic location!
Here are the particulars:
• Location: From downtown Washington, take Massachusetts Avenue in the northwest direction, to its end at Goldsboro Road, turn left, and continue to MacArthur Boulevard. Turn right on MacArthur Boulevard and take an immediate left onto Oxford Road where you will see the parking lot.
• Contact: Glen Echo Park or (301)-634-2222
• What you should know: There is no entrance fee to the park. There are lots of great places to shoot, and there is no location like Glen Echo Park if you'd like a vintage feel for your portraits. If you like bold colors and unique backdrops, there is no better place!
Washington National Harbor, Maryland
Located on 300 acres along the scenic Potomac River in Prince George's County, MD, National Harbor is the newest gateway to the National Capital Region. Spectacular views of the waterfront combine with the urban feel to provide uniqueness. Whether it is a sunset on the pier or hip street scenes, portraits taken at this location will be spectacular!
Here are the particulars:
• Location: National Harbor is directly accessible from the Capital Beltway, I-95, I-495, I- 295, and the new Woodrow Wilson Bridge, and is minutes away from all three area airports. There are interchange and multi-lane fly-off ramps exiting exclusively into the community from Maryland, Virginia, and D.C.
• Contact: National Harbor or (301)-634-2222
• What you should know: This is a popular spot, and there are activities planned most weekends so parking can be at a premium.
Vineyard Photography at any of our local Virginia Vineyards
Whether you and your groom want to frolic through the fields and feed each other ripe, succulent grapes or just breathe in the fresh air and mountain views typical of Virginia, a local vineyard might be right for you. Rows of grapevines and breathtaking landscapes can provide gorgeous backdrops for your once-in-a-lifetime portraits. Don't forget to stop by and get your first sip from the vine as a married couple!
Just search for the vineyard closest to your ceremony location!
Virginia Wine


Wait, there's more!
As we started to think of the best places in D,C, to have a portrait session, we were overwhelmed. There are so many great locations, so here's a tip:
If the timeline on your wedding day won't allow for travel to and from a site, you could plan to return with your photographer on another day for a "Day After Session"!
Check out these locations:
Outdoor Locations:
• Air & Space Museum – in DC and Virginia
• Roosevelt Island
• Brookside Gardens in Wheaton, MD
• Collingwood Library and Museum
• National Mall – any of the Smithsonian museums and gardens, particularly the garden behind the Castle
• The Capitol
• Meridian Hill Park
• Great Falls Park, Maryland or Virginia
• Georgetown (waterfront, canal, everywhere)
• Old Town Alexandria
• Washington National Harbor in Maryland
• Rock Creek Park
• Lafayette Square – White House can be seen
• Bartholdi Park

Family Portrait Photographer
Ever After Portraits is comprised of Mindy Belcher and Joriana Belcher Anderson, a mother-daughter portrait photography team located in Sterling, VA in Northern Virginia. We specialize in timeless and emotive fine art family portraits.
Family means everything and capturing those precious moments to preserve forever will mean family heirlooms for you to share for years to come.
Best,
Mindy & Joriana – Contact Us!