5 Insider Secrets for a Flawless, Relaxing Wedding Day | Northern VA Engagement Photography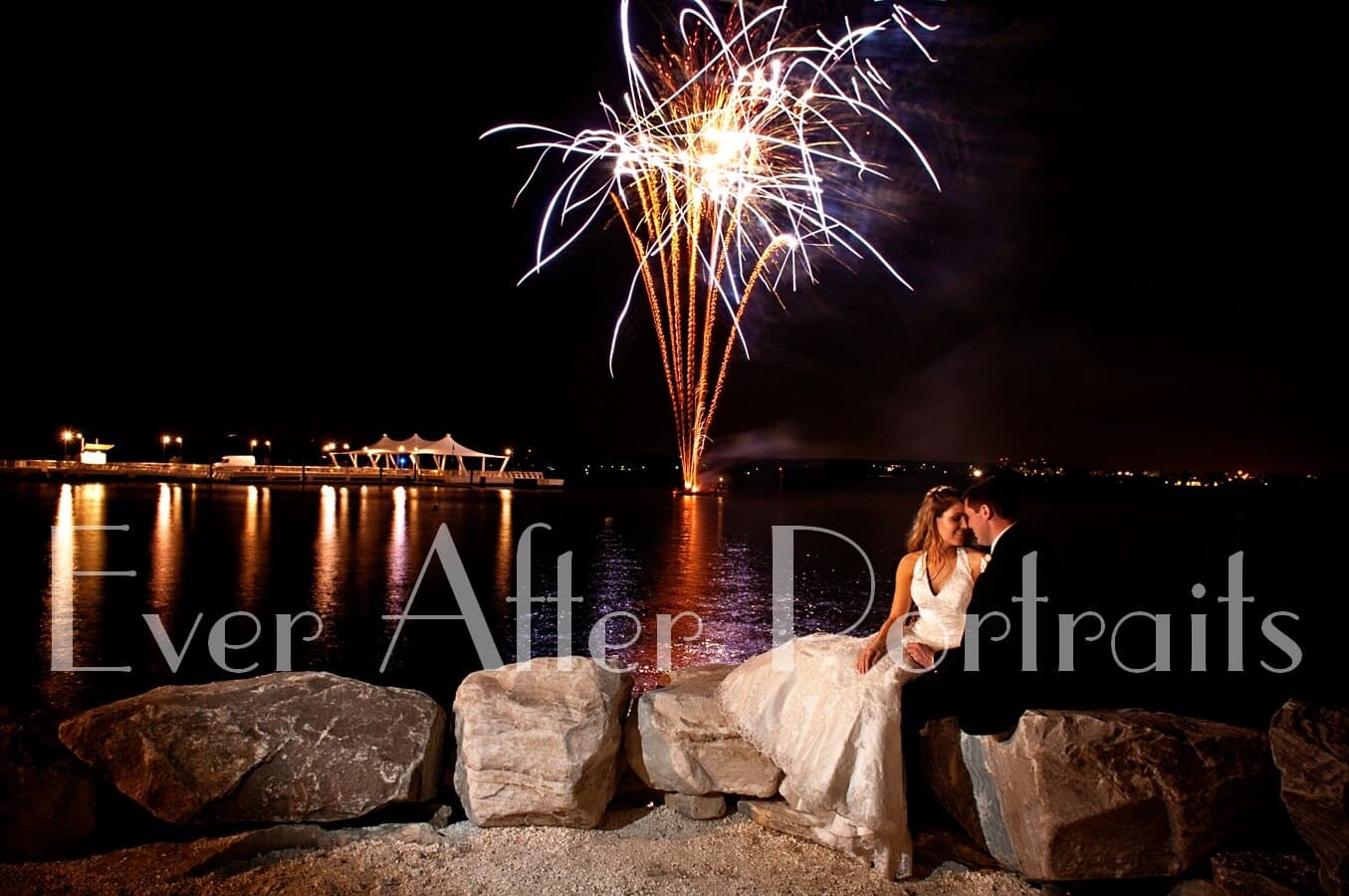 As a Sterling, VA portrait photographer, we know that once you've spent all that time planning the look, the feel, and the style of your wedding, it makes sense that you want to enjoy the day. If you talk to pretty much any bride after her wedding, she'll tell you, "It all went by so fast!" It's a pretty typical response, so we thought we'd offer you a few wedding insider tips to help you relax and enjoy every moment.
SECRET #1 – Allow extra time on your wedding day, including for portraits.
Wherever (or whenever) you can, you should allow for extra time. If you think it will take you an hour to get ready, give yourself two, instead.
For example, many brides forget to allow enough travel time between venues. It takes longer than five minutes to get your bridesmaids to the limo. They will likely pose for portraits, gather bouquets, possibly take bathroom breaks, then pile into the limo, and head to the reception.
You can never have too much extra time on your wedding day. Those breaks and gaps will be a welcome chance for you to relax, breathe and take it all in.
SECRET #2 – Hand over your cell phone.
• Be unreachable on your wedding day! Give your cell phone to your mother or Maid of Honor and let her run interference for you.
• Make sure your mother or Maid of Honor has your phone, but don't carry it on you. (They don't make wedding gowns with pockets for a reason.)
• You've hired the best wedding vendors and planned for everything. Now let everyone else take care of it so you can relax and enjoy.
• Nobody's going anywhere without you! You can let go and let everyone else take care of the details.
SECRET #3 – Take your photos before the ceremony.
We know it's traditional to not see each other before the ceremony. But, have you ever asked yourself where this tradition came from and why people practice it? The tradition was born in the days of arranged marriages. The bride and groom's first meeting was actually AT the ceremony and the first time they laid their eyes on each other was when the bride walked down the aisle. The two were kept from seeing each other before the ceremony to keep the groom from running away if he did not like the way his soon-to-be bride looked!
Today, not seeing the bride the day of the ceremony also means you'll have a very tight timeline between your ceremony and reception. That can also mean you'll feel rushed, stressed and anxious about getting through your wedding portraits before heading to the reception.
One idea is to arrange for a romantic "first look" before the ceremony with just the two of you. Your photographer can capture those private moments from a discreet distance during your portraits. Instead of being on display in front of 300 guests when you first see each other that day, your groom will be able to wax poetic about how beautiful you look as he can actually talk to you when he first sees you! You don't need to have that moment standing quietly at the altar.
Doing the portraits earlier means you'll have time for relaxing, fun portraits in the location of your choice. Then, at the ceremony, that "first look" will have a new and special meaning in front of your friends and family.
If you can do it, take your "first look" portraits before the ceremony. It will have a HUGE impact toward making your day more relaxing and stress-free.

SECRET #4 – Visit the "important" tables first.
A lot of couples want to do the "right thing" and visit each table at their wedding reception. The problem is that visiting 10 to 20 tables can take a very long time! Before you know it, you only have 45 minutes until the end of the party and wedding day.
Rather than visiting every table, consider stopping by the tables where your close relatives and older guests are seated. The same could be said for out-of-town guests. These are the people who would be the most hurt if they didn't chat with you at your wedding. Visit those tables first and then skip the rest. You'll see your friends at the bar or on the dance floor instead!
It's your wedding day. Use your time for having some fun!
SECRET #5 – Take a moment for yourself throughout the day.
It's too easy to get caught up in the rush of your wedding day. Before you know it, the wedding day has come to an end, and you're left wondering where the time went.
Instead, be sure to steal a few quiet moments with your honey throughout the wedding events. Be sure to sit and just soak it all in. Look out at the party and your guests and enjoy the moment!
One of our couples made a pact before the wedding. Whenever one of their special songs was played, they would stop what they were doing and meet on the dance floor. Those quiet moments you take throughout the day will help you remember later that your wedding day was absolutely spectacular!
We hope you've enjoyed these insider wedding tips! We've gathered them from our own experience as wedding photographers, from the comments of past brides, and other wedding professionals. As a Sterling, VA portrait photographer, we wish you the very best for your wedding and your new life together!

Family Portrait Photographer
Ever After Portraits is comprised of Mindy Belcher and Joriana Belcher Anderson, a mother-daughter portrait photography team located in Sterling, VA in Northern Virginia. We specialize in timeless and emotive fine art family portraits.

Family means everything and capturing those precious moments to preserve forever will mean family heirlooms for you to share for years to come.

Best,
Mindy & Joriana – Contact Us!

Professional Photographer