Ever After Portraits, located in Sterling, VA, is a boutique portrait photography studio specializing in creating timeless, one-of-a-kind heirloom artwork for those who cherish their family, and in providing you with a customized professional photography experience.
Our typical client comes to us because:
She loves and cherishes her family so much, and she wants to hold on to those precious family moments forever. She shows her love to her family every day by all of the little things she does to make her house a home. She builds that home knowing that together her family will weather all of life's storms – and revel in the sunshine. She wants the walls of her home to be filled with precious images of the ones she truly cherishes. She holds on tight and loves her family with all of her might.
We value the strength and love we see in family bonds. There is nothing more important than a sense of family. Commissioning family wall art portraits with us means that we will capture your family and the unique bonds you share. Through portrait photography, we'll tell your visual story, giving you a way of remembering feelings and expressions long after the moment is forgotten.
As family photographers, Joriana and I love to work with clients who cherish their family and want to celebrate those relationships every day. We will put you at ease, so that you can be yourself in front of our cameras. By the end of our time together, you will realize you genuinely had fun — and when you look back on that happy day, the memories will feel warm and make you smile. When you think back, you will remember that the world melted away and the only thing that mattered in that moment was
the ones you love the most.
We truly feel that our portrait art isn't complete until it's displayed. We offer only the highest quality wall art and other products, along with customized service. Your family portraits will be treasured art which will last for generations and look just as beautiful many years from now as they do the moment you first see them.
Once your family portraits are displayed in your home, you'll come in from a long, hard day, sit down on your couch, look up at your walls, and smile. The wall art you see will bring back the sound of laughter and remind you how much you enjoy just being a family.
You'll be surrounded with visual memories of beautiful moments: The moment when your little girl gives a great big smile as she spins around, laughing. The genuinely cheeky little grin your son sports when he's sure he just got away with something naughty. The special look you give your husband, the one that means, "These are our kids! We made them. They're ours. Can you believe it?!" The total awe on his face when he looks down at his huge hand holding the tiny fingers of your little girl.
Those moments are so very precious. Children grow up and families change. This moment in the history of your family will never be repeated. These are the moments we capture and preserve for you.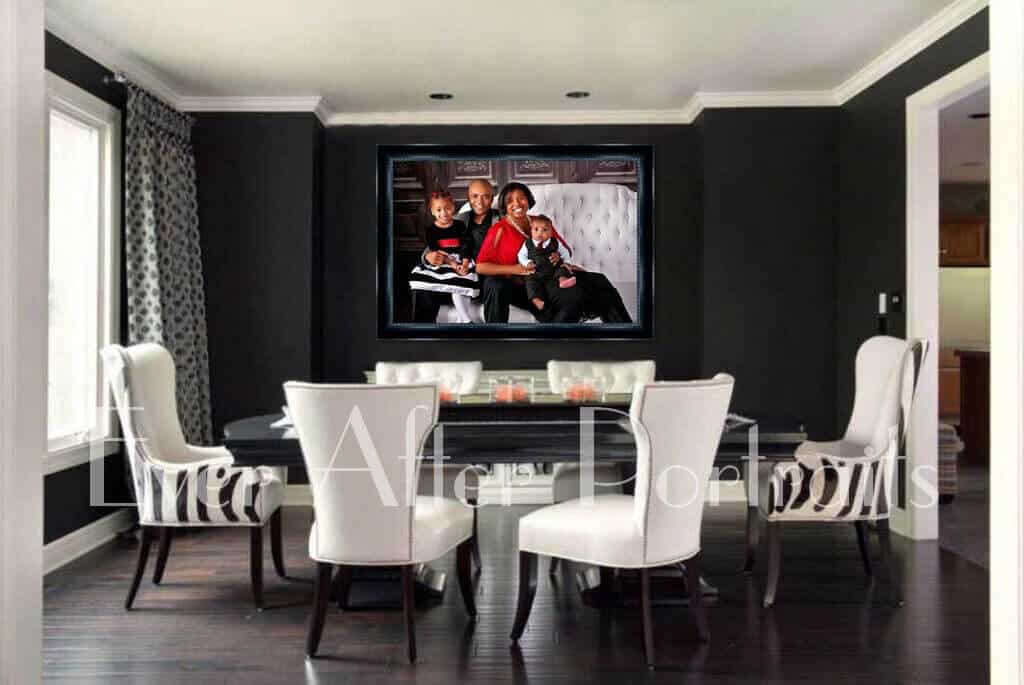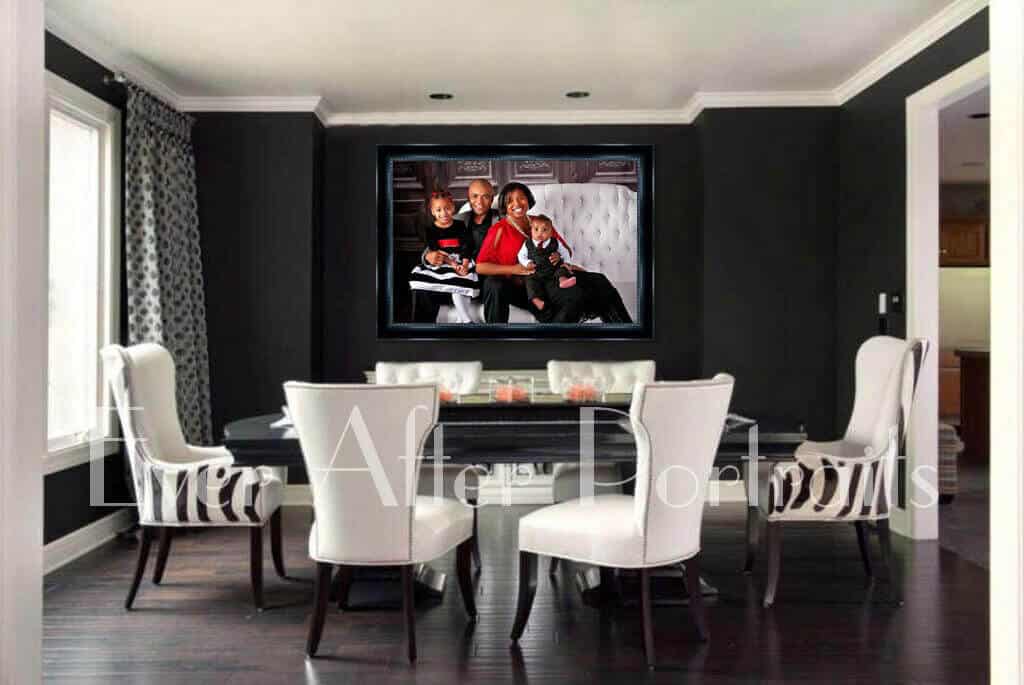 From start to finish, we strive to provide you with the best family portrait photography experience you have ever had. With that aim in mind, here are some of the things you'll love about Ever After and the custom service we provide:
Two photographers with different lenses, which means more images and a wider variety for you to choose from
Our 2.5 acre Outdoor Portrait Park and a fully equipped Indoor Studio in Sterling, Virginia, Northern Virginia so you won't have to clean your home before the session!
Sessions are available on location within the D.C. Metro area – for a truly custom experience
Custom designed wall concepts – created specifically to be the right size for your walls, the right colors for your decor and the right fit for your lifestyle
Custom visual styling suggestions for clothing, tailored to your personal style
Personal assistance in your image selections – so you have the benefit of a professional eye
Artfully designed products in a variety of styles – available only to professional photographers
Editing, retouching, and exquisite design of custom products– so you don't have to be a Photoshop guru or design expert
A variety of Wall Art Products in several finishes, including Masterpiece Framed, Standard Framed, and frameless options of Bamboo, Ice, Steel and Gallery Wrap
Image Boxes and Storybook Albums featuring a collection of images that tell your family's story
Specialty items for gifting those you love with personal portrait art
HOW WE CUSTOMIZE YOUR FAMILY PORTRAIT PHOTOGRAPHY EXPERIENCE
As an overview, this is the process we use to customize your Family Portrait Session to you:
Choosing a date and booking (via phone, Skype or in person, as you choose) your Portrait Session and your Ordering Session
We will ask that you send iPhone photos of your walls
We will use those iPhone photos and our Design Software to create custom Wall Art Concepts designed for your walls
We will review your Wall Art Concepts with you during a Design Session (via phone, Skype or in person, as you choose)
Visual clothing suggestions will be sent to you
Portrait Session will be held
In Person Ordering Session will be held at our studio
Product Pick-Up or Delivery
WE WILL CUSTOMIZE YOUR EXPERIENCE WITH A DESIGN SESSION
After choosing a date and booking your Portrait and Ordering Sessions, your experience with Ever After Portraits begins with a Design Session. Our no-stress process makes sure you not only enjoy yourself every step of the way, but get the family portraits you've always wanted!
Prior to your Design Session, we'll ask you to walk through your home and look for any space you'd like to decorate with artwork from our session together. We will ask you to take iPhone photos of any considered spaces and text or email them to us.
Once we receive your iPhone photos, we will create custom wall concepts, customized designs just for you and just for the space in your home. These wall display ideas will be digitally infused on your actual walls (through the iPhone photos) so you can get a visual of exactly what it would look like hanging in your home!
In order to create something that is worthy to be displayed on the walls of your home, we want to know you and what's important to you. So after you book your session, we will style your Portrait Session together during your Design Session. During that time, we will discuss who is being photographed in each session, how many rooms you want to create artwork for, as well as your decorating and personal clothing style. We will offer personal assistance with what to wear and complementary color selections, and help guide you on what to do with the artwork. Our process is designed to customize the Wall Art to your taste.
Once you narrow down the choices we provide to the concepts you love the best during the Design Session, we'll be in the best position to discuss what everyone is going to wear. We will even send visual clothing suggestions to take the stress out of making sure that everyone looks effortlessly beautiful, in clothing that complements each person, as well as the overall family portrait.
YOUR PORTRAIT SESSION WILL BE UNIQUE TO YOU
At the time of your Portrait Session, your family will be given individual attention to capture a wide range of expressions. We go out of our way to make sure that everyone is comfortable and relaxed. Typical studio sessions can be overwhelming and intimidating for some, but our sessions let your family be who they are with no pressure. This experience results in images that are timeless, relaxed and a session that is individually tailored to each and every client.
YOU'LL LOVE SEEING YOUR IMAGES AND PLACING YOUR ORDER DURING YOUR ORDERING SESSION
An Ordering Session typically takes place in our studio two to three weeks after your Portrait Session. One of our specialties is offering custom wall art displays in either traditional or more contemporary finishes. Our special design software will enable you to visualize your images in a display so you can know exactly how everything will look before you purchase. This takes the guesswork out of having to figure out where and how to display your portraits.
MUSEUM QUALITY PRODUCTS RATED TO LAST
After you place your product order at the Ordering Session, your chosen images will be retouched as requested, and you will be asked to proof and approve any images before they are sent to print. We want you to be completely satisfied with your products!
Your finished products will be completely finished and ready for display when they are received.
This is your family, the ones you love and cherish the most. Your family portraits will be works of art that you'll be proud to display on the walls of your home and to pass on to future generations as a visual record of your family's heritage.
We look forward to photographing your family and providing you with treasured artwork of the ones you cherish!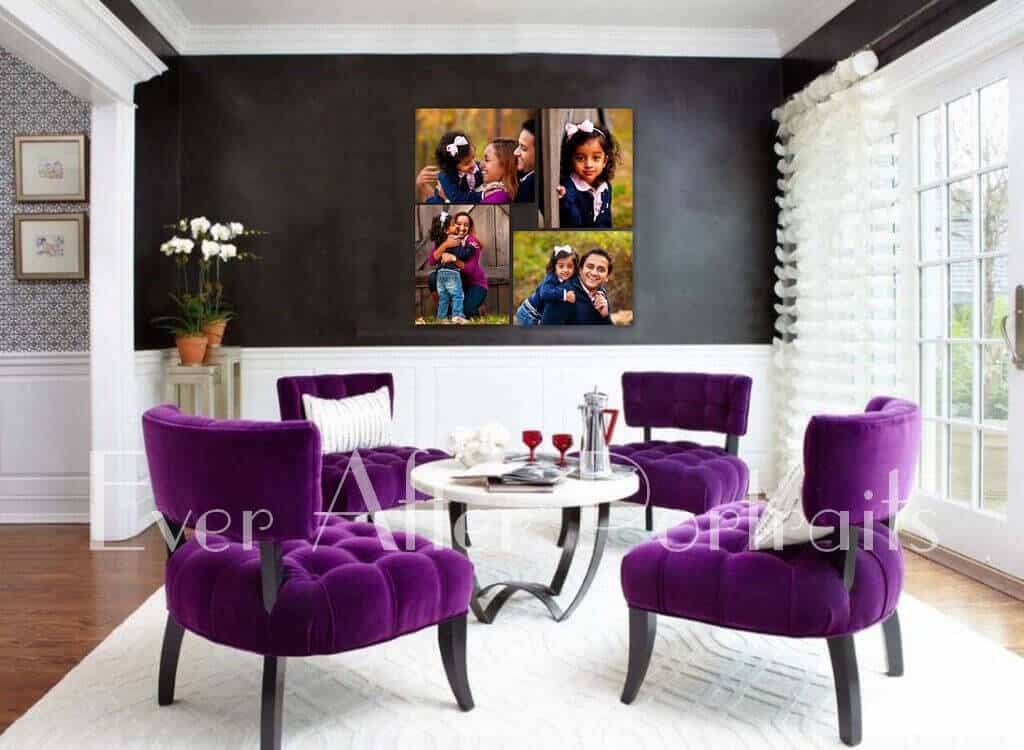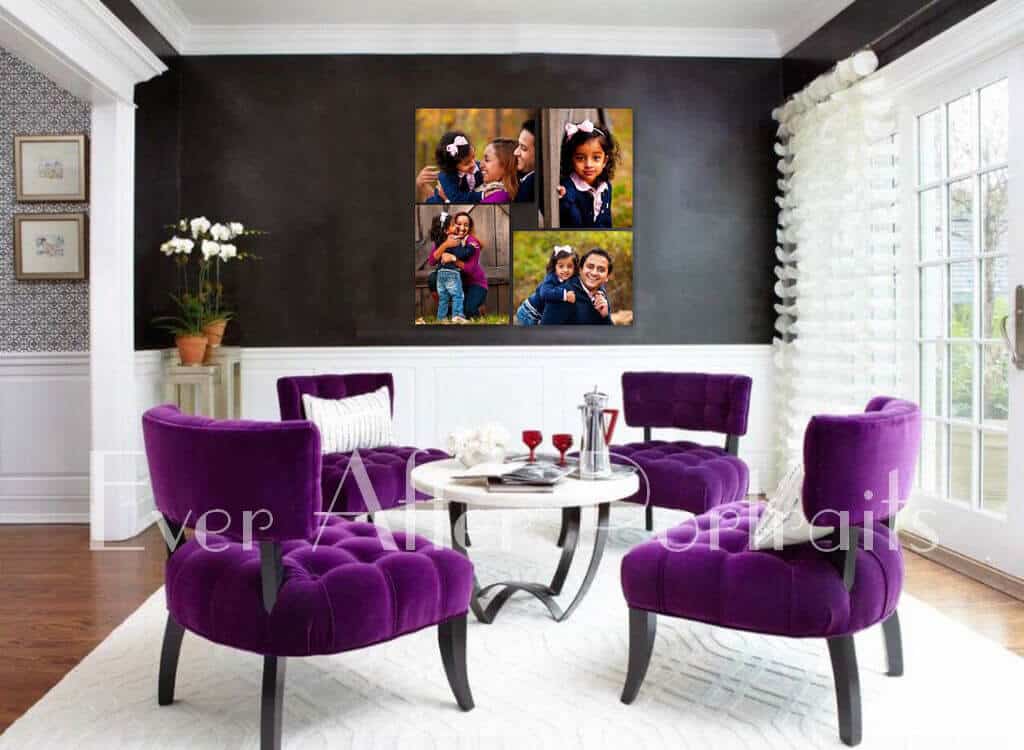 Family Portrait Photography
Ever After Portraits is comprised of Mindy and Joriana Belcher, a mother-daughter family portrait photography team located in Sterling, in Northern Virginia. We provide you with professional portrait photography and specialize in timeless and emotive fine art images.
Family means everything and capturing those precious moments to preserve forever will mean family heirlooms for you to share for years to come.
Best,
Mindy & Joriana – Contact Us!