What families are saying, Carrington & Tyler | Northern VA Family Photographer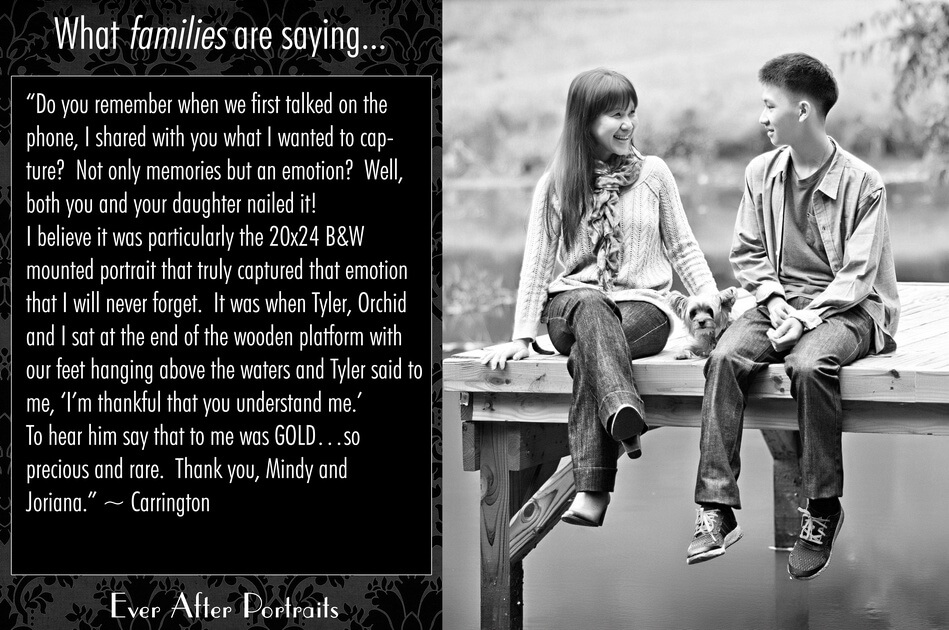 Portrait photography is what we love! But we love making our clients happier even more! Carrington came to our outdoor portrait park studio in Potomac Falls, VA, with her son Tyler and her little dog Orchid, for a family portrait session. For this family session, she wanted professional photography, and we were so pleased that she chose us!
When Carrington sent us an email letting us know how very much she appreciated having these portraits with her son, her happiness thrilled us. Knowing that a client loves their portraits and choose to display one (or more) on the walls of their home just makes us feel so very honored. We strive to make every client happy, and it's amazing when we receive words of kindness letting us know we've succeeded.
A Heartfelt Testimonial
"Do you remember when we first talked on the phone, I shared with you what I wanted to capture? Not only memories but an emotion? Well, both you and your daughter nailed it! I believe it was particularly the 20×24 B&W mounted portrait that truly captured that emotion that I will never forget. It was when Tyler, Orchid and I sat at the end of the wooden platform with our feet hanging above the waters and Tyler said to me, 'I'm thankful that you understand me.' To hear him say that to me was GOLD…so precious and rare. Thank you, Mindy and Joriana." ~ Carrington
It was a privilege to photograph Carrington with her son, and we look forward to seeing them again in the future!
We featured Carrington & Tyler's session on our blog recently if you'd like to see some more portraits.
Family Photographer, Portrait Photography
Ever After Portraits is the portrait photography team of Mindy Belcher and Joriana Belcher Anderson, a mother-daughter duo located in Potomac Falls, VA in Northern Virginia. We specialize in timeless and emotive fine art family portraits.
Family means everything and capturing those precious moments to preserve forever will mean family heirlooms for you to share for years to come.
Best,
Mindy & Joriana – Contact Us!