As a portrait photography studio located in Sterling, VA, we specialize in family photography and creating beautiful portraits which you'll treasure for years to come. As we have both a 2.5-acre outdoor portrait park and a fully-equipped indoor studio, we provide both an indoor and outdoor photography studio.
With the ready availability of cameras today, on our phones and other devices, people are constantly taking snapshots. Our faces are all over social media, sometimes even if we don't want them to be. It seems like everyone with a camera suddenly thinks they are a photographer. After all, it's so easy to snap a photo; everyone does it all of the time!
Does this easy access to cameras mean that there is no need for professional family photographers? Does it mean that, with the availability of digital media, there is no need for large wall portraits of your family to display on your walls?
Investing in portrait wall art
Is investing in quality wall art portraits of your family worth the cost?
Digital media lives and dies on your hard drive. Consider how often media storage methods change: 8", 5.25", 3" floppies; ZIP drives; CDs; DVDs; Blu-ray; USB, and on and on. What will be next? Once the method changes, it's next to impossible to recover anything from the previous storage method. Would you be able to look at photos on a floppy disk right now? But at the time, it was considered the "latest technology."
There is, however, lasting value in investing in portrait wall art. At Ever After, our goal as family portrait photographers, is to create beautiful wall art of your family, something worthy of being displayed on your walls, wall art that will decorate your home with the ones you love. We create heirloom pieces that you can pass down to the generations after you, to your children, and your children's children.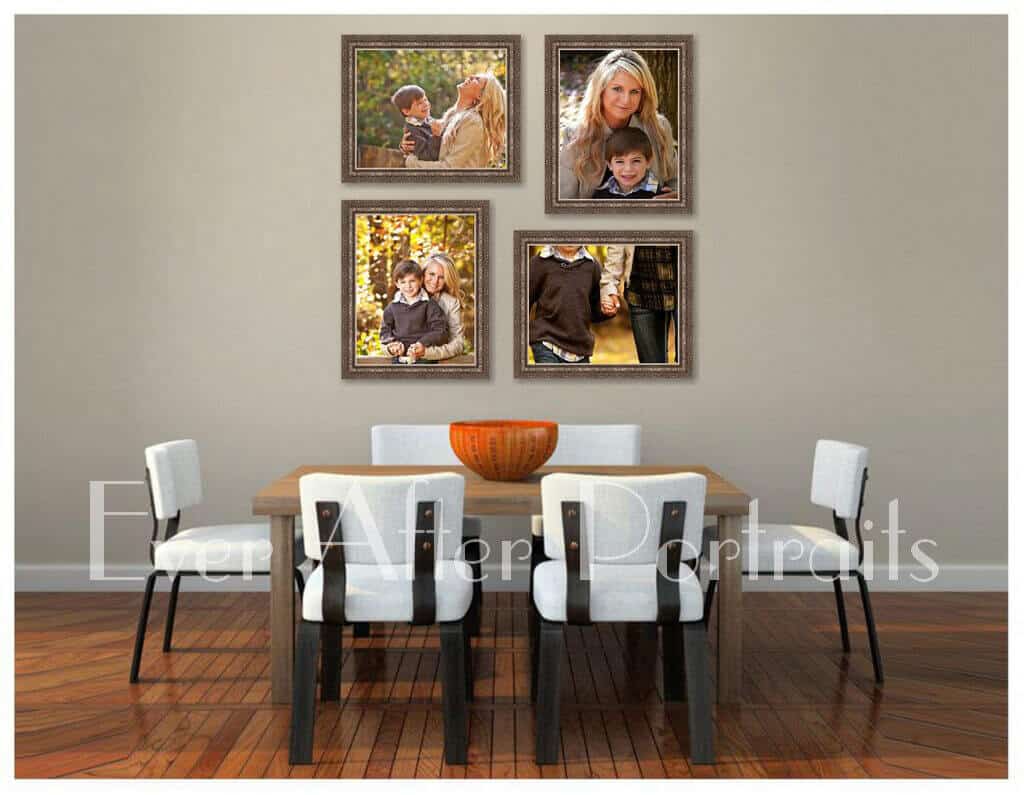 With wall art, you will enjoy portraits of the ones you cherish every day. We want you to have the enjoyment of coming home every day, after a long day's work, sitting down, perhaps on your couch, looking up and seeing portraits of the ones you love, laughing, snuggling, cuddling and enjoying the closeness you share as a family. You'll be able to say "That is what's truly important!"

You'll see these images every day, pass by them every day, even after your children are grown, go off to college, and start families of their own. These portraits are legacy pieces, the kind that, if a disaster hit, you would grab your kids, your cat and these portraits because they mean that much to you.
We style your family portrait session to you and your family, including clothing suggestions and setting. We custom design your artwork for your home. We consider the size of the wall upon which you want to display, and any artwork we create will be custom sized to that space. It will be created and styled uniquely for you. The wall art we create will become priceless to your family.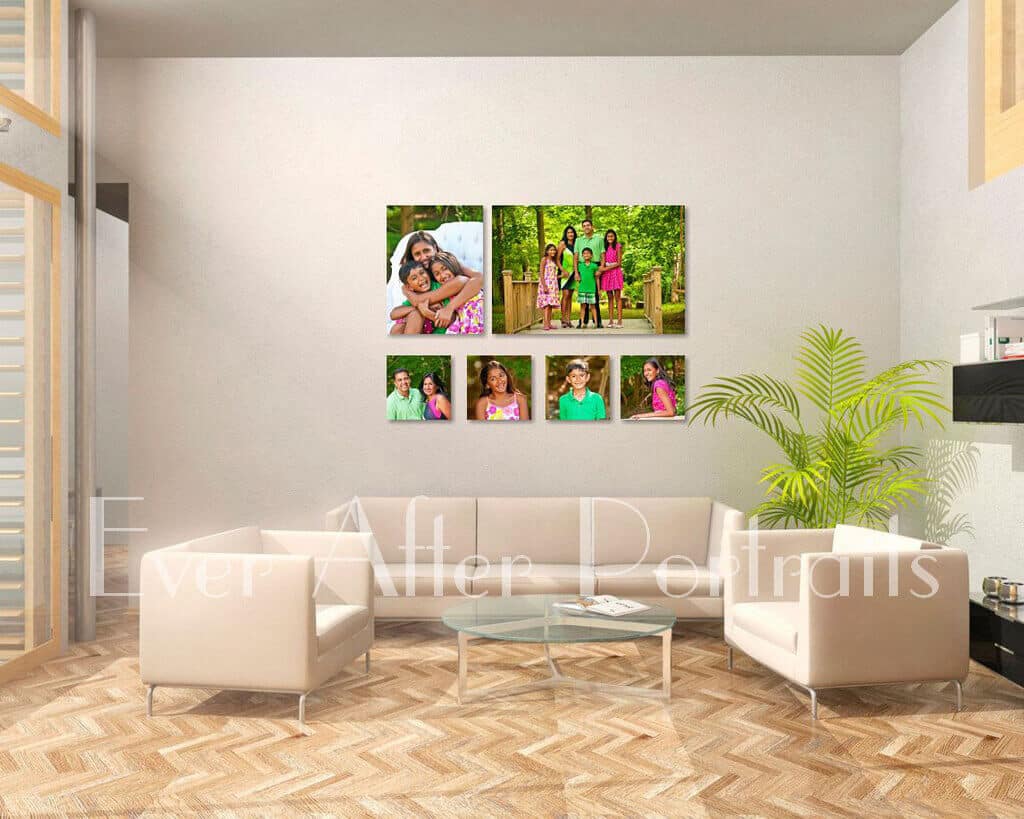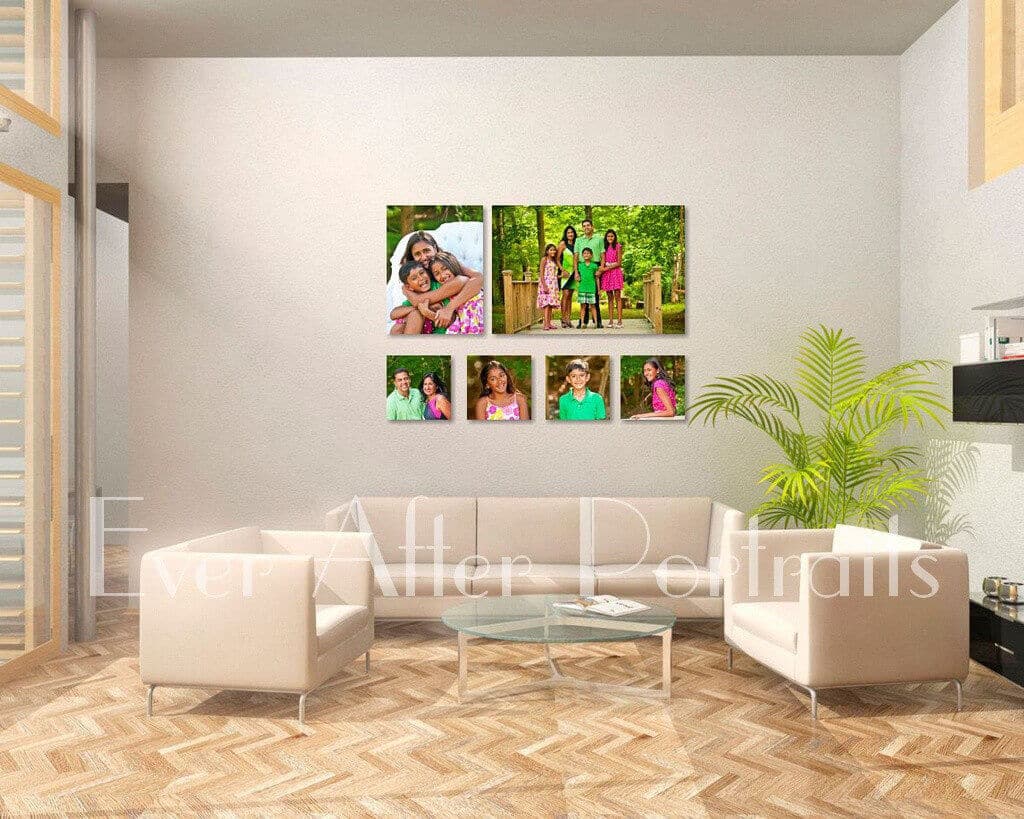 There is no better investment than portraits to tell your family's story and reinforce your family as the centerpiece of your home.
Before and after your portrait session, we spend time with you so you can choose just the right finish for your wall art. We offer a variety of unique finishes, two framed lines and four frameless lines.
Framed Wall Art
Our Framed Canvas portrait wall art is bonded to natural fiber canvas and protected with a glaze. We offer two lines of canvas finishes: Rembrandt and Artist's.
Our Rembrandt Canvas Finish (link to post) mixes photography and painting and is enhanced with oils, painted with the love and talent of a portrait painter, creating depth and dimension. The result is exquisite, amazing and, above all, priceless as it has the realism of a photograph but the beauty, style and feel of a free-hand painting.
Our Artist's Canvas Finish meets the highest quality standard for printing. Our Giclée canvas is archival and, unlike low quality canvas, contains no optical brighteners. Your portrait is printed directly onto the canvas and it goes through a multi-step process to ensure the quality and the protection of the canvas.
The portrait is then framed in your choice of our Masterpiece Frames or Standard Frames.
Our Masterpiece Frames are carefully hand carved and/or hand gilded, going through a 35-step process to ensure its beauty and integrity. These frames meet the highest standard of excellence. The finished product is a true heirloom, designed to be passed from one generation to the next.
Our Standard Frames provide a choice of a variety of quality wood and metal mouldings to complement your lovely family portrait. The genuine natural, solid wood frames have a naturally rich finish and grain. The metal frames make for a lovely modern look. Extra care is taken to ensure your frame is free of flaws.
The result of frame and canvas is truly a modern masterpiece.
Bamboo, Ice, Steel or Gallery Wrap
Our frameless lines are Bamboo, Ice, Steel or Gallery Wrap.
Our Bamboo line is a 100% green product, printed with archival water-based inks, and is finished with a protective coating.
Our Ice line provides a unique and contemporary way to display your family portraits. It is non-breakable. The portrait is face mounted and, once printed, the image becomes opaque, highlighting the vibrant colors and detail. It has to be seen to be truly appreciated.
Our Steel line gives you a modern and edgy feel. Your portraits are printed on the face of a brushed metal surface, resulting in an edgy, stylish display. They are finished with rounded corners, offering a clean, safe and lasting final product.
Our Gallery Wrap line is printed on fine art canvas, which then extends around the sides of a sturdy wood frame and is precision-folded and attached to the back of the frame. You have a choice of finishes including high-gloss, semi-gloss and matte. A protective coating is added to preserve the colors and protect from scuffs and scratches.
All of our wall art is printed on archival medium with archival inks. They will truly stand the test of time.
There is nothing more important than the ones you love. Make a lasting investment in family portrait wall art that will become cherished family heirlooms. The generations to come will appreciate your forethought as they share that heritage with others, "See? That's my family!"
Take the first step towards preserving your family's portrait heritage, and book your family portrait session with us today.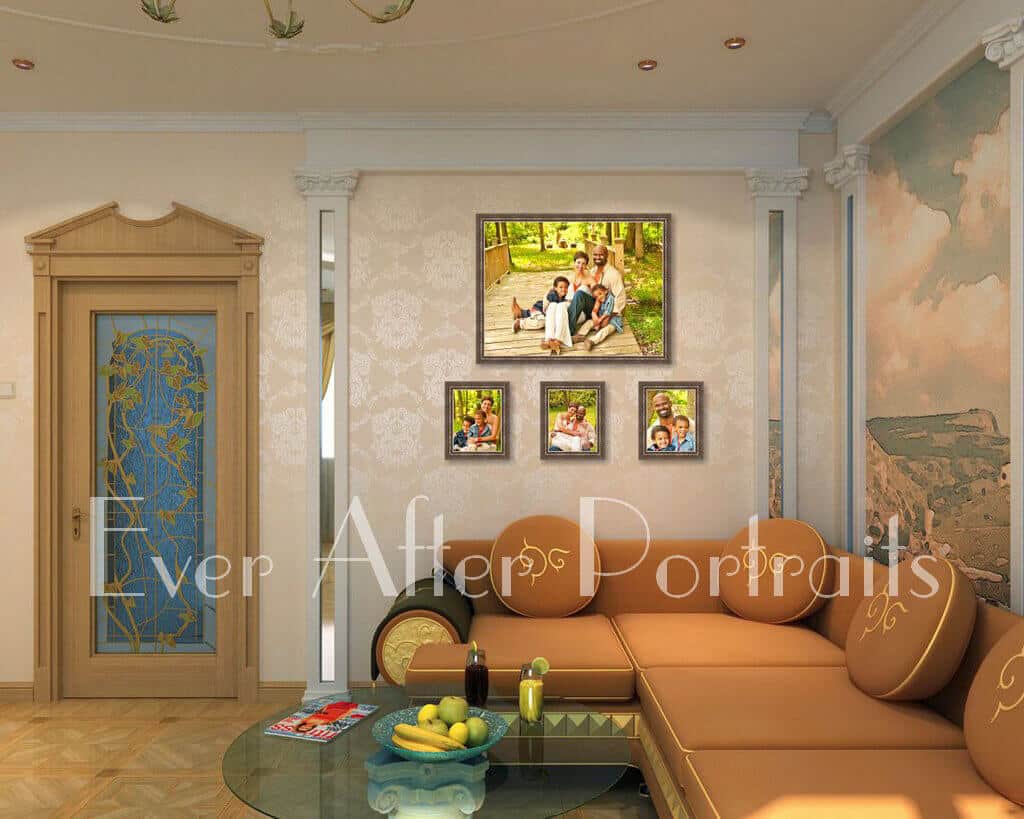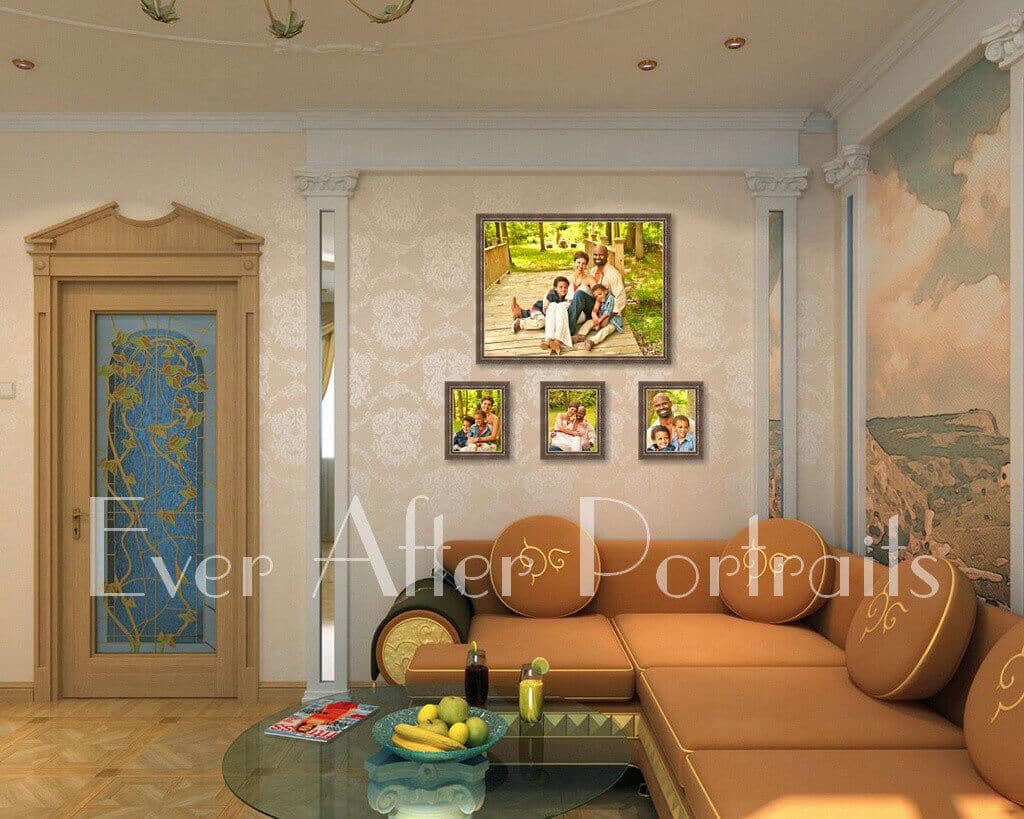 Portrait Photography Studio
Ever After Portraits is comprised of Mindy and Joriana Belcher, a mother-daughter photography team located in Sterling, VA in Northern Virginia. They specialize in timeless and emotive fine art images.
Family means everything and capturing those precious moments to preserve forever will mean family heirlooms for you to share for years to come.
Best,
Mindy & Joriana – Contact Us!