Carousel Dreams Children's Limited Edition Session, June 10, 2016 | Northern VA Family Photographer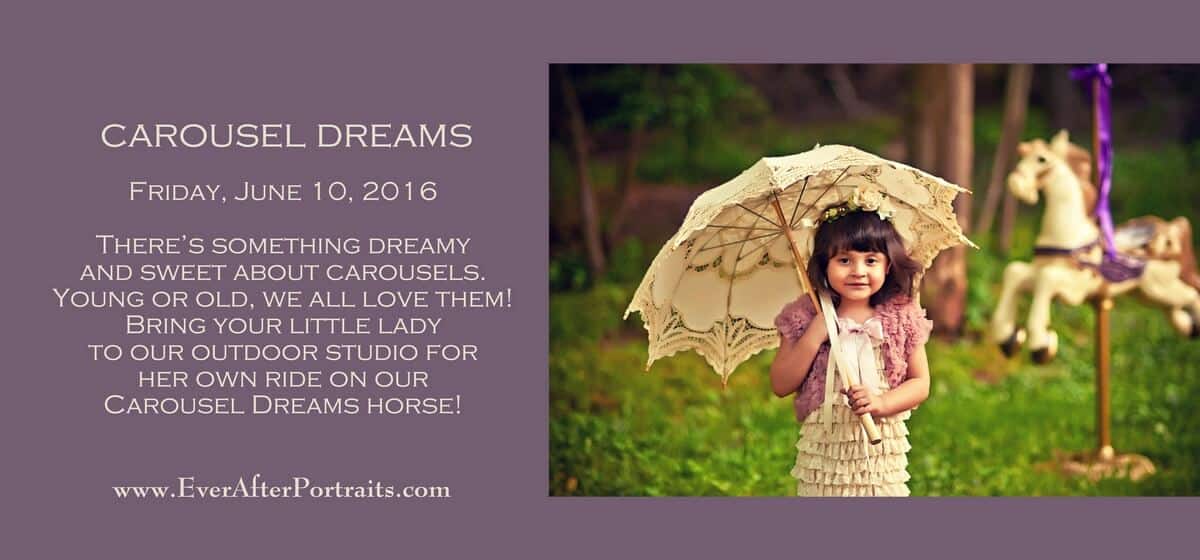 Ever After is a mother and daughter portrait studio in the Northern Virginia and Broadlands, VA area specializing in family and children's photography.
The dreamy magic and fairytale sweetness of childhood carousels come alive during our very special Carousel Dreams Limited Edition Session. Your child is the star of her very own special dream sessions. Our beautiful carousel horse and floral swing are reminiscent of another world – one fit for a princess sitting majestically surrounded by the lush forests. There's something dreamy and sweet about our children's photography and our very own Carousel Dreams Limited Edition Sessions! There are limited sessions available so book early!
Bring your little princess for her own classic fairytale ride on our Carousel Dream horse! Our portraits are high-end, one-of-a-kind, and always a special hit with family and friends. We are masters at capturing children's priceless expressions and creating memories that will last a lifetime.
Costumes/Clothing: The session time allows for your choice of one costume/outfit. If you'd like your child to be photographed in more than one costume/outfit, we invite you to purchase an additional session slot. Your daughter will love dressing up in special outfits for this session! Clothing that keeps to the theme of this Portrait Photography Studio session will be provided for ages 3 through 9.
WHO:
For the little fairytale and magical dreamer in your life! These sessions are best suited for little girls between the ages of 3-9. Once the $99 session fee is paid prior to your session date, your time is reserved. If you wish to add siblings or friends, there is an additional $50 for each additional person who wishes to share the 30-minute time slot. You are more than welcome to schedule two back-to-back sessions if you prefer each one to experience the full 30 minutes. This is a much anticipated event, so don't wait too long to book your special date. Call our office at 571.434.0009 or email the studio at [email protected] if you have questions.
Our next CAROUSEL DREAMS Session is FRIDAY, JUNE 10, 2016
For this Limited Edition Session, only 12 Portrait Session slots are available! So hurry to book yours!
WHERE:
Our private and gorgeous Outdoor Studio in Sterling, VA
WHY:
Because time moves so fast — photography stops it! This is a fun, dreamy, and special portrait session just for girls with costumes on a unique and unforgettable set! This session is perfect for the parent or grandparent who values one of a kind portraits of their cherished little girl!
Portraits from our 30-minute sessions make the perfect gift for mom, dad and especially the grandparents! These sessions are only offered for a limited time. Also included in your session is the use of our customized costumes and props, so all you need to do is show up and we will take care of the rest! You can expect that special little lady of yours to feel extra special when she leaves, and you will have timeless images of her during this special event in her life. There will be minimal props as the dress and nature are really all that is needed.
SCHEDULE TODAY:
Please contact us here to schedule your session or call the studio at 571.434.0009.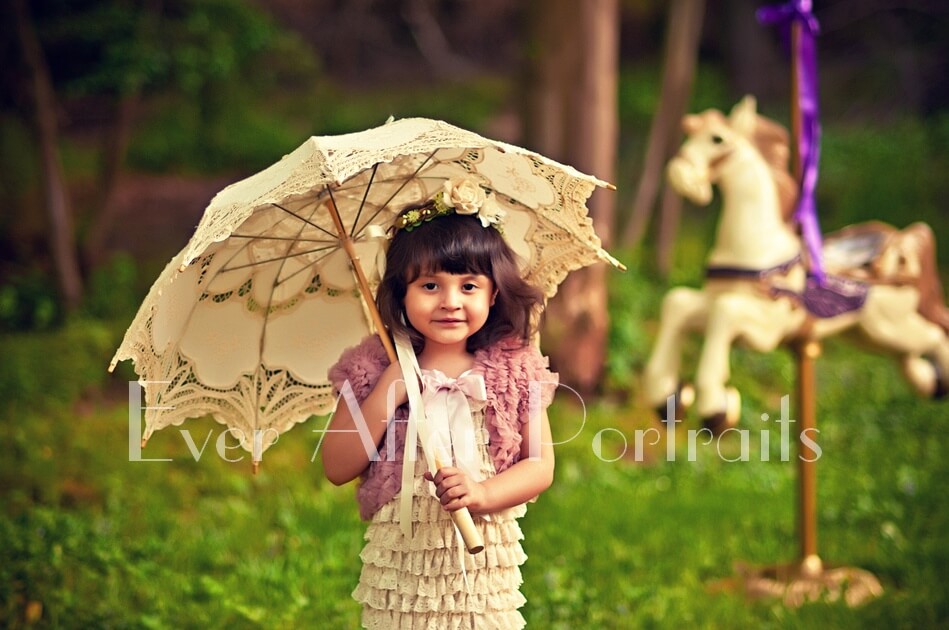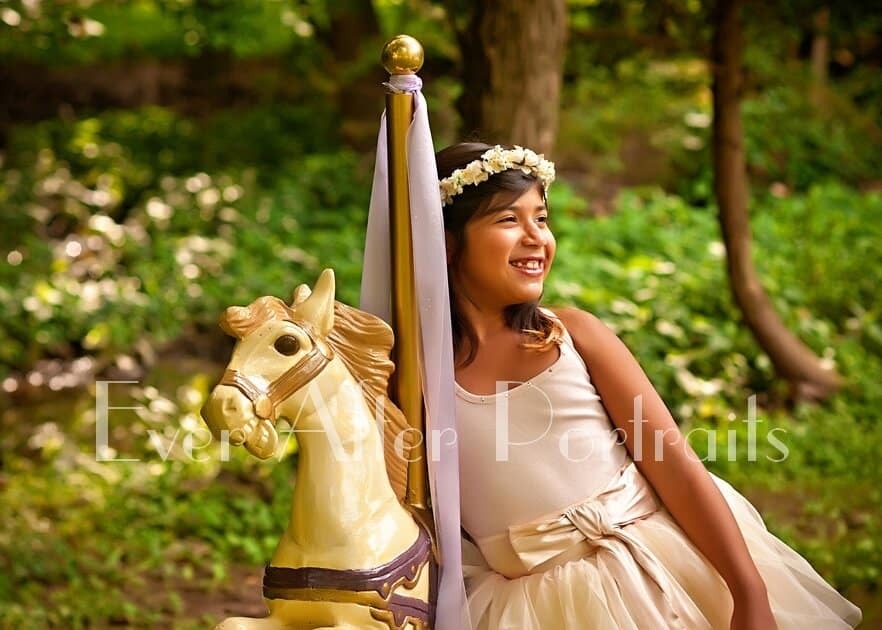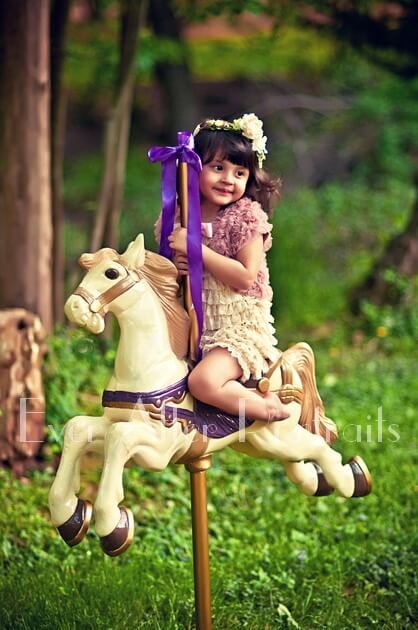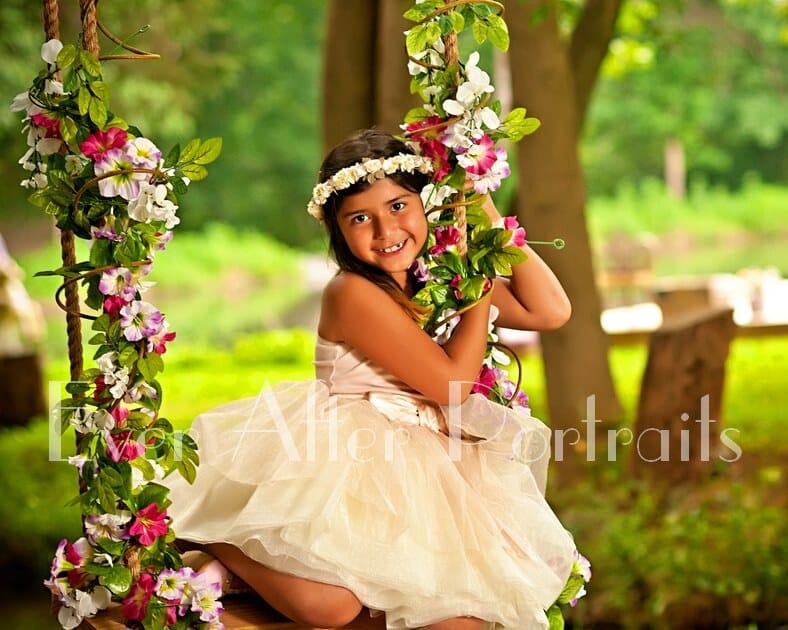 Portrait Studio, Family Photographer
Ever After Portraits is comprised of Mindy Belcher and Joriana Belcher Anderson, a mother-daughter photography team located near Broadlands, VA in Northern Virginia. We specialize in timeless and emotive fine art family portraits.

Family means everything and capturing those precious moments to preserve forever will mean family heirlooms for you to share for years to come.

Best,

Mindy & Joriana – Contact Us!

Professional Photographer