As a professional portrait studio located in Northern VA, and serving the surrounding areas, including Dunn Loring, we specialize in family photography and creating beautiful portraits which you'll treasure for years to come. As we have both a 2.5-acre outdoor portrait park and a fully-equipped indoor studio, we provide both indoor and outdoor studio photography.

Incorporating color into your family portraits can be intimidating! What if it's too much or too little? What if it just doesn't look right?

At Ever After, we take the worry out of your family portraits by reviewing the color palette of the room in which you are displaying your portraits. Then we will try to make life easier for you by offering visual clothing suggestions. The goal of these suggestions is to assist you in choosing clothing that will complement the skin tones of your family as well as your home décor. After all, you want to display your family portrait on the walls of your home – and you want it to look gorgeous there!

Before each portrait session, we discuss with our clients their home décor style and the colors they use in their homes. With that information, we then custom style each session for that client, determine what props and colors will be pulled out, if any, to complement the wall upon which they want to display their portraits.

In general, clothing should be in a classic style, not trendy, as trendy styles tend to look old and outdated quickly! Solid colors are the best choice, with accessories in complementary shades of colors which add depth to the portrait, such as a necklace for Mom, a scarf for Dad, and a cool hat or ribbon for the kids.

Don't feel that because you have bold-colored walls, you can't have bold portraits! In the example below, the room has dark blue walls. To build on that and to play up the golden colors in the room, shades of yellow and paler shades of blue were used. The family portraits are the focal point of the room, as they should be. The portraits and the décor work well together; neither overpowers the other. As a result, you have a room which is styled well.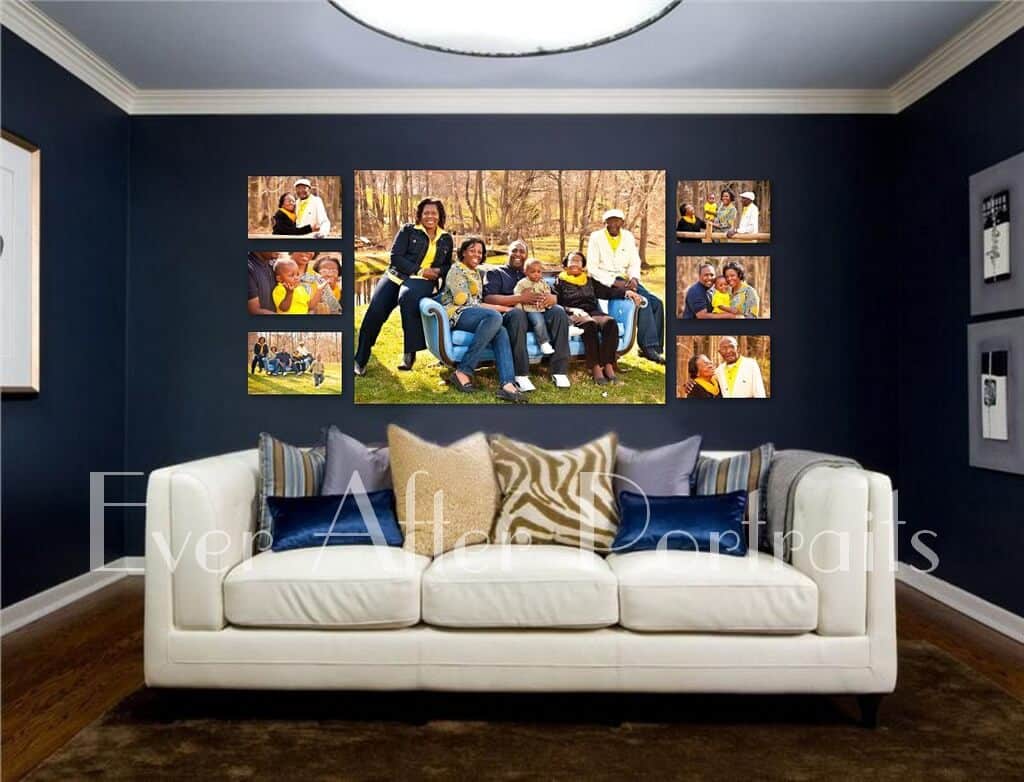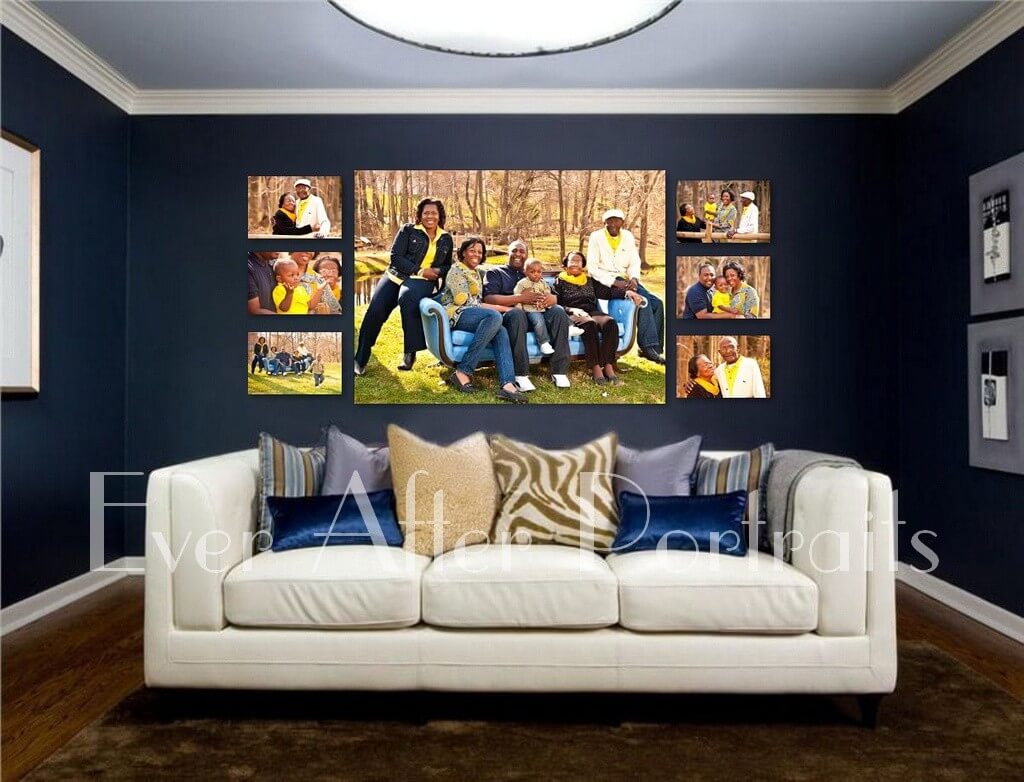 The room below is open and airy, with pale tones and cool colors. The family portraits take advantage of the colors of nature to complement the room, with greens and golds. The clothing chosen is darker shades of blue, as well as shades of white, to provide some contrast, and show the subjects to their best advantage.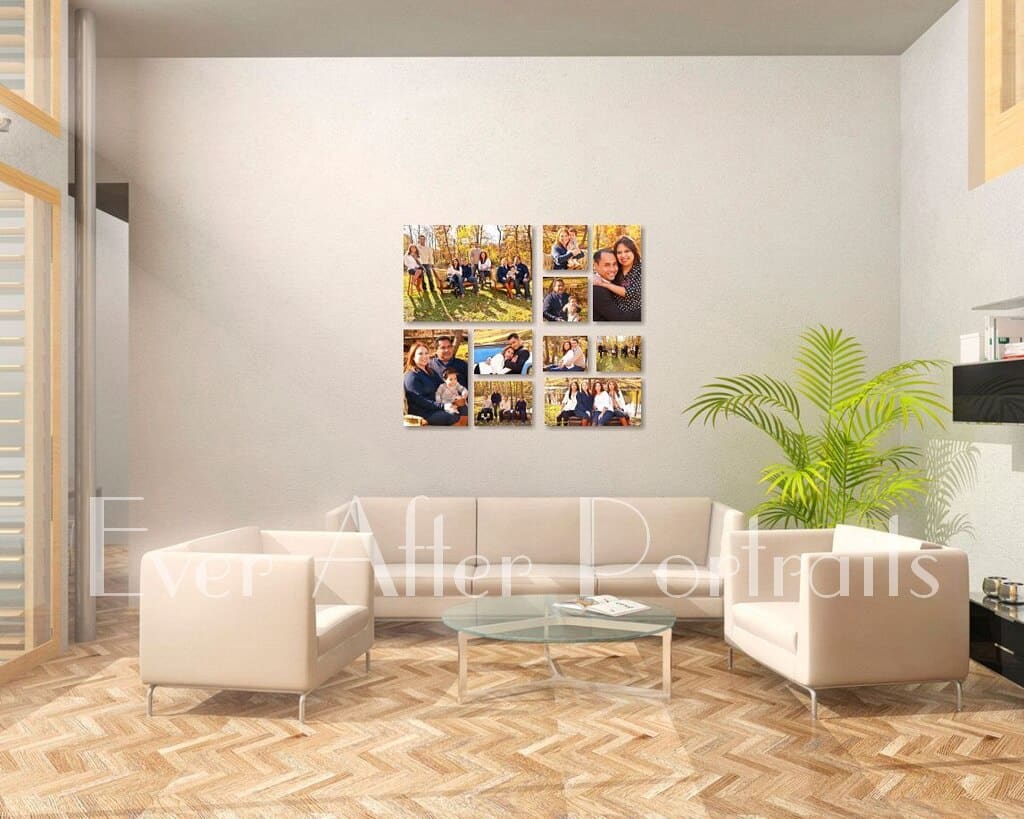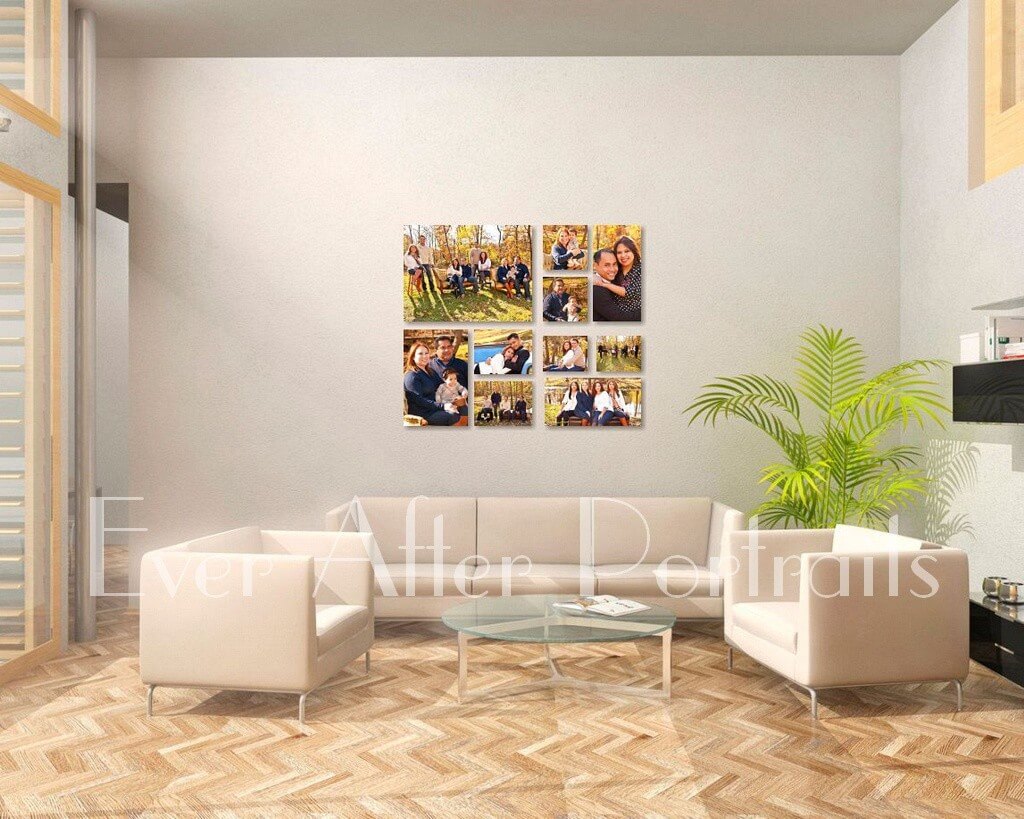 Wall collections such as these are a favorite amongst our clients. They allow a story to be told regarding the dynamics of a family and the love they share. The collections give you an opportunity to decorate with color, as well as decorate your home with portraits of those you love!

We offer several wall collection finishes including two distinctive lines of framing, Masterpiece and Standard.

Our frameless line includes Bamboo, Ice, Steel and Gallery Wraps.

These options are diverse, letting you choose the option which best suits you and your family!

Please explore these and other products we offer here.


Portrait Studio, Family Photographer
Ever After Portraits is comprised of Mindy and Joriana Belcher, a mother-daughter family photography team located in Northern Virginia. They specialize in candid, emotional and artistic images.

Family means everything and capturing those precious moments to preserve forever will mean family heirlooms for you to share for years to come.
Best,
Mindy & Joriana –
Contact Us!
View Our Portfolio
|
professional photographer