As a professional photographer located near Lansdowne, VA in Northern VA, we specialize in family fine art photography and creating beautiful portraits which you'll treasure for years to come. Many families are turning to fine art photography for their family portraits. A professional photographer will also assist you in your clothing choices for your portrait.
How important is your choice of clothing to your family portrait?
A memorable and timeless family portrait is achieved through planning and attention to detail. The care and attention to color, coordination of clothing, setting of the family portrait, all the way through to the correct framing of the image you choose to display, is part of the customized service we, as family photographers in Northern Virginia, provide to our clients.
But how important, really, is clothing to your family portrait?
The goal of any fine family portrait is to direct attention to where it belongs, your family's faces. The proper choice of clothing allows the face to be the focus of the portrait, not the clothing. Poorly selected clothing can detract from an otherwise wonderful family portrait. Because of this, what you wear for your portrait is just as important as all of the other details, such as lighting and location.
In general, clothing should be in a classic style, not trendy, as trendy styles tend to become old and outdated quickly (think eighties hair!). Solid colors are the best choice, with accessories in complementary shades of colors which add depth to the portrait, such as a necklace for Mom, a scarf for Dad, a cool hat for a teen boy, and a pretty ribbon for a little girl.
Keep in mind that busy patterns, such as bold stripes, large plaids, large checks and prints, often do not photograph well. If a pattern such as a check is used, it should be done sparingly, such as having your little boy wear a small-checked shirt.
Choose simple garments within the same tonal ranges. Using a mixture of very light and very dark tones together can create visual confusion, as one subject comes forward and the others recede.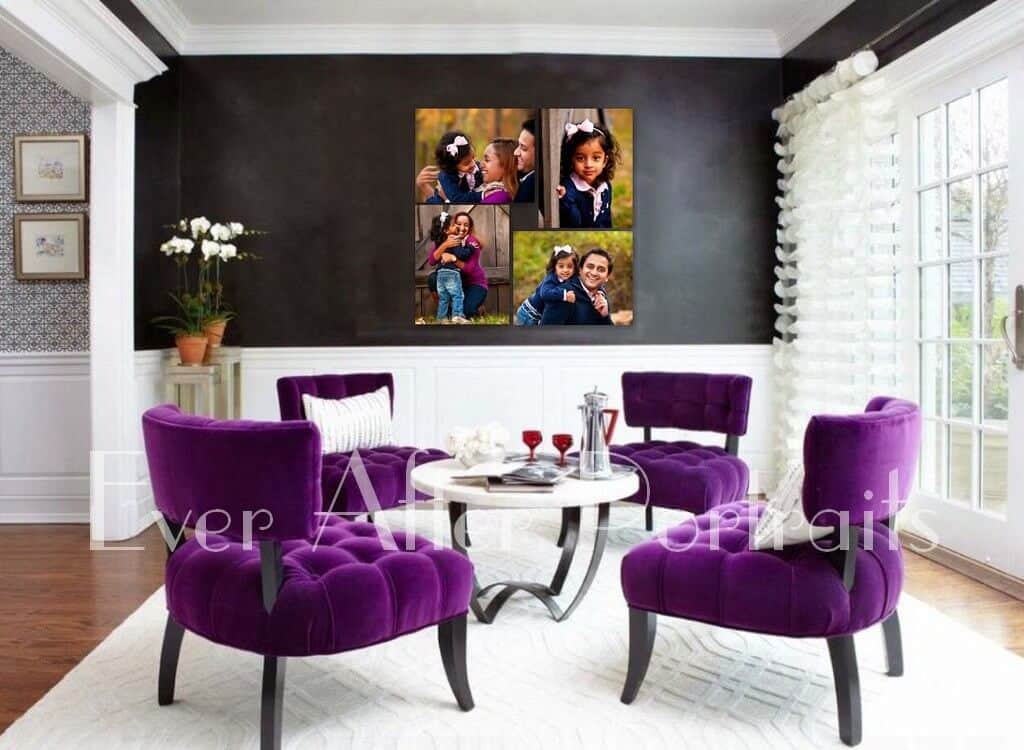 As part of the customized service we provide to you, we will have a Design Session together. During that session, we'll plan and style your family portrait session. That includes getting information regarding the style and colors you use in the decor of your home. With that information, we'll work with you to decide on the style and colors of the clothing you'll wear as well as props we may use, and we will ensure that they coordinate together. For example, many of our clients choose to use one of our colorful sofas, as they give wonderful depth to your portrait. However, if you decide that you would like to use our crimson sofa for your session, we of course will not have you wear red clothing.
Once we've discussed style and color, we'll send visual clothing suggestions to you. To help reduce any stress you may feel about what to wear, we'll make sure that everyone looks effortlessly beautiful, in clothing that complements each person, as well as the overall family portrait.
Keep these simple clothing tips in mind:
Wear solid colored clothing so that the focus is on all of your faces and no one person stands out significantly more than any other.
Choose simple clothing in the same tonal ranges of colors.
Choose one to three colors for your family portrait, ones with similar tones that go nicely together. For example, dark green, navy, and burgundy; all dark jewel tones. Or tan, a lighter olive green, and denims; all lighter, softer tones. Again, we want to see your faces first, not the clothing.
Choose a top with sleeves at least to the elbow because your arms take up more skin area than your face and will draw attention there instead of where it should be.
Choose long pants for men/ladies or a skirt below the knee for ladies, again so that your legs don't take attention from your faces. You'll also be able to sit and bend without worry.
Choose dark socks and footwear because bright white just sticks out like a sore thumb. If there is bright white in your portrait, that's all you'll notice.
Keep any jewelry simple, minimalistic and complementary to the colors you chose.
Consider these examples of clothing chosen to complement each family member and the overall portrait: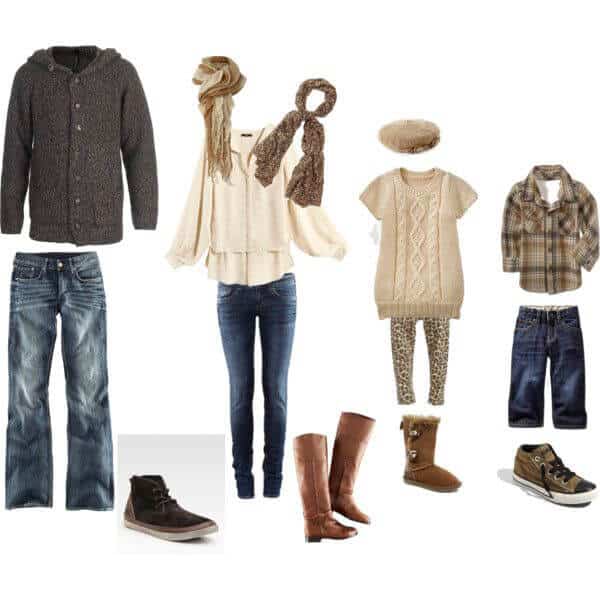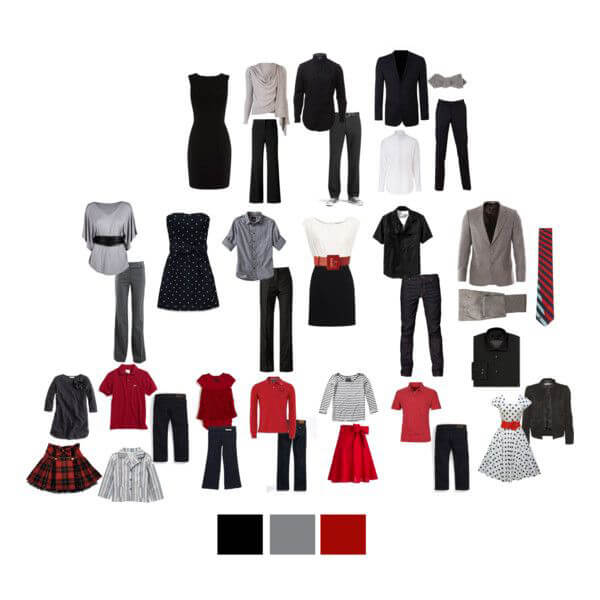 We want your family portrait to be truly timeless and closely represent more of who you are, not just what you look like. When all of the elements of the portrait come together well, including styling, clothing and setting, you will have a family portrait you'll be proud to display on the walls of your home.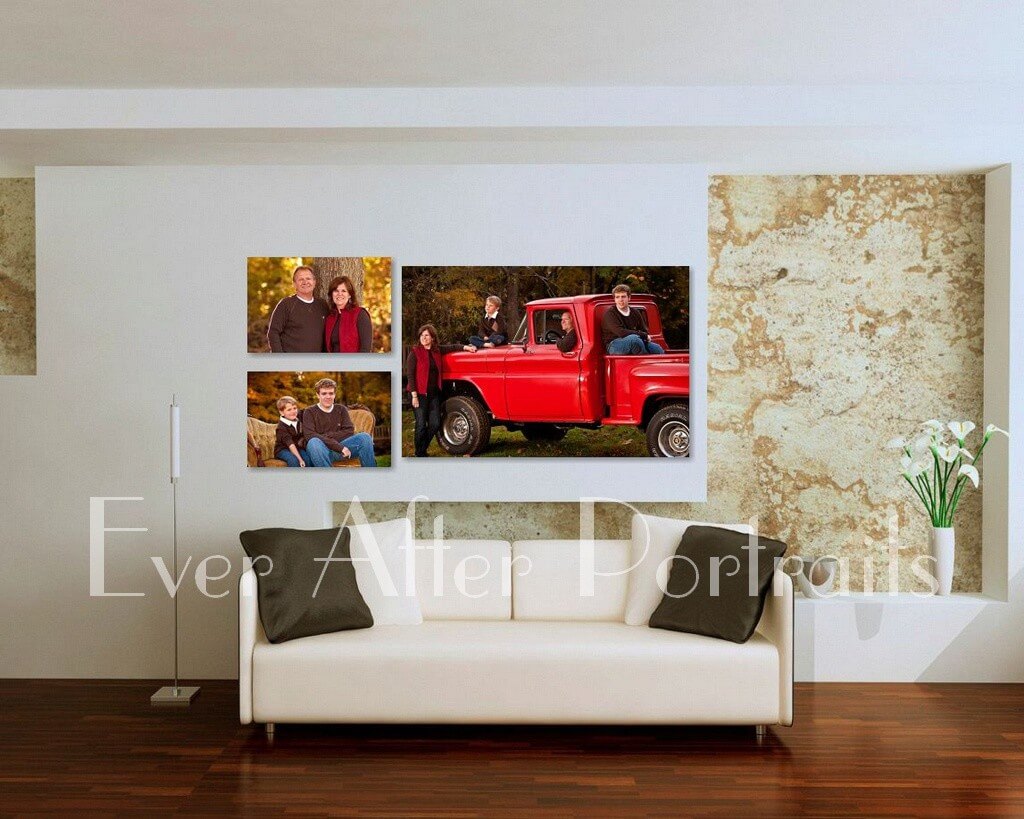 Professional Photographer, Family Photographer, Fine Art Photography
Ever After Portraits is comprised of Mindy and Joriana Belcher, a professional photographer located near Lansdowne, VA in Northern Virginia. They specialize in timeless and emotive fine art images.
Family means everything and capturing those precious moments to preserve forever will mean family heirlooms for you to share for years to come.
Best,
Mindy & Joriana – Contact Us!