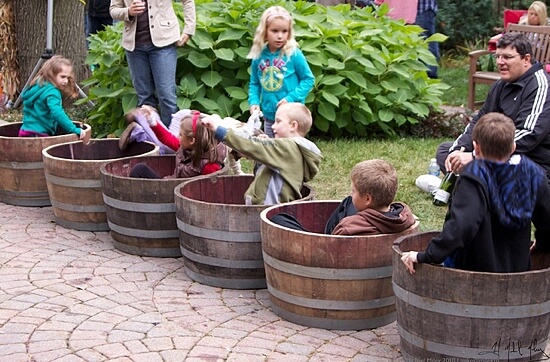 Ever After is a professional photographer in Northern Virginia, near Chantilly. We are family portrait photographers.

Wineries for decades were for adults only.  Now the entire family can go and have a great time.  Many Northern Virginia wineries now have activities to amuse your little ones while you relax and enjoy one of your favorite wines. Live music, games and special events make the visit a memorable one. Check out this list from 6 Kid-Friendly Wineries in Northern Virginia.

Barrel Oak Winery in Delaplane  has a special program called FarmFarm where children can enjoy seeing pigs, goats and chickens.  Pony rides are a new addition this year.  Family events  can be enjoyed in their tasting room for birthdays and anniversaries.

Potomac Point Vineyard and Winery in Stafford  has the Lil Buds Room,  a palce in the tasting room that has bean bag chairs, DVDs and toys for your kids to enjoy.  There is also a D'vine Lounge that you can play board games, checkers and chess to relax.   Special events held throughout the year for Mother's Day and Easter brunches,  grape stomping in September and visiting with Santa during the holidays.

 Bluemont Vineyard has Great Country Farms across the street that offers apple or strawberry picking for the family and then your family can relax on the vineyard's porch with a bottle of wine while the kids play on the huge lawn and porch.

Loudoun Valley Winery    in Waterford, VA  hosts back to school events serving snow cones and having a bounce house for fun.

Cobbler Mountain Cellars in Delaplane has winter time fun with tubing parties outside on its hillside and then you can warm up in a cozy play area in their tasting room.

Old House Vineyards in Culpeper is where you can find family meals including pizza and cheese fondue.  Also check out their pond for some catch and release fishing.

Ever After Portraits is comprised of Mindy and Joriana Belcher, a mother-daughter photography team located in Northern Virginia. They specialize in candid, emotional and artistic images.
Family means everything and capturing those precious moments to preserve forever will mean family heirlooms for you to share for years to come.
Best,
Mindy & Joriana – Contact Us!