Wall Art Choices, Family of 5, Our Outdoor Portrait Park | Northern VA Family Photographer
As a professional photographer working near Tysons Corner, VA, we meet some terrific people. The Saran Family was one of our favorites! If you get a sense of happiness and joy when you look at their portraits, it's because they radiated these emotions. Their colorful outfits matched their sunny personalities!
Our clients often ask us for suggestions on what to choose for their homes. So we wanted to show you some of the things other clients have chosen!
For their collection of beautifully styled portraits, mom, Roopal, selected one of our most popular finishes, the Gallery Wrap. The Gallery Wrap finish is very versatile. It's a frameless finish, so there's no extra framing step. You also don't have to worry about frames clashing with your other home decor!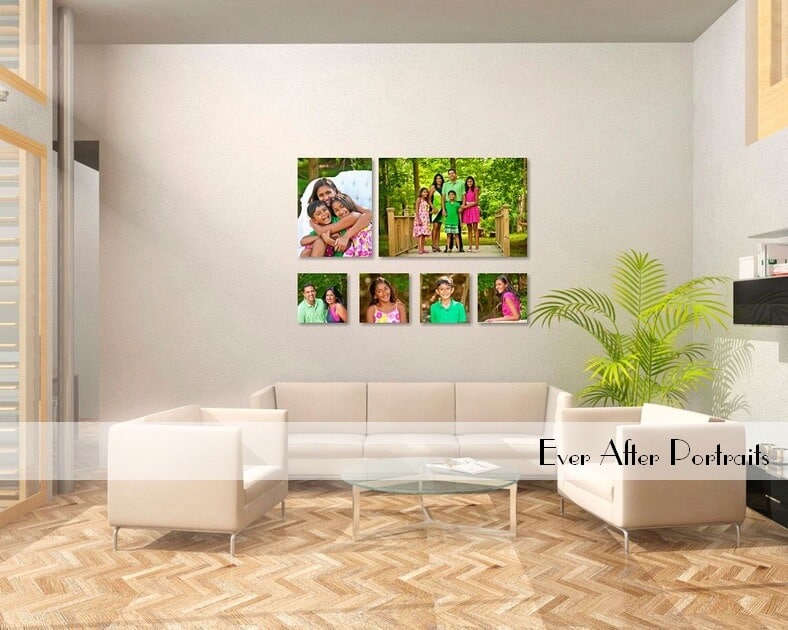 Roopal also chose one of our lovely portrait boxes. Portrait boxes, similar to albums, allow you to keep your fine art photographs safe in a professional quality box within easy reach for viewing.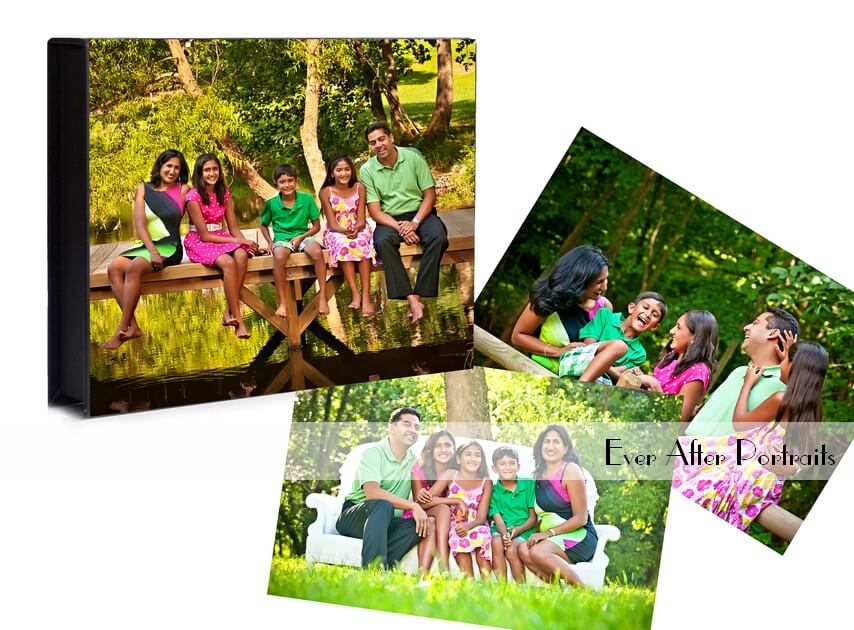 The Saran Family's portrait session took place on a glorious day in our 2.5-acre private portrait park. The natural beauty of the park in summer provided a perfect backdrop for this darling family's portraits. Our carefully designed and cultivated park includes a creek, two ponds, a charming wooden bridge, wildflower meadow, barn, and a pier. It is an idyllic location for family photography — which is why so many of our clients choose to do their portraits there! It is a tranquil, scenic spot perfect for candid portraits. Young children enjoy romping around the gardens – and we enjoy shooting their photos while they do!
While our memories might fade, our portraits will not. You will enjoy your portraits today, and your family's next generation will enjoy them decades from now. Like The Saran Family, you can create a lovely collection of our fine art photography to capture and display your family's love and life together.
As a Tysons Corner, VA professional photographer, we value and nurture the art of photography, and we treasure the relationships we build with our clients through the years as their families grow. We look forward to working with you soon.
Family Photographer, Professional Photographer
Ever After Portraits is comprised of Mindy Belcher and Joriana Belcher Anderson, a mother-daughter portrait photography team located near Tysons Corner, VA in Northern Virginia. We specialize in timeless and emotive fine art family portraits.

Family means everything and capturing those precious moments to preserve forever will mean family heirlooms for you to share for years to come.

Best,

Mindy & Joriana – Contact Us!

Professional Photographer