Why Printed Products are better than a DVD | Northern VA Family Photographer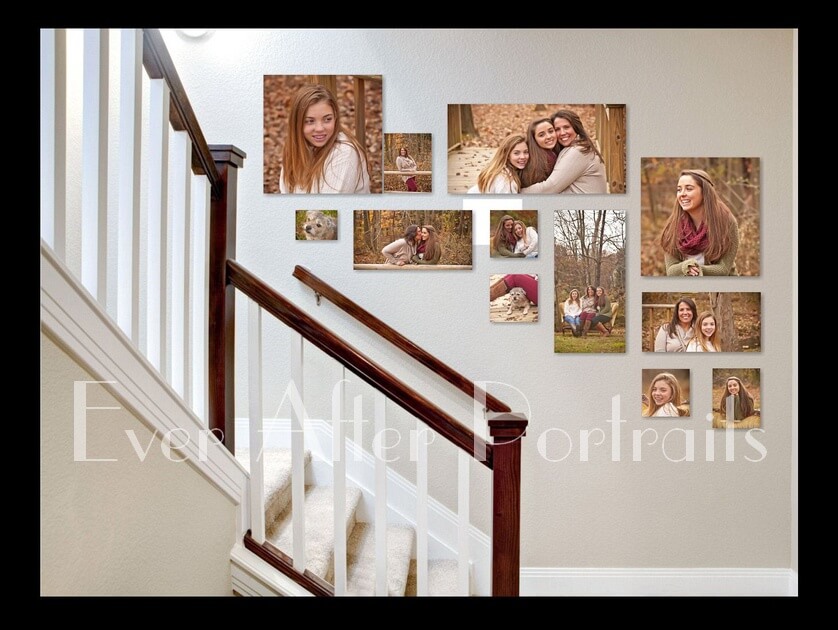 We cringe when we hear someone say that they only want their professional pictures on a DVD or CD rather than as a printed mounted portrait! Our technologically-sophisticated clients in the Dulles, VA area sometimes ask us if it's cheaper and easier for them to order their portraits on a DVD instead of printing. No, it's not easier, and it's not cheaper. And it's not better either. We can explain why.
Prints Versus DVD
• Whether we are going to print or transfer your portraits, there's still a great deal of time spent on preparing for your portrait session. Part of the reason they come out so well is that we put a lot of thought and pre-planning into each and every photo session.
• Once your photo session is over, we have to edit your photos no matter where they end up. That takes time. A lot of time.
• Technology changes, often and a lot. Just think of where technology was a decade ago compared to today. Now how about two decades ago? We have no idea what technology will look in 50 years, let alone in 10 years! Remember those video tapes you spent a fortune having converted to DVD or CD? What constitutes cutting-edge technology today is tomorrow's antique.
• Technology can and does fail. Everyone knows of a corrupted DVD or CD where files were suddenly irretrievable. It happens all too frequently. Even hard drives crash and burn. We've worked long enough that we either know of, or have experienced, digital media disasters.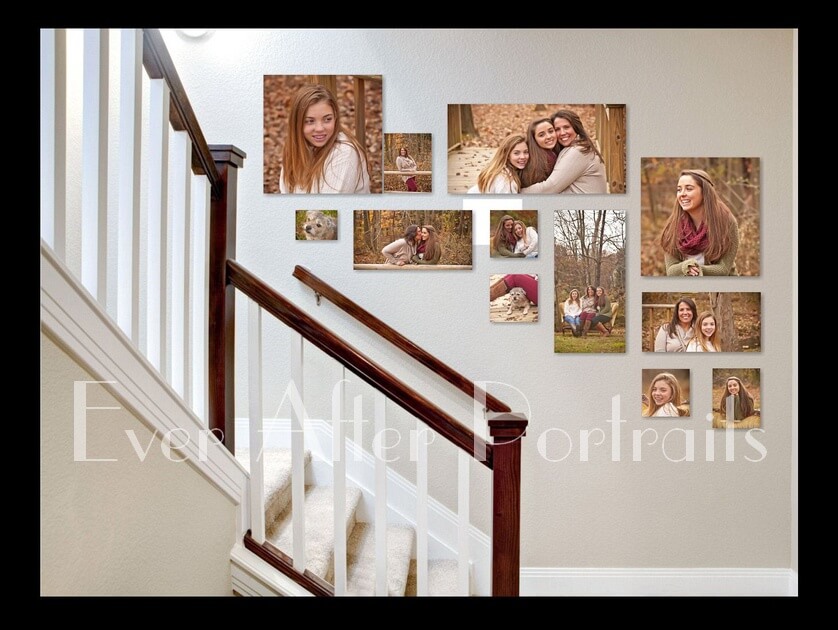 On the aesthetic side, viewing portraits on a small screen, such as your family and children's photography, just isn't comparable to viewing them on wall portraits and in albums of archival quality. Albums can sit on shelves to be easily retrieved, and portraits properly printed can be displayed for decades and decades.
Our best advice to our clients and friends is: Do both – display your favorite portraits as wall art, tell the rest of the story with an album, and then archive those professional pictures on digital media storage. Why? It's insurance. If you lose one, you have the other! You can enjoy both mediums in different ways.

Wall Art Collections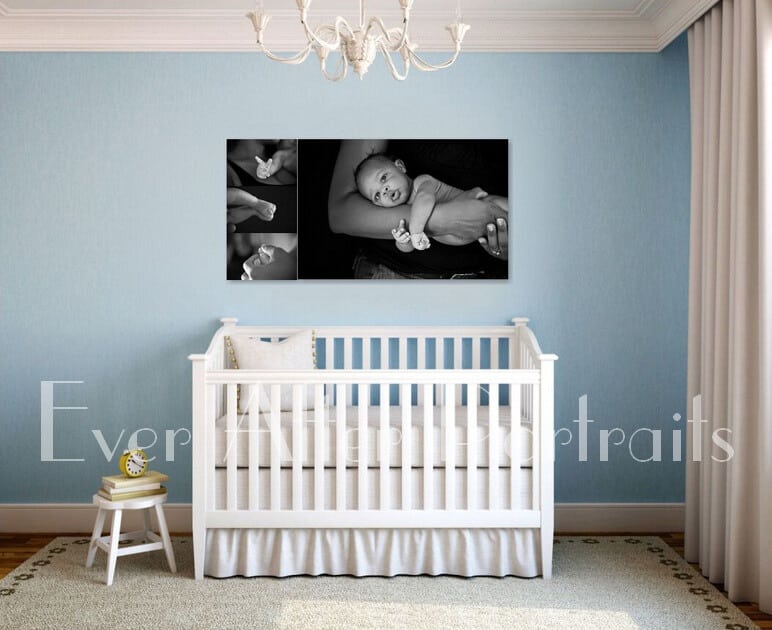 We often have potential clients contact us saying they only want digital media of their photos, but once they see the final, stunning results of their portraits they fall in love. We offer museum-quality printing, framing, and albums to protect and properly present your portraits. We also offer a wide variety of style options for each. Suddenly, those clients who first wanted only digital media of their professional pictures end up walking out with our artwork wall products instead. And for those clients who'd still like a digital version of their portraits, we work with them to offer them files. The main reason people want digital files is for social sharing. We get that, and we can help do that while still offering quality print portraits.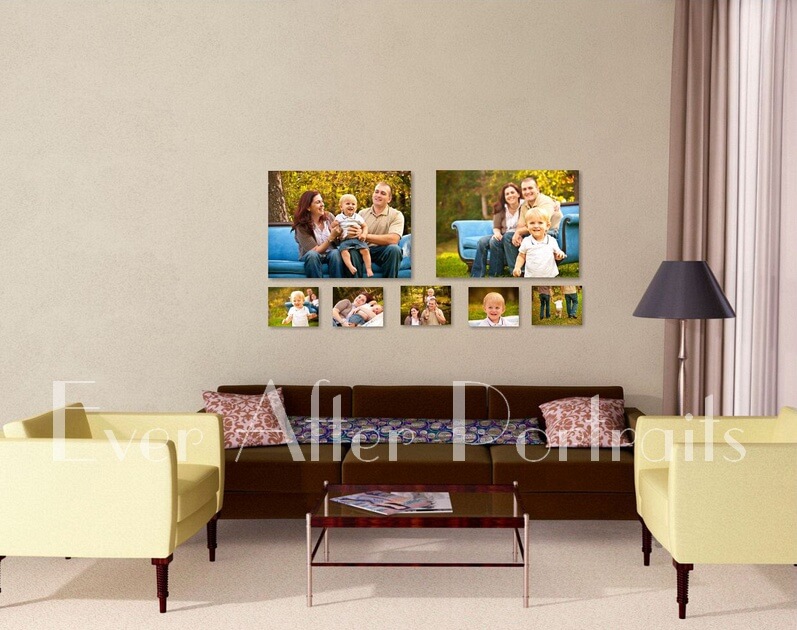 Most of our clients are busy professionals and would rather work with skilled artisans such as the ones we use to frame and preserve their portraits rather than spend time researching, finding, and ordering portraits from retailers they don't know.
We don't offer printed mounted portraits and albums because we make more money off of them. (Albums actually take photographers an enormous amount of time to create and organize.) We encourage printed products because we know that in the long term, it's in your best interests to, at minimum, have prints of your cherished portraits.
If you have any questions about digital versus print portraits, please call us. We are happy to discuss the difference and explain our pricing structure. We believe in a full-service, high-quality customer experience. We are a Dulles, VA area small business centered around our clients' professional picture needs.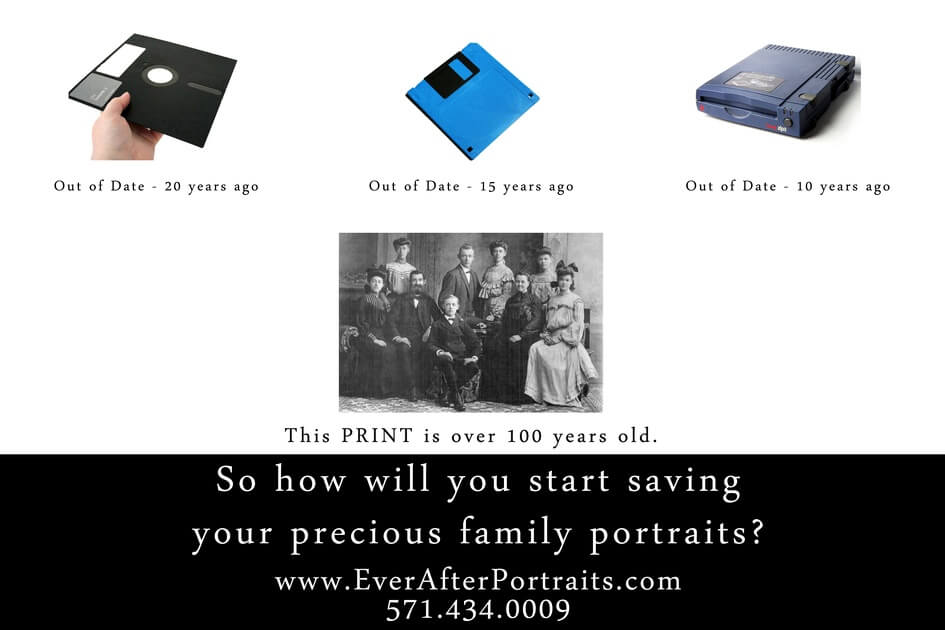 Professional Pictures, Family Photographer
Ever After Portraits is comprised of Mindy Belcher and Joriana Belcher Anderson, a mother-daughter family photography team located in Northern Virginia, in Dulles, VA. We specialize in timeless and emotive fine art family portraits.
Family means everything and capturing those precious moments to preserve forever will mean family heirlooms for you to share for years to come.
Best,
Mindy & Joriana – Contact Us!