A Sofa in the Woods of Virginia | Northern VA Family Photographer, Ever After Portraits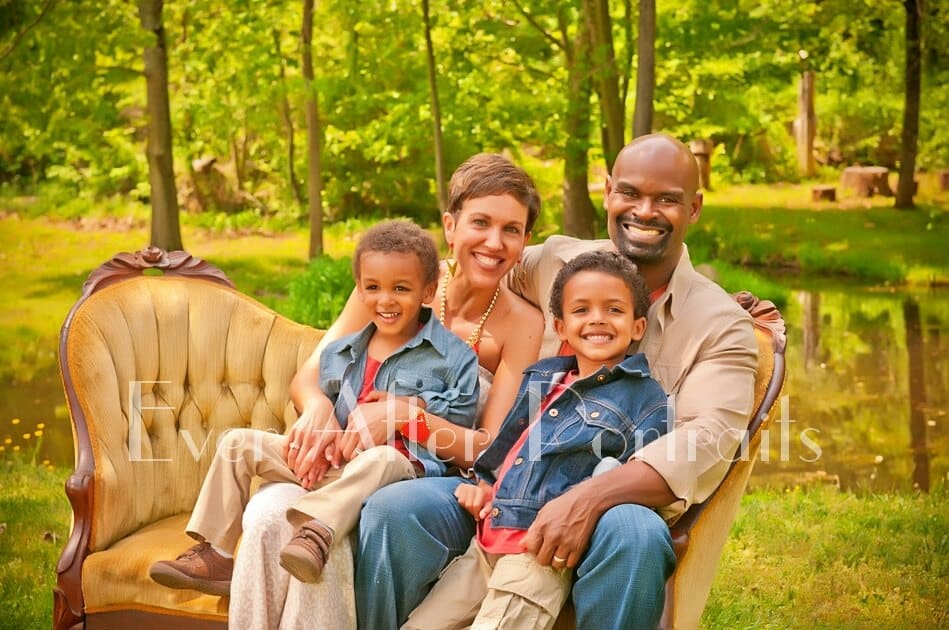 Who in the world would set a beautiful, antique sofa in the woods for professional pictures?! We would! We plan each portrait session meticulously. But with almost two decades as a Dulles, VA area portrait photographer, we know that sometimes you need something unexpected in a portrait, something to catch the attention of the viewer.
We love to take advantage of the beautiful and seasonally lush Virginia foliage – whether in our private portrait park or elsewhere. The juxtaposition of a sofa placed strategically in the woods among the magnificence of nature has a tinge of the unexpected, feels a bit exotic, and is undoubtedly compelling.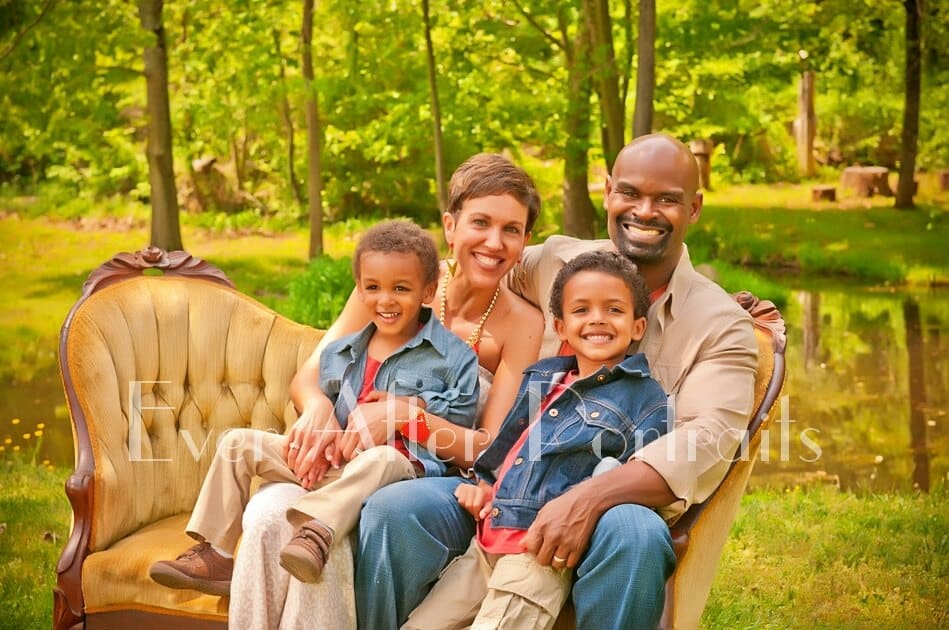 Why A Sofa for Professional Pictures?
Did you know that the sofa was the first upholstered and padded piece of furniture ever created? Before that, people sat on straight-back chairs to visit or gather together – and likely to keep them awake from the uncomfortable seating! The sofa launched a movement toward more convenient and comfortable pieces inside the home, including an indoor toilet. Thank goodness for that!
What does all that have to do with our sofas and professional pictures? Well, maybe not much, but it was a fascinating tidbit of history regarding one of the most common pieces of furniture in homes around the world today. Aside from the kitchen table, the sofa is probably the most "social" piece of furniture in your home. We gather on or around our couches to spend time with friends and family.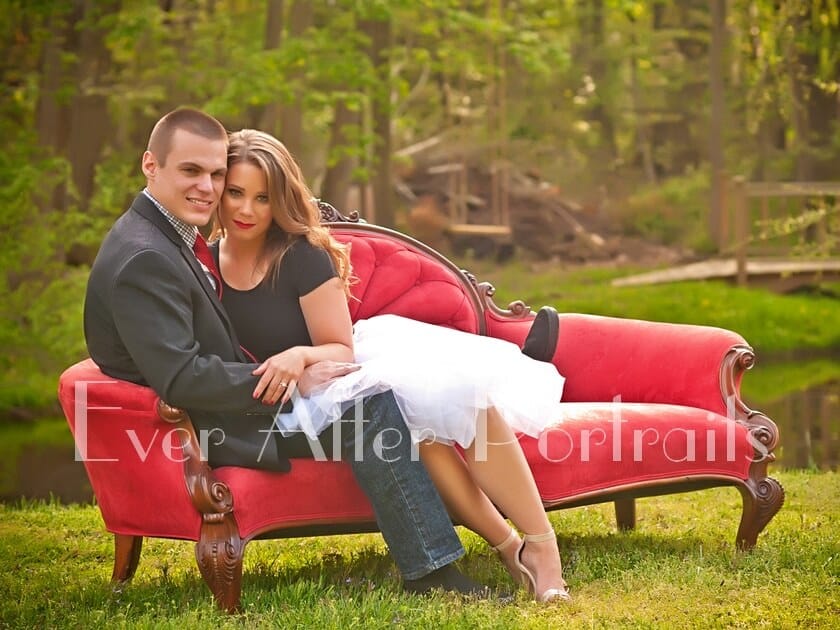 Antique Sofa in a Rustic Setting
Whimsy meets the woods! The curves and elegant lines of an antique sofa in the midst of the rustic, raw woods create a vibrant contrast and a little bit of mystery. Now place someone (it could be you) into the middle of that composition, and the resulting portrait is striking. It's unusual and draws the viewer straight into the scene.
Placing a social piece of furniture like a sofa in the midst of nature's background, the contrast can be intriguing. Indoors meets the outdoors, so to speak. It is an interesting and mysterious juxtaposition.
Lastly, the sofa as a prop is also an ideal way to gather a family together for professional pictures, which is anything but boring. It visually grounds the image.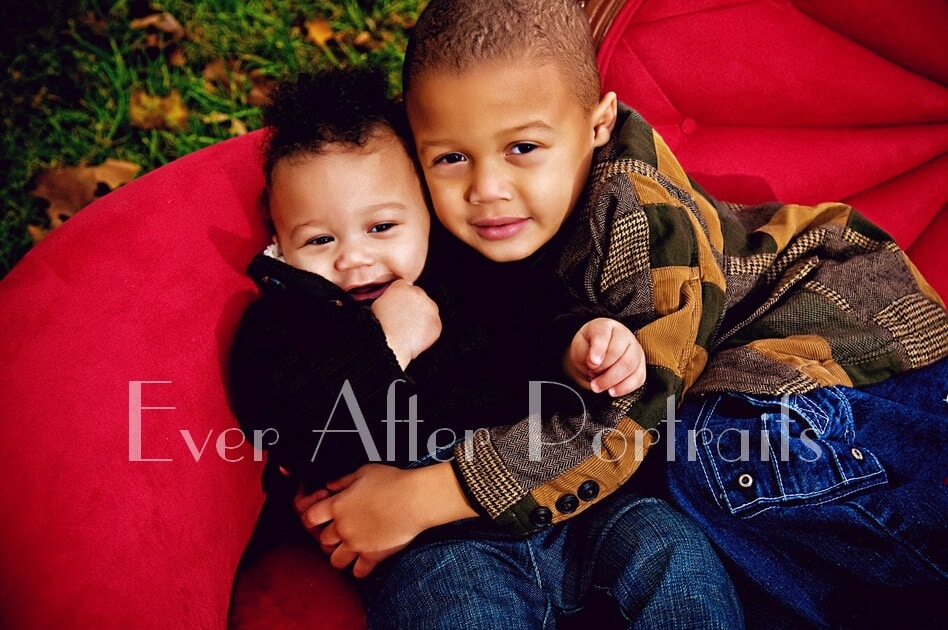 The candid, not so candid, professional pictures
Most of our clients now request candid and spontaneous family portraits which are very popular in family photography these days. To give them that type of picture, however, we still need to put a lot of time into designing and planning their portrait session. This isn't sports photography where you shoot hundreds of action shots hoping for a great one.
Given the caliber of the professional pictures we create, we give a lot of thought to your portraits before you even arrive. We will discuss our ideas with you and ask you what you might like as a prop in your portraits. We'll chat and ask you a series of questions to get to know your family a bit better before your session. We will even ask if you know where you plan on displaying your portraits! That can influence how we set up your photographs or which background we'd want.
So when a client asks for candids, we love it! We make sure that we set up a great background (more on this below) with visual interest to beautifully compose the shot. The key to successful professional pictures is a lot of pre-planning to create the perfect environment for capturing candid moments during a session. This is why we like to think of this style of portraits as the candid, not so candid portraits!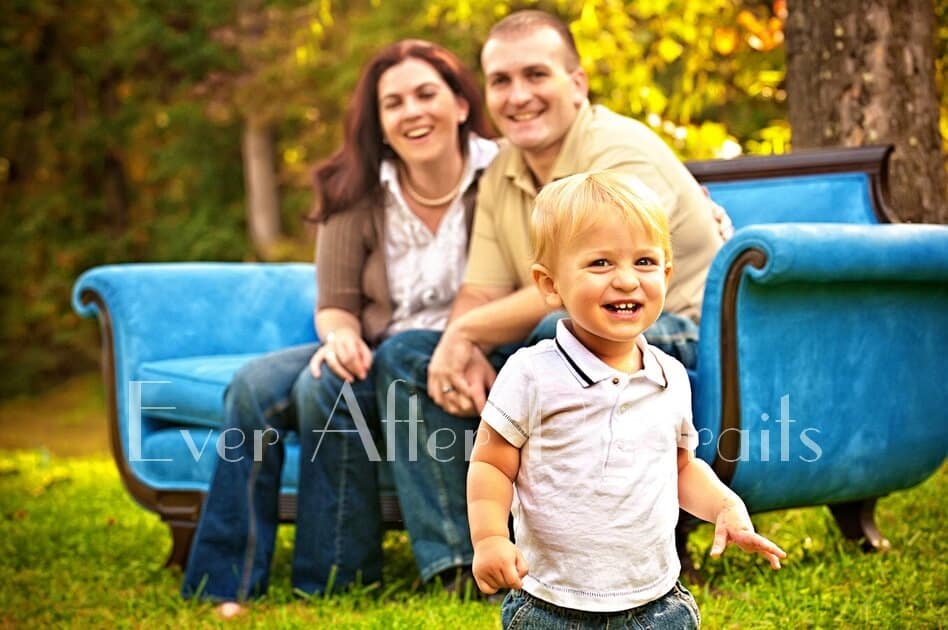 Backgrounds or Props in Your Professional Pictures
Clients familiar with our work sometimes request one of our sofas in the woods. If they don't ask, we mention the idea as one possibility and then describe the various couches we have as props. (We also have other props we can use which we will discuss with you.)
At Ever After, we work with our clients to create the best possible professional pictures of their families. Often that means interesting backgrounds or props to enhance their positions in the portrait. The "star" of a portrait is always the subject – you and your family. The human eye is drawn to other humans, particularly in a portrait. Place a person or group of people in a beautiful, natural landscape, and the eye goes immediately to the people. It's almost instinctive. But, that's not to say we shouldn't add props! Props can help enhance an image and even better direct the viewer's eye.
We have several sofas we use with our clients: crimson (deep red), blue, gold, white, and black. When we take a sofa out and place it in the woods of our private Portrait Park, it looks beautiful framed by either the lush greens or winter browns of the woods surrounding it. Add a person or family, and it's exponentially more striking, more interesting, more vibrant.
If you'd like to discuss your professional pictures, our props, or our private and serene Portrait Park, we'd love to talk with you. Contact us today! We work with clients across Virginia including Dulles, VA.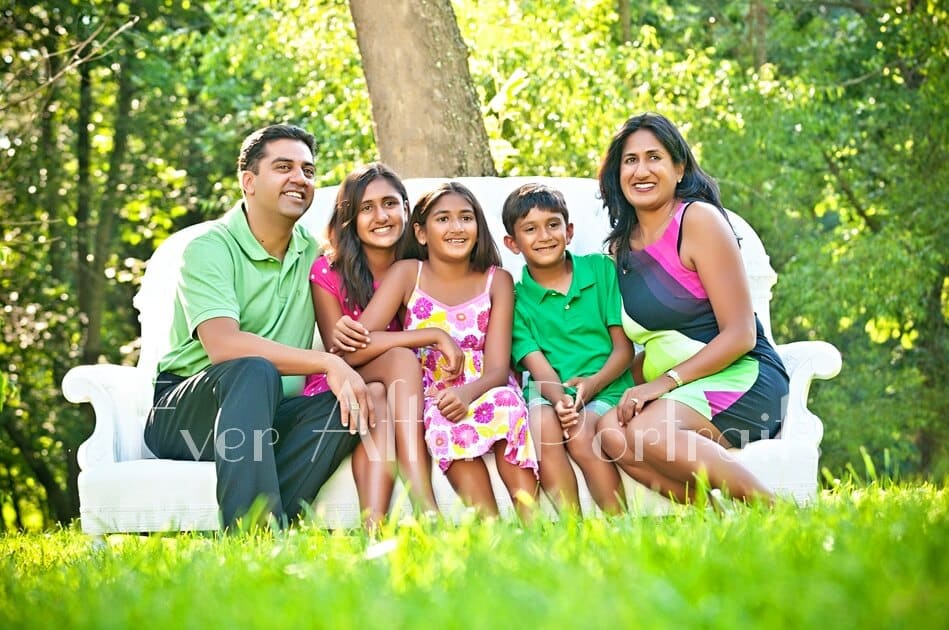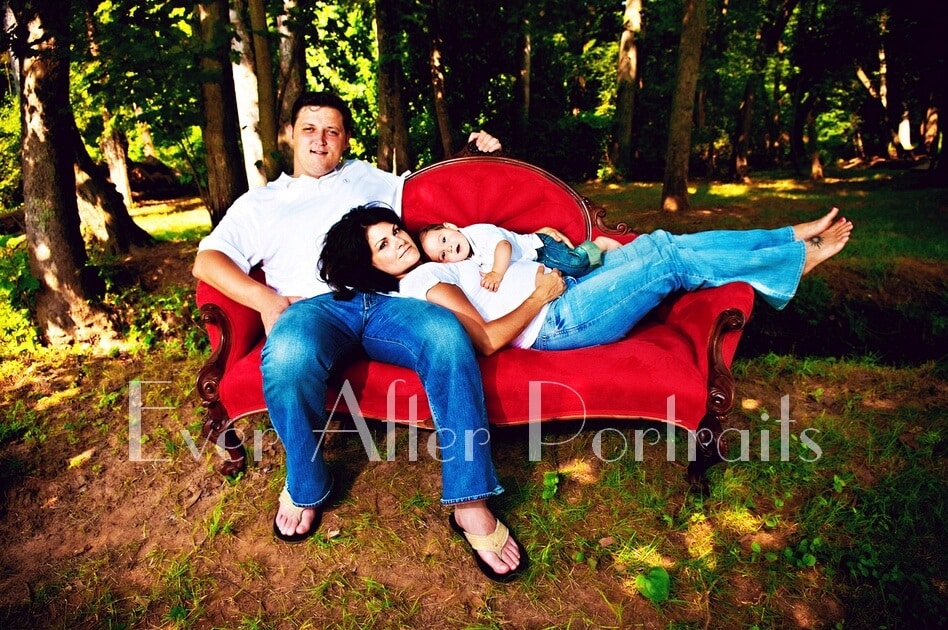 Family Photographer, Professional Pictures
Ever After is Mindy Belcher and Joriana Belcher Anderson, a mother-daughter family portrait photography team located in Dulles, VA in Northern Virginia. We specialize in timeless and emotive fine art family portraits.

Family means everything and capturing those precious moments to preserve forever will mean family heirlooms for you to share for years to come.

Best,

Mindy & Joriana – Contact Us!

Professional Photographer