Generations Portrait Sessions
Create priceless fine art family portraits in our 2.5 acre outdoor portrait park, our fully equipped indoor studio or your location of choice
 Do you have family coming to visit during this season? Can't remember the last time you had a portrait photography session with the whole family?
Take advantage of our "Generations" Family Portrait Photography Studio Session! With our colorful vintage couches and your lovely smiling faces, your family's portrait session is sure to be loads of fun! Your portrait will be a family heirloom to pass on to many generations to come!
Every home makes a statement about those
who dwell within its walls!
What do you want your home to say about you?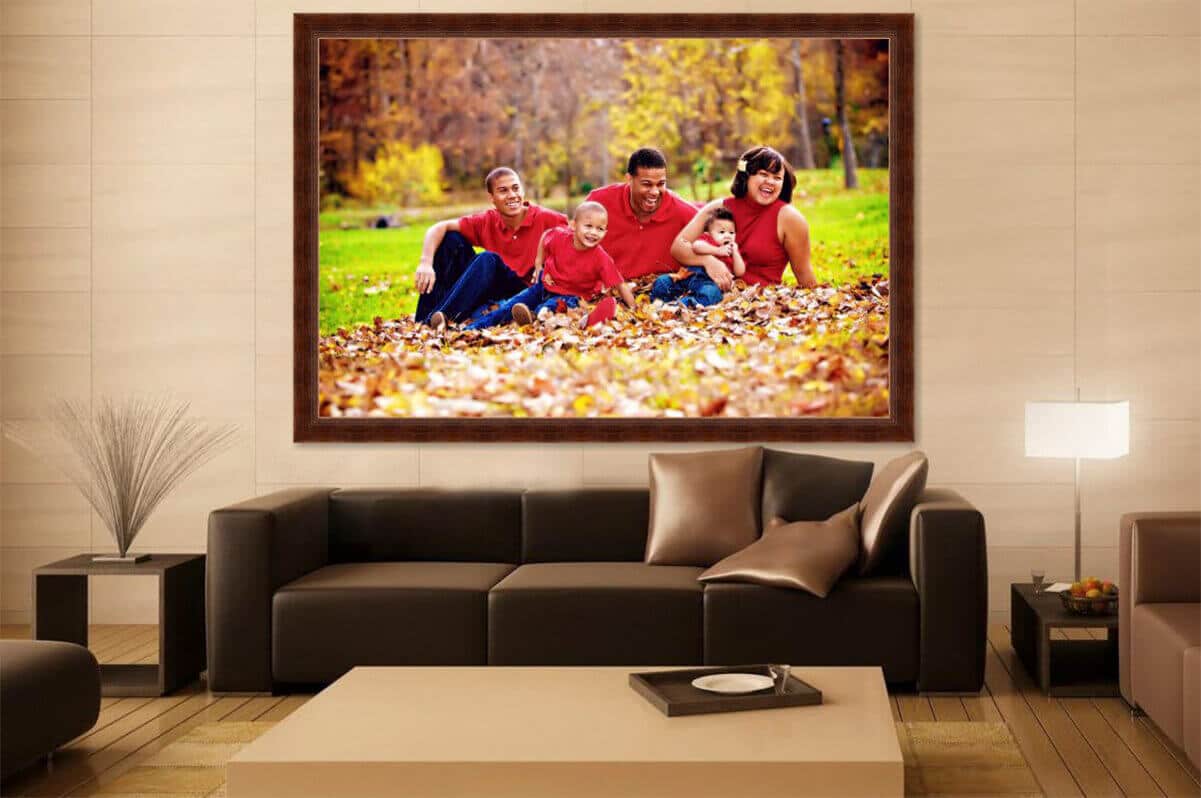 Masterpiece Framed Wall Art
Why not put the same care and attention into what goes around the portrait as you do the creation of the portrait?  Masterpiece Framed Legacy Art is meticulously hand crafted by artisans to compliment your work of art in every way.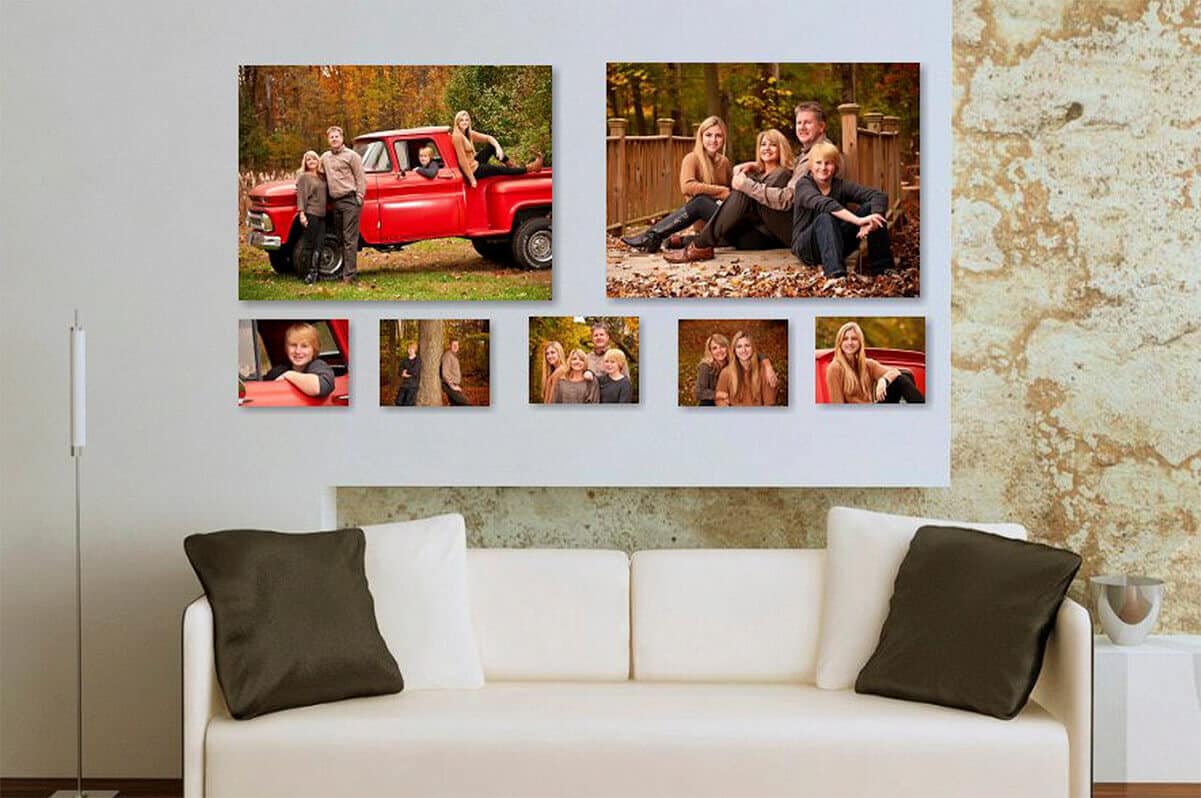 Whether your personal style is bold and modern or cozy and traditional, our Frameless Wall Art is as unique as you are — perfect for your home of distinction in your choice of Gallery Wrap, Bamboo, Steel and Ice.
fine art/noun – a type of art (such as a painting, sculpture or music) that is done to create beautiful things
We consider ourselves storytellers that uses photography as our medium. We typically work with moms and dads who realize that their children won't be young forever. They all say, "Where did the time go?"
We can't stop time! That's why parents commission Ever After to create beautiful heirloom portraits of their children and family so they can decorate their home with the ones they love.
The heirloom products that we create are museum quality and rated to last 150 years. They are heirloom legacy pieces handed down to your children so they can treasure the memories of YOU and their childhood long after each is gone — and then they will hand them down to THEIR children, to become even more valued as years pass.
It's this type of heirloom artwork that if a disaster struck, you would grab your kids, your cat and these portraits because they mean that much to you…
If you cherish your family and value fine art portraits…
Let's Have a Conversation
ORDERING SESSION QUESTIONS
WHAT'S DIFFERENT ABOUT THE PRODUCTS YOU OFFER?
Come see our museum quality products that stand the test of time — enjoyed during your lifetime, and then treasured by those that remain as they sit in a room with those images, as they bring people into their own home and show off the legacy of their family, as they look through albums with their children. These products will remain in your family for generations.
DURING THE SESSION, CAN I TAKE PHOTOS WITH MY IPHONE TO SHARE WITH MY FRIENDS?
Please do not. No cameras, including cell phone cameras, are allowed in the studio.
WHO SHOULD COME TO THE ORDERING SESSION?
All decision makers should be present at the Ordering Session.
WHEN IS PAYMENT DUE?
Payment is due the day of your Ordering Session appointment when your order is placed. A no-interest payment plan option is available. (See "Do you offer a payment plan?" below.)
HOW LONG WILL IT BE BEFORE I RECEIVE MY ORDER?
Once your order is placed, allow 3 weeks for your images to retouched and sent to you for your online approval. While we want to set appropriate product delivery expectations, due to Covid and other production and supply chain issues beyond our control, realistically we ask that you allow 3 to 6 months after your final payment for your products to be delivered.
WHAT IS YOUR HOLIDAY SEASON CUT OFF DATE TO ENSURE DELIVERY BY CHRISTMAS?
Portrait and Ordering Sessions must be held and the product order must be paid for in full by November 15th, in order for it to be edited in time for holiday season orders.
That's because we don't just photograph your session one day and place your order the next day.   We photograph your session; then typically within 15 days, you have an Ordering Session, where you place your order.
Next, we create your products and put proofs online for your approval.  If retouching is required, it must done, and then the images are put back online until you give your final approval.  At that point, final payment is due along with your final approval.  Generally, this process takes about three weeks — that's BEFORE your product can even be ordered!
Once the order is placed, we are then completely at the mercy of the commercial company that is processing our order along with the thousands of other orders of folks who want their products before Christmas!
That's why we absolutely do not guarantee orders will be delivered by Christmas if they are placed after November 15th. Please don't be mad at us if you don't finalize your order before November 15th!!
If delivery before Christmas is important to you, we'd love, love, love it if you ordered sooner rather than later to be sure everything arrives in plenty of time!
WILL THE ORDER HAVE TO BE PAID IN FULL BEFORE IT IS DELIVERED?
Yes. Orders will not be delivered until the order is paid in full.
CAN I PICK UP MY ORDER?
Absolutely! Order pickups are scheduled each Friday by appointment only, or we can ship your order to your home.
WHAT KINDS OF PRODUCTS DO YOU OFFER?
We offer the highest quality Wall Art products in a variety of framed and frameless options. We have two framed lines, Masterpiece and Standard, and four frameless lines, Bamboo, Ice, Gallery Wrap and Steel.
We also offer portrait boxes and albums, as well as other boutique luxury products.
WHAT DO THE PRODUCTS COST?
It is true that a custom experience and high-quality products will initially be more expensive than going to a cookie-cutter portrait studio at your local mall, or someone who will hand you a CD of images and leave you to your own devices as to what to do with it.
As a professional family photographer, we invest time with you and your family and provide you with a custom experience, creating wall art uniquely for you. We customize our portrait sessions and our wall art to each family. Every single product we offer is printed on archival paper with archival inks, so they are Museum quality. Protective sprays are applied to our wall art products as well. These high quality products are rated to last for at least 150 years.
We know your family portraits are of those you cherish and that they will most likely become treasured family heirlooms. In order to do that, they have to stand the test of time. Our products will do so – and the value will continue to grow year after year.
There is nothing more important than the ones you love. Make a lasting investment in family portrait wall art that will become cherished family heirlooms. The generations to come will appreciate your forethought as they share that heritage with others, "See? That's my family!"
DO YOU OFFER A PAYMENT PLAN?
We offer a no-interest layaway payment plan option. Your products will be delivered when final payment is received.
If you cherish your family, value fine art portraits and want your moments captured forever...
Let's Have a Conversation