As a leading studio photographer in the Ashburn, VA area and surrounding communities, clients often ask us how and where they can display their beautiful fine art portraits of their family. We help to address this question during our pre-portrait-session chat! This is one reason we have a consult prior to your session. The main reason, though, is to get to know you, your lovely family and your style. We know you've made an investment in your portraits and we want you to display them in ways you can enjoy for many years to come.
You don't need to look much farther than your hallways. They are a blank canvas waiting to be made beautiful with your new professional photography portraits!
Wall Art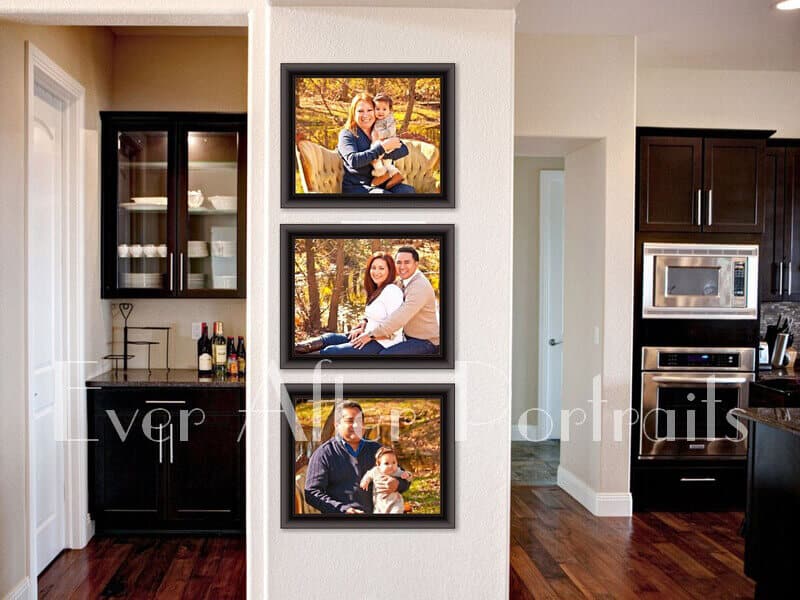 Some tips to consider
When we speak with you to discuss your upcoming portrait session, we'll ask you to provide us with iPhone pictures of any walls in your home upon which you would consider hanging/displaying your family portraits. If you already have a hallway in mind, take a picture of it for us! We'd love to see it, get a feel for where in your home it is and what other open spaces are adjacent to it. We'd like to see the surrounding colors and decorative items.
When we receive your iPhone pictures, we'll import them into our design software. Then we can design the perfect wall grouping for your wall in the exact size it needs to be for the space!
Consider the overall look you'd like to convey. If you want a more coordinated look and enjoy frames, then consider using the same color of frame, such as all black frames. You can add a little diversity to this look by changing the frame styles, but maintaining the same color.
You can also go frameless with your portraits! We offer several unique frameless options, including Bamboo, Ice, Steel and Gallery Wraps. With frameless portraits, you don't have to worry about coordinating frames at all. Visit our For Your Home page for examples of our Wall Art options.
Some designers would suggest maintaining the portraits in the same color, all black and white or all color portraits. Other designers would say mixing it up is fine. With our design software, we can show you exactly what the portrait collection will look like on your walls, in color, in black and white, as well as a mix if that's your choice. This is the very best way to guarantee that you will love your wall art collection on the walls of your home!
Lastly, maintain a uniform distance between portraits. It doesn't need to be exact, but you should be close. You want your beautiful portraits of the family you love so much to look like an elegant gallery display on your walls. Think of how museums and galleries display professional photography on their own walls, particularly when they display multiple pictures or arts together.


You may enjoy the other posts in this series:
How can I decorate my home with the ones I love and still use color?
Decorate a Staircase Wall with Artwork of Family
Decorate Home Entryway with Family Portraits as Wall Art
How to Decorate a Dining Room with Portraits as Art

Ever After has been working as a family and studio photographer for years in the Ashburn, VA, Northern Virginia area, and we know you will love our work!

Call us today so that we can work with you on your portraits and on your new hallway display!

Family Photographer, Studio Photographer

Ever After Portraits is comprised of Mindy and Joriana Belcher, a mother-daughter photography team located in Northern Virginia. They specialize in timeless and emotive fine art images.

Family means everything and capturing those precious moments to preserve forever will mean family heirlooms for you to share for years to come.

Best,

Mindy & Joriana – Contact Us!