As a professional studio photographer located in Northern VA, and serving the surrounding areas, including Ashburn, VA, we specialize in family photography and in creating beautiful portraits which you'll treasure for years to come. As we have both a 2.5-acre outdoor portrait park and a fully-equipped indoor studio, we provide both indoor and outdoor studio photography.
From the moment our clients see their Ever After portraits finished and displayed on the walls of their homes, they become treasured works of art.
Fine Art Photography for your home
Many of the families we work with hail from the communities surrounding the Ashburn, VA area. They are searching for a studio photographer whose work is worthy of being displayed as wall art. Our clients want an heirloom-quality portrait to display in their homes and enjoy for many years. As more Americans are investing in their home's interior design with wall art, many are opting for fine art family photography to decorate their walls. And why shouldn't they?! Being surrounded by beautiful portrait art of the ones you love keeps those loving family bonds strong in your heart and mind.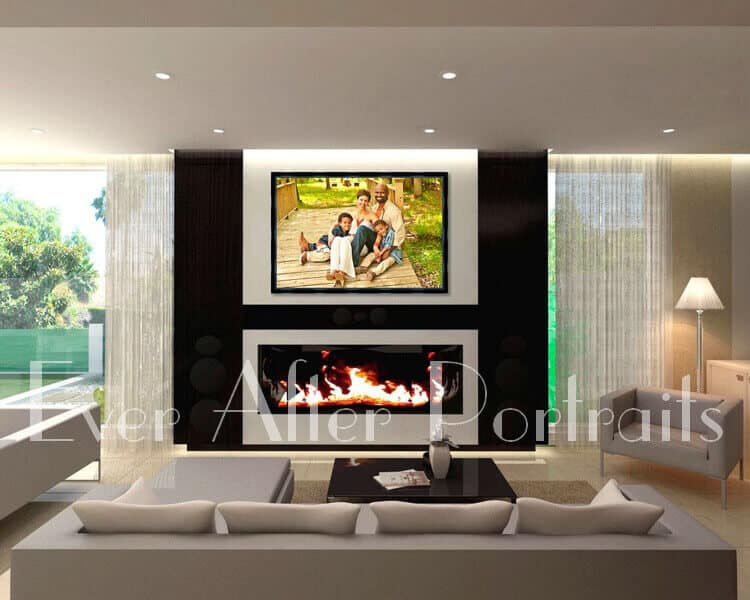 Family photography as wall art
As a mother and daughter team, Joriana and I truly enjoy the art of family photography! The artistry of our family portraits, along with beautifully crafted frames or another unique finish, make portraits by Ever After the perfect wall art for your home. What better art than portraits of your family in its candid, loving moments?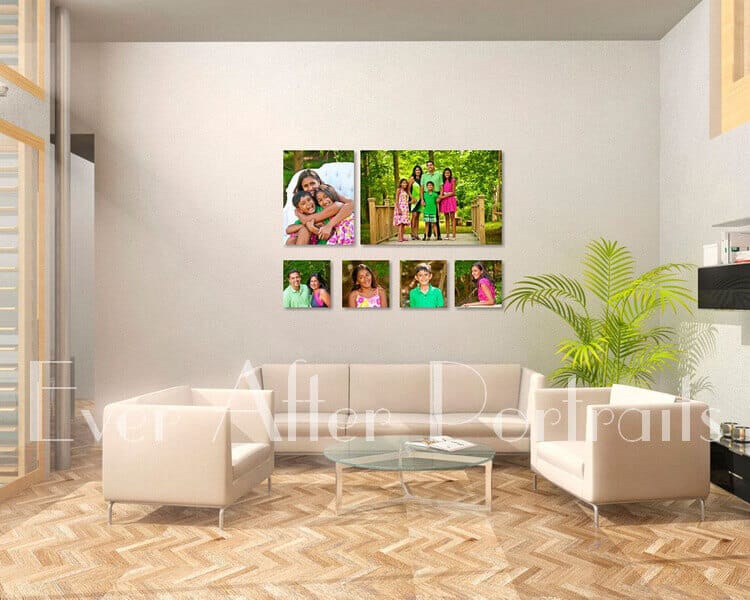 While the majority of our clients are so excited about their portraits that they purchase several products from us, most begin with an large portrait (or portraits) of their beloved family to be displayed on the walls of their home. They love and cherish their family and want wall art which will be treasured for generations.
As a full-service family photographer, we will work with you to bring your vision to fruition. It is important to us that your portrait be worthy of display in your home for years to come! We start by familiarizing ourselves with your family and your style so that we can help personalize your portrait session. After our initial discussion, we will ask you to send us a picture of the space where you plan on hanging your portrait. With the aid of that picture, we can customize your portrait display perfectly to fit your wall.
If you're looking for a leading studio photographer specializing in family photography in the Ashburn, VA and surrounding area, we'd be happy to discuss how we can help you to enhance your home's decor with poignant portraits of your precious family!
Family Photographer, Family Photography
Ever After Portraits is comprised of Mindy and Joriana Belcher, a mother-daughter photography team located in Northern Virginia, including Ashburn, VA. We specialize in timeless and emotive fine art family portraits.
Family means everything and capturing those precious moments to preserve forever will mean family heirlooms for you to share for years to come.
Best,
Mindy & Joriana – Contact Us!