What to Wear for Your Reserve Portrait
We've approached every detail with the care an artist would give to her masterpiece. As your Masterpiece portrait will be cherished for generations, let us guide you in dressing your best to create a timeless look that keeps the focus on your personality. We thank you for investing the time to prepare for what will become your family's most enduring and treasured heirlooms.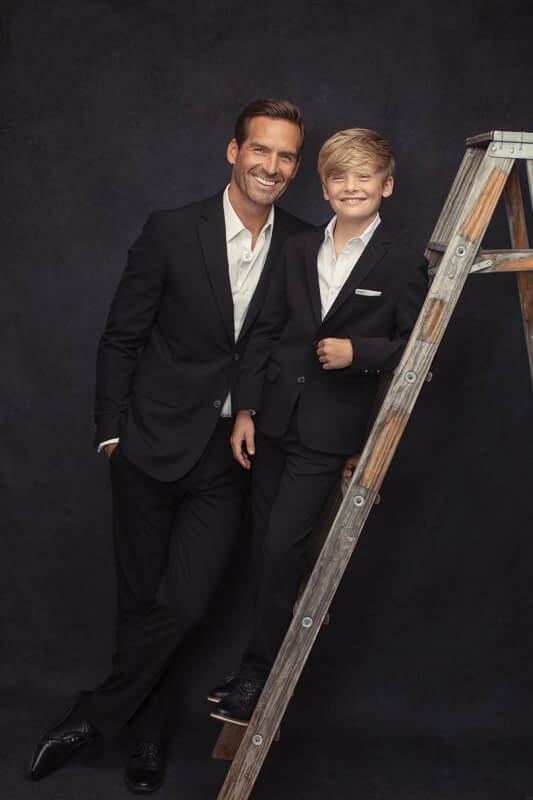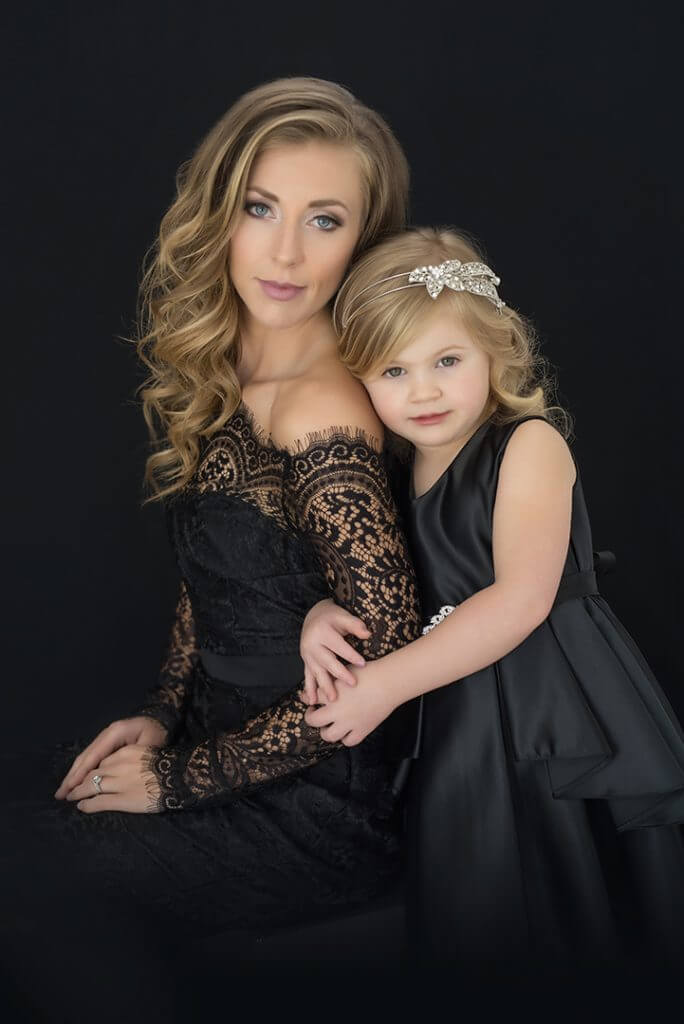 Your Wardrobe Should Fit and Flatter
Nothing flatters more than clothing that fits properly.
Please try everything on in advance.
If you aren't sure, it isn't the right size.
The Clothing You Choose is Important!
Cocktail to formal clothing – dark colors are slimming, stand the test of time, and ensure we photograph you at your very best. 
Styles come and go and for many, this becomes the most elegant portrait they will possess in a lifetime.
In a portrait, your face and eyes should draw the attention, not your clothing.
Because not everything that feels right photographs well, following our recommendations

is essential to your successful session.
Let Your Family Shine
Arrive well rested and well fed; you can't hide a bad mood, or fake a good one.
Details count. If you see it, so will the camera. 
This is where you have control over how you will be remembered in 20, 40, or 100 years. 
Dressing your best as a family means you won't look back on a missed opportunity and experience the regret of wishing your family had dressed up more.
Remember the focus of this art piece…a beautiful  portrait that showcases the relationship and personalities of each person in the portrait.  To maintain the integrity of the artwork, only families who are properly attired can be photographed.
Be Stylish and Dress Up
This artwork will be treasured for a lifetime and beyond – we hope your great grandkids will cherish it!
Styling your clothing means you will look your best. This is your family's "night on the town" where everybody looks and feels their best.
Since these are very special portraits that are designed to be heirloom pieces, we request you come in formal attire or at least clothing that is classic and less likely to go out of style. Choose timeless clothing with character, personality, and style.
Likely, you will have dozens or more pictures in a casual setting.  This is a once-in-a-lifetime opportunity to do something just a little different.  If you dress too casually, it's just going to clash with our goal, very similar to walking into a 5 star restaurant in shorts; it will just feel out of place.
For most clients, their natural makeup and hair styles work best, and it's not necessary to see a makeup artist prior to your session.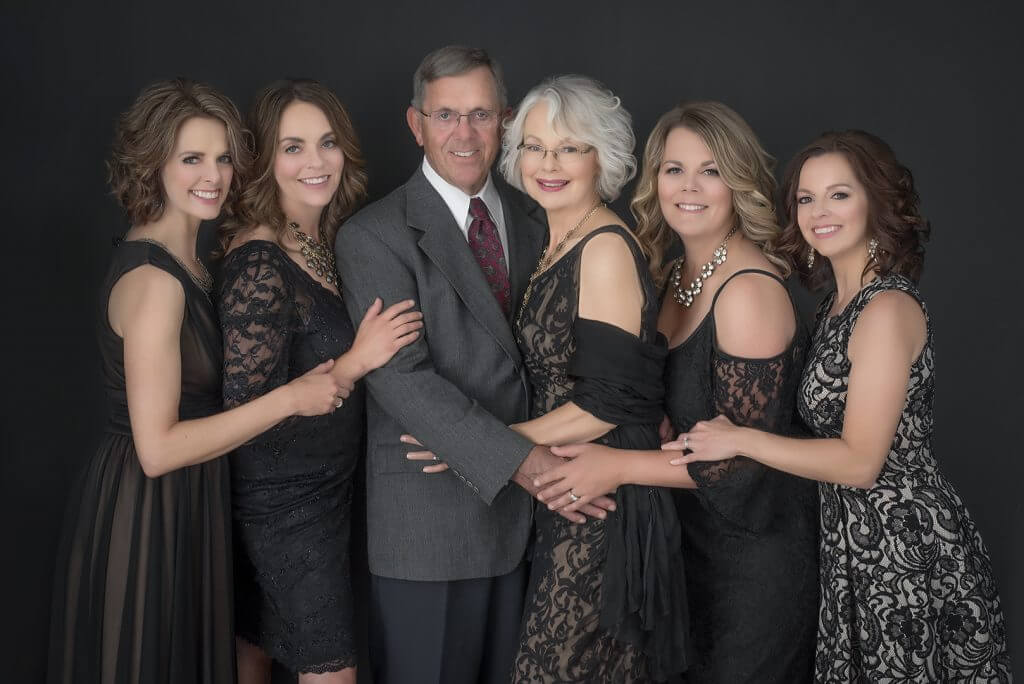 Essentials for Everybody
Arrive with well styled hair.

We recommend that you don't cut your hair less than a week before the session.

Hair should not block the eyes.

Bangs should be short enough to allow both eyes to be seen.

Eyeglasses should have a non-reflective coating.

Clothing texture adds dimension and interest.

Barefoot is often best for kids under ten, but shoes count for everyone else.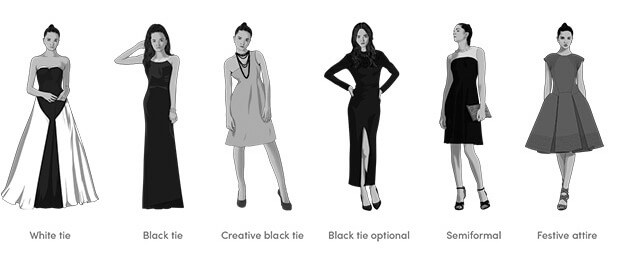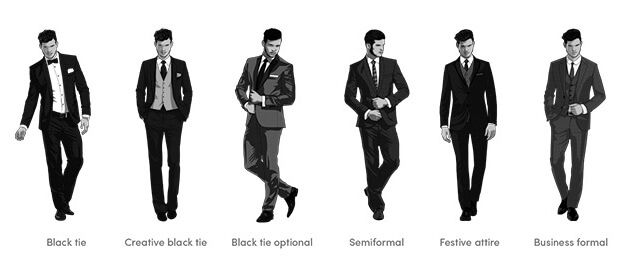 Essentials for Ladies
• Dresses photograph exceptionally well and flatter most women.
• We recommend formal gowns or dresses that fall below the knee.
• Manicures and pedicures matter.
• Your makeup should reflect you at your best.
• If you color your hair, be sure to get a touchup before your portrait session.



• Tasteful jewelry enhances your look.
• Little girls look adorable in black or grey party dresses – please, no light colors.
 Essentials for Gentlemen
• Coats and jackets are required for men. 
• A dark black or grey dress shirt looks great under a jacket, especially with dark slacks.
• Layering adds depth and dimension. If you choose not to wear a tie, a dark jacket with an open neck shirt is a great choice.
• Men and little boys always look best in dark suits or tuxedos.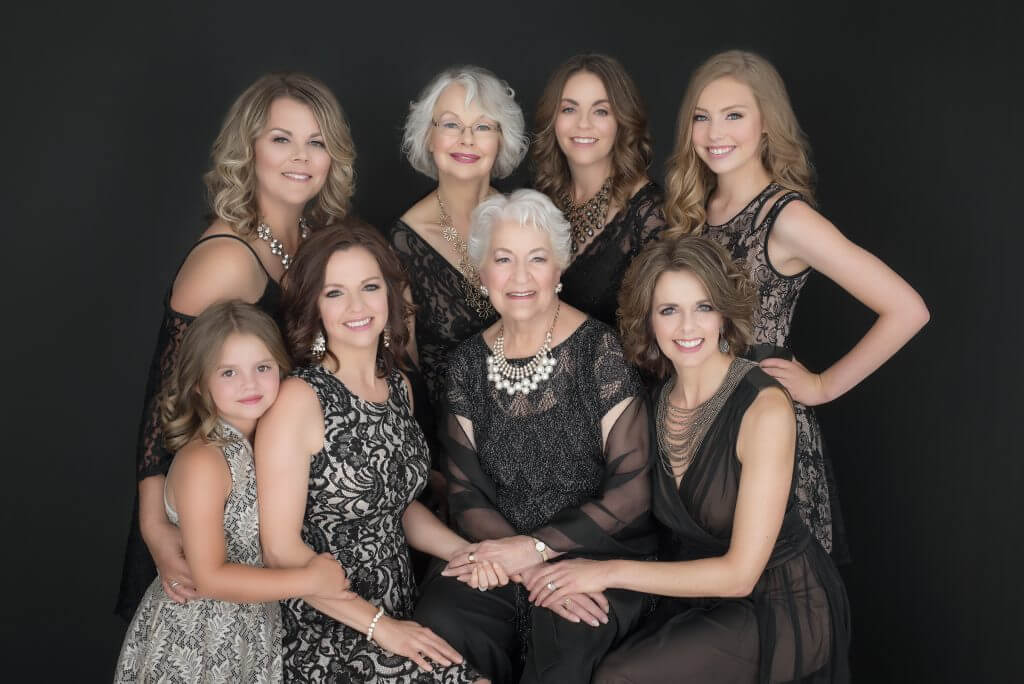 Choose Clothing in Black or Very Dark to Light Grey
For a timeless look, we recommend that everyone have on a different shade of black or grey – bonus points for textured fabrics!
This family chose a theme of lace and damask, our personal favorite, in shades of black and grey.  Don't they look fabulous?!
Black on black always looks classic and timeless. Dark colors tend to make you look slimmer. 
Short sleeves are fine, but we suggest that long or three-quarter length sleeves are more flattering.
Our background and lighting are tailored to render your portrait as a timeless work of art and requires dark, muted clothing to ensure that your family's faces and features are the center of attention.
For that reason, with the exception of a white shirt under a dark jacket, we recommend every piece of clothing be either black, grey, or otherwise very dark in tone.
Choosing shades and tones of black and grey mean that colors never clash!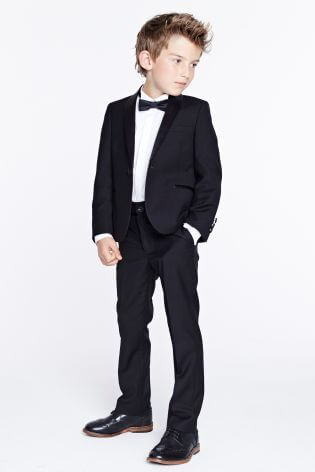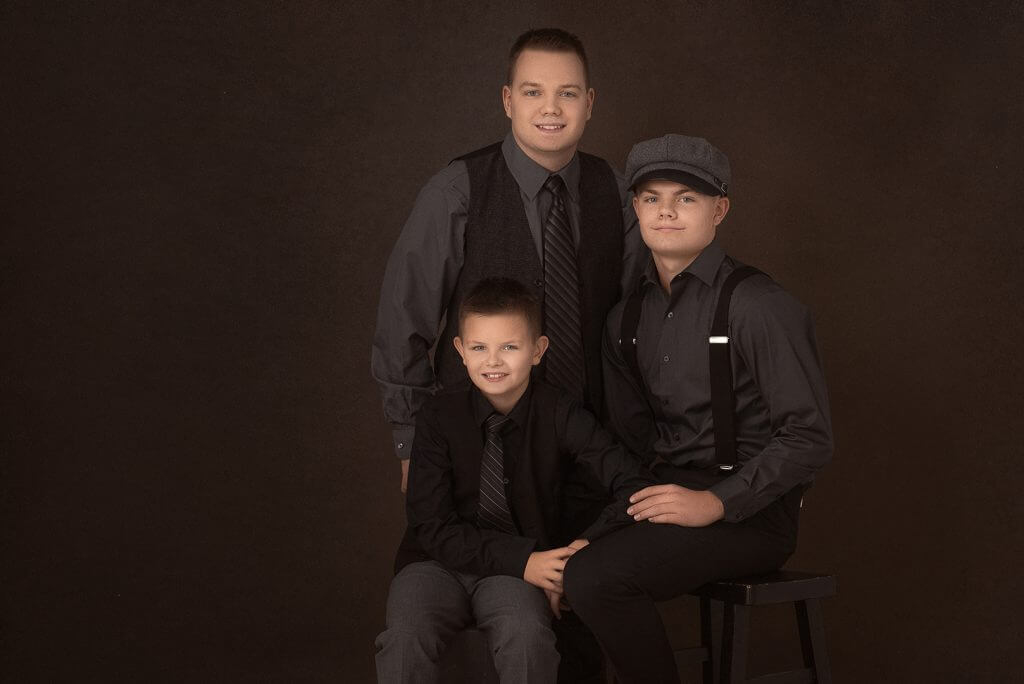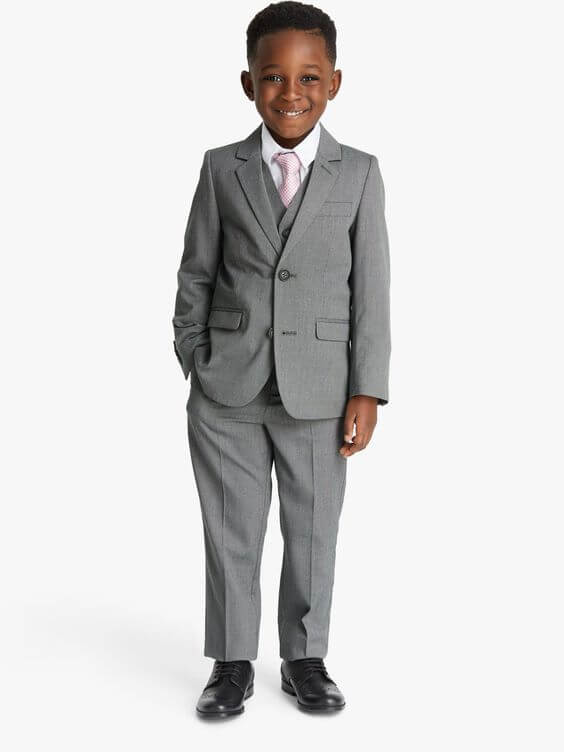 Our timeless aesthetic flatters and keeps you in style, generation after generation.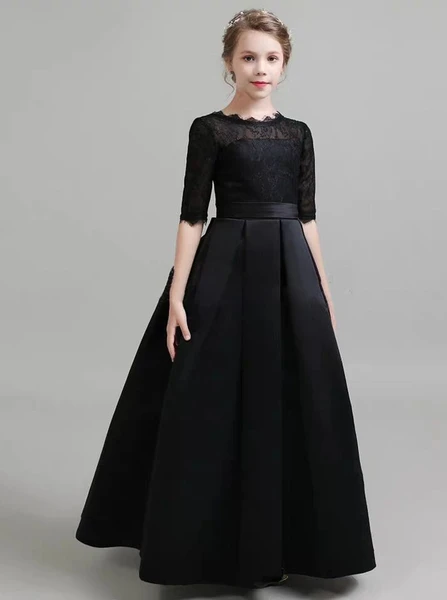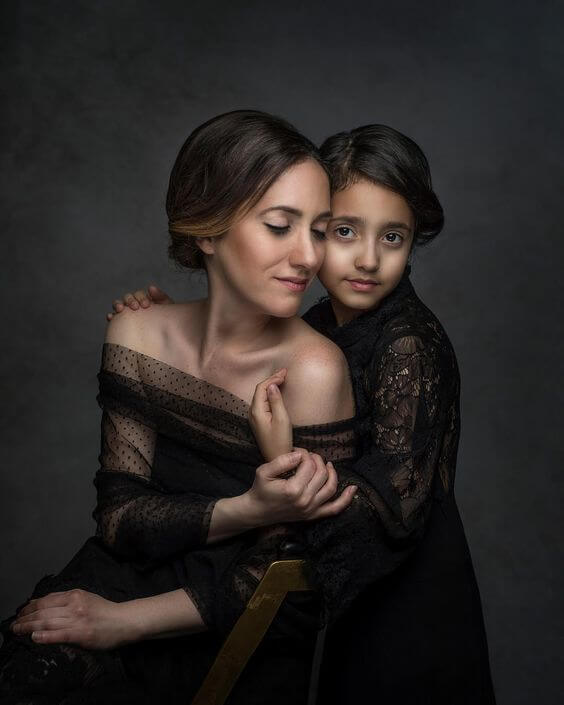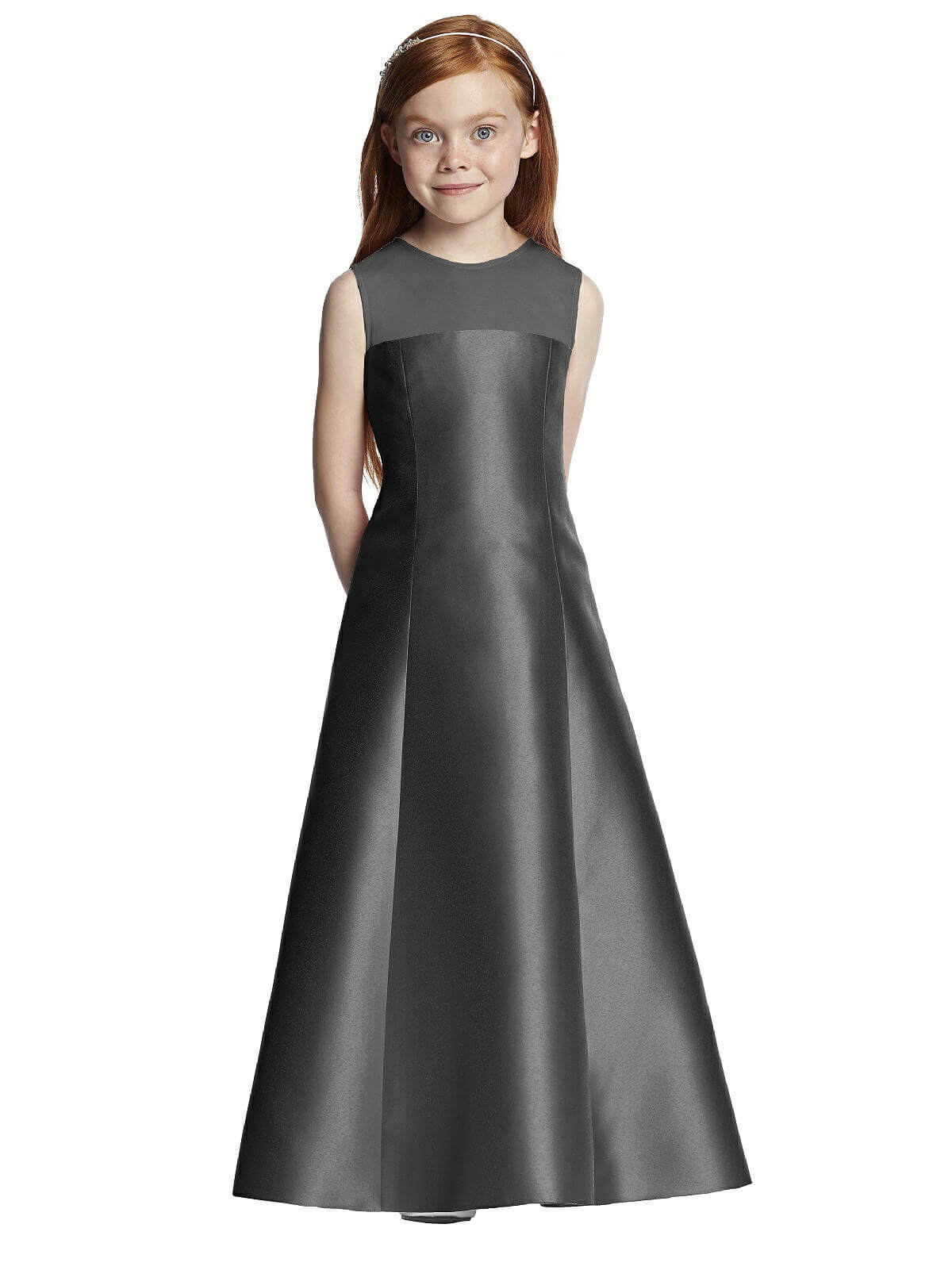 Essentials for Children
What to Wear:
Children should wear black or darker tones, with dark long pants (no shorts).
For girls, we encourage bringing a black camisoles as these are ideal under draping fabric.
For boys,  dark dress shirts look great.
Nails should be clean and unpolished, or neatly polished with a neutral tone. When creating a stunning timeless portrait, glitter or strong bright colors on nails is not ideal.
Children are requested to not wear makeup of any kind, and to wear their hair down and as naturally as possible. This is a chance to keep things nice and simple, so they can see the truth of their loveliness.
Not sure what to wear?
We've made it easy!  CLICK HERE to visit our Pinterest Board for Direct Links to clothing
What Not to Do
• Clothing with white, light and mid-tone elements won't make you look good, and is a distraction.
• Avoid busy patterns, stripes, and clothing with words, logos or pictures. 
• Polo/golf style shirts and casual cotton pants should be left at home.
• Don't forget to apply common sense to your outfits.
• Everybody should not wear the same thing.
• You can't fix clothing that doesn't fit by rolling up the sleeves.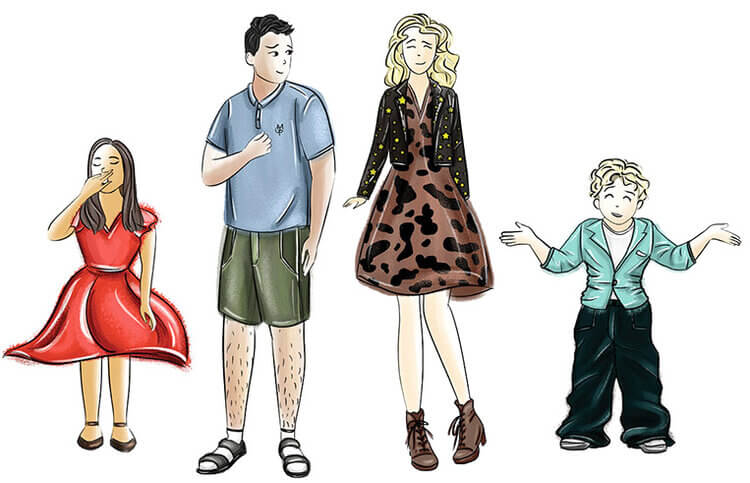 We consider ourselves storytellers that uses photography as our medium. We typically work with moms and dads who realize that their children won't be young forever. They all say, "Where did the time go?"
We can't stop time! That's why parents commission Ever After to create beautiful heirloom portraits of their children and family so they can decorate their home with the ones they love. The heirloom products that we create are museum quality.
They are heirloom legacy pieces handed down to your children so they can treasure the memories of YOU and their childhood long after each is gone — and then they will hand them down to THEIR children, to become even more valued as years pass. It's this type of heirloom artwork that if a disaster struck, you would grab your kids, your cat and these portraits because they mean that much to you…
If you cherish your family and value fine art portraits…
Let's Have a Conversation