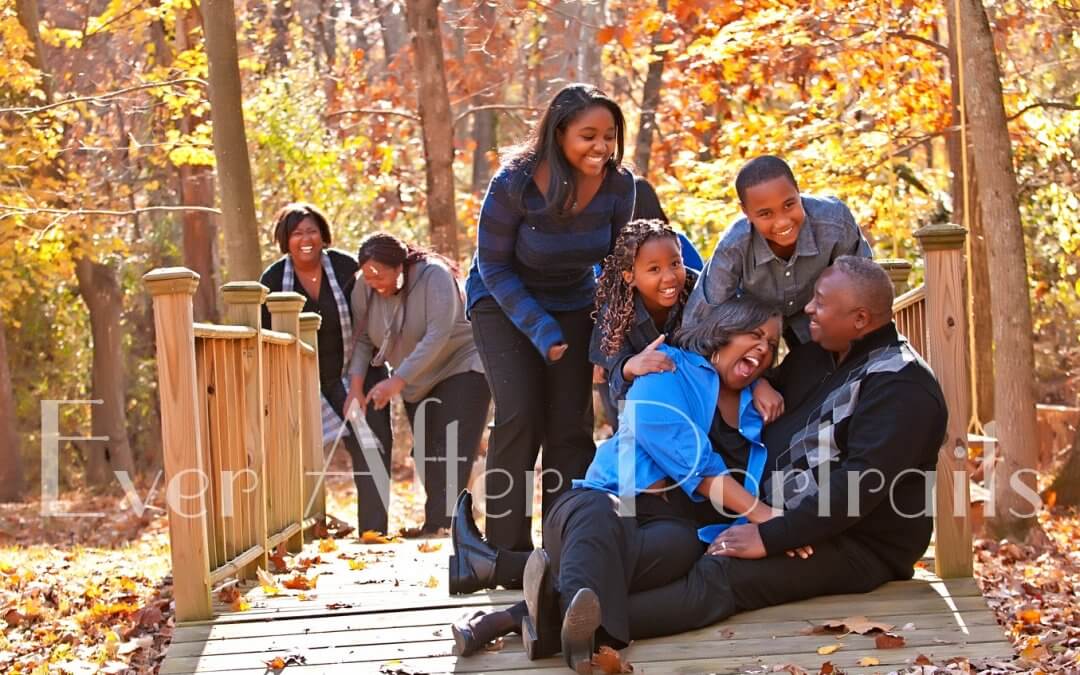 How to Make Your Multigenerational Session AWESOME! | Northern VA Multigenerational Photographer
Multigenerational or extended family portrait sessions are a lot of fun for us as a family photographer. With two decades of work shooting at our Sterling, VA indoor and outdoor portrait studios, we've learned a lot from our clients over the years!
One thing we've learned is that sometimes clients get a little worried about doing group shots – so let us help you out. There are a few things we can tell you to help you through the (wonderful) experience of doing a family group portrait. We promise you that by the time you leave your session, you'll look back on the experience as something memorable, poignant, and even a lot of fun!
So here are some useful tips for you!
Establish Goals
Whether you'd like to do multigenerational or extended family, it's helpful to decide ahead of time what your goals are for the portraits.
Do you want only group pictures?
Or, would you like to do individual portraits as well?
One of the most poignant images out of a multigenerational shoot are ones of just the grandparents with their grandchildren. These pictures quickly become a treasured heirloom.
Additionally, we could photograph grandparents alone followed by parents as a couple, and then children also.
If there's extended family, how about one of the young cousins together?
While additional poses take more time, they're worth that extra time.
Our advice: Talk to your family about the goals for the portrait session before you call to schedule. We can discuss those goals further when you call us.
Lastly, inform everyone attending the shoot that there will be individual or family unit portraits taken in addition to the group pictures. That way, you avoid any last-minute surprises and people arrive ready to do multiple pictures.

Wall Art Collections
Once you decide on your goal for your portrait session, we can discuss our various wall art collections and other products we offer. That discussion will set you down the path of thinking about the products you might be interested in purchasing. You will find that it saves time later and it helps to avoid "conflicts" with extended family.
We offer beautiful wall art collections with various finish styles, including framed and frameless. We have something for diverse tastes and interior design styles. We also offer multiple price points because we understand our clients have varying budgets for their fine art portraits.

What's Your Style?
Another critical element to consider is the style of your portraits.
Do you want a more formal look or more candid and casual?
Are the portraits meant to be a gift? If so, then the style of the intended recipient often helps dictate the style for the portraits.
If you aren't sure which way to go, talk to us. We're happy to offer some guidance. We have a lot of experience working with clients on styling their session, and providing you with clothing suggestions for the entire family is part of our process.
Styling isn't just for portraits. It also refers to your look for the pictures. Check out some of our previous blog posts on wardrobe styling and selection for your session. Also, check out our Pinterest pages as well for ideas on what to wear and how to coordinate your outfits.
For multigenerational portrait sessions, it's essential to decide on wardrobe coordination early on rather than waiting until a couple of days before the session, especially if any family members will be flying into town. You want to be sure that everyone has a chance to prepare their outfits.
While you might think it's going to be challenging to coordinate the wardrobe of a family group, it doesn't have to be challenging if you follow some of that advice.
Where?
Lastly, where would you like to do your portraits?
The style you select for can help you decide on a location.
For example, a more formal portrait, such as a black and white, is more likely to be done inside our studio.
A more casual and candid style lends itself very well to our beautiful outdoor portrait park.
Our advice is to make sure everyone knows the location, finds it acceptable and can get there easily. You don't need family members getting lost! If they get lost, they won't be happy, and a late arrival could delay the portrait session.

We hope these tips will help you! Please know that we are always available to answer questions!
We look forward to working with you on your multigenerational family portraits. We are one of the leading Sterling, VA area family photographers, and we have extensive experience working with family groups. Reach out to us!
Family Photographer
Ever After Portraits is comprised of Mindy Belcher and Joriana Belcher Anderson, a mother-daughter portrait photography team located in Sterling, VA in Northern Virginia. We specialize in timeless and emotive fine art family portraits.

Family means everything and capturing those precious moments to preserve forever will mean family heirlooms for you to share for years to come.

Best,
Mindy & Joriana – Contact Us!

Professional Photographer